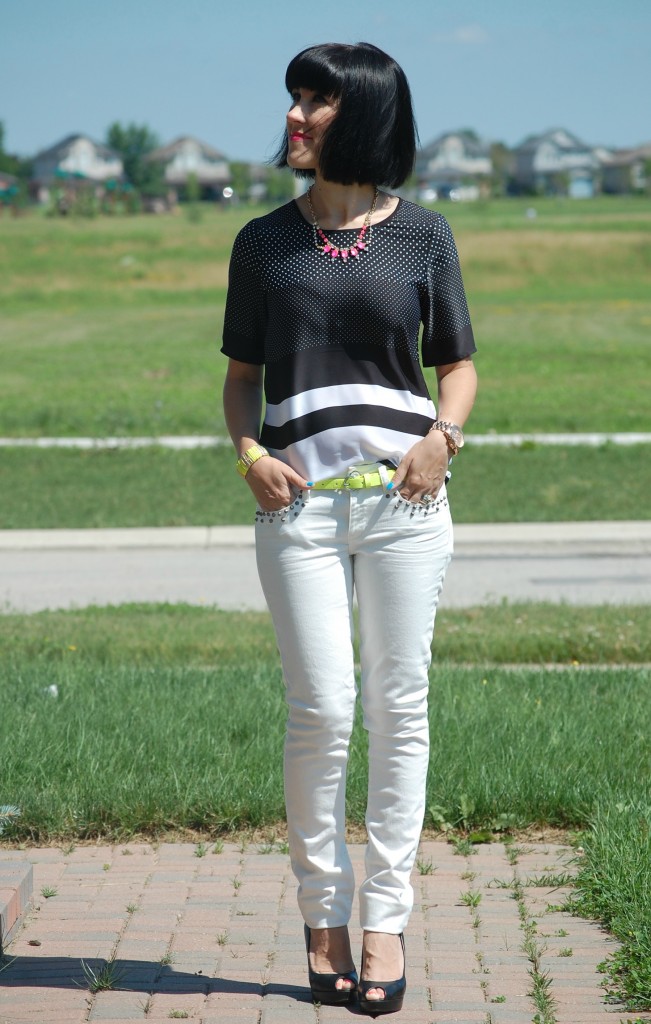 As I stand in look in my closet I realize I have like no black clothes; its funny cause when I talk to my friends, co-workers and other bloggers they tell me that their closets are full of black pieces and it gets me wondering….. what's wrong with me? I'm not sure why I don't own a lot of black and the pieces I do own are usually the ones I gravitate to last when picking out my outfits for the day? I can remember when I was in my early teens, just before high school, I wanted everything to be black… black walls in my bedroom, black bedding, only owned black shoes, wanted all my clothes to be black, my poor mom thought I was drifting towards the dark side; that lasted about 6 months then everything was back to pink… and I never looked back I guess?
Fast forward 20 years and everything is still girly and pink, poor husband had to wear pink on his wedding day, knew I had a keeper when he didn't seem to mind, in fact, I think he liked it? To this day, he still rocks that pink tie from our wedding… got to love men in pink!
Black and white is huge this season, so when I saw this new shirt at Smart Set, I knew I had to have it. I think this piece plays on the trend, will go with pretty much everything and will be perfect not only now, but into fall and winter. Being that I need colour in my life/ and in my outfits I picked another huge trend right now with some neon accessories.
Tell me, do you have more black in your closet than colour?

Top- Smart Set- $35- in stores now
Necklace- Smart Set- $18- June 2013
Belt- Smart Set (set of 2)- $20- June 2013
Bracelet- Gift from a friend
Watch- Aldo- Gift from hubby
Jeans- American Eagle- $49- May 2013
Shoes- Aldo- $110- June 2009