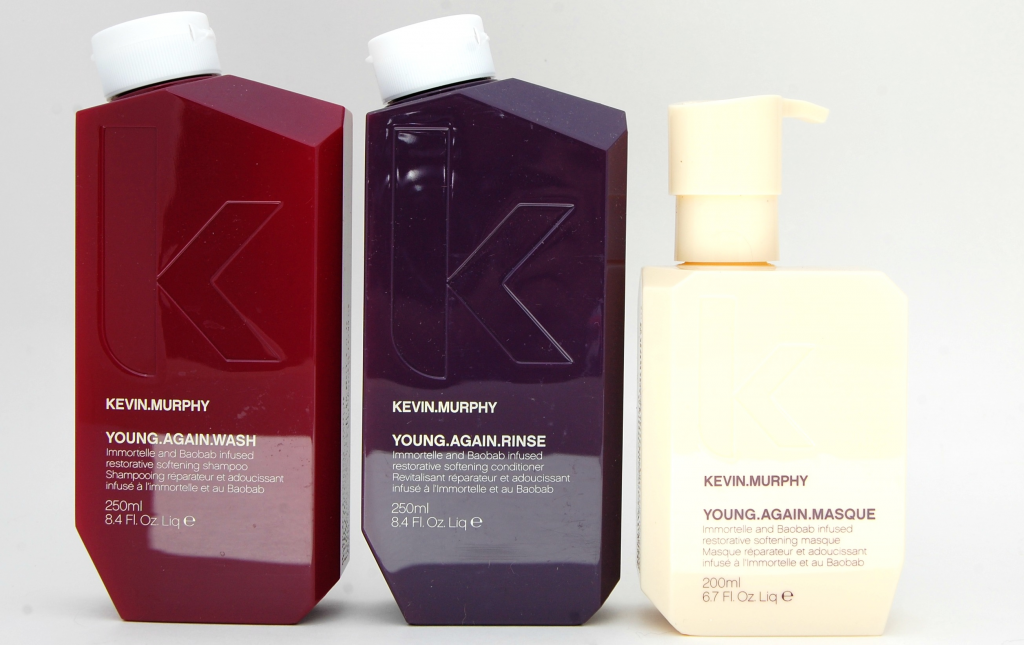 When it comes to aging, I often think about my skin; it never really occurred to me that our hair ages too, since its already dead. The Kevin.Murphy Young.Again line is designed to help renew youthful lustre and shine to dry, damaged or brittle hair in a simple to use, 3 step process that will have your locks feeling and looking younger than it did in years.
We all know the importance of natural ingredients and with Kevin Murphy you can rest assured that you're getting high quality ingredients in every product, including 6 Australian rainforest fruit extracts that are rich in vitamins and essential fatty acids that are known to flourish the hair, even in harsh climatic conditions. Baobab seed oil provides moisturizing benefits to the hair while improving elasticity and tone, while Orchid flower extract is rich in proteins to help reinforce hair strength and provides intense hydration. Immortelle Extraordinary healing qualities offer great regenerating ability and Lotus flower extract help to protect the hair from moisture loss and is also rich in protein that leaves the hair soft and supple. Kakadu plum extracts is a potent antioxidant essential to help repair damaged hair, Phospholipids create a skin like barrier to lock in moisture and Bamboo extract is known for its restorative erects, adding natural shine and lustre to the hair.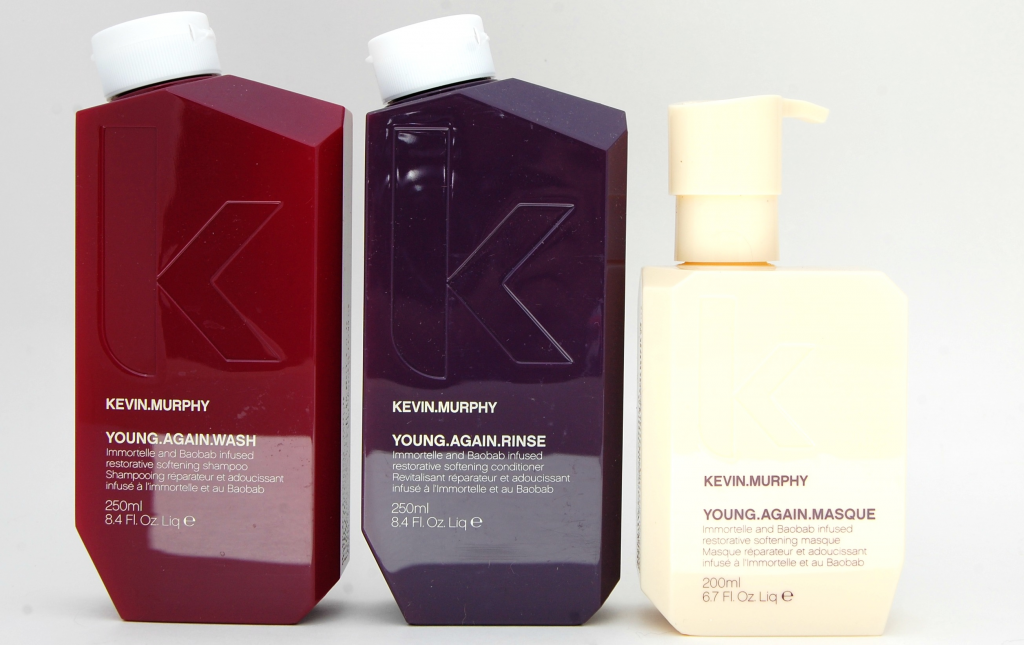 Kevin.Murphy Young.Again.Wash is a restorative shampoo that will restore and revive youthfulness to your hair thanks to its anti-aging extracts from Lotus flower and Orchid that help renew the hair, adding a natural glow to dry, brittle hair. Immortelle and Baobab infused restorative softening shampoo gently cleanses and preps the hair to receive the essential ingredients of the masque and the rinse. It retails for $35 for 250ml.
Young.Again.Wash comes in a uniquely shaped, wine coloured, plastic bottle with flip cap lid. The shampoo itself has a thick, white texture to it that's lightweight and smells like fresh flowers. You apply the wash to wet hair and massage into hair and scalp and surprisingly it lathers up quite nicely considering it doesn't contain any sulphate. For some reason, if my shampoo doesn't come to a lather, I will continue to add more until it does, even though I know it's not good for the hair; I don't feel satisfied until I see foam. It rinses clean and quickly and leaves my hair feeling fresh, clean and without stripping it of moisture. It feels super soft even before using the conditioner.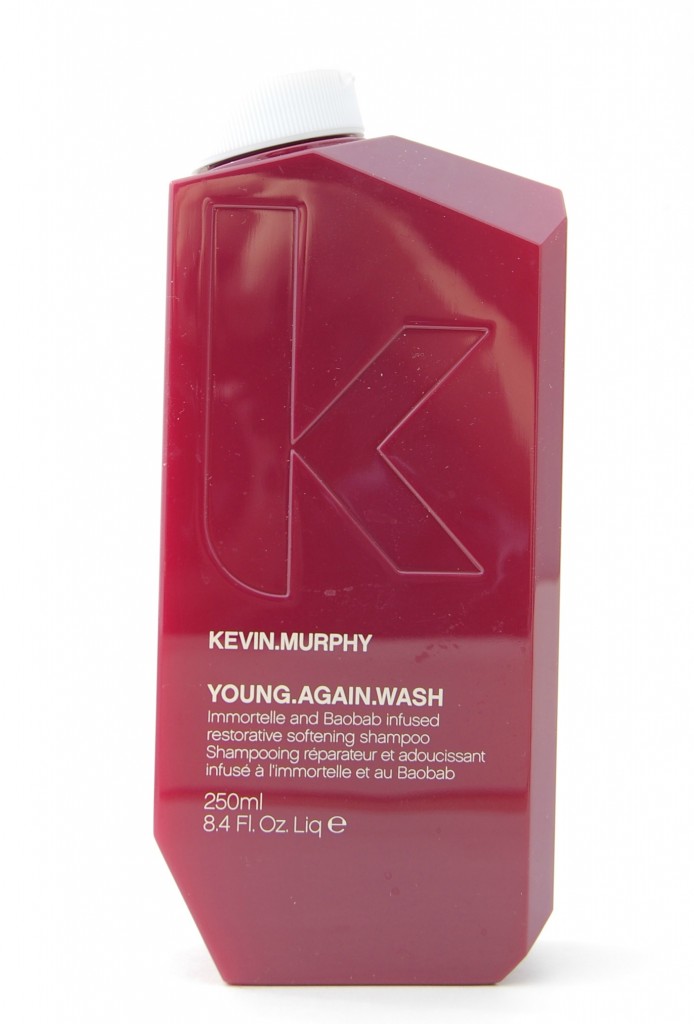 Kevin.Murphy Young.Again.Rinse will augment the invigorating effects of the Young.Again.Wash with a complex of Amino Acids, Bamboo, and Lotus extracts strengthen the hair and helps the hair retain the effects of the wash. Immortelle and Baobab infused restorative softening conditioner restores luster to dry, brittle and damaged hair and Mango seed oils help to smooth frizzy hair. It retails for $35 for 250ml.
Young.Again.Rinse comes in the same uniquely shaped plastic bottle with flip cap lid as the Young.Again.Wash only in a deep, rich, purple shade. The conditioner itself has a very thick, almost like a hair masque texture to it that has the same fresh flower scent with a hint of citrus. You apply the rinse to freshly washed hair and leave in for 1 to 2 minutes before rinsing. The hair instantly absorbs the thick and rich conditioner but is easy to rinse out and doesn't leave behind any residue. My hair is left feeling hydrated, soft and easy to work with, with no knots or tangles. It gives my hair noticeable shine and super manageability, even before I apply the masque.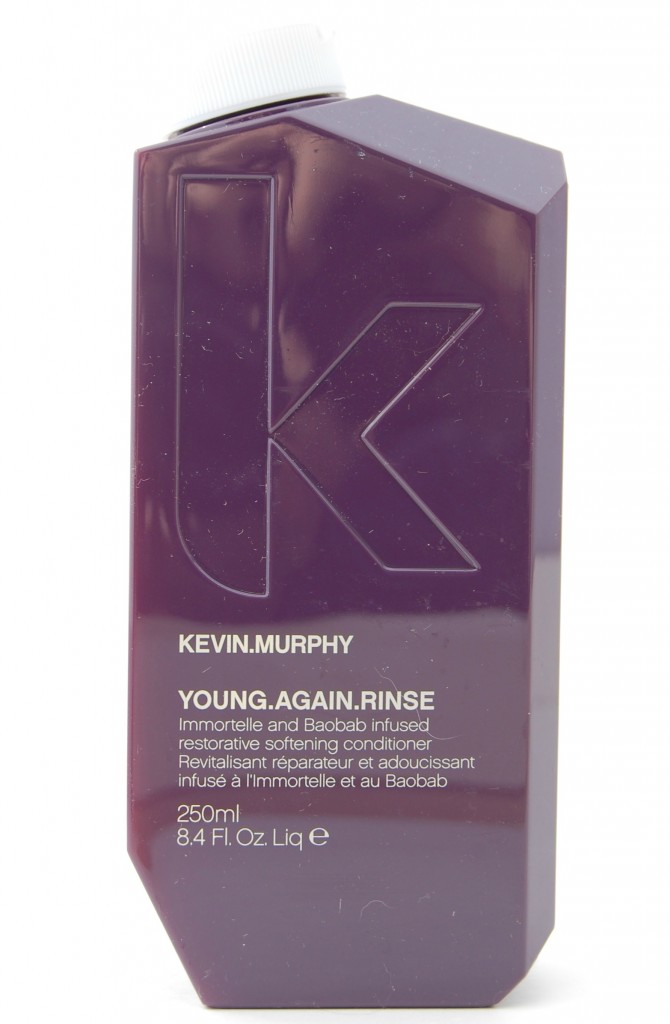 Kevin.Murphy Young.Again.Masque is a deep conditioning restorative masque with Amino Acids, Quinoa and Rice Proteins, Immortelle, Lotus Flowers and Baobab Seed oils to renew youthful luster to dry, damaged hair. It's formulated to lock down the cuticle and lock in moisture and retails for $49 for 200ml.
Young.Again.Masque comes in the same uniquely shaped plastic bottle with flip cap lid, only a little smaller and in ivory. It has a thick, creamy texture to it with the same great floral scent as the rest of the line. It is applied after washing the hair, you massage into hair and scalp and leave it for 5 to 15 minutes before rinsing out. After rinsing the treatment out, my hair is extremely easy to comb, feels super soft and silky, gives a natural shine to the hair and is left looking much healthier. It restores much needed moisture, smooths frizz, and doesn't weigh my hair down or leave it feeling greasy, like some other thicker masques I've tried. This is for sure a new favourite that I will continue to use once a week.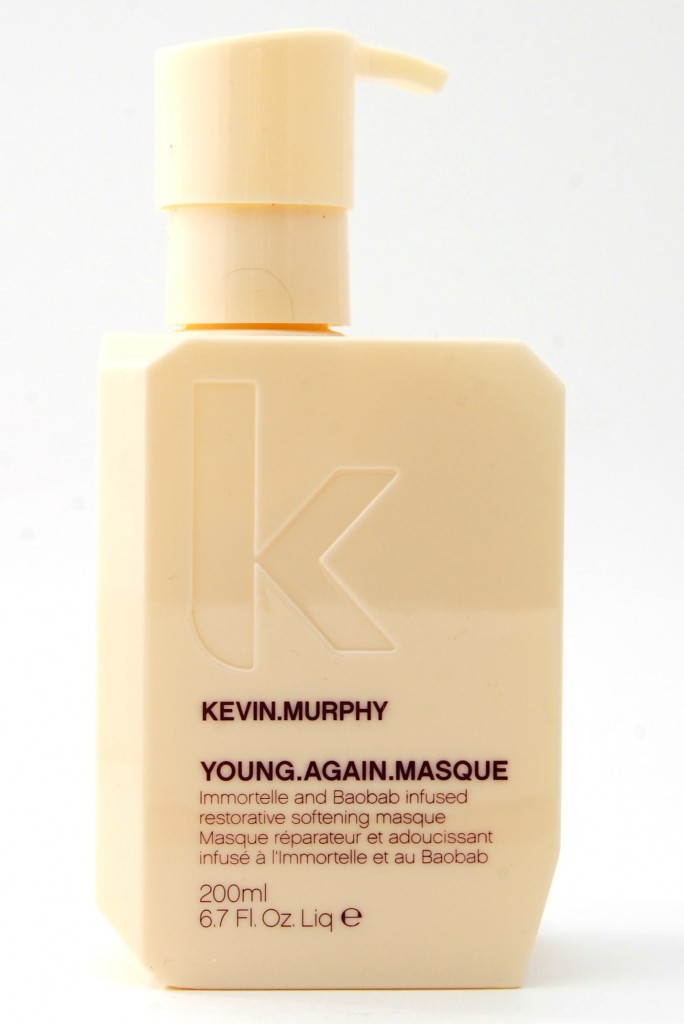 I've been using this current line for the past few weeks and all I can say is wow. My hair is never felt so soft, smooth and hydrated and if you're been following my blog for some time now, you know I've used the same shampoo and conditioner for the last 10 years, but this is now a new favourite and I'm not looking back.