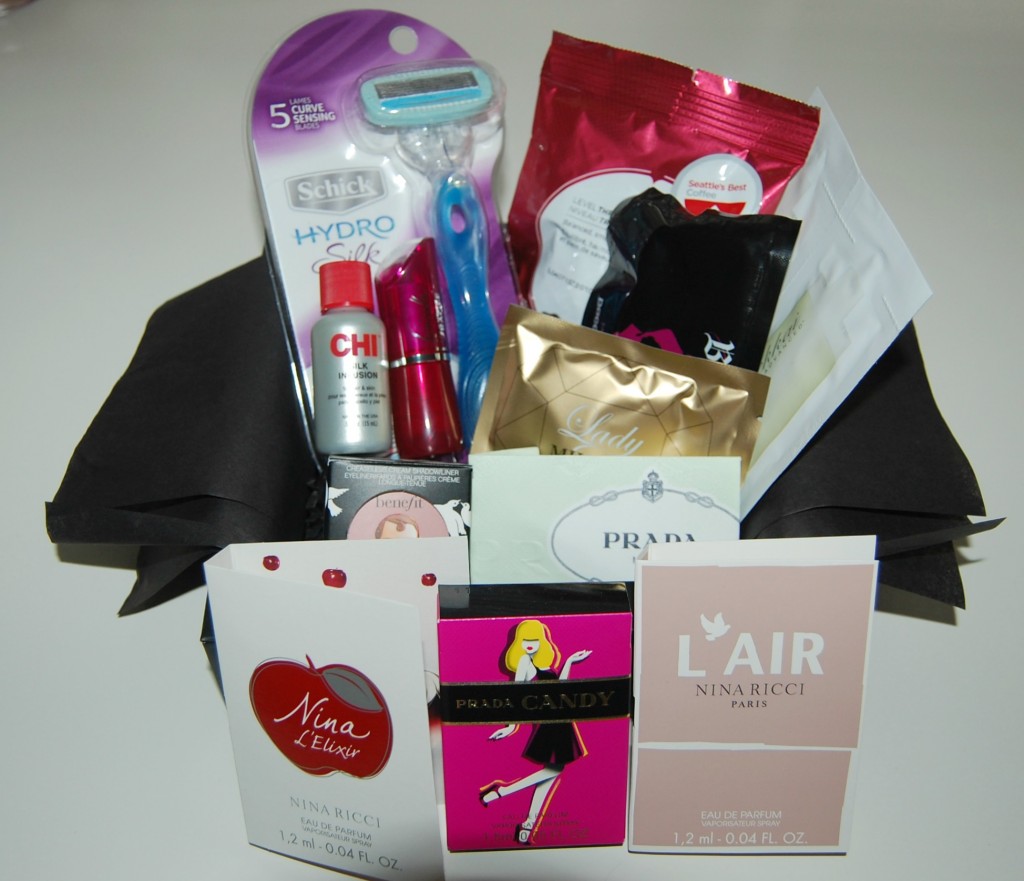 Ladies I've teamed up with Loose Button again to do another review on their January's Luxe Box, and I am super super impressed this month. You can sign up for $12 a month ($13.56 with tax) and you can cancel anytime with no cancelation fees (I love that). They will deliver 4 to 5 deluxe-sized beauty samples right to your door in a chic box each month. The samples range from skincare to makeup to fragrance to body & haircare. What more could a girl ask for? 
As soon as you open your main black box you will be happy to see a black sticker that say "Made for (with your name on it). I just think this is a sweet personal touch. 
So I got my box in the mail today (and although it was a little later than the past few months) I'm not sure why so many people were upset? To me, I can't find anywhere on the website that it states it has to be shipped out at by a certain time, I think longs you get your box before the end of the month, they did their job? 
I just want to point out I got 2 Luxe boxes this month, one was a bonus Bath & Body box- pretty cool if you ask me? 
First up is yet another Yves Rocher Lipstick in the same pretty pink colour I got last month (this is all I can really say that's up setting about this box) getting another same lipstick in the same colour as the month before. For those that did not order December's box, you'll be okay with it. Although they say it's a lipstick I would say it's more of a lip stain/ lip gloss than anything- the colour is not super bright.
It's a full size and retails for $5 
Second is Benefit Farenheit Fab Creaseless Cream Shadow/Liner. This is a limited edition full sized product reserved for Luxe Box subscribers, which I'm loving- I love anything one of a kind that not many people are going to have- makes it that much more special. If you've ever used Benefit you know how great each and every product is, so I'm super excited to test this product out, I'm sure it's going to be great.
It's a full size and retails for $19 
Third up is Chi Silk Fusion made for your hair and skin. Now I have a Chi hair straighter and it's amazing, so I really stand behind the brand, although I have not heard of this before, I'm really looking forward to trying it out. It has a nice smell to it, really fresh and clean. It's alcohol free and enriched with pure silk with wheat and soy proteins.
My sample size is 15ml & the full size is 180ml costing $33, so I'd put a value on mine at $2.75 
Forth up (which was found in that 2nd bath and body box) is the Schick Hydro Silk Razor. We will be the first people in North America to test this out. It offers a 5 blade unique skin guards that help to protect your skin's delicate surface. Again I have to admit I'm looking forward to testing this razor out- I've been using the same brand of razor for about 9 years now so it will be nice to see if there is something better on the market today?
This retails for $14 
Those were my 4 deluxe size samples I got this month & I'd put a value on all 4 of those at $41 based on the full size bottle price- pretty amazing for only $12! 
I got 8 bonus gifts this month (6 being perfume as they started a My Scent Program)which gives people to chance to test out perfume before you buy the full size bottles, I love this idea- hate buying full size bottles to only find out I hate the scent a few days in. Okay here's what I got: 
Nina Ricci L'Elixir (which I got last month)
Nina Ricci L'Air (which I also got last month)
Prada Infusion
Prada Candy
Paco Rabanne Black XS for Her
Paco Rabanne Lady Million
Fekkai Hair Care Shampoo & Conditioner
Seattle's Best Coffee Level 3- its retail value is $10 for 340g- sample size is 56g putting a value at $1.65 
All in all I've very happy with this month's box, although I did get 3 of the same products as last month, maybe as the reviews go out, they will start to keep a tracking program of everyone's boxes and this will not happen in the future? 
Readers had a chance at winning a box by leaving a comment on Facebook on what they wanted to try out of these products.