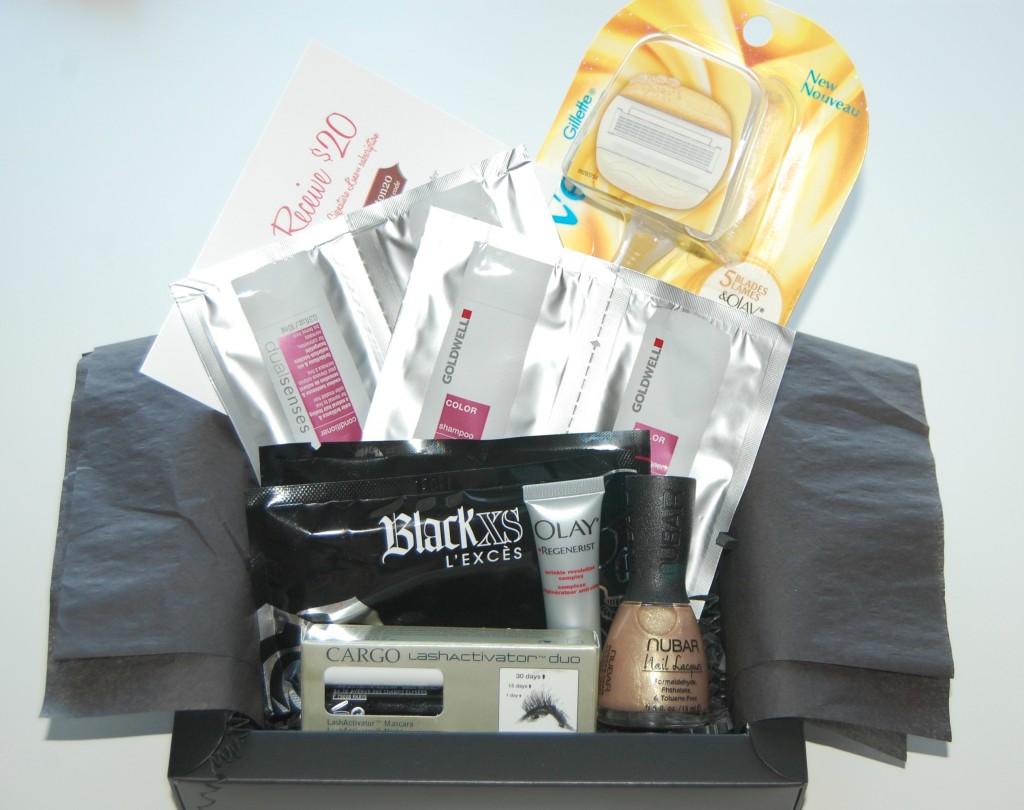 Another great Luxe Box for this girl, thanks Loose Button! 
First up we have Cargo Lash Activator Mini Duo, now I've tried there lash activator mascara (which I got in a previous Luxe box) and was very happy with it. This mini duo comes with the mascara again (only smaller) and the lash activator night which will be worn at night as a lash enhancing elixir or daily as a volumizing primer. It promises when these 2 products are used together you will see visibly longer, thicker lasher in as little as 15 days…. We will see about that? 
It's a full size with a price tag of $15 
Next up is Nubar Nail Polish in Funky Opal, never heard of this brand but it's free of formaldehyde, toluene and DBP free. It's also vegan and cruelty free, which I think is amazing, so I'm going to be looking into this brand more. Can't seem to find anyone online that sells it, looks like it's based out of the USE? Not too happy with the colour, but it will be perfect for my mom and from the looks of it online, looks like they have a ton of fun summer colours to pick from! 
It's also a full size bottle that retails for $8 
Third up is Paco Rabanne Black XS L'Exces for him and her. The girls has a very strong floral smell to it with a hint of vanilla, I actually really really like it on me (and I'm on the marker for a new perfume) so this might be mine? Loose Button members are the first to try this, so that's pretty darn cool? I also really liked the men's on my husband, again something I might pick up for him. 
We have the sample sizes of 1.2ml, full size bottles are $74 for 50ml making mine worth $1.75 x 2 =$3.50 
Next up is Goldwell Dual Senses Colour Shampoo & Conditioner, you know I'm not a huge fan of test out new shampoos, I've been using the same Redkin's for about 10 years now (and I'm in love). I did find that I got to use some of my samples when I went camping 2 weekends ago, so I might have these packs for when I travel again? 
I have 2 packs of 10ml each, full size are $28-$32 for 750 ml, making mine worth about $1 
Everyone also got a special Bath & Body Box from P&G to say thank you to our moms in our life (as May is Thank You, Mom Month). We got a Olay Gillette Venus Razor, which normally retails for around $14, this will be going to my mom for sure as I now have about 5 new venus razors which I've got from past boxes and in the mail as free samples. 
We also got a free sample of Olay Regenerist, which I was really happy with from a past Luxe Box so I'm looking forward to using it again! 
Finally we got a $20 off Panty By Post Signature Line Subscription- this seems like a cool idea, but I would never spend $30 on a pair of panties, I buy all mine at Le Senza for like 7 for $25 
Total value of my Luxe Box for this month is about $41.50 (and that's without the $20 savings from Panty By Post)