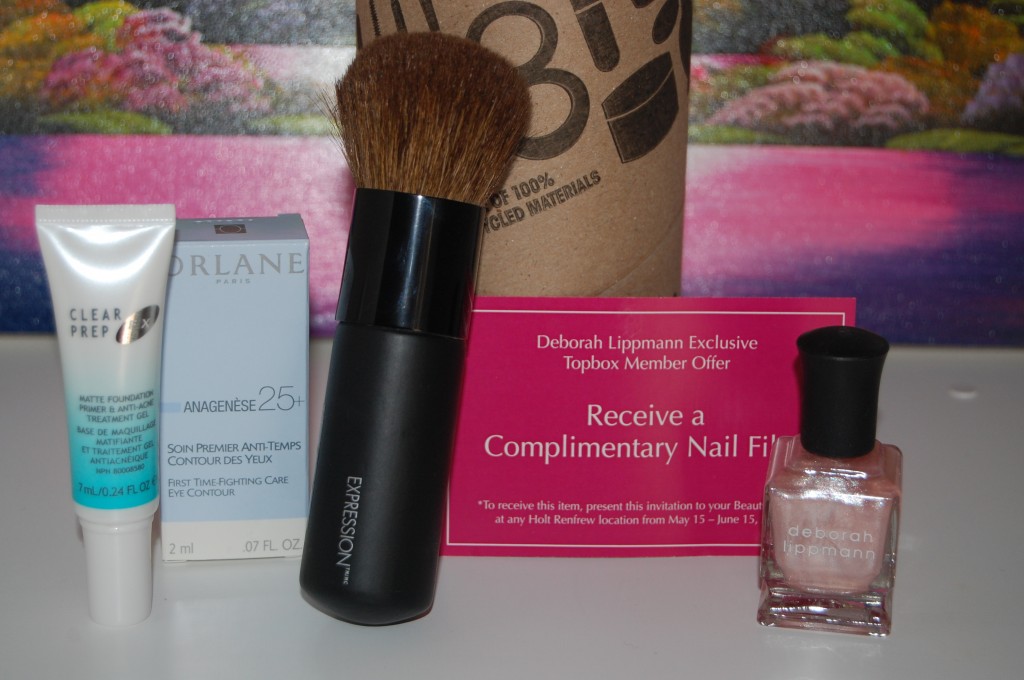 As everyone already knows I'm in love with these companies that send you deluxe sample size beauty products each month for a small fee, I'm hooked! I love the idea of only paying $10-$15 for samples that I can test out before I buy the full size bottles. I have 3 full drawers of products I've bought, hated, and never used again. I'm not going to lie, I do sometimes pass them on to my mom and she seems pretty happy with them (I mean what's not to love, they're free). 
I've teamed up with Top Box for the month of May to do a review on one of their boxes; it was perfect, which is probably why there is a waiting list to join? For $10 a month they will send you 4 deluxe size beauty samples for you to test out, what an amazing deal!  
Here's what I got in my May Box: 
Deborah Lippmann Whatever Lola Wants Nail Polish. When I first opened the box I was so excited to see a full size bottle of nail polish and then when I saw it was Deborah Lippmann I did a little happy dance to myself! I've been meaning to try a bottle, but could not bring myself to pay $20, and now after testing it out I think they might have a new customer? The color I received was a beautiful light pink metallic shade perfect for the summer months. All I can say is I used it, and it lasted over a week with not chips, yippee! 
This is a full size bottle that retails for $20 at Holt's 
Up next is Cover FX ClearPrep FX- again something I've been meaning to pick up every time I watch Cityline and see Derek Selby talking about it. He says it's the best primer out there! I've been using it for the past few days and again I'm a new customer now, this is way better than any primer I've used (yes even over Smashbox). I find it has less of a shine than most and it was super easy to blend. It claims to even help and prevent acne, even better! 
Sample size is 7ml, full size bottle is 30ml and retails for $39, putting a value at mine at $9  
Third is Orlane Paris First Time-Fighting Care Eye Contour. I have not heard of this one, but it claims to diminish fine lines, puffiness, and dark circles. It seems a bit pricey for an eye cream, but then again I just use my regular moisturize that I use on my face under my eyes. I guess if you have puffiness and dark circles this might be perfect for you? 
Sample size is 2ml, full size bottle is 15ml and retails for $75 putting a value at mine at $10 
Last up is Expressions Bronzing Powder Brush, which is perfect cause last time I cleaned mine, it got a little too wet and its starting to fall apart. This brush is extremely soft and way better than my last one. I can't wait to test out more of their brushes. 
This is the full size brush and retails for $25 
It's like this TopBox was meant for me, loved everything about it! I can't wait to get off the waiting list and starting getting a TopBox each month! The value on my box was $64, pretty amazing for only $10!
Thank you for the free TopBox!