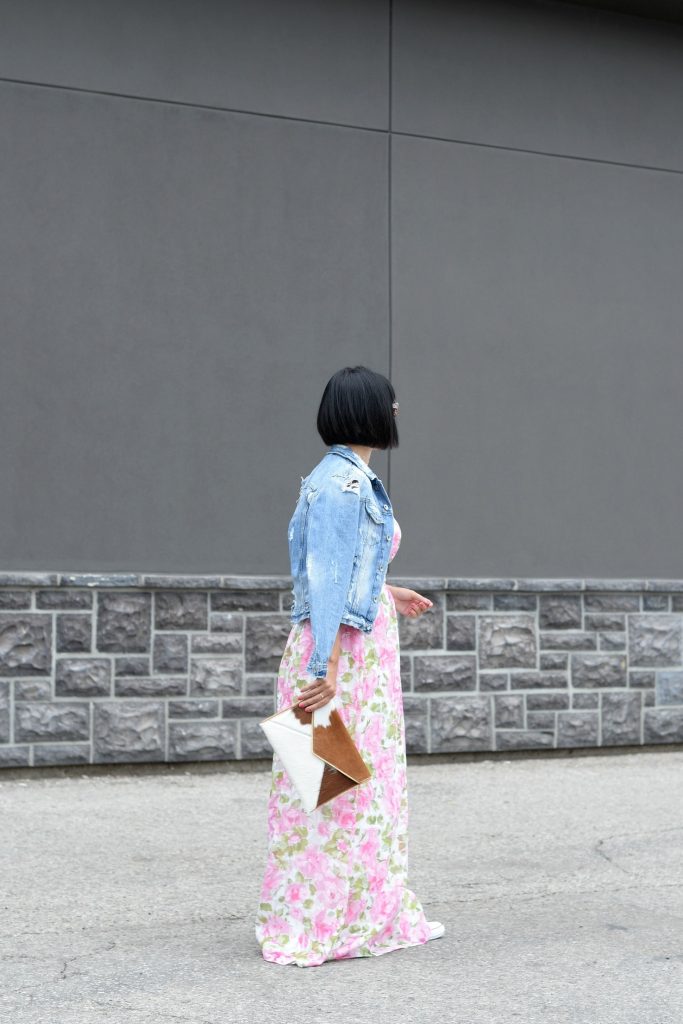 Floral Dress
How many dressy dresses do you current own? How many dresses have you bought for a special event, never to be worn again? How many dresses have you invested in, thinking you'd wear more than once? How many dresses do you have that you know you'll never wear again, yet you hold onto them? Now is the time to re-evaluate your wardrobe and bring out those "special" pieces. I'm a true believer in not saving those "fancy" items for special occasions, whether that's expensive flatware or dishes, designer shoes or handbags, or even dressy dresses.
I often get asked, how can you make a "dressy" dress appropriate for everyday wear, and that's easy…pair it with more casual pieces. We all have those satin, silky or chiffon dress that we've purchased for a wedding, the holidays, or maybe a special occasion, never to be worn again. I say bring them out this summer and wear them.
Try pairing your fancy dresses with more masculine touches. Think oversized blazers, leather flats, or even chunky, statement belts.
I love the idea of wearing a crisp white button-down shirt under a silky dress. Not only does it subvert the notion of traditional workwear, but the shirt can easily be removed for drink at the bar in the evening.
Wearing flats instead of heels is a sure way to dress down any look. If you're looking for an even more casual and relax feel, try kicks. Sneakers are a super causal way to tone-down a dressy look, while looking incredibly chic and trendy.
Another easy way to create a street-style effect is to pair your ultra-girly dresses with denim. A jean jacket is an excellent way to achieve that effortlessly chic, weekend vibe without having to fuss with other garments.
Sometimes its not the dress itself that creates a "dressed up" effect, but what you wear it with. Full on glam makeup and a fancy up-do is a sure way to look like you're going to an extravagant event. Try toning down the makeup and keep your hair natural for a simple, yet elegant look.
What I Wore- Dress- Elizabeth Noel, Denim Jacket- Zara, Sunglasses- c/o Toms, Clutch- Rebecca Minkoff, Watch- c/o Daniel Wellington, Sneakers- Converse Chucks