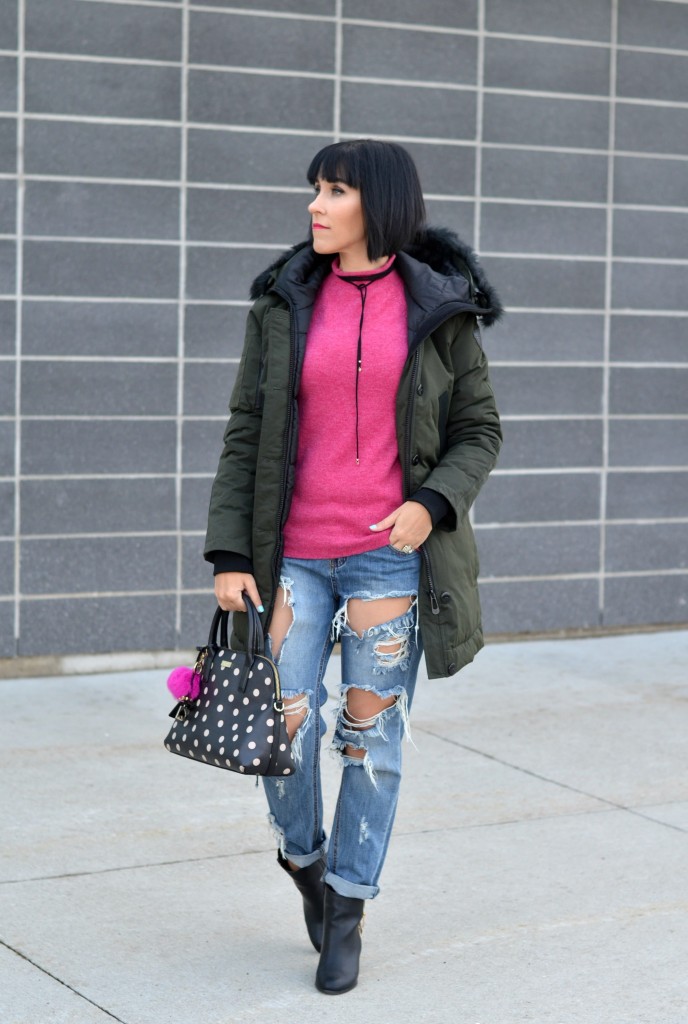 forest green winter jacket
Make a little noise this season in a beautiful forest green winter jacket from Noize. It's designed right here in Canada and focuses on creating high quality faux fur and faux leather accents. Its practical, yet affordable. Noize brings a fresh perspective to winter outerwear and leaves you dreaming of cooler weather ahead. Each piece is not only stylish and fashionable, it's a true statement piece. Each coat is designed to keep you incredibly warm this season.
Break out of the traditional black winter coat and try this Noize Emerie in a rich and vibrant forest green. It's a classic with a twist. This cozy, 100% polyester, mid-thigh parka will instantly dominate your winter wardrobe. It features an array of practical exterior and interior pockets, with ribbon trim. It features a hidden centre front zipper with snap closure and fully-lined faux fur hood with removable faux-fur trim. I'm obsessed with the perfectly placed thumbhole that allows my hands to stay warm, but gives me the freedom to hold my hot chocolate and shopping bags. Don't be afraid to enjoy all your favourite winter activities like ice skating, tobogganing, tubing, snowshoeing, dog-sledding or even building a snowman, as its fully machine washable.
This Noize Emerie forest green winter jacket is not only chic and stylish, it helps break the wind and keep the cold air out. Although it's extremely lightweight, it leaves me incredibly warm and snuggly.