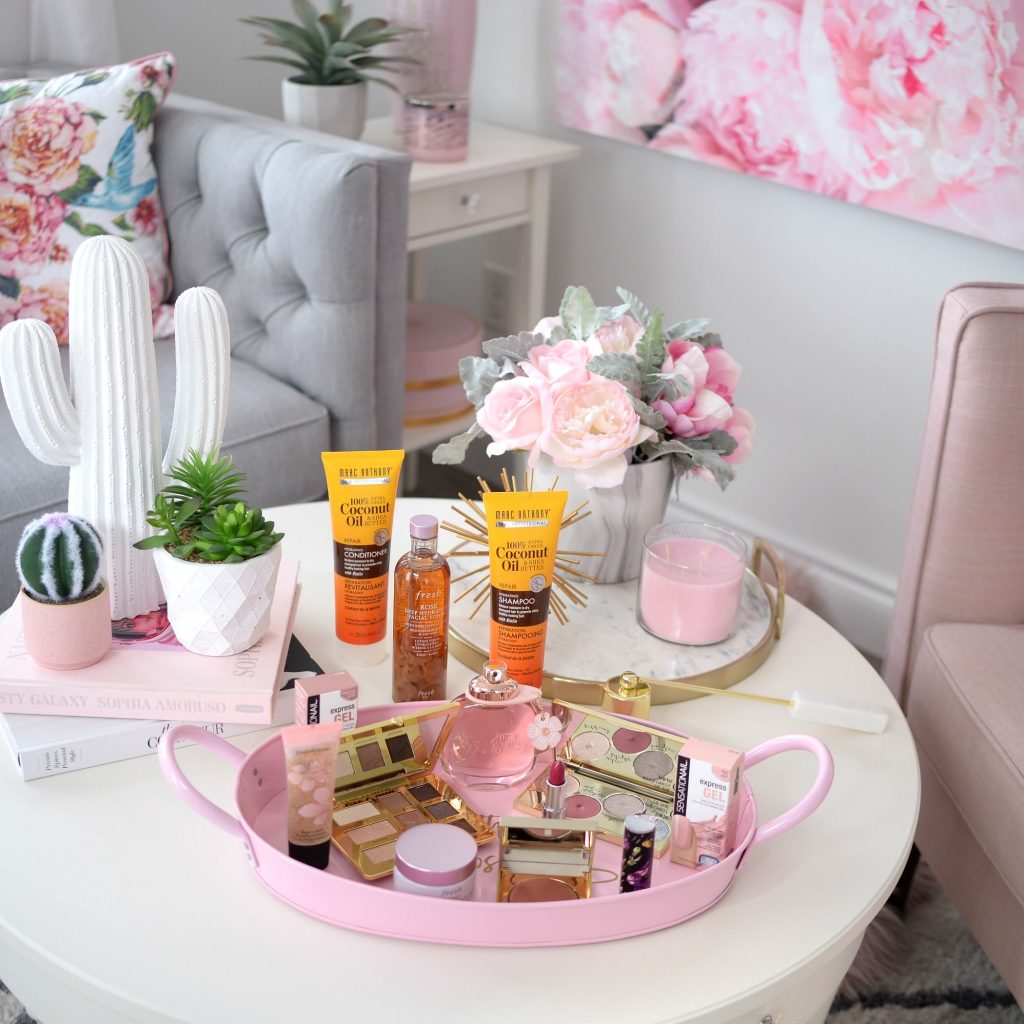 Beauty Faves
It's been a crazy busy month, between spring cleaning, traveling and planning our next holiday, I don't know how I managed to fall in love with so many new products. I guess when you love what you do, it doesn't really feel like work (testing out new products). I still wake up each morning and pinch myself to make sure this blogging thing is for real. Never in my wildest dream would I think I'd be making a living off testing out new makeup, playing dress-up and sharing my love for all things fashion and beauty with the world. I guess dreams really do come true?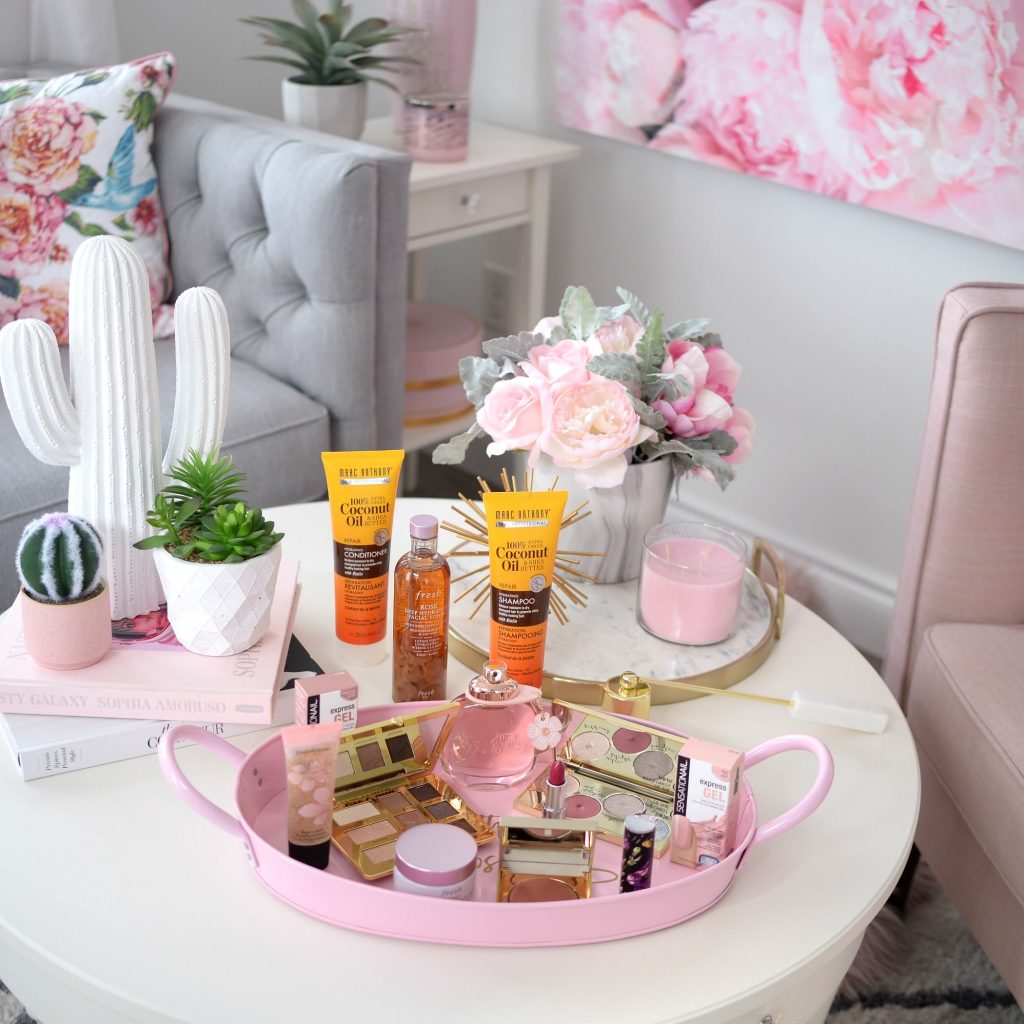 I was traveling this month, and the last thing I wanted to worry about was, my nails. Keeping your nails picture perfect for two weeks is often a challenge, unless you get a professional manicure. Sadly, to say, I didn't have the time before I left to get to the salon, so I relied on my SensatioNail Express Gel Complete Manicure Kit. Unlike traditional gel manicures, that must be cured under a LED lamp for upwards of 20+ minutes, this system cures the polish in just 30 seconds. The kit contains everything you need for a flawless mani at home, and since it doesn't require a base or top coat, you'll have professional quality nails in half the time and at a fraction of the cost. The gel polish is pigmented enough that you only need a single coat, and it also provides an ultra-shiny finish that lasts for days without chipping or fading. I had no problem getting a solid 10+ days of wear-time out of it. It retails for $59.99 and each polish is sold individually for $13.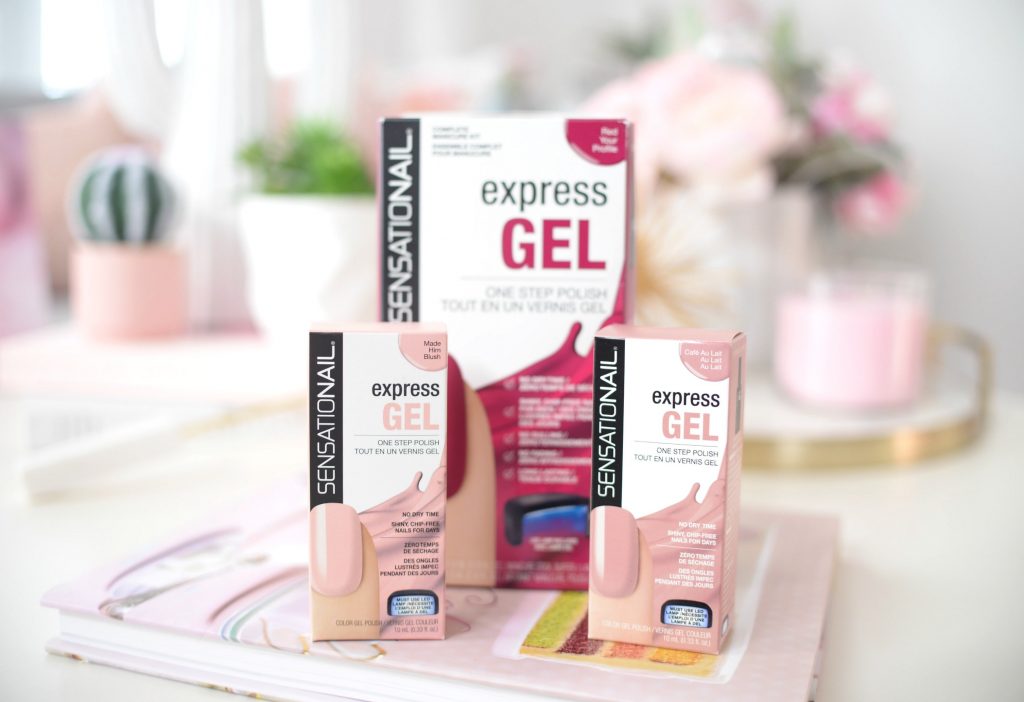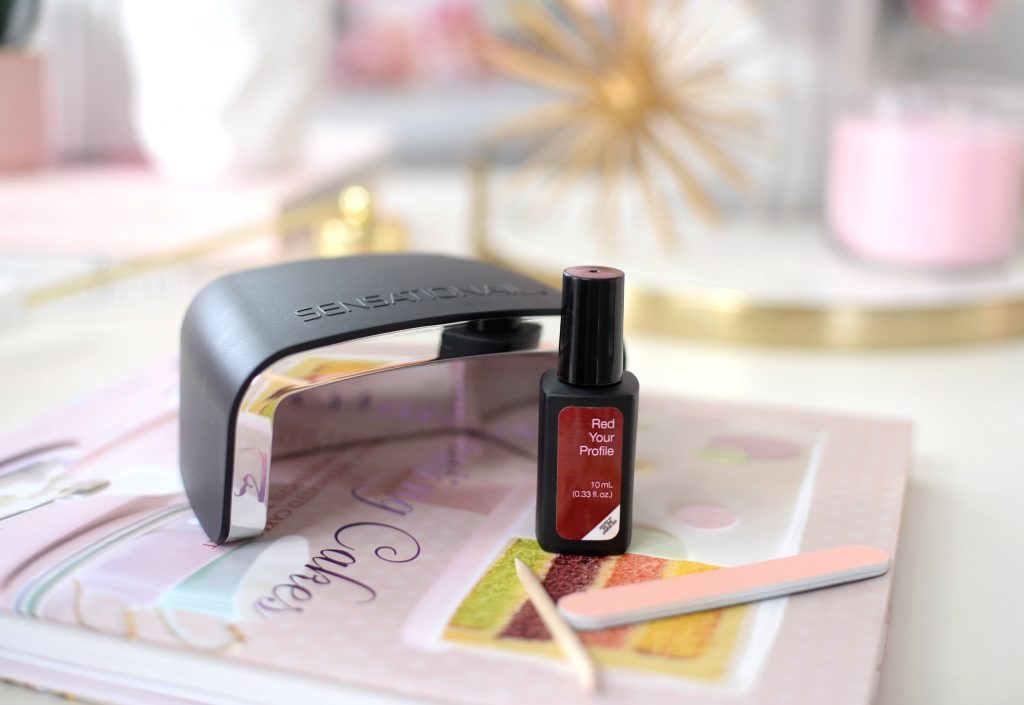 No matter how well I take care of my hair while I travel, I always come home to dry, brittle strands. For the past few weeks, I've been testing out Marc Anthony 100% Extra Virgin Coconut Oil & Shea Butter Repair Hydrating Shampoo and Conditioner. Not only does it smell amazing, like you're on a tropical vacation down south, but its incredible moisturizing formula helps to lock in moisture and restore my hair to its shiny and healthy state. The shampoo's foamy formula deeply cleanses the hair of dirt, daily grime and product buildup without stripping it of its natural oils. The rich and cream conditioner helps to nourish dry, damaged ends, while leaving it silky-smooth and soft. Both products combined help to leave hair shiny, healthy and with less frizz and fly-a-ways. The longer I used each product, the less damage, spilt-ends and breakage I can see happening. Each retail for $7.99.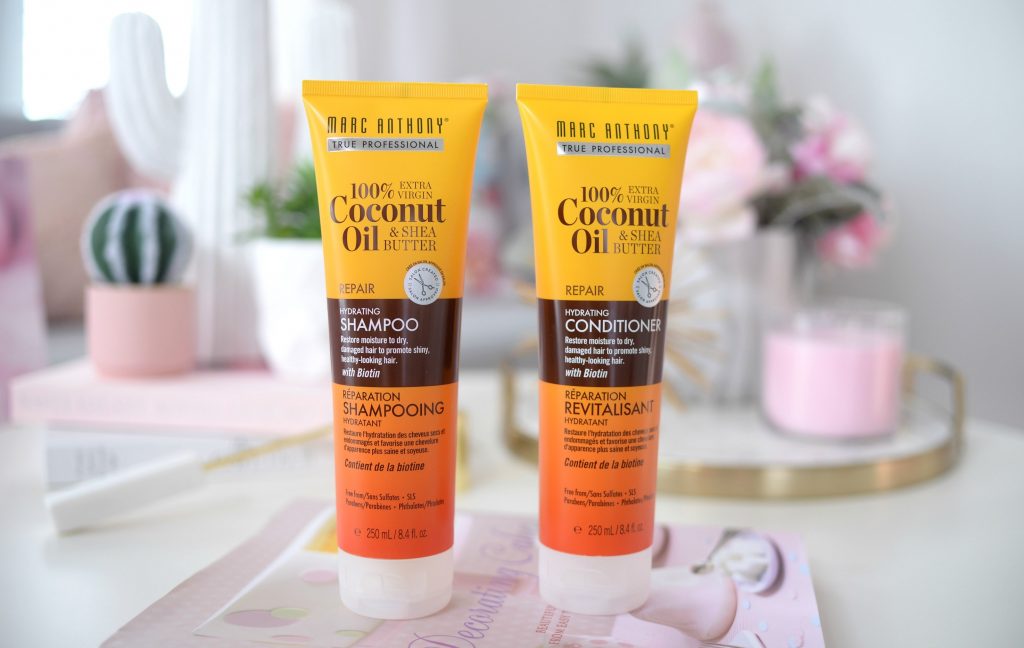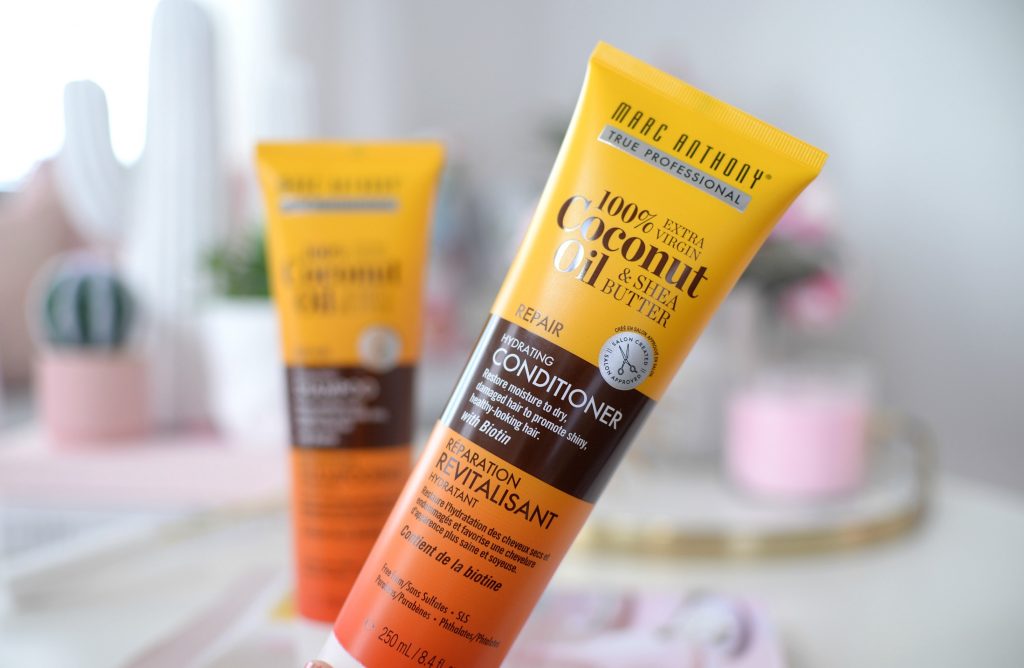 You ladies know, I love anything with a masculine scent. I tend to reach for more "manly" perfumes, but that doesn't mean I don't love a good light, airy and fresh scent in the summer. The Coach Floral Eau de Parfum is a fruit and florally fragrance that has just enough woody and musky notes to keep this girl happy. It was inspired by Coach's signature leather tea roses that help offer a modern, yet feminine aroma. It opens with a splash of citrus, pink peppercorn and pineapple sorbet to keep it light and summery, but its middle notes of rose tea, jasmine sambac and gardenia help provide a more sophisticated and ladylike touch. The dry-down is rich and warm thanks to creamy wood, musk and patchouli. All in all, the perfect daytime and evening scent for the hot, sunny months. It retails for $92 for 50ml and $118 for 90ml.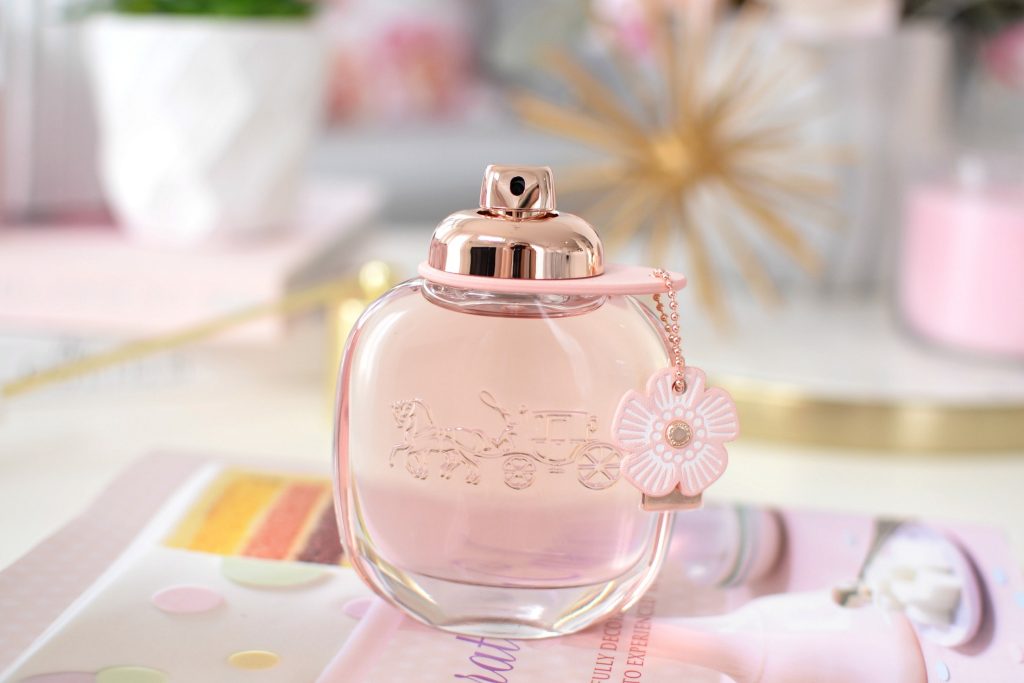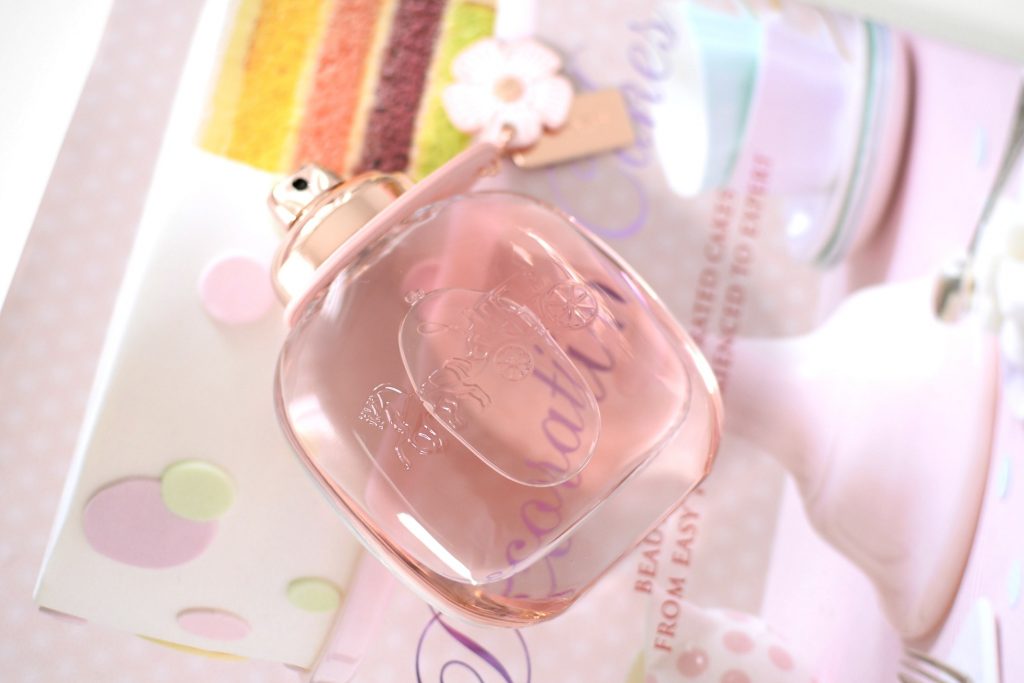 I'm a huge fan of anything Fresh, and their Rose Deep Hydration Facial Toner has been a product I've been dying to try for years. I keep hearing major buzz around this product from the beauty community, and I even believe it won an Allure beauty award? Not going to lie, I've never been a facial toner kind of gal, it always seemed like an unnecessary step in my skincare routine, until now. Now I get what all the fuss is about. As you can see from the gorgeous bottle, it's infused with real rose petals that help remove impurities, refine the appearance of pores and leave the skin soft, smooth and healthy. Its gentle formula deeply cleanses the skin of dirt, oil and daily grime without stripping it of its natural oils. It instantly leaves skin feeling refreshed and hydrated with a radiant and luminous glow. It also contains rosewater and rose flower oil to help soothe dry, irritated and itchy skin, while nourishing and protecting it. Finally, angelica leaf extract and hyaluronic acid help to immediately add moisture back into the skin and leave it hydrated all day. This is one powerful and almost magical product that I can't live without now. It retails for $54 for 250ml.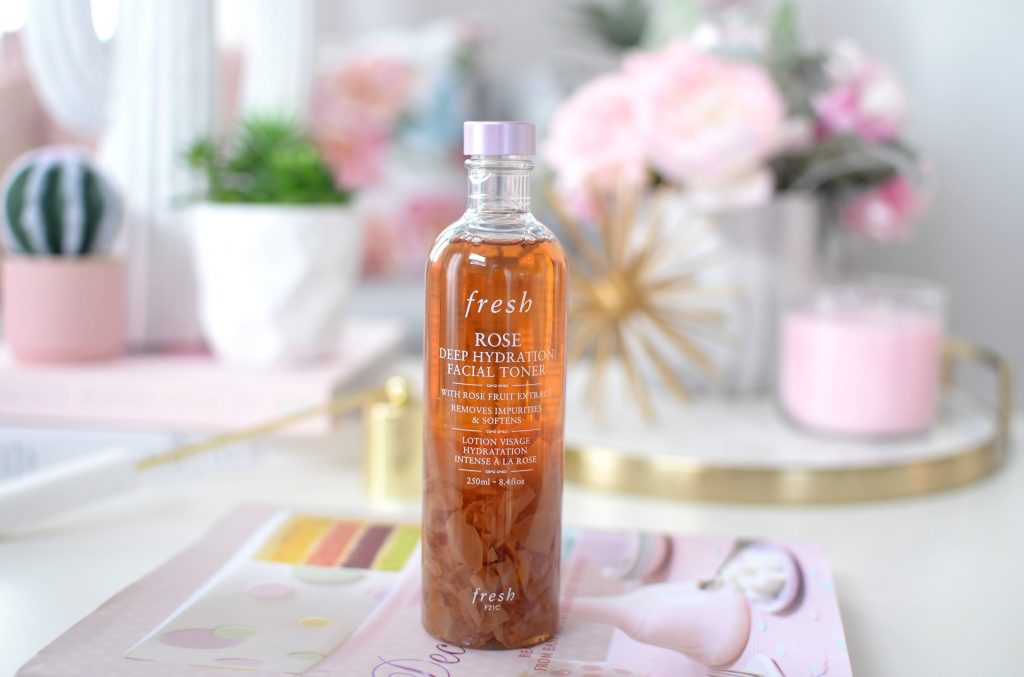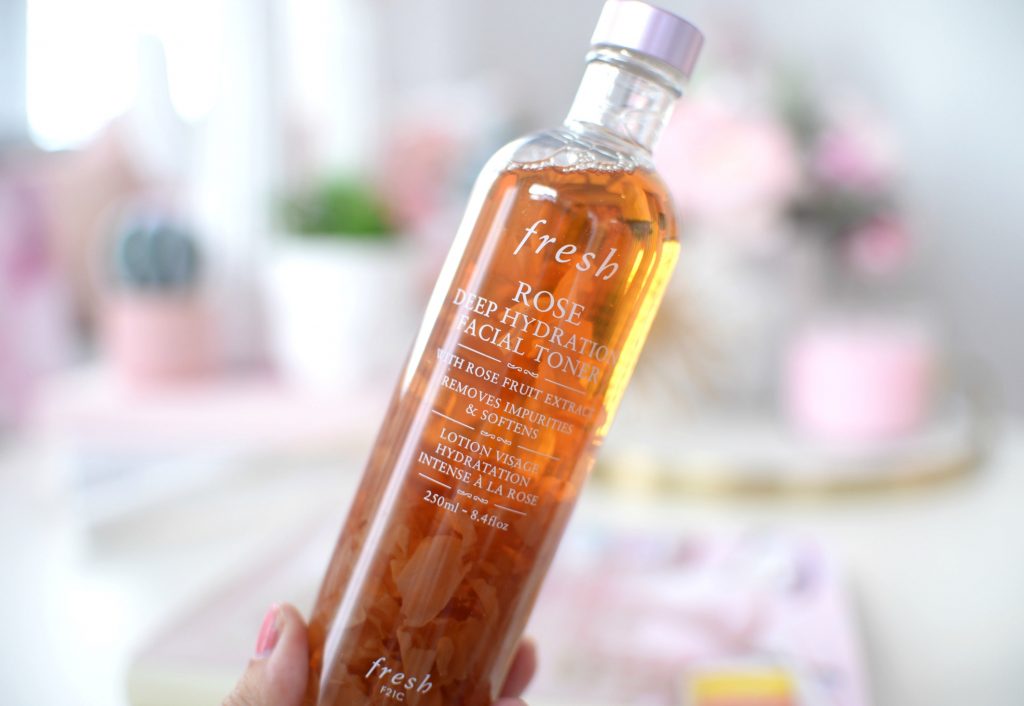 Keeping with the hydrating theme, I've also been using the Fresh Rose Deep Hydrating Face Cream in the evening. This lightweight, gel-like cream is infused with rosewater and rose flower oil to deeply nourish and hydrate, while calming and soothing the skin. Upon waking up, my skin is left moisturized, plump and ready to take on the day. For someone who has extra dry skin, I've noticed I don't have to layer on a thick moisturizer in the morning to ensure my makeup doesn't look dry or flaky mid-day. It seems to not only help repair my skin's natural barrier, but actually attracts the moisture my skin needs. Its rich and creamy formula instantly helps heal dry patches, reduce redness and soothe skin overnight. From the very first use, my skin became healthy and glowing. It does a wonderful job at creating a block between the dry air and your skin. It ensures my skin is nourished, hydrated and silky-smooth all day and night. It retails for $50 for 50ml.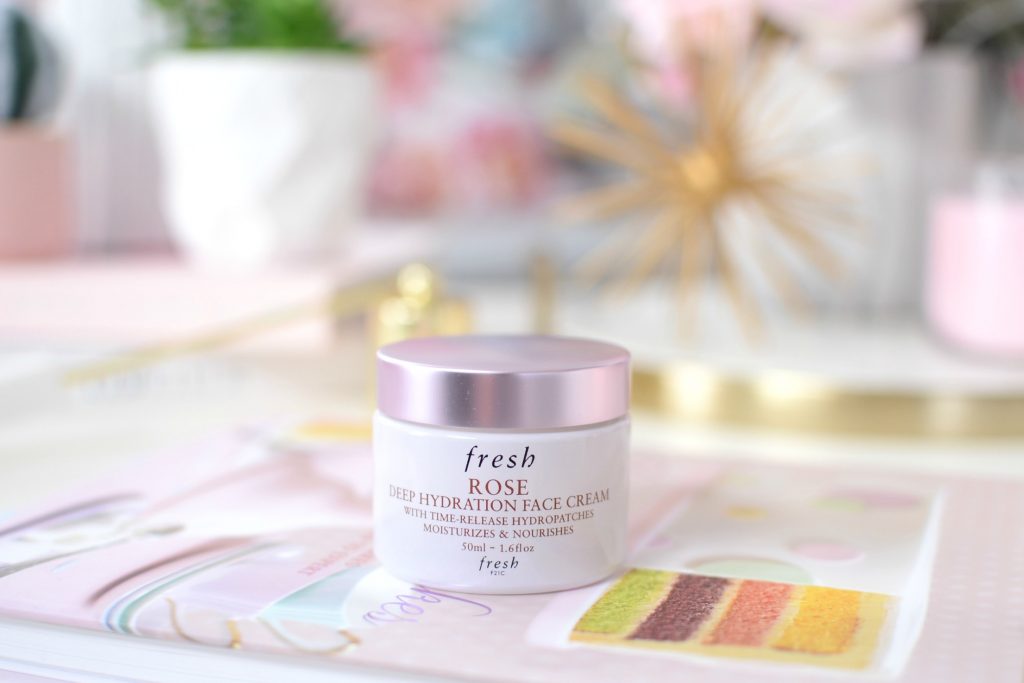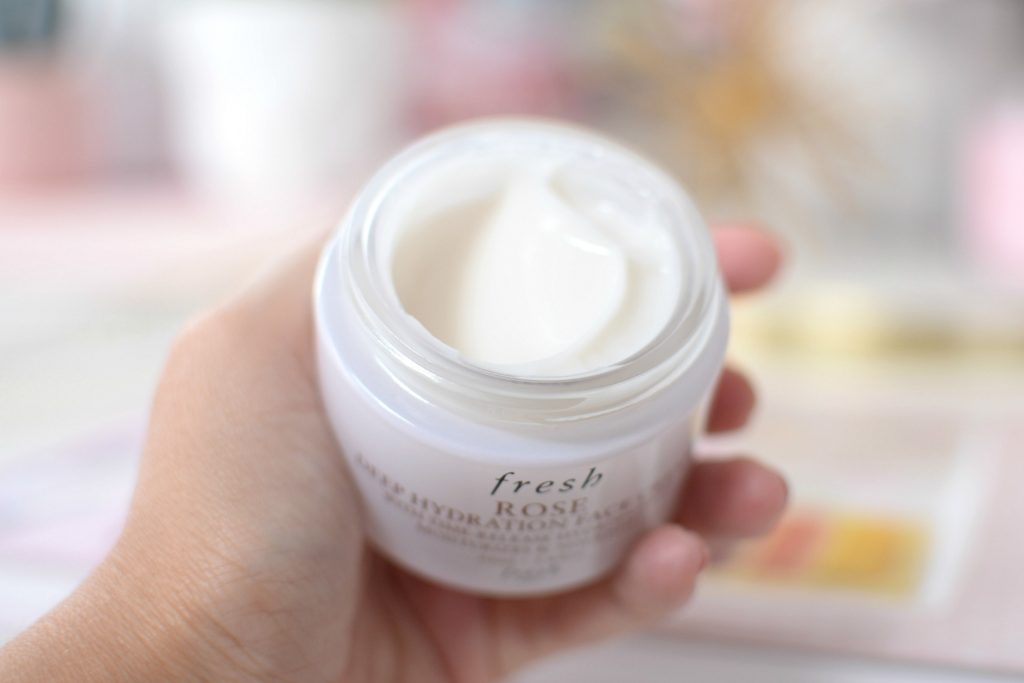 I'm not going to lie, when I first got this Sephora Collection Smooth Finisher Exfoliating Bath Mitt in the mail, I wasn't sure what it was. With a little research, I found it helps to exfoliate the skin without soaps or a chemical peel. I was a little sceptical at first, how can a mitt and water, soften the skin without any products? Apparently, its unique and innovated design helps to lift away dirt and dry dead skin, leaving a smooth, polished and radiant complexion afterwards. I couldn't believe the results after a single use. It's an excellent alternative to the traditional loofah, as it doesn't only cleanse the skin of daily grime, but it helps buff away dry patches and flaky skin. Immediately, you'll see your skin balling up and flaking off, then as you get out of the shower/bath, you'll see how luminous and youthful your skin looks. Any lotions or body butters you apply afterwards, your skin seems to just drink up. It retails for $13.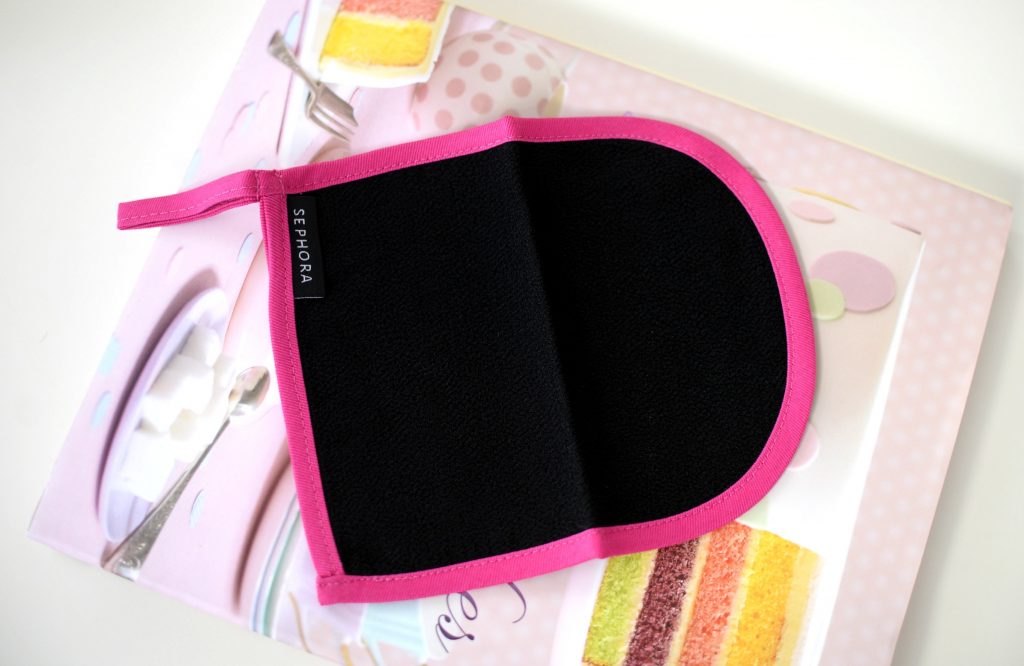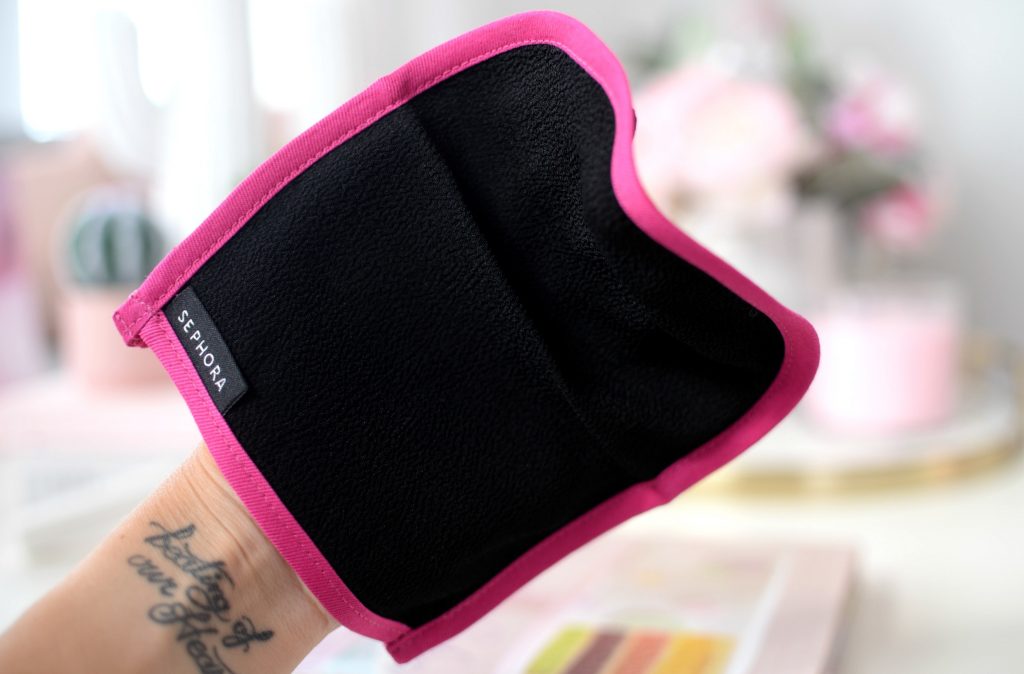 On days when I'm looking for that extra little glow, I've been applying the Elizabeth Arden Dare to Bare Bronzing Gel Pearls to my skin after my body lotion. Its designed to help illuminate and bronze the skin with a gorgeous and radiant summer glow. It's infused with hyaluronic acid and tilia cordate flower water to not only help add hydration but leaves skin feeling refreshed and ready to take on the day. This lightweight golden body gel is perfect on days when you want a touch of bronzy glow without having to fuss with a self-tanner. It blends into the skin seamlessly, with no streaks or patchiness, and its weightless formula leaves skin soft and smooth, without that annoying sticky or greasy feeling. It's incredibly natural, a soft, subtle, sun-kissed glow for that lit-from-within effect. A warm and youthful glow in seconds. It retails for $45.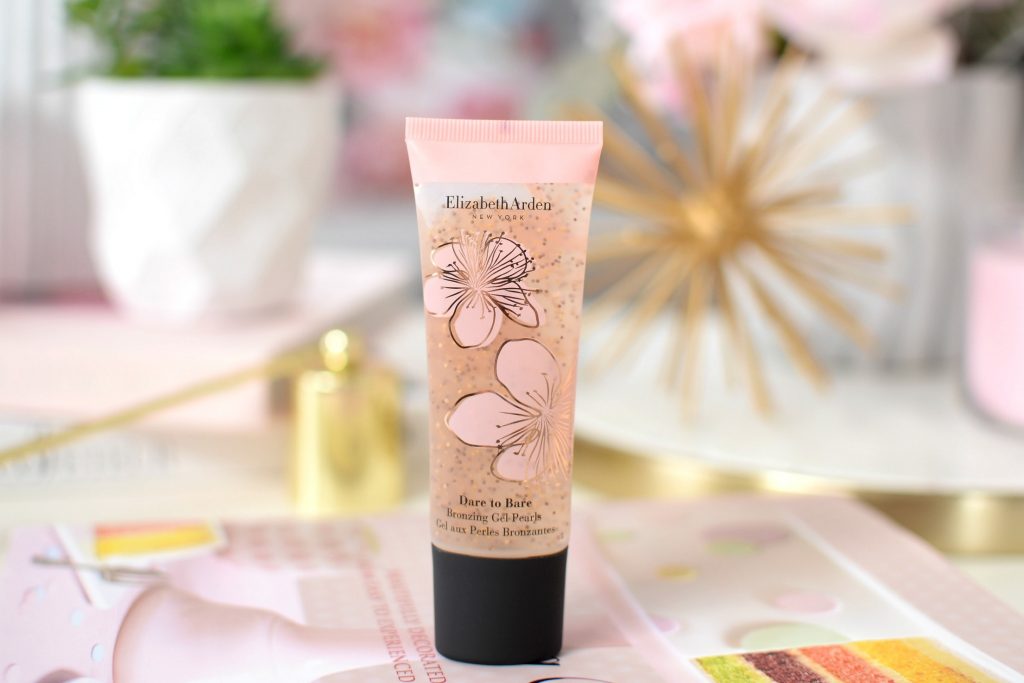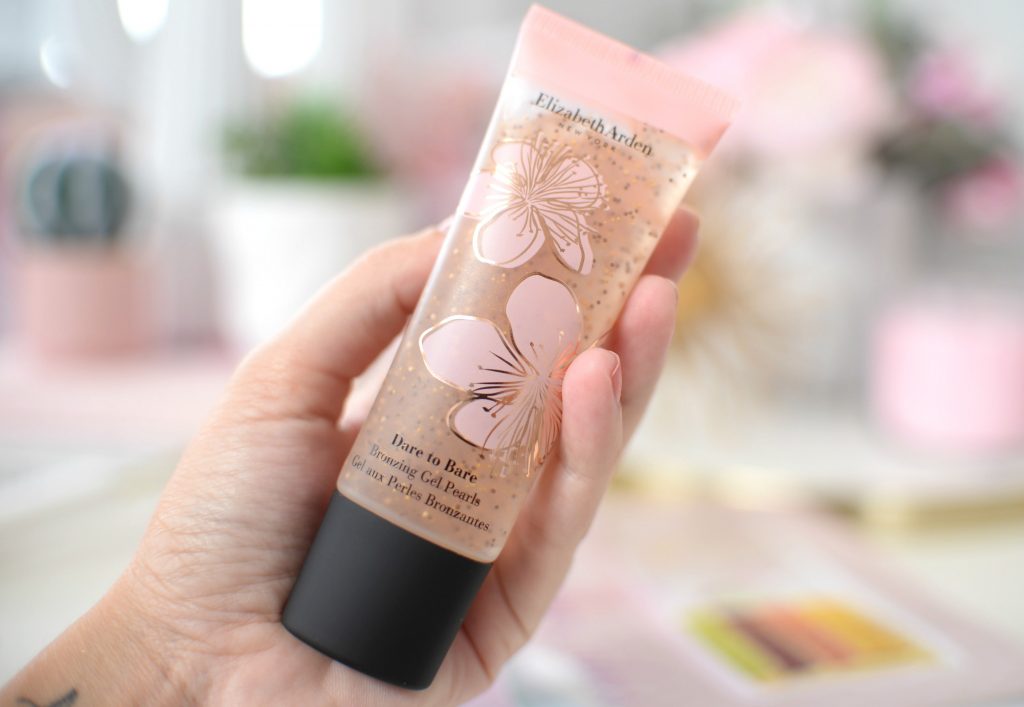 It comes as no surprise that I'm slightly obsessed with the Stila Heaven's Hue Highlighters, thanks to its innovated bouncy-to-the-touch texture and blinding highlight, and just in time for summer, the brand has released a brand-new shade. Magnificence instantly creates a perfectly peach, warm flush on the high points of your face, for that lit from within glow. Its ultrafine formula and light-diffusing particles help to keep skin soft, luminous and extremely natural looking all day.  It instantly melts into the skin for a completely seamless and flawless finish. It honestly creates the most beautiful and stunning, radiance- enhancing highlight on your skin that will flatter and compliment all complexions. It retails for $42.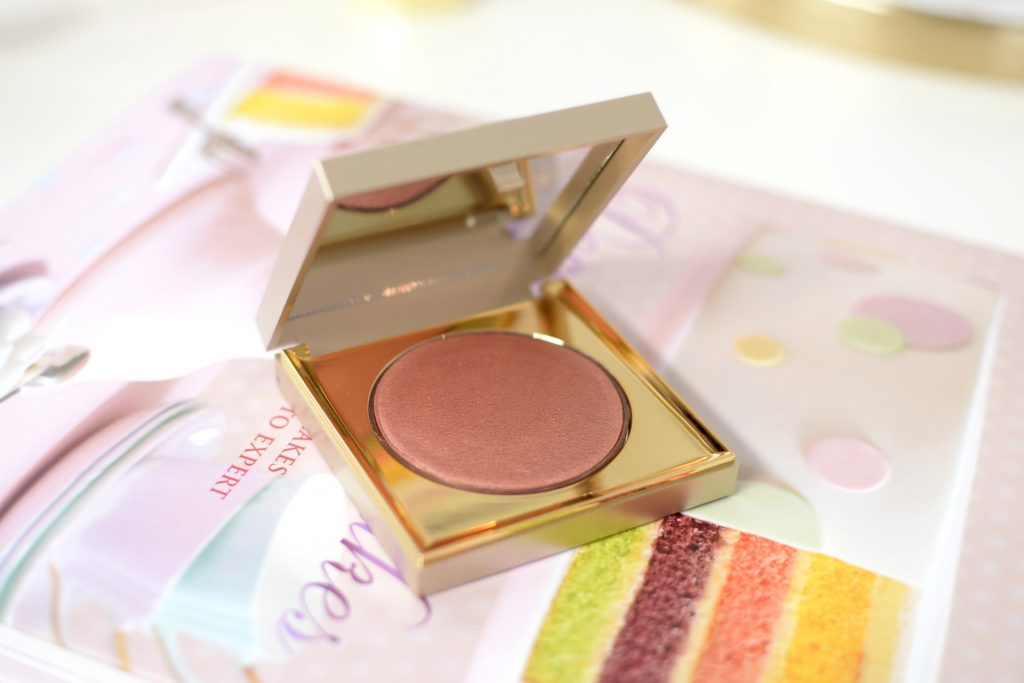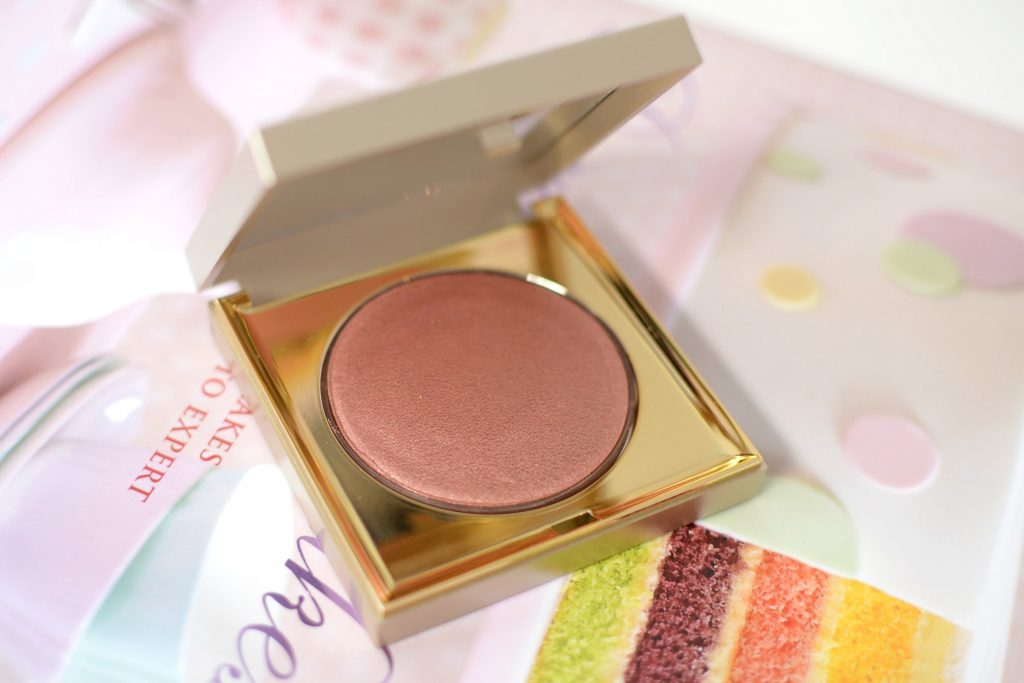 For the eyes, it's been all about the Too Faced Natural Eyes Palette. During my travels, I went hard on the Too Faced Natural Face Palette and was kicking myself that I didn't bring the matching eyeshadow palette with me. The palette comes with an array of shades that effortlessly creates both daytime and evening looks. It features the brand's exclusive coconut-butter-infused formula to ensure each shade is rich and creamy and comfortable to wear. From cream, peach champagne, beige, taupe, browns, bronze, charcoal, gold and espresso, in both mattes, satins and shimmers, I have no problem achieving sexy, yet wearable looks. Each shade is incredibly pigmented, blend out like a dream, have little to no fallout and stay put the entire day. Thanks to its handy "how to glamour guide" don't have to think about which shades work well together on days when I'm in a rush. If you're looking for an everyday neutral palette this season, I highly recommend this one, plus it smells like coconut. It retails for $48.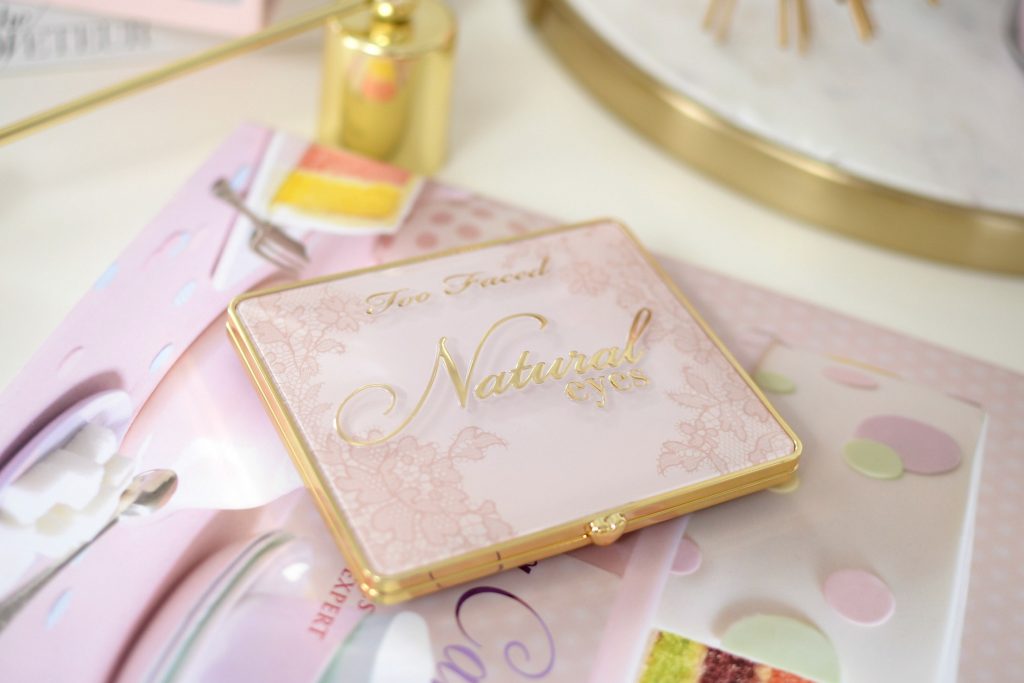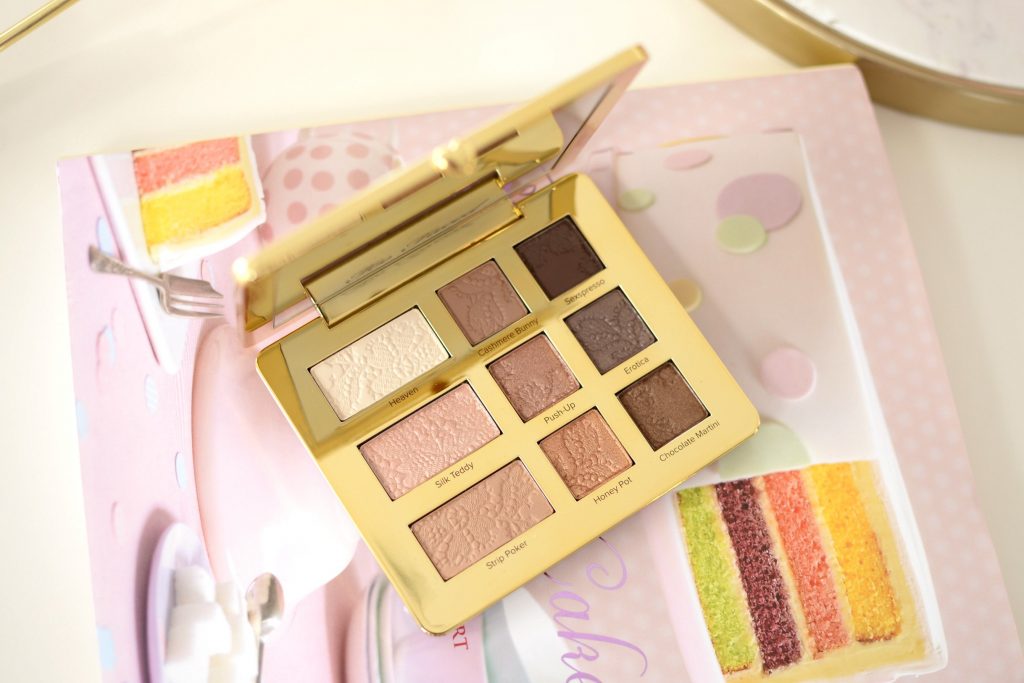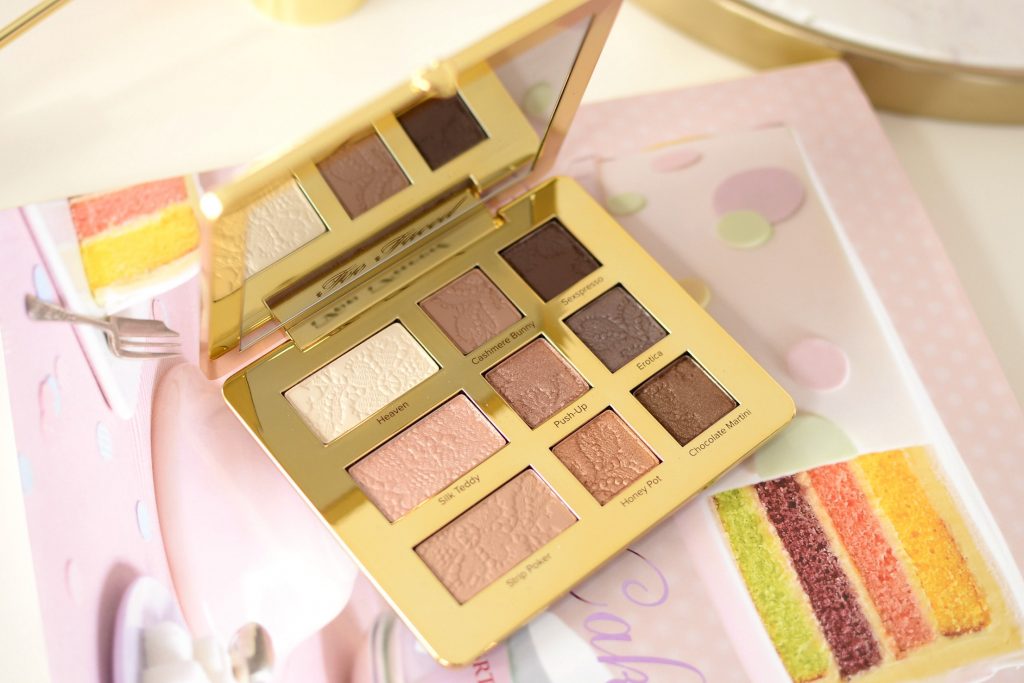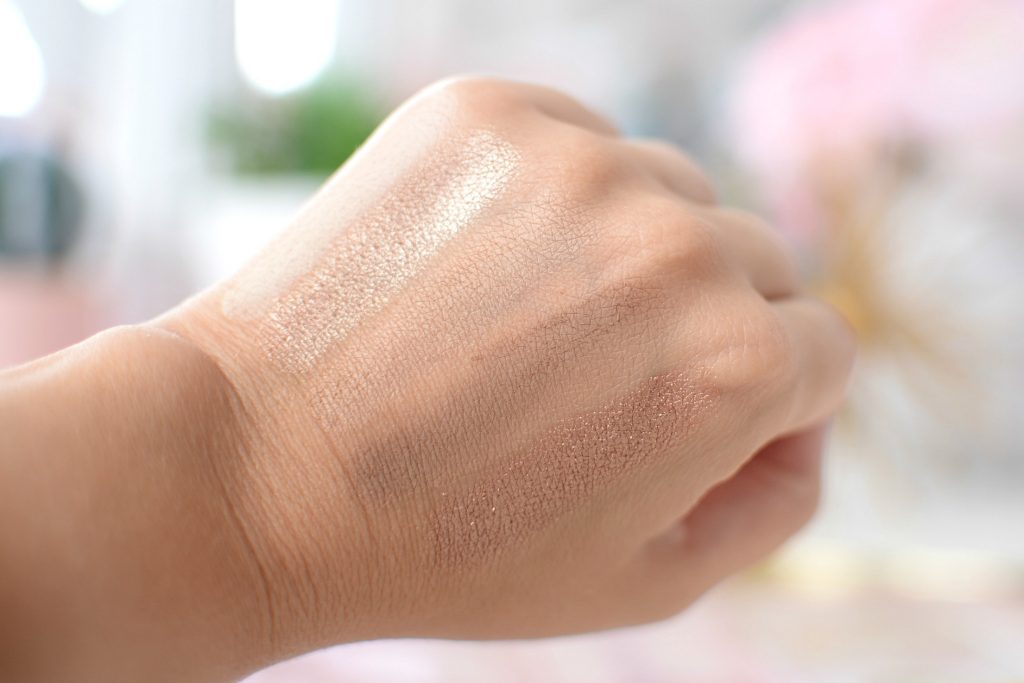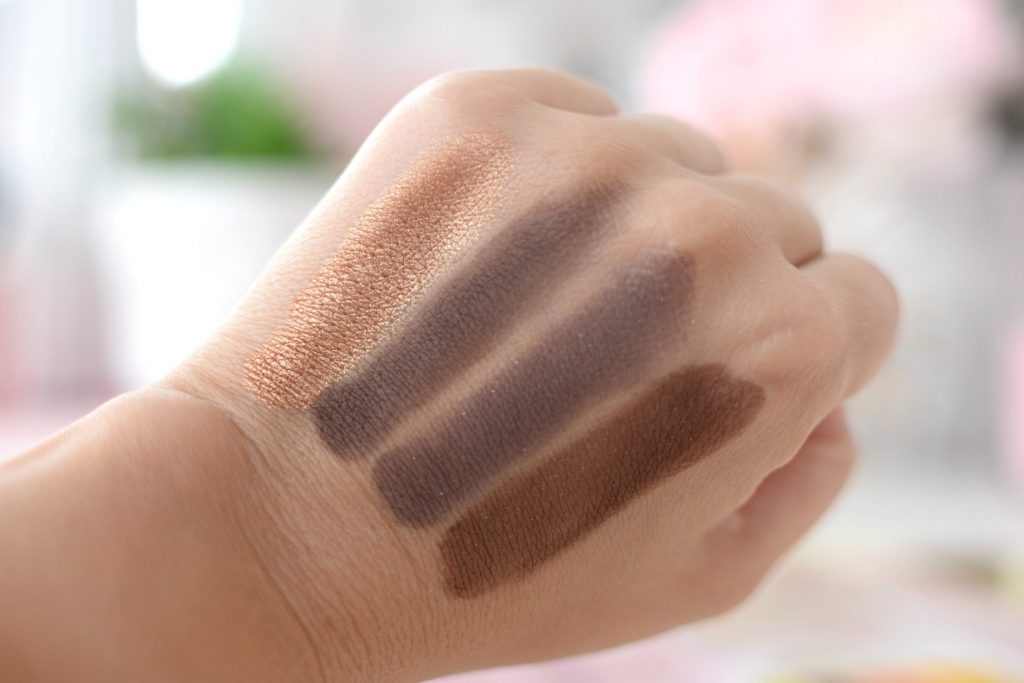 On days when I'm feeling more adventurous, I've been playing with the new tarte Rainforest of the Sea Foil Finger Paints Shadow Palette. If you loved finger painting when you were little, or if you just hate using (or maybe cleaning) makeup brushes, these shadows are for you. Its unique textured foil formula is so richly pigmented and buttery smooth, you can apply them with your fingers. It comes with 3 warm-tone foil shades, including a champagne, burgundy and chocolate, alongside two iridescent and silvery topcoats. The solid shades are velvety smooth and almost melt into the skin, whereas the slightly sparkling shades not only look stunning on their own but layered overtop of the deeper shades for a shimmery effect. Although best suited for eveningwear, these fun shades demand attention and are the star of the show. It retails for $52.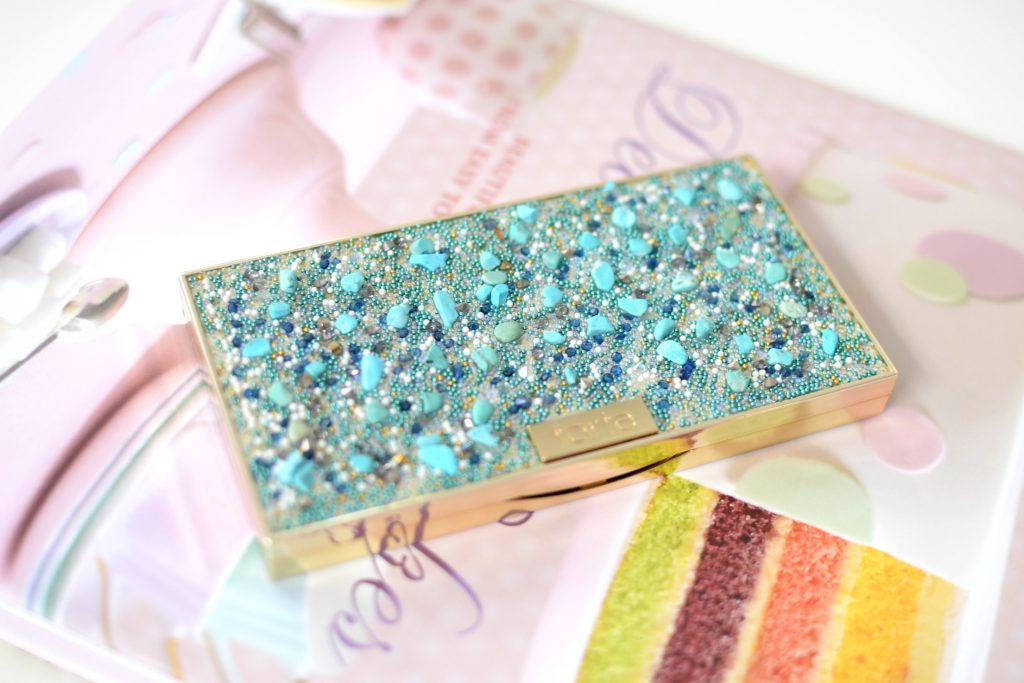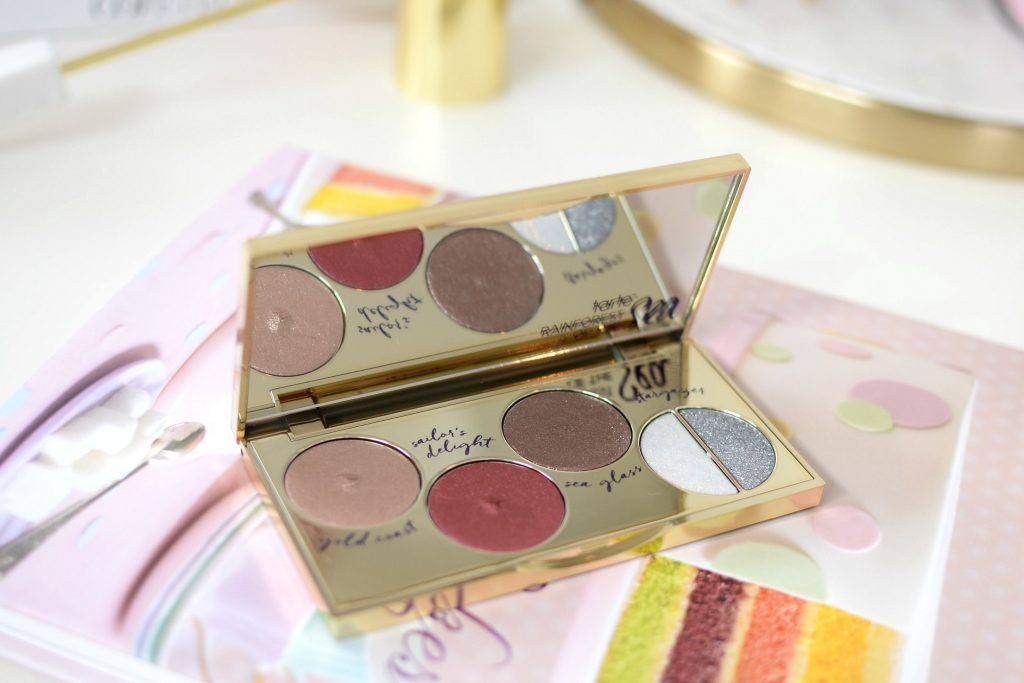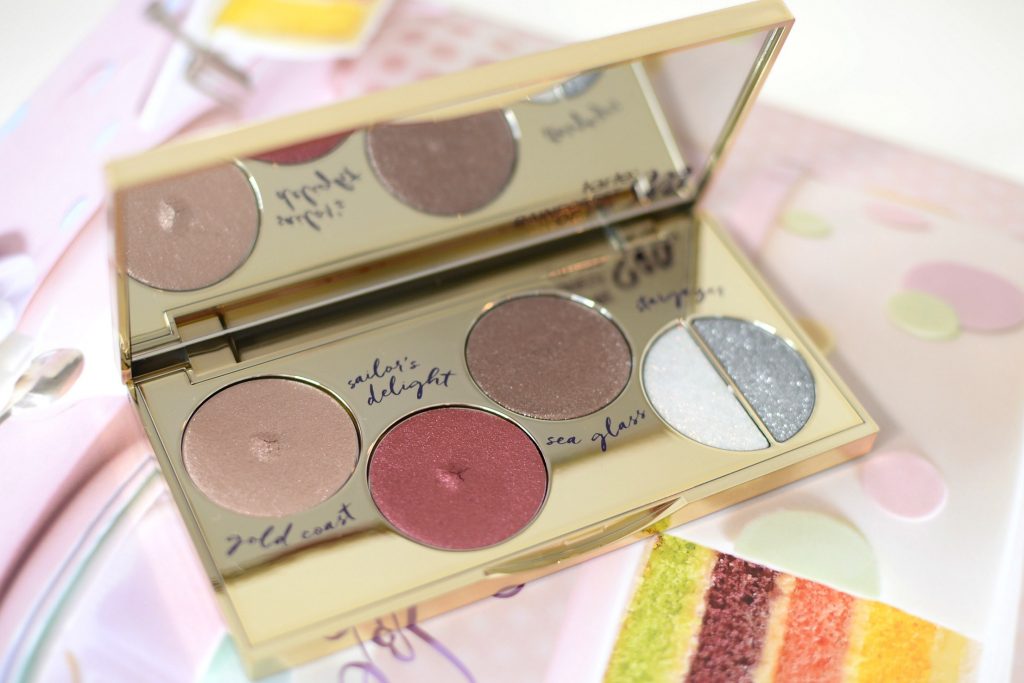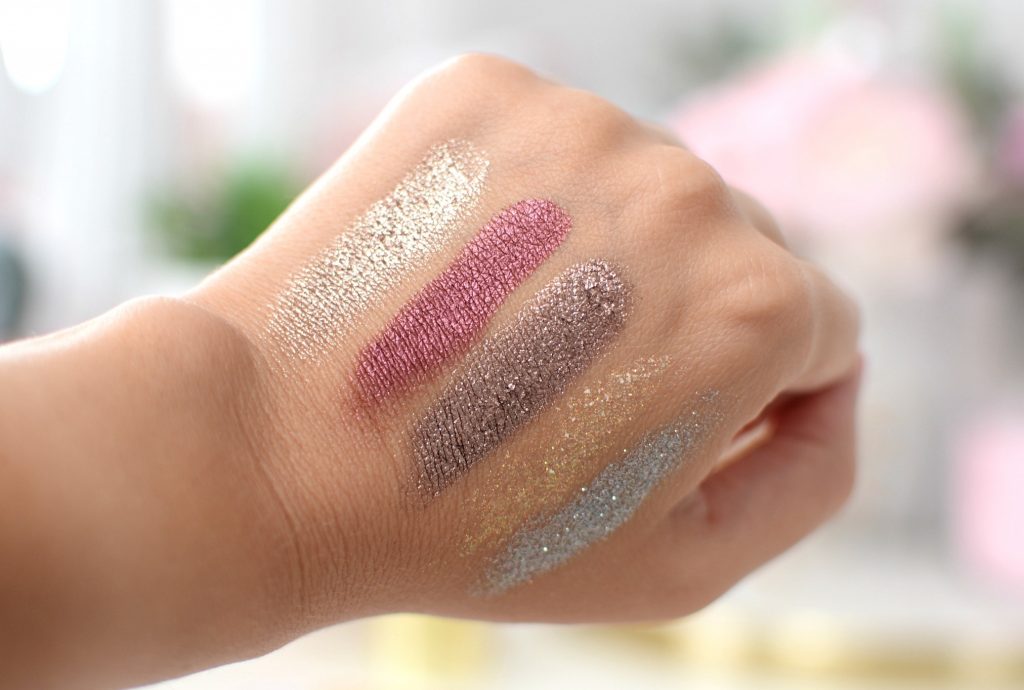 Tell me this limited-edition Givenchy Couture Edition Le Rouge Lipstick in Framboise isn't the prettiest packaging you've ever seen? Its detailed floral pattern is incredible, and I feel so boujee pulling it out of my purse. Not to mention, the deep beery plum shade within, is absolutely stunning. Its intensely rich and creamy texture is a breeze to apply and its extremely pigmented formula saturates lips in bold, vivid colour in a single stroke. Its semi-matte finish is not only wearable, it's unbelievably comfortable to wear all day. Although not the longest wearing lipstick on the market, it's also not drying like other liquid lipsticks. I find myself reaching for this day after day. It retails for $48.50.