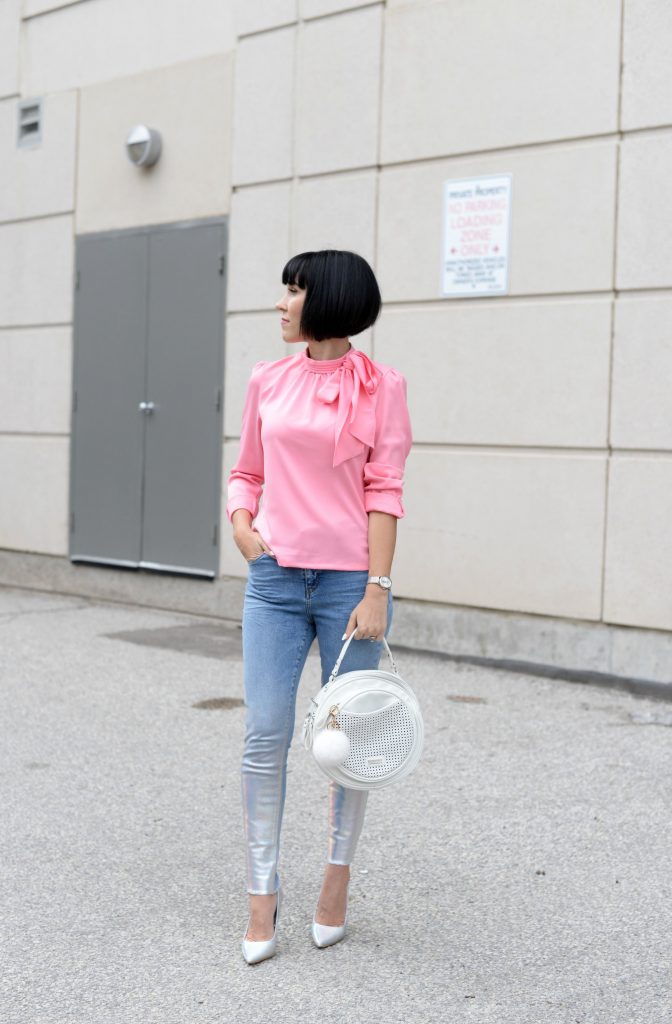 Mermaid Jeans
Society has a slight obsession with mythical creatures, am I right? Last year we saw nothing but unicorn inspired everything, and now it's all about the mermaids. In a world where we're surrounded by hate and jealousy, colourful and magical creatures help to make everything slightly more tolerable. We now turn to sea magic to help us add cheer and happiness into our lives.
Although silver and gold metallic has been around for years, designers are now opting for a more colourful approach. The metallic mermaid reflective trend is now a sea of rainbow blended with silver and gold bases. Hologram fabrics are an extremely edgy way to incorporate this trend. Light-reflective pieces are eye catching and can turn any clothing piece into a statement look.
My style tip is to pair a reflective piece, like these Zara mermaid jeans, with a more neutral piece. This pink blouse helps to balance out the jeans and keep it classic. It's an easy way to play on the trend, while keeping your look wearable for every day. There's no need to go full-on metallic, unless you're brave enough to own that look.
You can also have fun with rainbow metallic accessories, handbags or shoes, if you're not ready to commit to a clothing piece. It's also an inexpensive way to have fun with shiny pieces without investing too much.
What I Wore- Blouse- Chicwish, Watch- c/o Thomas Sabo, Purse- c/o Pinkstix, Mermaid Jeans- Zara, Pumps- Forever 21