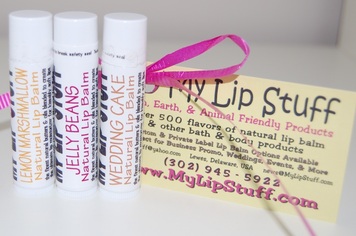 And the winner of the 6 pack of My Lip Stuff is Betty Campbell-Hagen! She checked out my review on these amazing lip balms and left a comment on Facebook saying "I have to hide mine from my daughter (but she always seems to find it). I keep at least 3 in my purse and one in my jacket. When they go missing I search her room and purse. Got to love teenagers!"
Now she will have 6 new ones to test out & maybe if her daughter is lucky she will share one or two???? 
If you didn't get the chance to check out the review here's the link to Facebook , these really are amazing lip balms and they have over 500 to pick from.
Here are just 5 of the 6 Lip Stuff that Betty Campbell-Hagen got, she is missing one cause as they were out for supper one night and Betty was in the little girl's room her lovely daughter asked her dad for her purse so she could find her moms lip balm and she never put it back in. Betty wonders how stuff always goes missing??? 
The one she took is wedding cake and it was her favorite :( Betty also says the "Sex on the beach smells just like the shooter!" Yum Yum