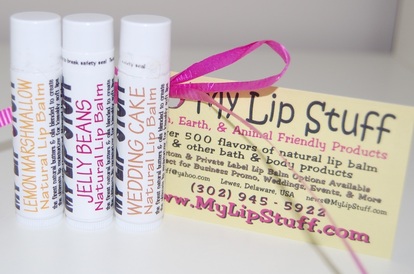 My Lip Stuff has over 500 flavors of Natural Lip Balm. My lips get chapped a lot & I have a hard time finding a balm that keeps them moist, smells & tastes great with not too much shine. I was excited when my package came in the mail, I had to try one right away (even made the hubby try it too). My lips felt amazing right after, definitely kissable!
After a week of using this I can already notice a real difference in the way my lips look and feel. This stuff moisturizes and makes my lips feel super soft. My Lip Stuff smells so good, you want to eat it (maybe keep it anyway from the children).
After 2 weeks of using it I can't imagine using anything else ever again, way better than any other product I've tried & the price is right!
I was lucky enough to test out 3 different kinds, Jelly Beans, Lemon Marshmallow & Wedding Cake- yum yum! Not sure which one is my favourite & I can't wait to try new ones.
One of my favourite things about this company is that all of their products are skin, earth & animal friendly, yippee! You know I have a huge amount of respect for companies that care about their customers, animals and the planet.
One of my lucky reader ( Betty Campbell-Hagen) had the chance to win a random 6 pack of Lip Balms, all you had to do was leave a comment on Facebook with what they love about lip balms or check My Lip Stuff Website and tell me which one(s) they would love to try to win!