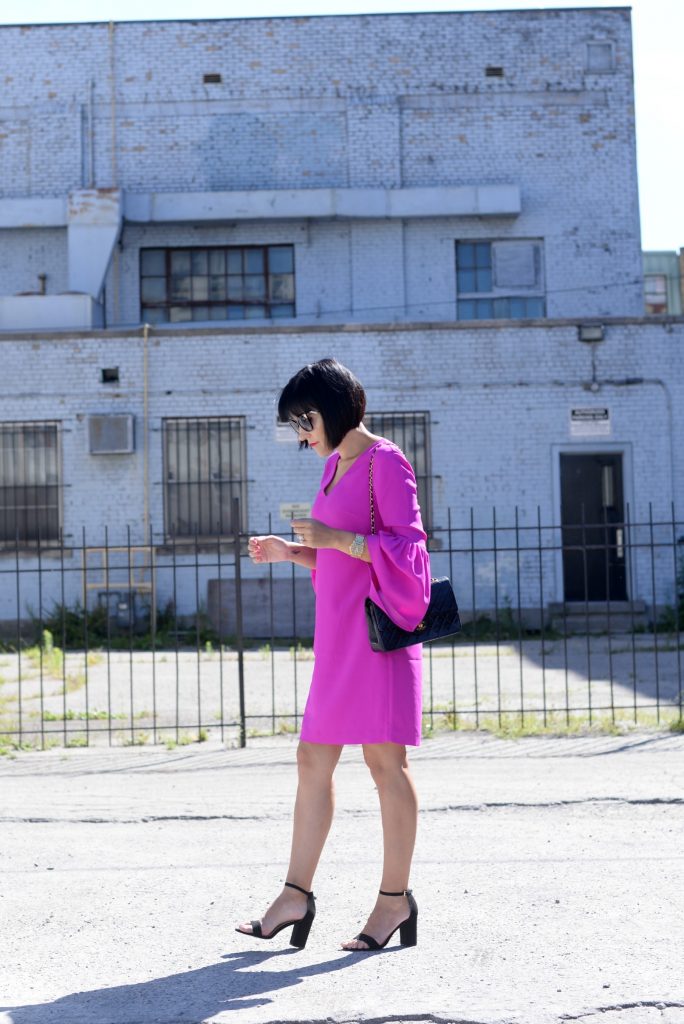 Banana Republic Pink Dress
How many of us hold onto clothes we love, even though they might be outdated? As much as I try and rotate my clothes, keeping with the one in, one out rule, I also tend to look for pieces that I know I can wear for years to come. I tend to hold onto bags, shoes and accessories longer, which is why I invest more money on those pieces. On occasion, I find that special piece that I know I'll have with me for seasons to come. A lot of the time, the colour or fit might not be current, but as we know…trends always come back around. A classic pink dress is one of them. Huge in the 80's, and then again in the early 2000's, pink is now the "it" colour of the year.
Although this is a new dress for me, I picked it up during Banana Republic's annual summer sale, I know its going to be a piece I'll have for awhile. Not only am I obsessed with the fit, I love the unique bell sleeves. This shade of pink is extremely flattering on a ton of skin tones and is a statement on its own. The material is breathable and comfortable, although it does tend to wrinkle quiet easily. It will hold its shape and saturated colour, wash after wash.
Pink has been a signature colour in my closet for as long as I can remember, and it's a colour everyone needs to try at least once. Pink is a major colour trend this year, so it's the perfect time to invest in this shade and have fun with colour. Pink will work well with the rest of your wardrobe and accessories, anything from neutrals, to reds, turquoise and even purples. Don't be afraid to mix and match hues, shades, prints and textures.
What I Wore- Pink Dress- Banana Republic, Chanel Purse- Luxe Touch Consignment, Watch- c/o Wittnauer, Rings- c/o Mejuri, Sunglasses- c/o Polette, Heels- Joe Fresh