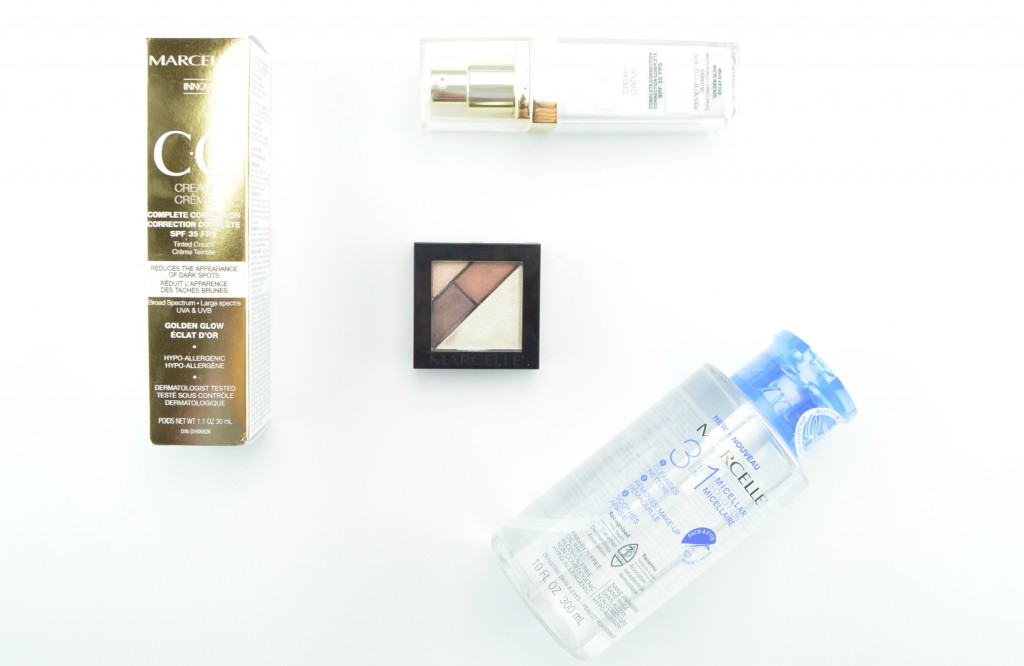 CC Cream, Micellar Solution And Eye Shadow Trio

So many new Marcelle products to try, so little time. First up, Marcelle CC Cream SPF 35 Complete Correction in Golden Glow. This is an all in one, true complexion illuminator that features light reflecting gold pigments that instantly boosts skin's radiance for a healthy glowing effect. It's infused with pure 24k gold and has a lightweight, slightly tinted, creamy texture. It offers the same great benefits as their BB cream, but with more long-term skin benefits and nourishing ingredients. It not only provides complete coverage, it helps to correct and prevent the appearance of dark spots and imperfections along with reducing fine line and wrinkles, while improving skin's elasticity.
Marcelle CC Cream SPF 35 Complete Correction in Golden Glow will help you illuminate your skin with a touch of gold this holiday season. It comes in a luxe clear and gold packaging and although it may be plastic, it looks very high-end and expensive. It comes with pump for easy application and dispenses the perfect amount of product each time. It has an extremely thick and creamy texture that glides on easily, blends out beautifully and sets to a demi-matte finish within seconds. It's highly moisturizing, provides a light to medium coverage that looks extremely natural on the skin.
Marcelle CC Cream SPF 35 Complete Correction in Golden Glow is extremely hydrating, even on my super dry skin. It is light enough to apply under my favourite foundation without feeling heavy or caking. Love that it can be worn alone after my moisturizer or before my daily foundation routine for more coverage. Although it doesn't cover-up breakouts or dark spots, its light, but buildable coverage does hide my dark circles beautifully. It leaves a dewy, glowing finish that counteracts my dry and dull skin. It stays put for a solid 6 hours before I notice it fading. It retails for $29.95.
Marcelle 3-in-1 Micellar Solution is a refreshing cleanser that tones while removing makeup. It's formulated with micellar technology, to not only ensure all traces of makeup, dirt, oil and sweat, but is enriched with aloe and cucumber extract to help soothe the skin. It has a no-rinse formula of paraben, oil and alcohol free so it won't irritate or sting the eyes. It is safe enough to use daily and is perfect for those with sensitive, dry or intolerant skin.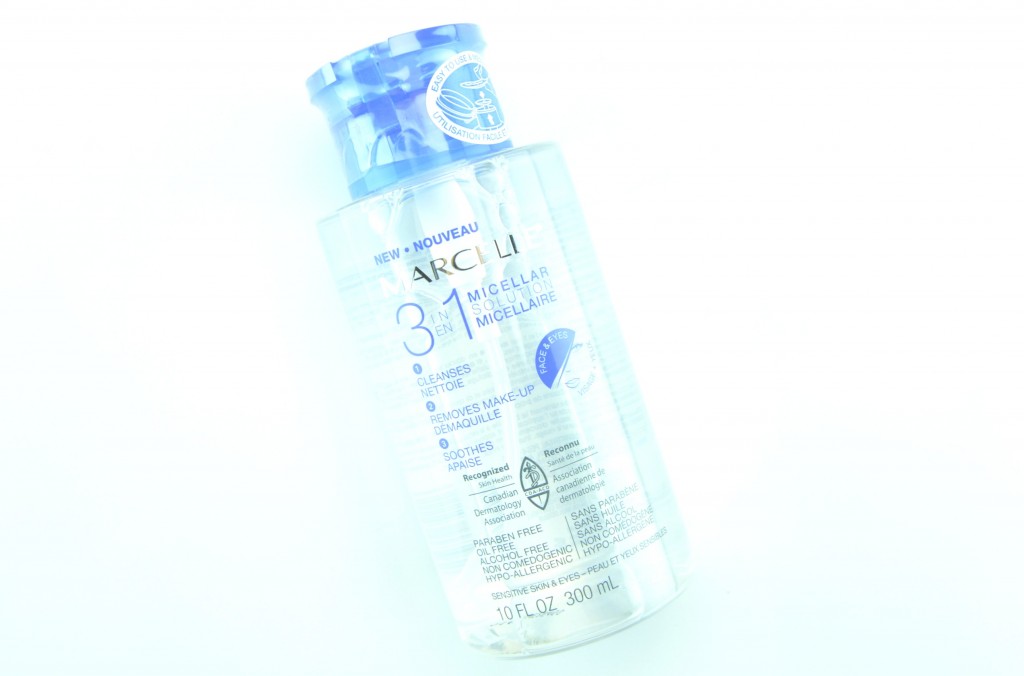 Marcelle 3-in-1 Micellar Solution comes in a handy pump style packaging, to ensure no product is wasted. It has a lightweight, water like texture that is non-oily and never greasy. Just place a cotton pad over the pump, press down and watch as the pad is promptly soaked in the micellar solution. Hold it over your face, eyelid and lips for a few seconds, before gently sweeping away. Watch as it instantly melts and thoroughly dissolves all traces of makeup, dirt, grime and excess oil. You can repeat until cotton pad is clean and then just simply pat dry with a clean towel or let air dry. It's so gentle that it can be used both day and night and requires no rinsing, no rubbing and it doesn't clog pores or cause breakouts. It's even effective on longwearing/ waterproof makeup, like mascara. Skin is left exceptionally clean, refreshed, and moisturized. It also does a wonderful job at soothing the skin for soft, smooth and hydrated skin. It retails for $19.95 for 300ml.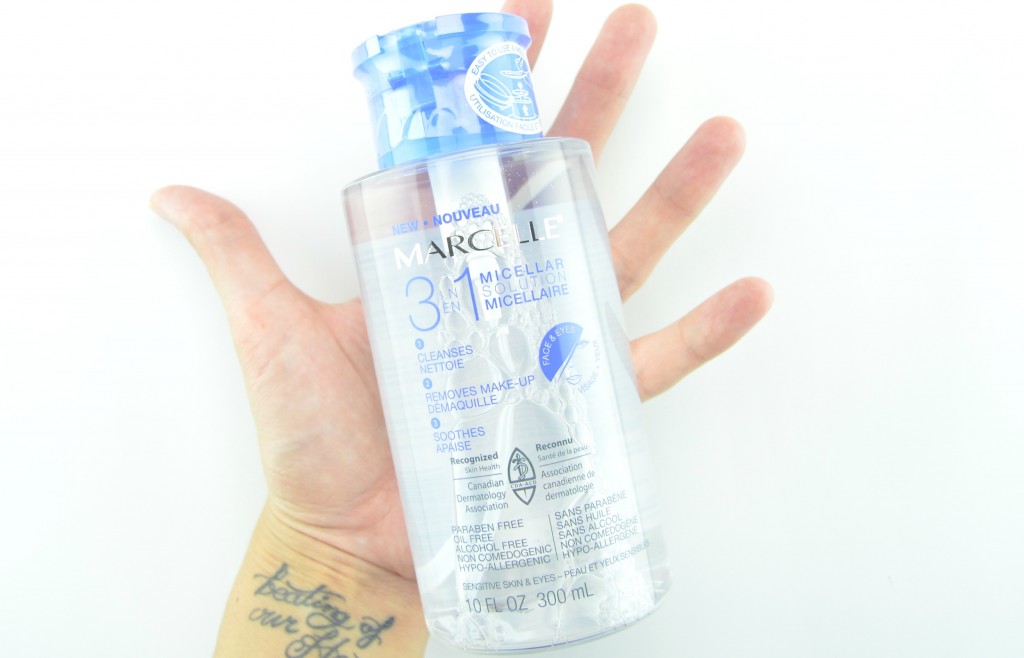 Marcelle Eye Shadow Trio+ feature an innovate formula that's creamy, velvety and provide intense colour and sparkle with a powder like texture. It comes in a super cute, square plastic quad packaging, where you flip up the shadow to reveal 2 sponge tip applicators below. Although not all shades are extremely pigmented or opaque, you can easily build a few of the shades up to create decent colour payoff. Each shadow is creamy in texture, glides on smoothly and evenly and is fairly blendable. You'll need a good eye primer for the shadows to adhere to and help to stay in place, but if you do, you shouldn't have a problem with them lasting throughout the day without fading or creasing. Two of the shades do have a fair amount of shimmer/ glitter, but the glitter shade is the only one with a bit of fallout. It comes in 6 different colour combinations with an ultra-glittery accent shade and retails for $15.95.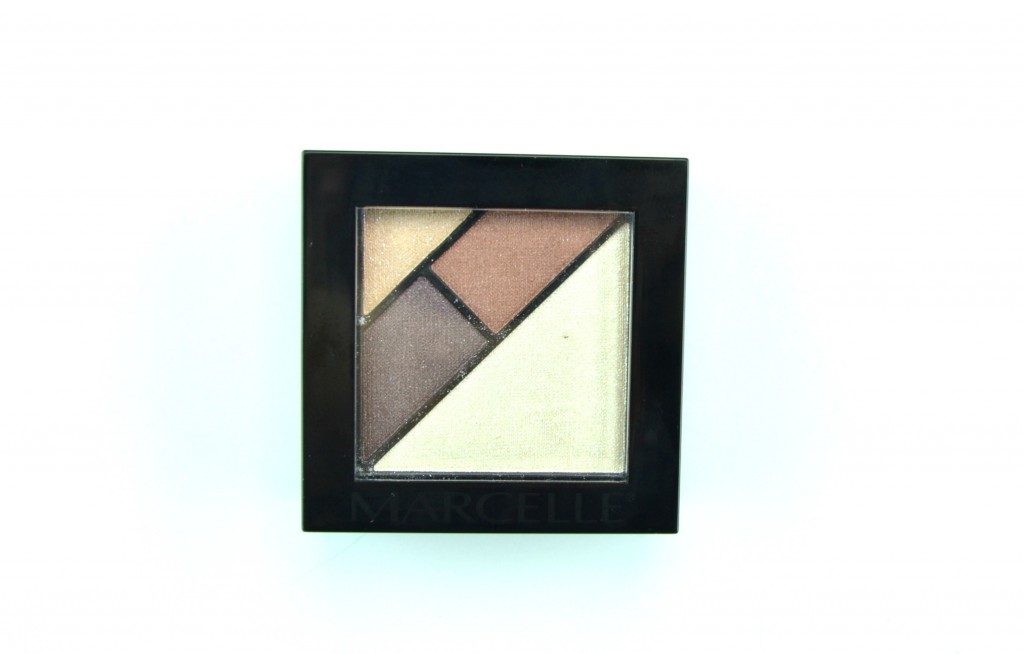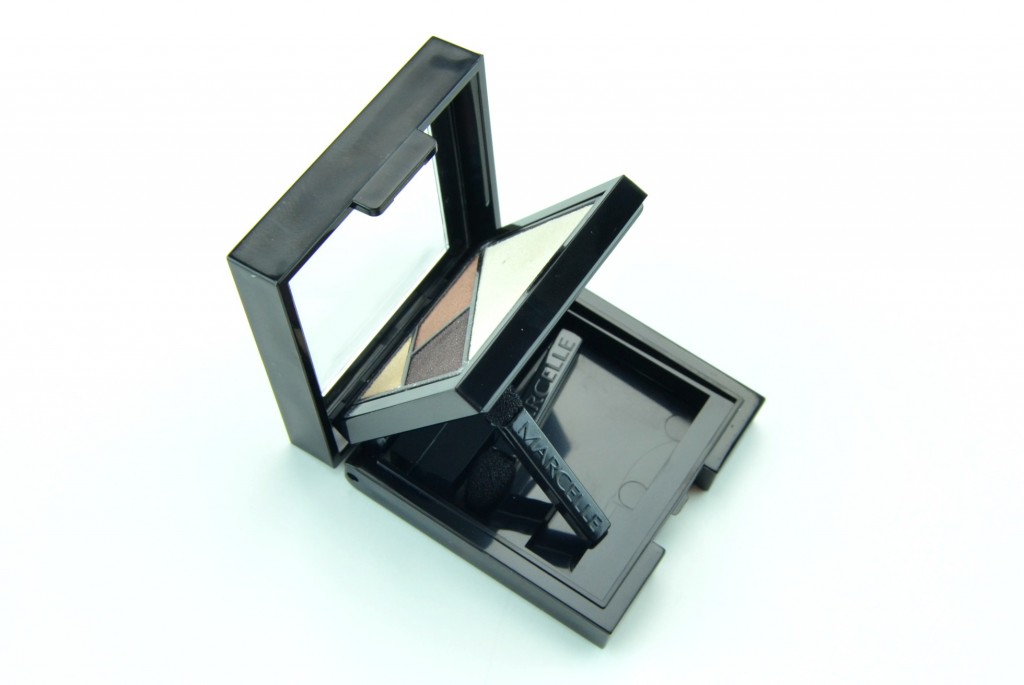 This Marcelle Eye Shadow Trio+ is a hit and miss for me. I love the formula, as it's easy to apply and each shade blends in beautifully together, but only two of the four shades are opaque. I'm also not too sure why it's called a trio, cause there's 4 colours in this palette, maybe Eye Shadow Quad instead? Smoky Chestnut is perfect for this time of year, it's the perfect balance between pale pink, rich chestnut brown with a hint of plum, light brown and a shimmery off-white. Although the shades are not highly pigmented or as intense as they claim, it does help to create a soft, subtle daytime look. The pale pink is extremely light, but is perfect as a highlight shade, the light brown is beautiful as an all-over lid shade with the chestnut brown in the crease. The shimmery off-white is fairly glittery and would be best used in small amounts on the inner corner of the eye or a tiny amount on the browbone.