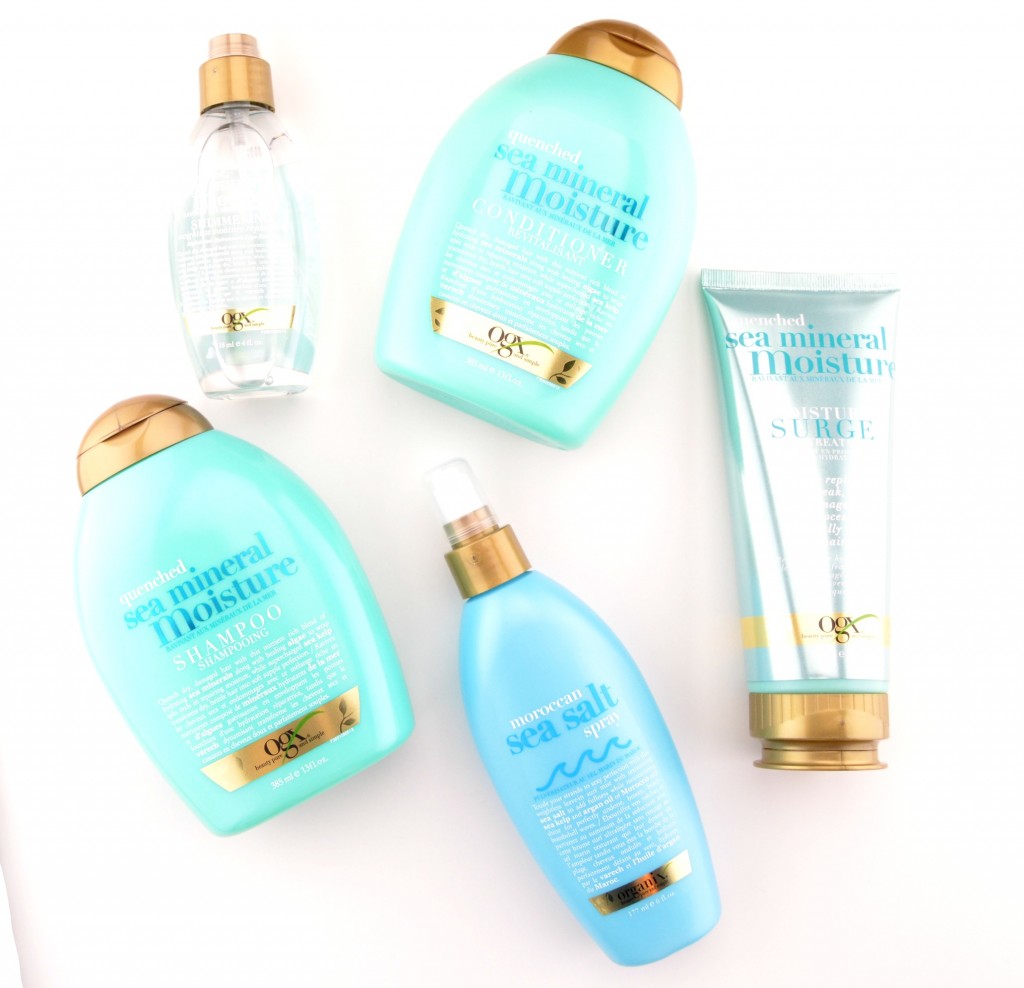 Inspired by the sea

Inspired by the incredible and nutrient-rich ingredients from the sea, OGX presents two collections of beach-ready products, OGX Quenched Sea Mineral Collection and OGX Moroccan Sea Salt, to ensure beautiful ocean-inspired tresses whether you're seaside or deskside. Each product is packaged in an eco-friendly bottle and manufactured from materials containing recycled post-consumer resin. It contains salon-inspired formulas with exotic active ingredients and are paraben-free and use a unique blend of sulfate-free surfactants. It's perfect for those that aspire to make better choices and comes at a price we can all afford, everything is under $10 and found at your local Wal-Mart, Shoppers and Target.
OGX Quenched Sea Mineral Collection is formulated with deep sea minerals and sea kelp to help infuse hair with magnesium, calcium and potassium, while wrapping each strand in intense moisture. Natural antioxidant green algae protects strands against UV and heat damage, while repairing and softening split ends. It will help quench hairs thirst and grant the freedom to move more freely for soft and supple hair all summer long.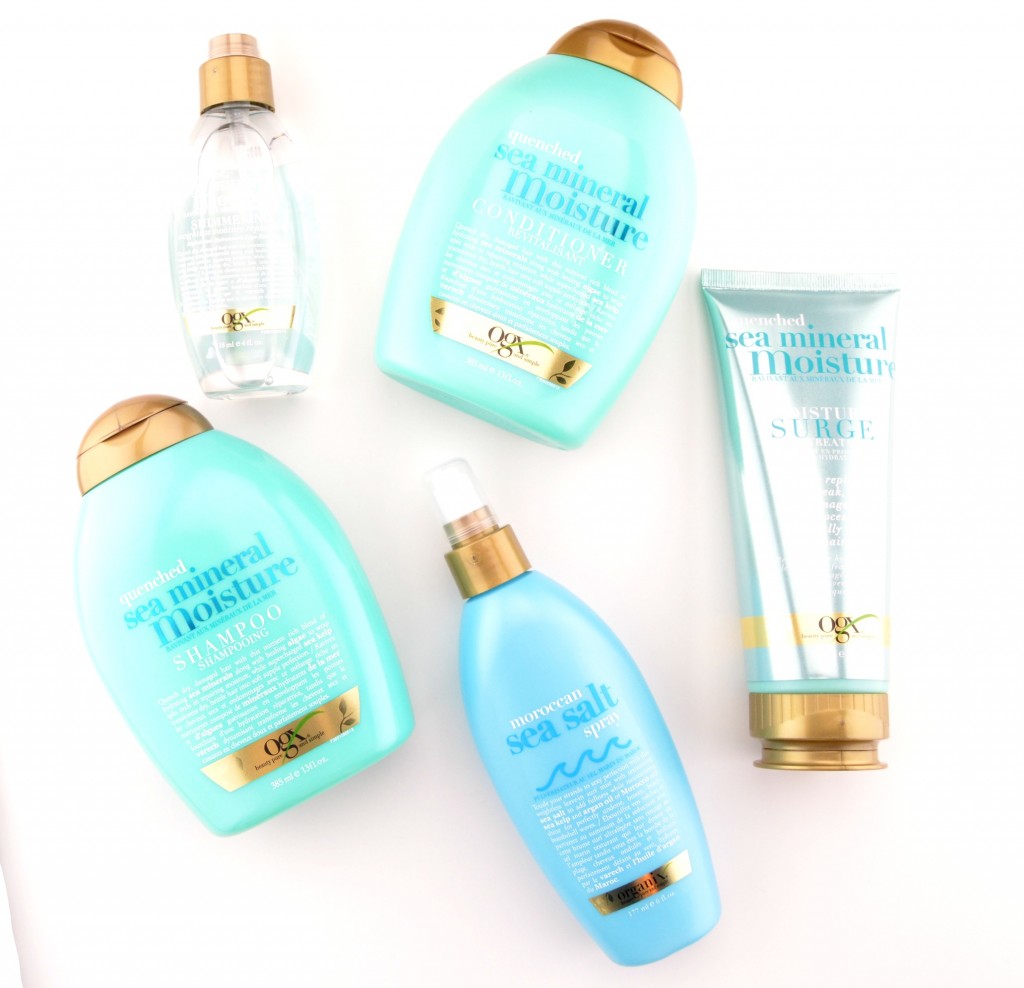 OGX Quenched Sea Mineral Moisture Shampoo and Conditioner helps to nourish dry, brittle hair with its nutrient rich blend of hydrating sea minerals along with healing green algae to wrap split ends in repairing moisture. Sea kelp helps to lock in that moisturize for soft, supple hair that lasts all day. The shampoo has a creamy, pearly white, gel like texture that gently cleanses my hair with a decent amount of lather. It does an excellent job at removing product buildup, like hairspray, while still retaining moisture for my dry hair needs. My hair is instantly softer, and within a week each strand seems to look a little healthier. It adds a ton of shine and keeps knots at bay, even without using the conditioner.
The conditioner has a thicker, pale blue texture that applies evenly throughout the hair. It absorbs into the cuticles to help detangle, leaving my hair much more manageable. Each strand is softer with less frizz, even before using an agran oil or straightening my hair. Only downside to it, is it has a very strong floral perfume scent that tends to linger for hours. It does somewhat remind me of the salty ocean scent, but much more intense. I can see this bothering a lot of people.
OGX Quenched Sea Mineral Moisture Surge Deep Treatment is a rich, spa-like mask that helps to replenish moisture, detangle and enhance weak, dry, brittle strands for smoother, softer hair with improved movement. It has a thick and creamy, gel like texture that applies and spreads like butter. It spreads easily and evenly without feeling heavy, sticky or greasy. Its lightweight formula washes out beautifully and instantly detangles hair, leaving it deeply nourished. It helps rejuvenate and add a little life and hydration back into my dry, damaged, over-processed hair. It does have the same strong perfume scent as the shampoo and conditioner.

OGX Quenched Sea Mineral Moisture Shimmery Weightless Moisture Replenisher is a lightweight mist moisturizer that helps to detangle and enhance strand alignment. It can be used as a finishing spray to add shimmer and a glossy glow, or applied to clean, towel dried hair for extra moisture and hydration. I've been using it before I blow dry my hair and it absorbs almost instantly. It leaves a soft, silky texture to the hair that makes brushing a breeze. I didn't notice any shimmer when applied to damp hair, but it does add a ton of shine, without looking greasy or oily.
OGX Moroccan Sea Salt Spray will help you achieve post-beach mane without stepping foot on the sand. It's infused with Moroccan argan oil and sea kelp to help ensure hair is fully hydrated from root to tip. It helps to create healthy, sexy and voluminous beach waves all year round. It has a light, almost weightless mist that adds texture for perfectly undone, beach-goddess waves in seconds. The sea salt adds incredible volume, while the moroccan oil adds shine, without leaving hair looking greasy or oily. It can be used on both damp and dry hair to add a little roughness, curl and lustre to each strand.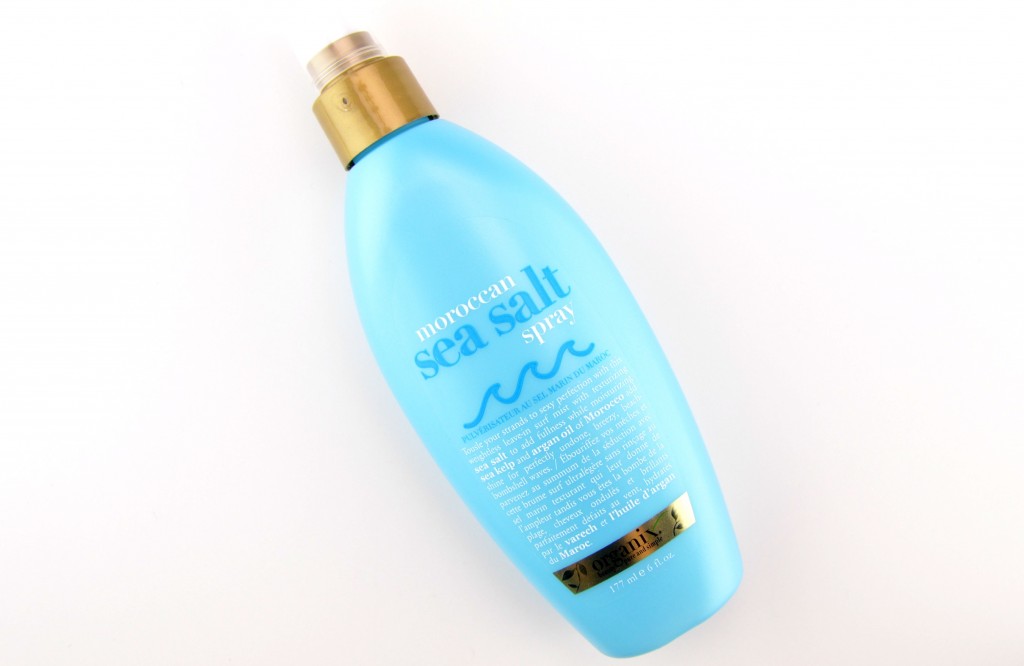 If you like this OGX Quenched Sea Mineral Collection Review, you might also enjoy Macadamia Natural Oil Deep Repair Masque and LaCoupe Orgnx Coconut and Macadamia Collection