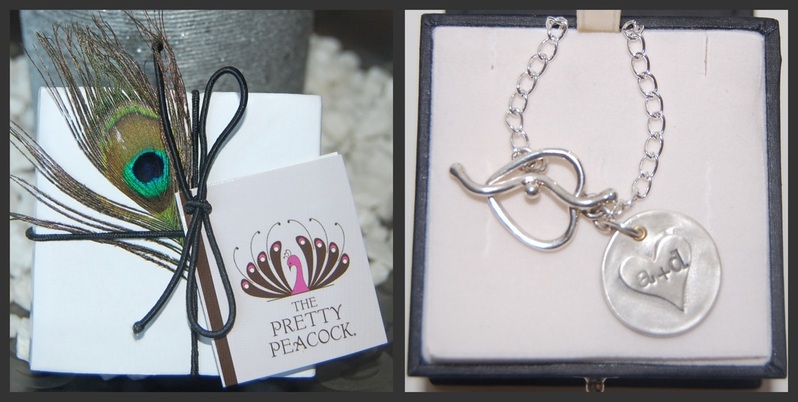 And the winner of the Sweet Fortunes Pendant Necklace from The Pretty Peacock is…….. Isabelle Jeaurond!  
I'm obsessed with name, initial, wording tattoos on people and always thought it would be neat to get my husband's name or initials tattooed on me, would I do it though….. I don't think so. 
Thanks to Ana the owner of The Pretty Peacock you can get your loved ones initial on a necklace instead. When my You Plus Me Personalized Love Charm necklace came in the mail it took me a day to even open it, the packaging was amazing, so much details goes into every pieces, truly something original. Another thing I love about this charm necklace is it can also be worn as a bracelet, Ana thought of everything! 
Isabelle commented on my daily styles over the course of 3 days of me wearing my new favourite You Plus Me Personal Love Charm Necklace with mine and my hubby's initials on it. 
Isabelle said "If I had a chance to get that necklace I would go with "Bisou, Ed" or Bisou, which is a French word for kiss. Me and my boyfriend made a deal that whenever one of us says the word we have to give the other a kiss, no matter if we are angry or fighting or having a good time." 
I have a felling there's a lot of kisses coming her way, I love this idea, so sweet! 
I have the initials A & D which stands for Amber (me) and my amazing husband Derek! 
"The most amazing gift I have ever received was this little book of poems my then boyfriend, now husband, wrote for me when we started dating in college. I have spent years to find a piece of jewelry worthy enough to engrave just one of his poems on – I had no luck. Now, I am not going to say that this is how I started designing jewelry (that's just far too romantic!), but my need to have those words immortalized on something that I could carry with me and have as a touchstone, a tangible memory of that time in our lives, a little treasure that was deeply personal to me, is why I design the type of jewelry that I do. In my mind, jewelry should not just be a bauble that matches the outfit of the day; it should be something that evokes emotion, conversation…something that allows you to think about your surroundings and your very being." 
Check out my daily style on Facebook here: