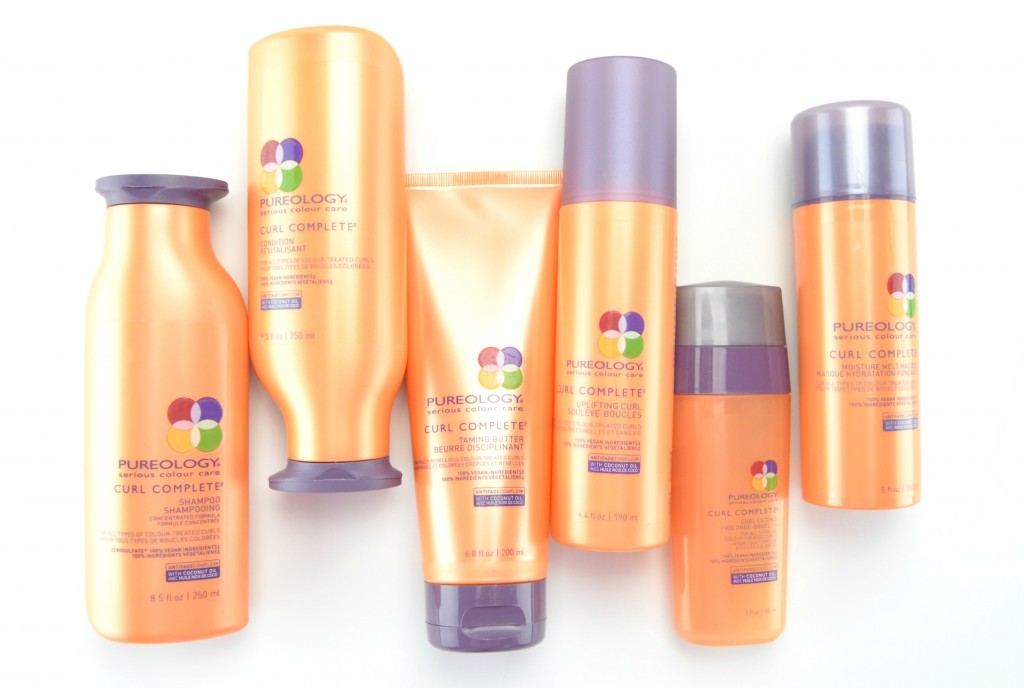 Pureology Curl For Colour Treated Hair
Why do we always want what we can't have? Ever since I was a little girl, I've wanted wavy or curly hair, but sadly I never got it. I have ridiculously pin straight hair that lacks volume and texture. I'm always jealous of those products that are designed and targeted towards those with curly hair, as they usually have high claims with extreme benefits. The Pureology Curl Complete Collection is one of those lines that has us straight hair girls envious.
Not only does Pureology aim to enhance shine and brilliance for longer, lasting colour, but it is 100% vegan with zero sulfate, perfect for those with colour treated hair. It's the first-ever hair care line devoted to treating stressed, colour-treated curls of all different levels of curliness and consists of a Shampoo, Conditioner, a Moisture Melt Mask, Taming Butter, Uplifting Curl Spray Gel, and Curl Extend Cream. Although I don't have curly hair, I wanted to see if the colour protecting benefits were there, and also wanted to see if it would control my frizz, reduce breakage and illuminate shine.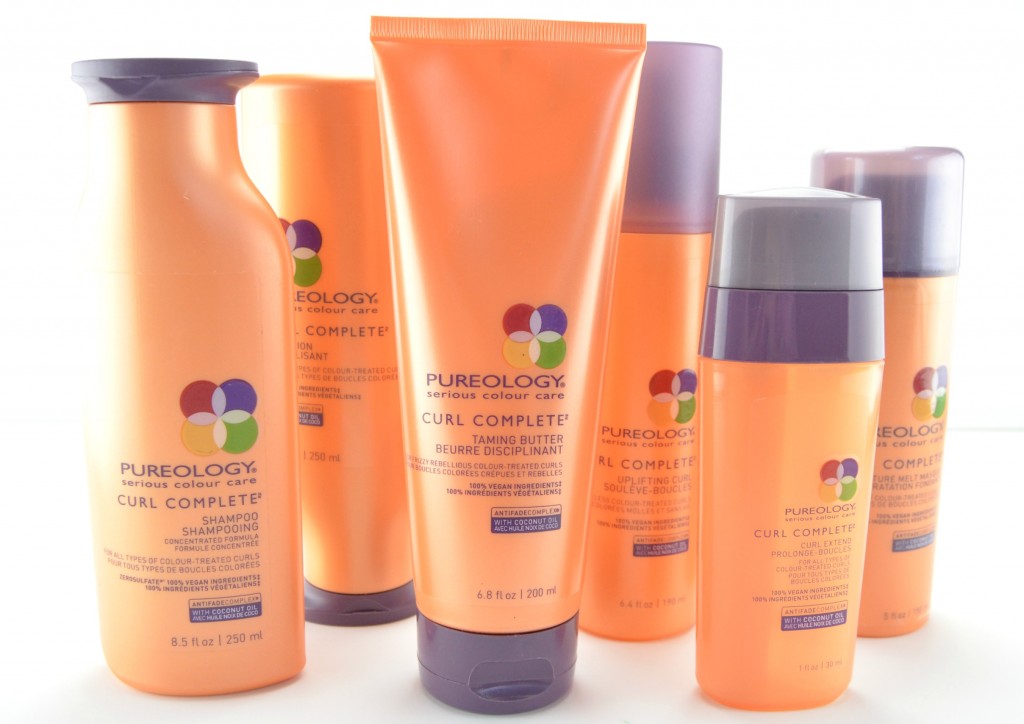 The Pureology Complete Collection is formulated with coconut oil to help restore moisture from root to tip and reduce dry time, along with a unique antifade complex with a signature blend of heliogenol, vitamins C & E and UVA/UVB filters. Thanks to its ultra-lightweight formula it can be used on even the finest of hair, like myself.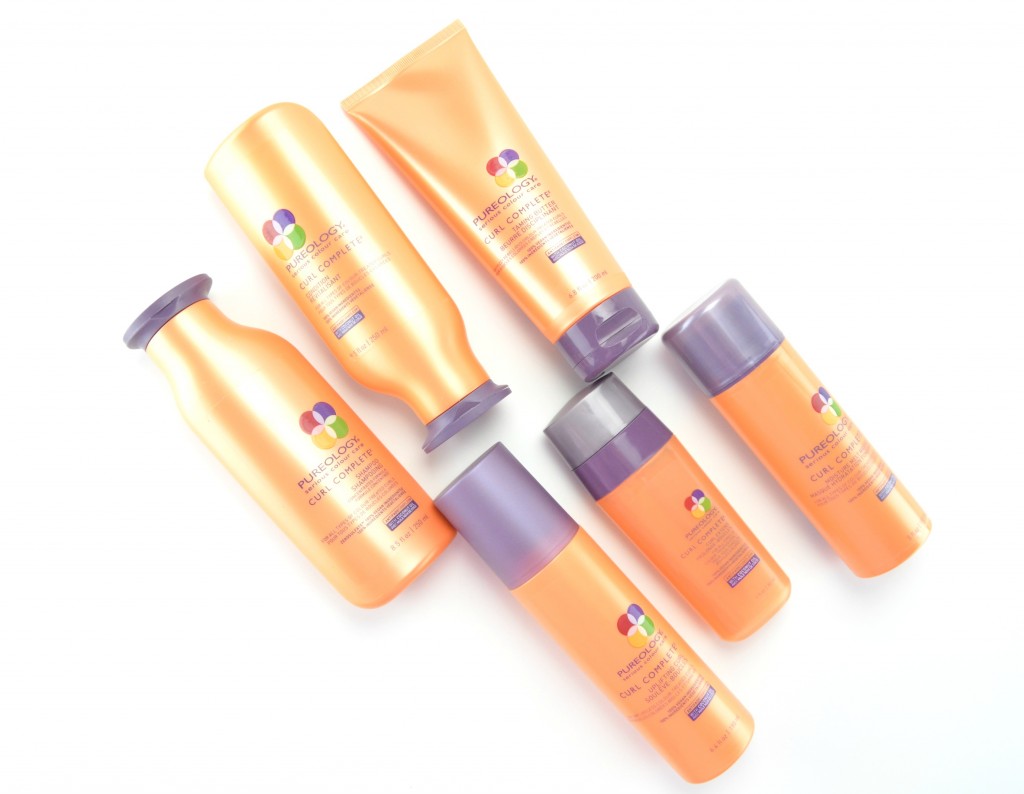 Pureology Complete Shampoo has an incredible thick, rich and creamy pearly creamsicle colour that comes to a decent lather. If nothing else, I was pretty excited for the colouring, who doesn't love a fun coloured shampoo? Upon my initial first wash, it did feel a little heavy and a little drying, and had me thinking it might be a little too rich for my thin, straight hair. After washing it away, which does rinse clean away without any residue, my hair started to feel a little lighter. It did an excellent job at removing dirt, oil and any product build up I had in my hair from the day before. It has an incredible floral, yet citrusy scent that lasts for hours. After a few weeks of using it, and once my hair got used to the heavier texture, it did a wonderful job at not only cleansing the hair, but kept the frizzies at bay. It retails for $30 for 250ml.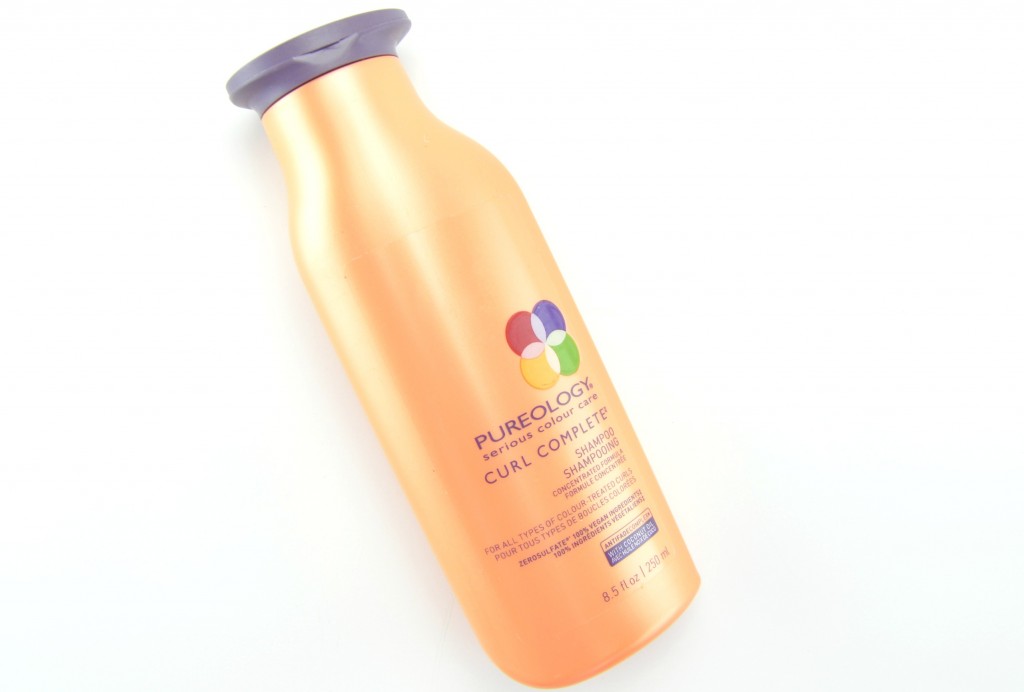 Pureology Curl Complete Conditioner was surprisingly a lot thinner than the shampoo and had me a little worried it wasn't going to moisturize or hydrated my hair. Since my hair felt a little dry after shampooing, I doubled up on the conditioner thinking it would help. Boy was I wrong, I only needed a small amount. It's extremely slick, and a little really does go a long way, I really should have stuck to a normal amount. It instantly detangled any knots and left my hair feeling smooth, soft and shiny. It did a wonderful job at locking in moisture without weighing it down. It too has a floral/ citrusy scent that's very addicting. I actually found that I only needed to use this a few times a week. This is huge, since I use my other conditioners daily. It retails for $32 for 250ml.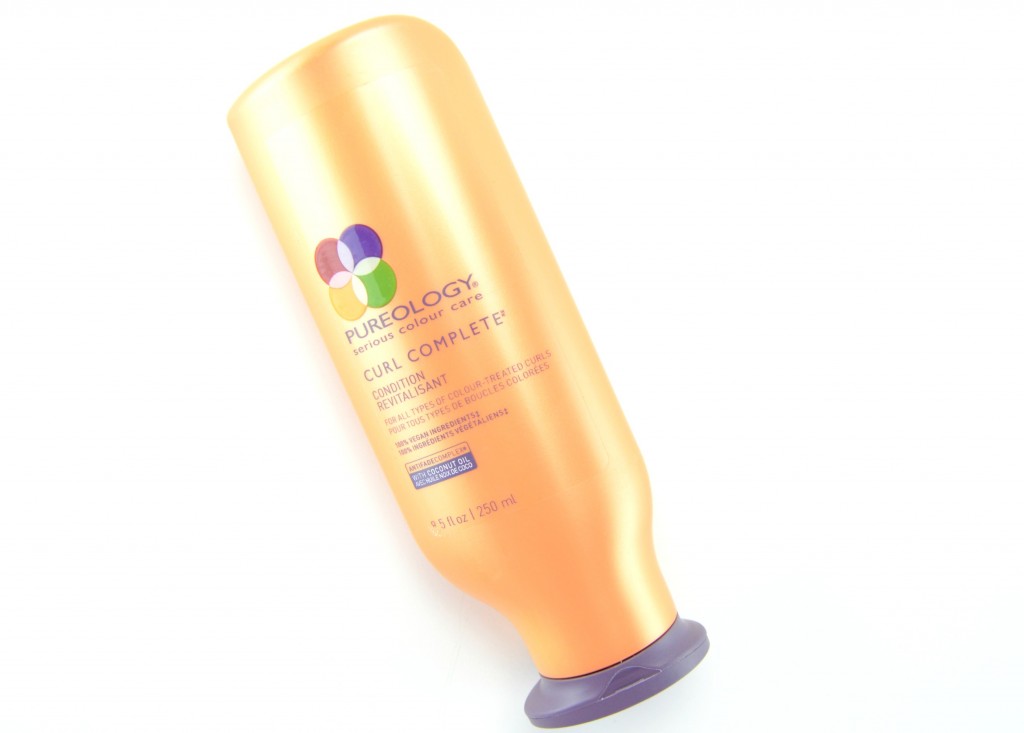 Pureology Complete Taming Butter while, although intended for curly hair, it claims to reduce breakage, so I had to give it a try. It's extremely thick, almost too thick for my fine hair, but applies fairly easily. It does have somewhat of a sticky texture, so you're going to want to make sure your hair is smooth and free of any knots and tangles. It seemed to give a protective barrier over my hair, which prevented future damage. It also seemed to speed up the hair drying process, which it didn't actually claim to do? It retails for $30.50 for 200ml.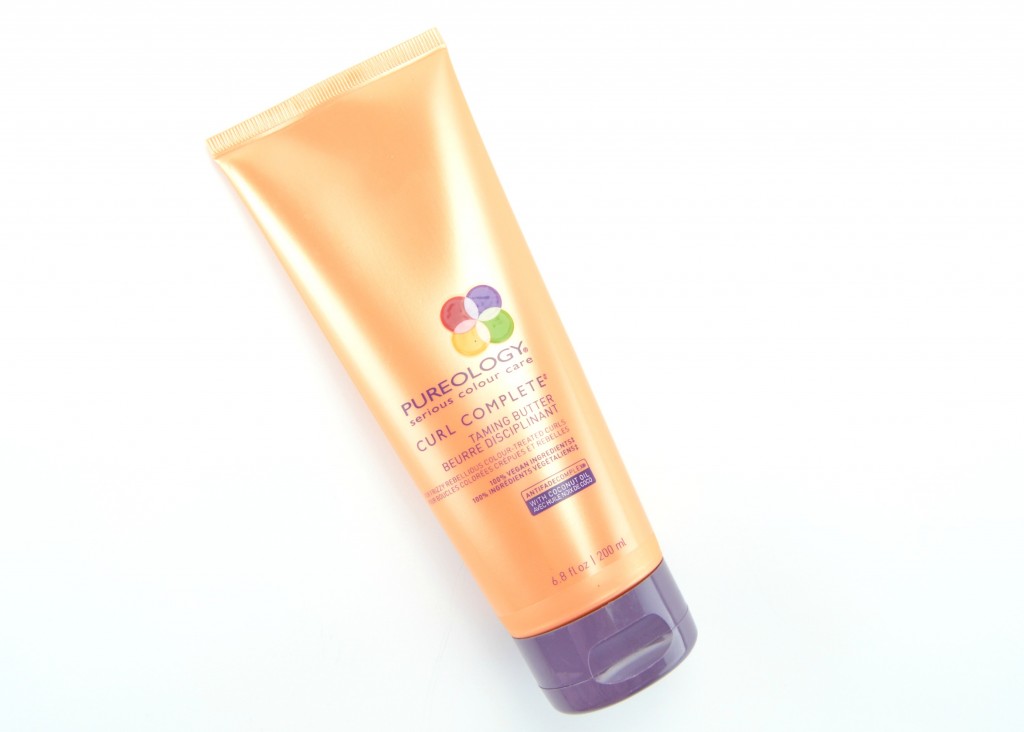 The Curl Complete Moisture Mask might be my favourite out of the collection. It has a rich and creamy texture that applied easily and evenly. It does an amazing job at combating my dry and damaged hair, leaving it feeling soft, smooth and hydrated after the very first treatment. I also noticed less frizz through the week. The first few days after using it, I didn't even need to straighten my hair. I think this would be excellent for those with curly hair, as I imagine it would make the curls more manageable. It retails for $50 for 150ml.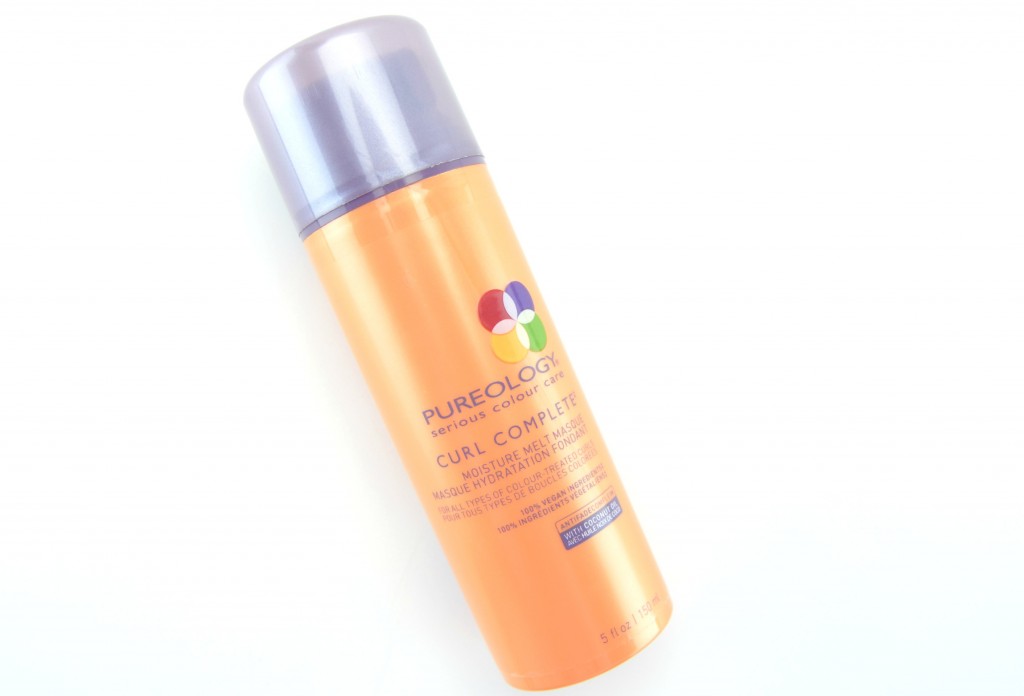 Also in the collection is the Complete Uplifting Cur which features an ultra-light milk lift formula that provides bouncy, defined curls and protects against frizz. It also helps to enhance hair curvature and retails for $36 for 200ml. Sadly to say, I could not actually put this to the test, but if it's as good as the rest of the collection, I'm sure it does what it says it does.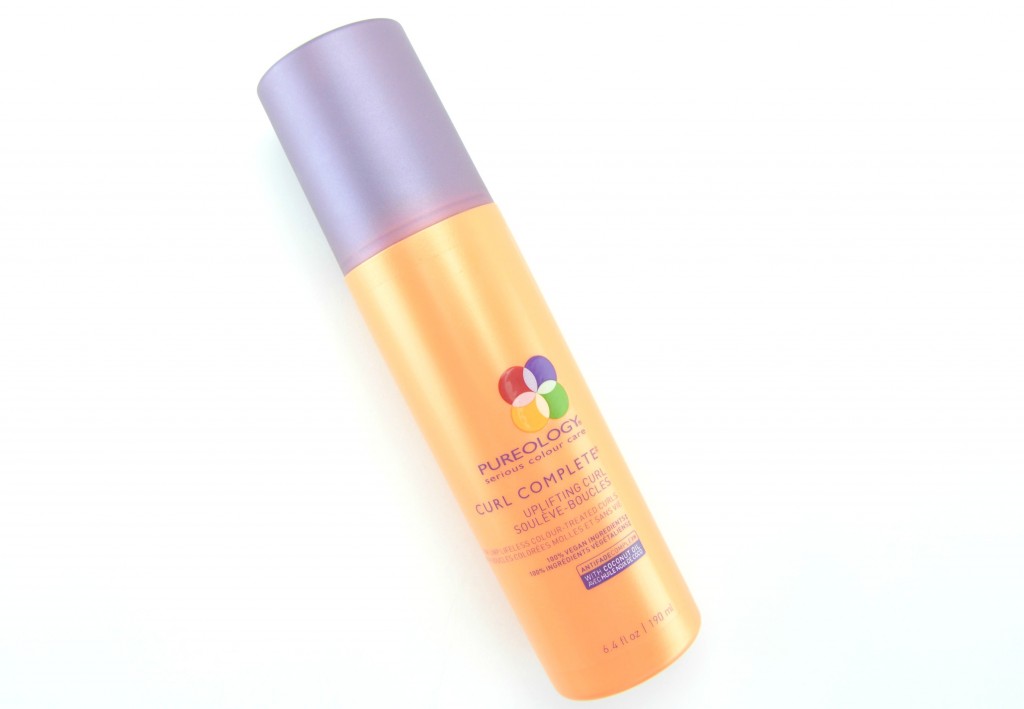 Last, but not least, the Pureology Complete Curl Extend and the star product out of the collection. It features two chambers, the first combining conditioning agents and styling polymers and the second that combines 3D-net. These work in harmony together to help nourish, moisturize, add definition and shine without the frizz. It also helps to even out the hair fibers. It retails for $36 for 30ml.