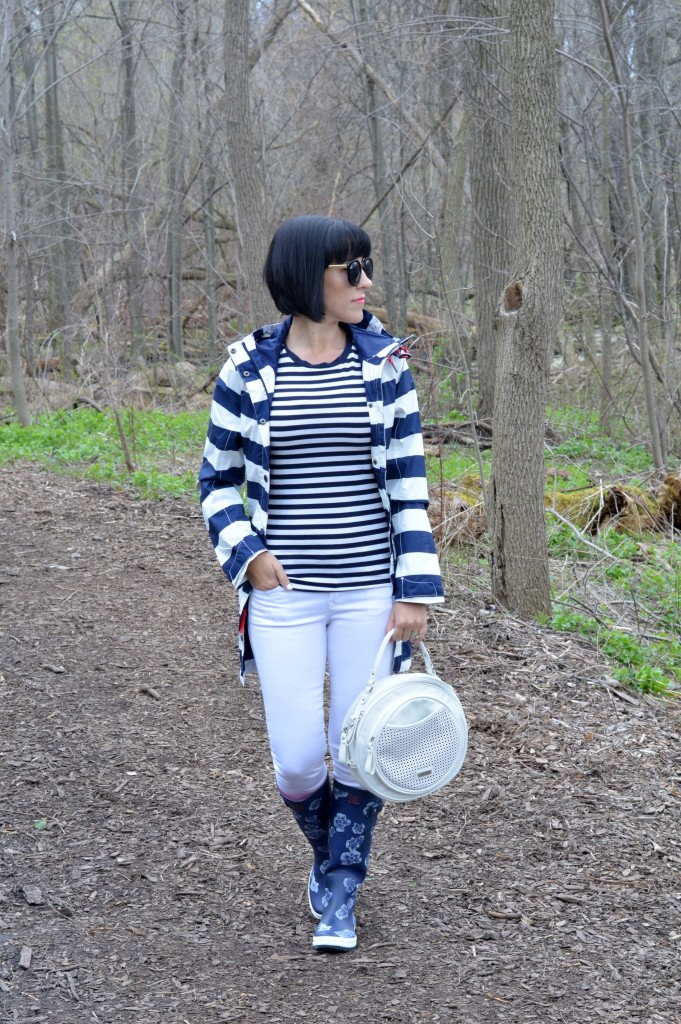 We've all had those days, waking up to your re-planned, super cute and chic outfit, only to look outside and see nothing but grey skies and rain. Just because it's stormy outside, doesn't mean you can't look stylish and fashionable. I was recently introduced to Helly Hansen, and couldn't wait to feature them on this fashion blog. It's a sleek and stunning rainwear brand that not only offers stylish raingear for everyday use, but it helps to keep you warm and dry in any amount of rain Mother Nature may throw at you.
This Helly Hansen Lyness blue and white striped raincoat isn't your typical raincoat. Not only is it a modern day version of their classic fisherman's raincoat, it features Helly Tech protection to help keep the elements of the outdoors at bay. So whether you're setting sail, going on a hike or just looking for a stylish jacket to keep you dry during the wet, cold and windy weather, this raincoat is for you. I love that not only does it have somewhat of a retro, glam feel to it, the brand pays extra special attention to details. It features mechanical venting in the back to help keep you extremely comfortable throughout the day. Its unique breathable designs actually help to regulate your body temperature. It also comes with full centre storm flaps with snap buttons, designed to also help keep the weather out and you warm, dry and comfortable. This baby is waterproof, windproof and life-proof.
Since I'm all about mixing and matching prints, these Helly Hansen Veierland tall floral print wellies are just perfect. It effortlessly combines comfort and weather protection without compromising my style. I'd also like to point out the price point, only $85US, which is about half of some other well-known brands, yet equally as stylish and well-made.
What I Wore- Tee- The Gap, Raincoat- c/o Helly Hensen, Sunglasses- c/o Polette, Purse- c/o Pinkstix, Jeans- The Gap, Rainboots- c/o Helly Hensen