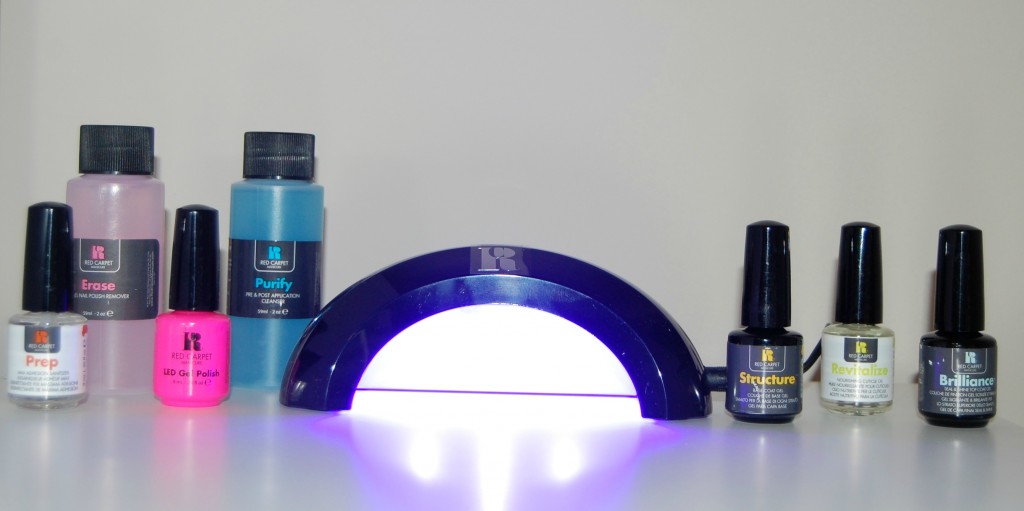 I don't think I can go back to regular nail polish after reviewing Red Carpet Manicure system?? It's a system that used a LED light to cure your gel polish in 45 seconds. I've said it over and over again but I can't seem to find a "regular" nail polish that lasts on my nails longer than 2-3 days without chipping, no matter how much money I spend, how much time I spend prepping with top and base coats, nothing seems to work. For ladies that love having a new colour every other day I guess this doesn't apply to you, but I don't have the time to spend painting my nails every 2 days. With the red carpet manicure system you can have gorgeous nails with incredible shine for weeks. I tested it out and keeping in mind my nails grow super fast, my polish lasted 11 days before I got my first chip. The polish was still perfect on my nails by day 12, but my new growth started to show so I felt the need to take off and re-apply a new colour. I re-applied the red that comes in the kit and happy to say I'm on day 8 and my nails are still looking perfect. Only having to paint my nails twice a month is ok in my books, leaves me more time to do more important things… like shop!  
Red Carpet Manicure is a do-it-yourself system comparable to Professional Salon Services like CND Shellac and the outcome is similar to acrylic enhancements, except its safe and non damaging to your natural nails. The best part is, with just a few application pointers, anyone can do it at home for a fraction of the cost verses a salon visit!  
Again another thing I hate about regular nail polish is how long it takes to prep and dry, sometimes depending on the brand it could take up to an hour to paint all 10 nails, who has time for this? With the Red Carpet Manicure you're done within 15- 20 minutes. Steps are really easy, almost the same steps you would do when apply regular nail polish but instead of waiting for your polish to air dry you will place your nails under the LED lamp for faster drying.  
Red Carpet Manicure Gel Polish Pro Kit includes everything you need to get started: Prep Max Adhesion Sanitizer
Structure Gel Base Coat
Brilliance Gel Top Coat
Red Carpet Reddy LED Nail Color
Purify Pre & Post Cleanser
Erase Nail Polish Remover
Revitalize Cuticle Oil
Professional LED Light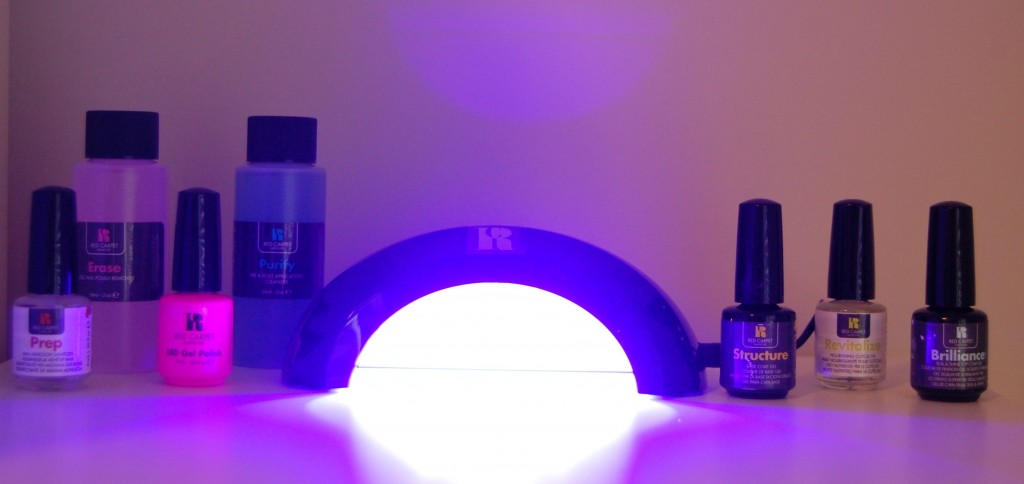 You start off by pushing back you cuticles, shaping your nails and buffing you nails to your perfect shape and size. 
You then apply the Purity Cleanser on a tissue to remove any excess dust and oil of your nails. 
Next step is to apply Prep Max Adhesion Sanitizer that will dry your nail bed for better adhesion. 
You then apply Structure Base Coat Gel; the first thing you will notice is that it's a bit thicker than regular nail polish so you have to make sure you apply a thin coat to each nail. You cure your nails under the LED lamp for 30 seconds. You are going to want to do this in 3 steps; right 4 fingers first, then your 2 thumbs and finally your left 4 fingers to make sure every nail can fit under the lamp. So really this step will take 1 minute and 30 seconds total.  
The next step is to apply a very thin layer of your favourite nail colour (I used 188 Star Power). Remember to do it in 3 steps, paint your right 4 fingers first then cure, paint your 2 thumbs then cure and finally paint your left 4 fingers and then cure. You cure it for 45 seconds, so a total of about 2 ½ minutes. 
If you're not happy with the colour you can go ahead and apply another coat of gel polish, which I did. You follow the same steps as before. 
Final step is to apply the Brilliance Seal and Shine Top Coat in the 3 step process for 45 seconds for each cure. Total of 2 ½ minutes. 
The polish will remain tacky/ sticky throughout the whole process, so try not to touch your nails right up until the very end otherwise you might leave imprints or smudges on your nails. After you've cured the topcoat you put some more Purity on a tissue and wipe the nails smooth; after this step the tackiness will be gone and your nails will be perfect. 
After the last step of the Purity, my nails were hard and shiny like gels should be; they give you Revitalize cuticle oil that you can uses to keep your nails looking shinny for weeks. 
Of course I'm no pro, but getting better with each application and from a far no one would ever be able to tell its not done by a professional. My first manicure took about 30 minutes, but once I got familiar with the system, my time was cut down to about 15-20 minutes. The most important advice I can give is to apply thin coats, it can make or break the longevity of your manicure. If you make mistakes and end up with gel polish on your skin try to clean up mess before you cure it otherwise its going to be pretty much impossible to get it off your skin without ruining your nails. 
With over 57 shades to pick from this is going to keep me busy for the next few months. I'm spoiled now and I don't think I'll ever be able to go back to regular nail polish, just love how long these gel polishes last!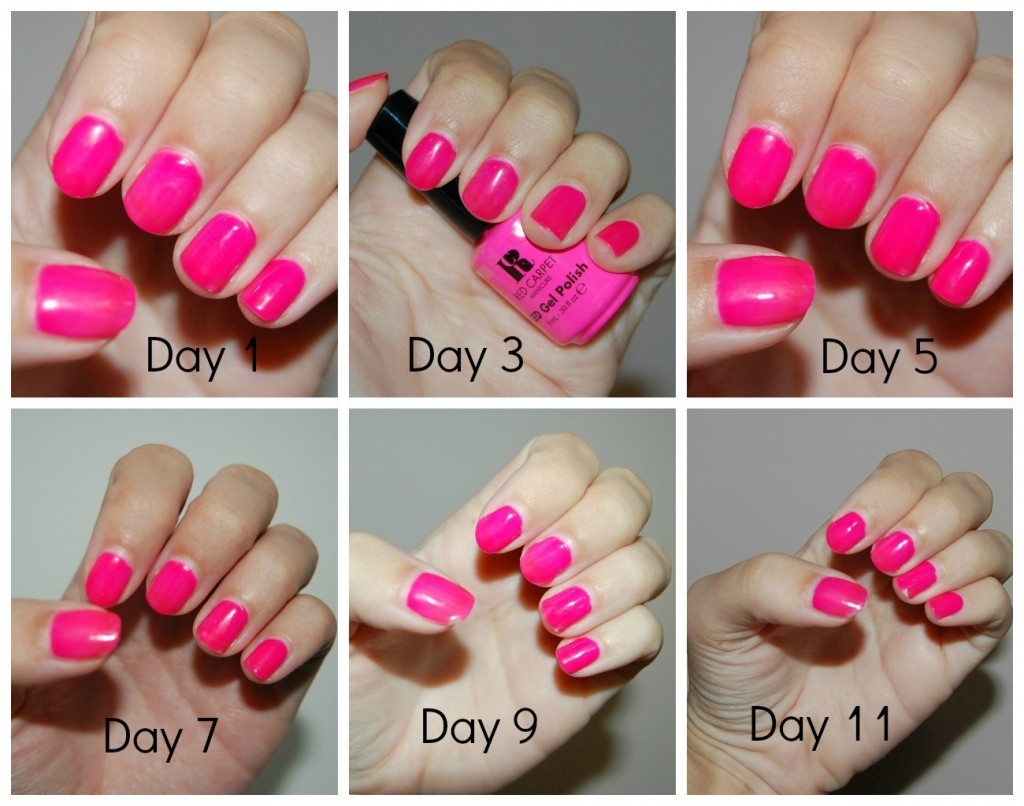 Here is my nails on day 6 of the red polish, still looking amazing, you would never get this with regular nail polish!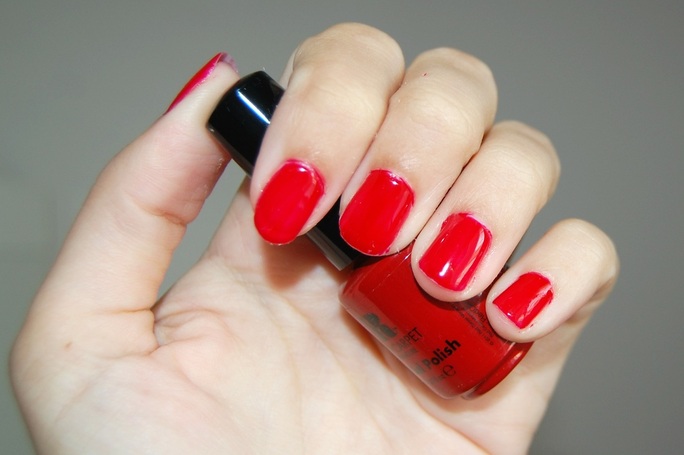 ***Disclosure: product was sent to me for review consideration***