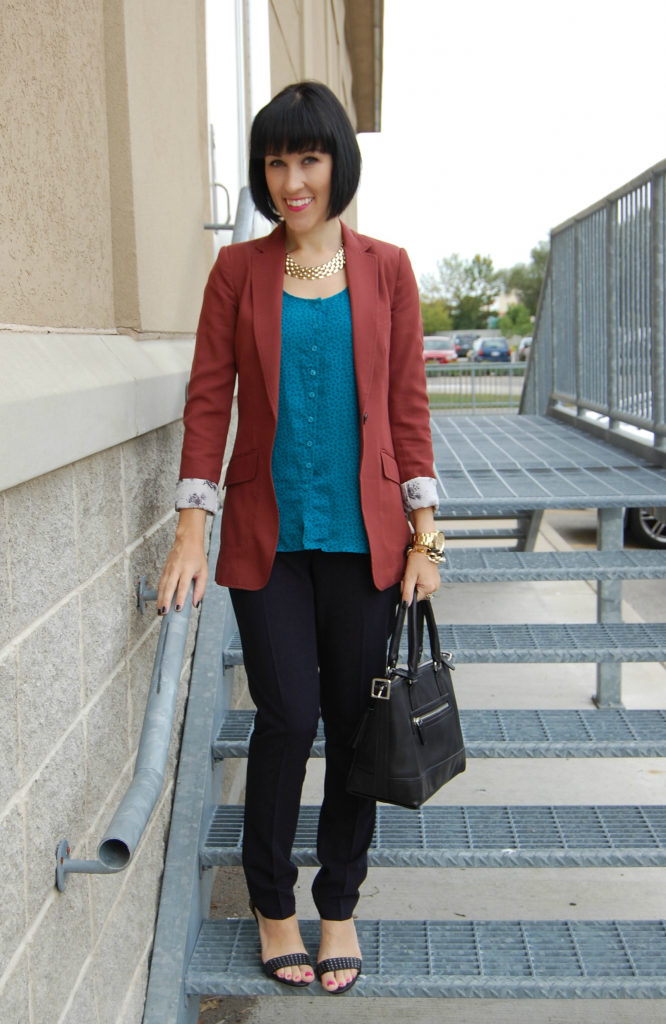 Burgundy, Rust, Wine and Oxblood are going to be huge for Fall 2013, its been seen over and over again on the runways this season from top designers and its starting to pop in all your favourite stores. It's a super feminine and very stylish colour that can easily take you from day to night. For the day try it in a blazer, pants, shirts, purses or shoes and then for night, pump it up with a hot burgundy faux leather dress. There's literally a ton of ways to incorporate it into any of your Fall looks and it will soon become one of your favourite neutrals that will go with pretty much everything you own.

Today, I reached back into my closet for my H&M blazer that I haven't worn that often, it's a mix between rust and oxblood, can't really put my finger on the colour, but I'm loving it with my new navy dress pants from Smart Set.
What do we think of these darker shades of red?
Shirt- Smart Set- $28- in stores now
Blazer- H&M- $50- Sept 2011
Necklace- c/o Cocoa Jewelry
Purse- Coach- $348 (hubby got it on sale)- June 2013
Pants- Smart Set- $45- in stores now
Shoes- Target- $35- June 2013