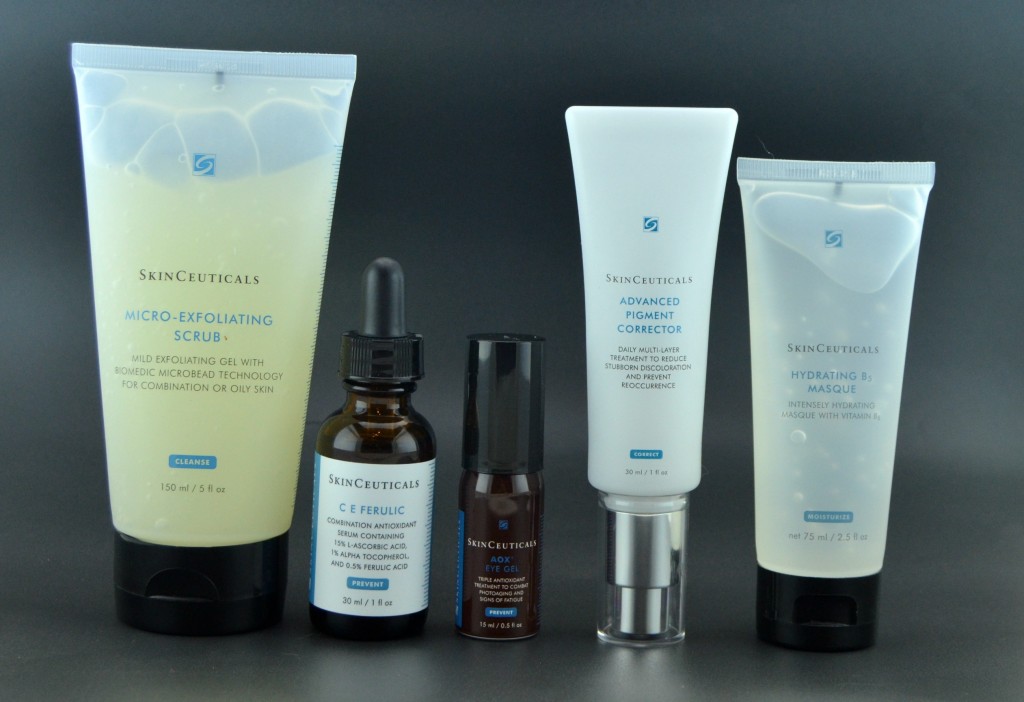 As much as I hate to admit it, I'm getting older and with that, comes change. My skin isn't the same as it used to be even 5 years ago, and even though I'm trying to take better care of my skin, it is drier than ever with even more hyperpigmentation, even though I'm doing my best to stay out of the sun. My skin goes through a lot on a daily basis, testing out too many cosmetics, trying too many harsh cleansers to remove the makeup and constantly switching up my daily skin care routine, trying to find the Holy Grail. Two months ago I started on a new skin care path, trying to get some of my youth back and clear up all the sun damage that I did to my skin in my teens and early 20s with SkinCeuticals. I was put on 5 different products to cleanse, prevent, correct and moisturize, all targeted towards dry and sun exposed skin and I'm happy to report that my skin hasn't looked this good in years.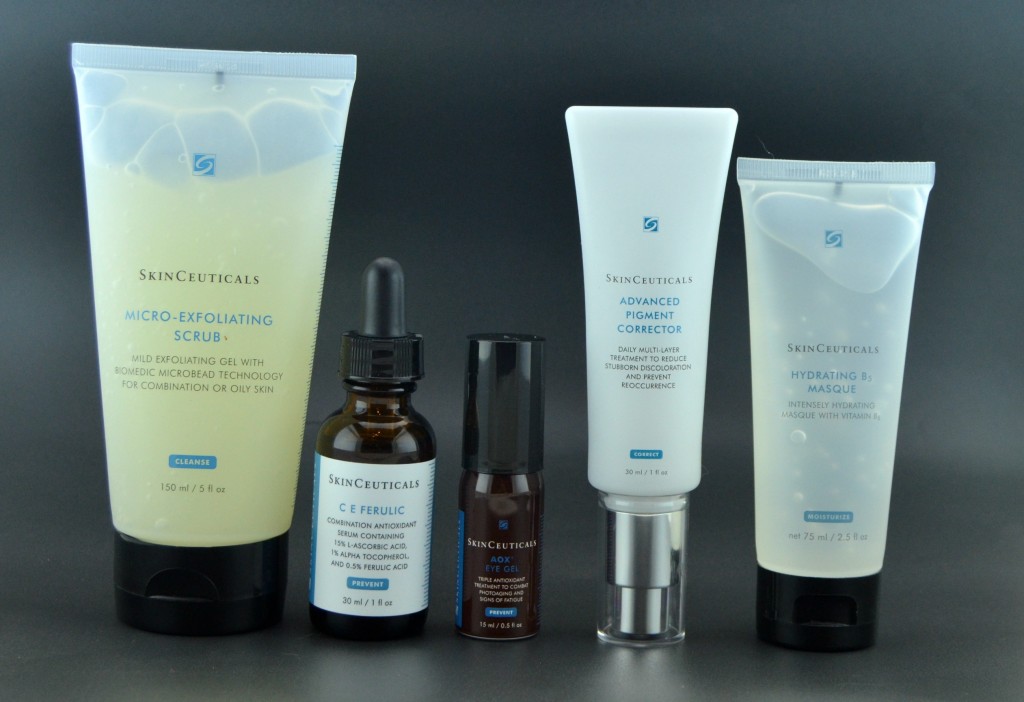 First up is SkinCeuticals Micro-Exfoliating Scrub, a mild exfoliating gel with Biomedic microbead technology which includes sedimentary rocks that helps to gently exfoliate the skin and promote healthy cell renewal. It's enriched with minerals like magnesium, iron and calcium to help soften and smooth the skin along with gentle cleansing and hydrating agents designed to thoroughly cleanse the pores. It also contains aloe which is known for its skin softening, healing and anti-inflammatory benefits. This is designed for people with congested and rough skin.
SkinCeuticals Micro-Exfoliating Scrub comes in a squeeze tube, is a clear gel with tiny, clear micobeads throughout it. You massage a small, dime size amount of the scrub onto a damp face for about a minute before rinsing with water. The beads are quite small, but you don't have to scrub very hard to exfoliate and polish away any dead skin cells. It's gentle, very gentle, even around the eye area and all you're left with is a smoother texture that's brighter, softer and less dull. This truly does add a healthy glow to the face without any dryness. It retails for $35 for 150ml.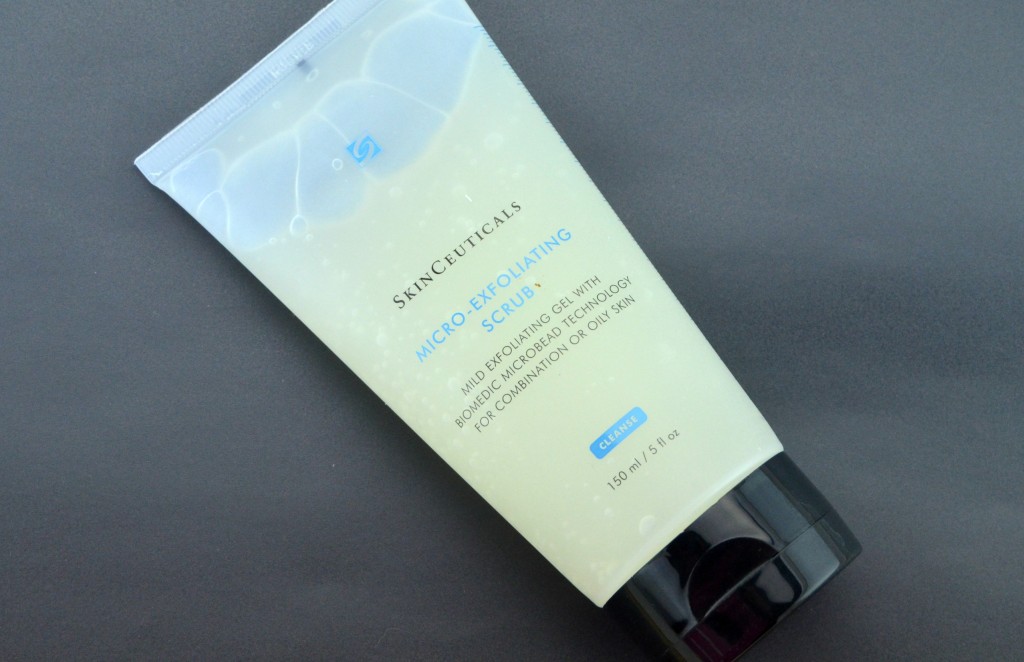 Research shows that aging skin, like fine lines, wrinkles and discolouration is the result of more than just years, it's the exposure to the harmful environment like sunlight, smoke and pollution, but there are things we can do to help prevent this. SkinCeuticals C E Ferulic is a combination of antioxidant treatment containing 15% L-ascorbic acid, 1% alpha tocopherol, and 0.5% ferulic acid that delivers advanced protection against photoaging by neutralizing free radicals and protecting against UVA and UVB, boosting collagen synthesis to help improve the signs of aging, providing unmatched antioxidant protection and increases firmness and replenishes lipids to reduce wrinkles.
SkinCeuticals C E Ferulic comes in a glass bottle with eyedropper for easy application. It's a lightweight serum that's applied in the morning after cleaning by applying 4 to 5 drops to a dry face and neck. It leaves no greasy residue and is absorbed almost instantly and can be washed or rubbed off. It will remain effective for 72 hours, making it an excellent addition to your sunscreen. Okay onto the bad, it has to be the worse smelling product I've ever smelt, no really, it's awful, at first I couldn't handle it, but the trick is to apply a moisturizer on right after and it takes away the smell. The combination of high potency vitamins C & E is why I continue to use it, the long day effects of fighting free radicals that advance the speed of aging has me sold. The Ferulic acid serves as an anti-inflammatory which reduces cellular agitation, allowing your healthy cells to repair other damaged cells is pretty amazing if you ask me? It retails for $159 for 30ml.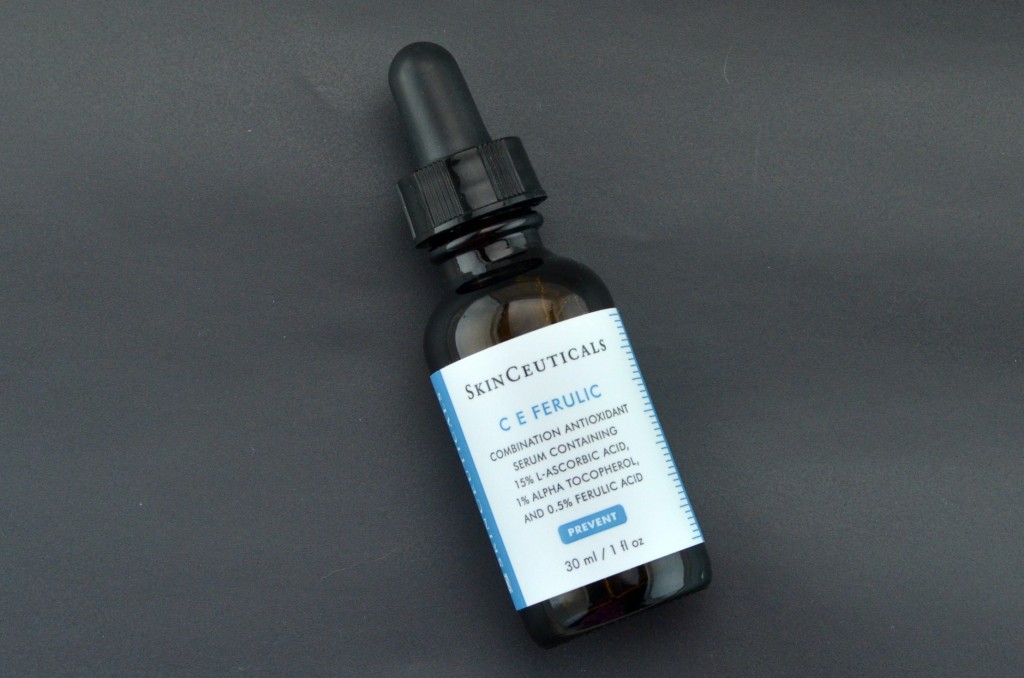 The skin around the eyes are thinner, more prone to damage like sun exposure, suffers a lifetime of facial expressions and other aging effects than the other parts of the face, so naturally it needs special care. SkinCeuticals AOX+ Eye Gel antioxidant eye treatment combats signs of fatigue like puffiness, under-eye bags and dark circles thanks to Ruscus aculeatus which is derived from a small evergreen shrub and caffeine, prevents signs of aging like fine lines, wrinkles and uneven skin tone thanks to its phloretin, L-ascorbic acid (vitamin C) and ferulic acid and corrects signs of photodamage.
SkinCeuticals AOX+ Eye Gel comes in a pump format that disperses the perfect amount of product to cover both eyes. It has a clear, lightweight texture that absorbs into the skin instantly. It's applied in the morning, after cleansing, to the area below the eyes, on the outer corners of the eye and on the brow bone. You're left with a more refreshed, vibrant, brighter, rested eye area. It retails for $80 for 15ml.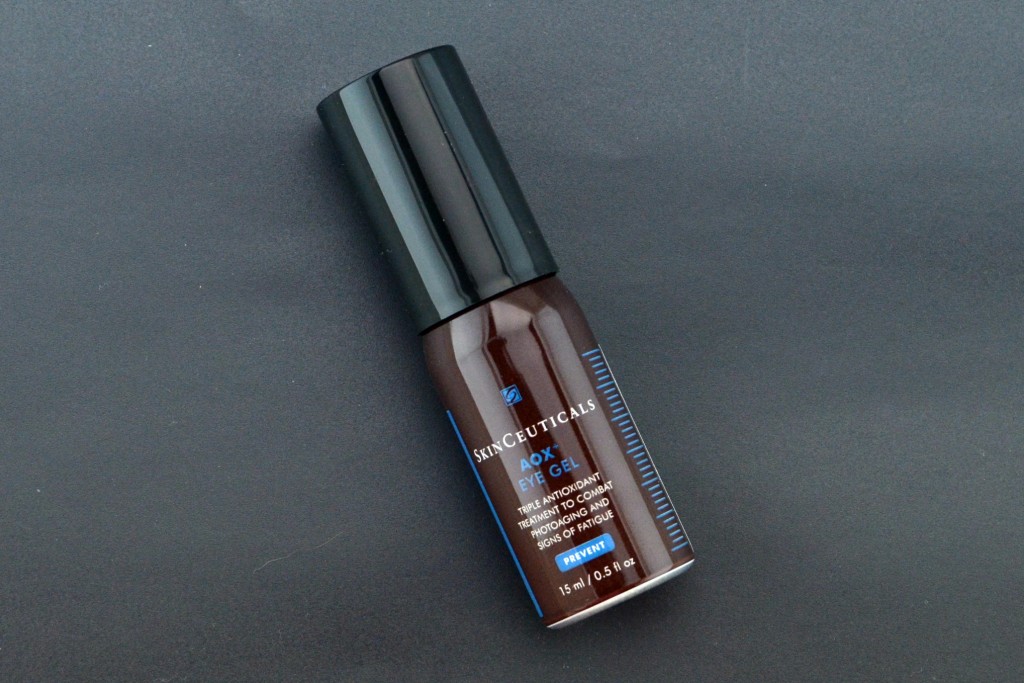 Over time, no matter how well we protect our skin, it begins to change and we need products to help correct and rehabilitate damaged skin to restore it back to its youthful appearance. The fourth step in my daily routine is with SkinCeuticals Advanced Pigment Corrector featuring 2 high potency ingredients, Ellagic Acid and Hydroxyphenoxy Propionic Acid formulated to help reduce discolorations and improve overall skin appearance. This effective solution treats hyperpigmentation at all layers of the skin to correct existing discolorations and prevent their reoccurrence. Its multi-layered technology helps to correct and prevent unwanted pigmentation thanks to its 0.3% Salicylic Acid that exfoliates existing spots at the stratum corneum and enhances penetration, 1% Hydroxyphenoxy Propionic Acid to help diminish the appearance of discolouration, 0.5% Ellagic Acid a strong antioxidant that helps reduce melanin production, reducing dark spots and hyperpigmentation and 5% Yeast Extract that protects and stimulates fibroblasts to enhance skin's resistance to new pigmentation.
SkinCeuticals Advanced Pigment Corrector comes in a pump style bottle, has a lightweight, white creamy texture to it that absorbs into the skin without any greasy or sticky feeling. It's almost been two months since I started using this and I've already noticed some of my sun spots and discolorations are visibly lighter, although it says results within 12 weeks. The clarity of my overall skin tone is more radiant and brighter and my imperfections and blotchiness have been reduced. I love that I'm seeing results but also excited that it's blocking reoccurrence of new pigmentation and improving skin's luminosity at the same time. It retails for $104 for 30ml.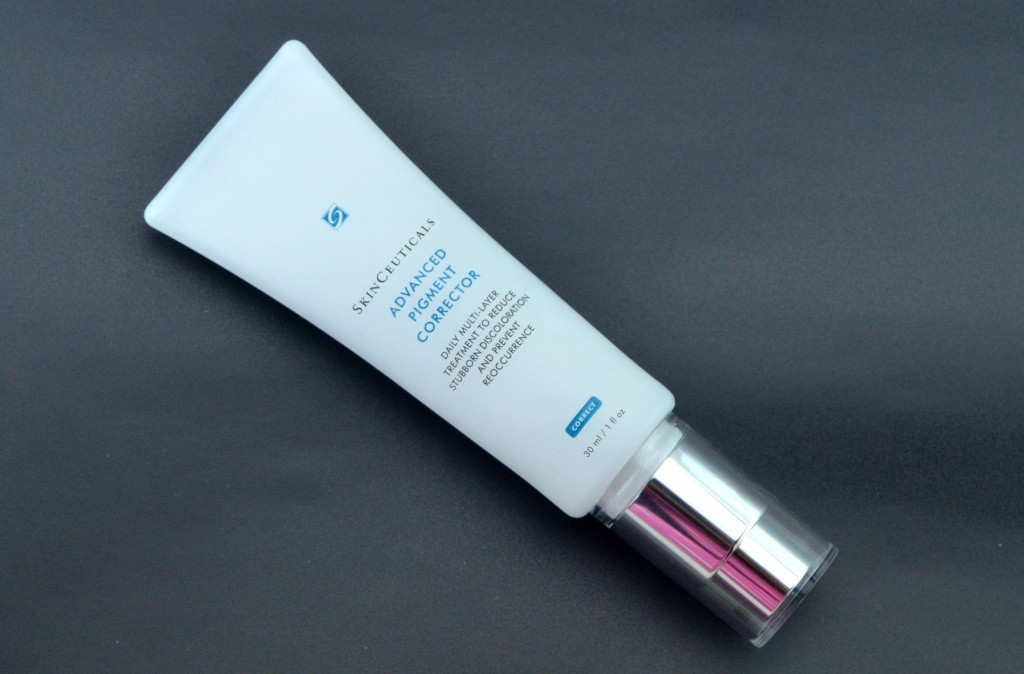 The last step in my SkinCeuticals program is to moisture with SkinCeuticals Hydrating B5 Masque which will enhance to results of the rest of my daily skincare regimen. This highly concentrated masque is formulated to soothe dehydrated and stressed skin with its high amounts of hyaluronic acid, which retains 1,000 times its own weight in water, making it the perfect moisturizer and two forms of B5 to help replenish depleted moisture level and help tissue repair.
SkinCeuticals Hydrating B5 Masque comes in a squeeze tube, has a thick, clear, gel like texture to it that's lightweight and isn't sticky. It's applied at night, spread a generous even layer all over entire face and leave on for 10 to 15 minutes before rubbing in any excess product into the skin. Although it's primarily a face mask, it can also be applied to the hands, neck, chest, elbows, knees and feet. It starts to soak in almost immediately and the next morning you're left with noticeably smoother, more hydrated skin. It's recommended to use weekly and since you're only using about 5 ml at a time, the bottle should last you about 4 months. It retails for $64 for 75ml.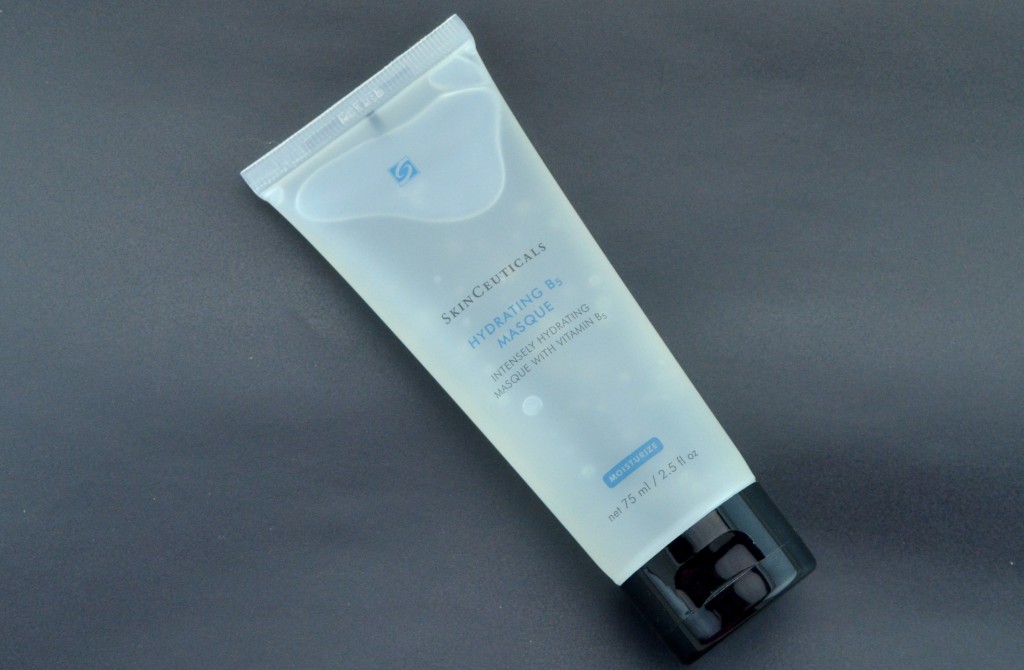 If you're looking to start a new skin care routine, I would highly reccomend looking into some of SkinCeuticals products!