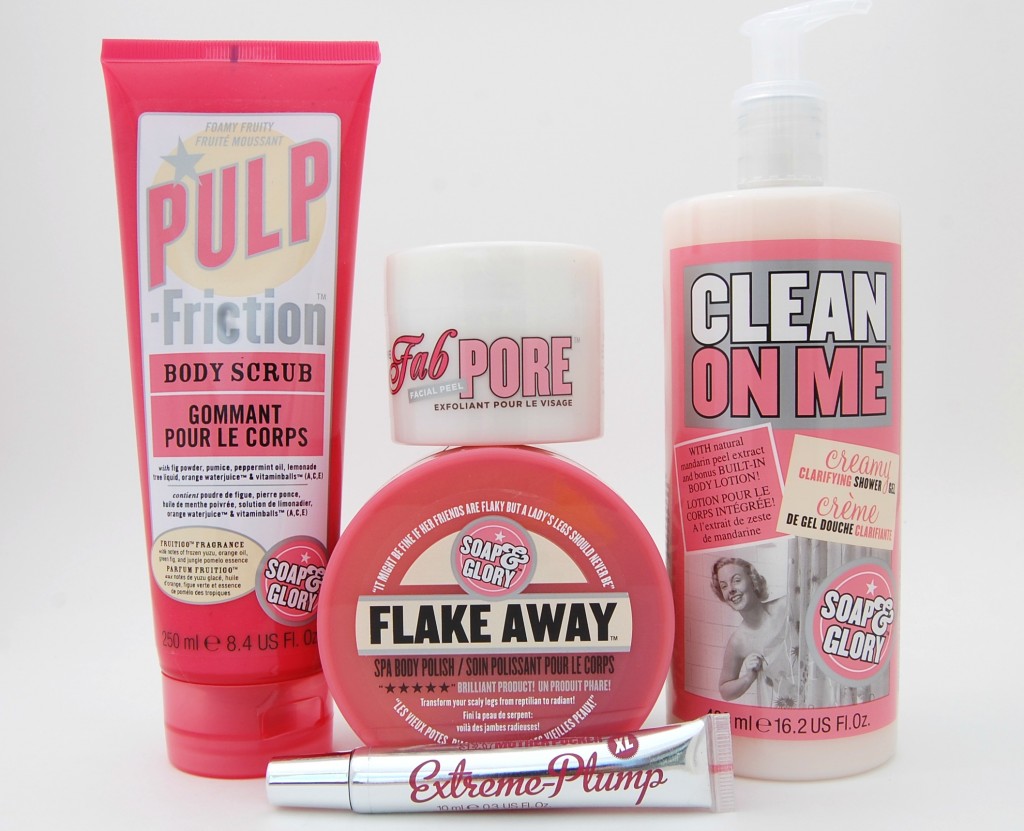 Soap & Glory is one of those brands that I pass at Shoppers Drug Mart, look at, and then for some reason never pick up? I hear everyone talking about how amazing each and every product is, how delicious everything smells and how I have to try it for myself. I love the pink, vintage style packaging and that everything is reasonably priced and is never tested on animals; also the names of the products are quite "punderful".

For those of you that don't know, Soap & Glory is based out of the UK and has quickly become one of the UK's most well-known and most liked lines of beauty products. It's a cheeky brand that started when founder Marcia used her cosmetic chemistry savvy to create fun, fearless and fantastic formulated bath, beauty and body products and she recommends applying products with happiness and abandon, because while beauty absolutely matters, it doesn't matter absolutely.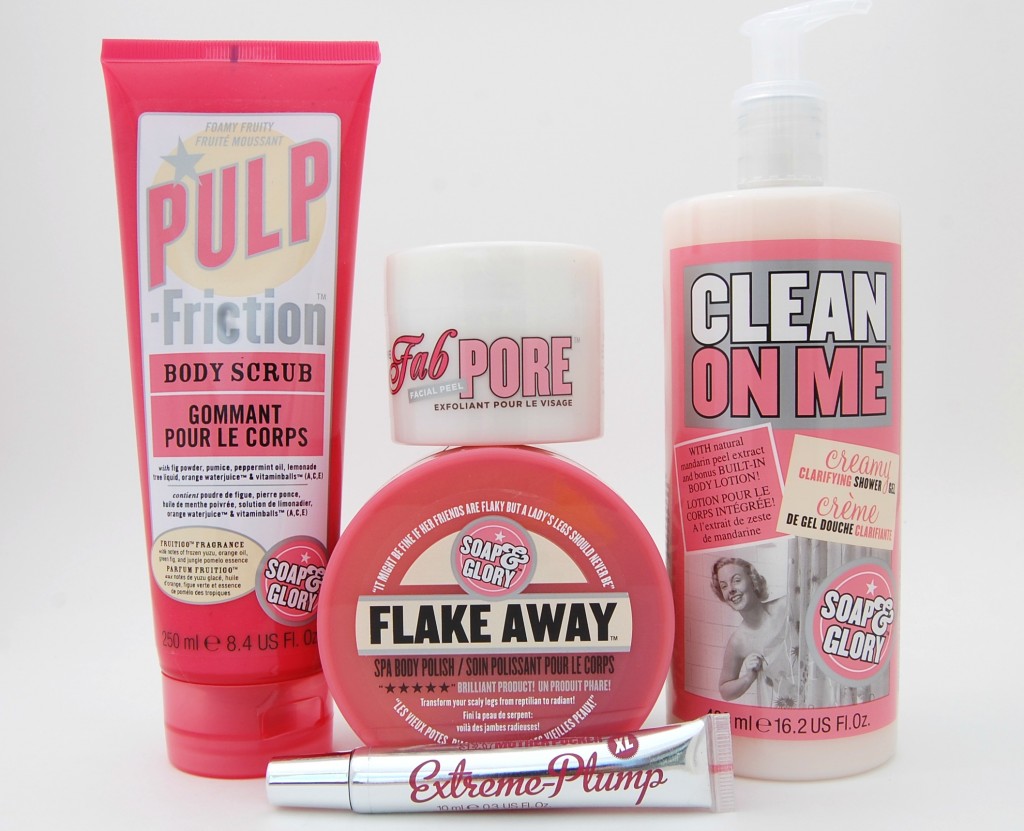 After playing around with several products over the course of a month, I've come up with my top 5 must have products for summer, starting with my favourite, Soap & Glory Flake Away. Flake Away will "transforms your scaly legs from reptilian to radiant" and after only "one round in the shower with this scrub, no-one will ever have to know that all this time you've been flaking it". It's enriched with shea butter, sweet almond oil, peach seed powder, sea salt and sugar which all help to eliminate dry surfaces.
Soap & Glory Flake Away body scrub comes in a huge pink tub with a twist off lid making it handy for when you're in the shower or bath. The texture of the Flake Away body scrub is grainy and sandy which is what you'd expect from a body scrub, but it doesn't feel rough on the skin which is important as you don't want to do more harm than good! All you need to do is scoop out a handful of Flake Away while in the shower and apply to damp skin, massage it into the skin until most the of grains are gone; don't worry the grainy bits are fairly fine and massage quickly into the skin. Flake Away is a blend of both fruity and floral fragrances that smells amazing both in the tub and when applied.
I've been using Soap & Glory Flake Away once a week for the past month to give my body a good polish, it leaves my skin feeling supple, nourished, ultra smooth and extra soft. It spreads really easily, so a small handful is really all you need. There's no unpleasant greasy film left on my skin like most scrubs and I'm left with a healthy glow that's perfect for the summer. It retails for $18 for 300ml.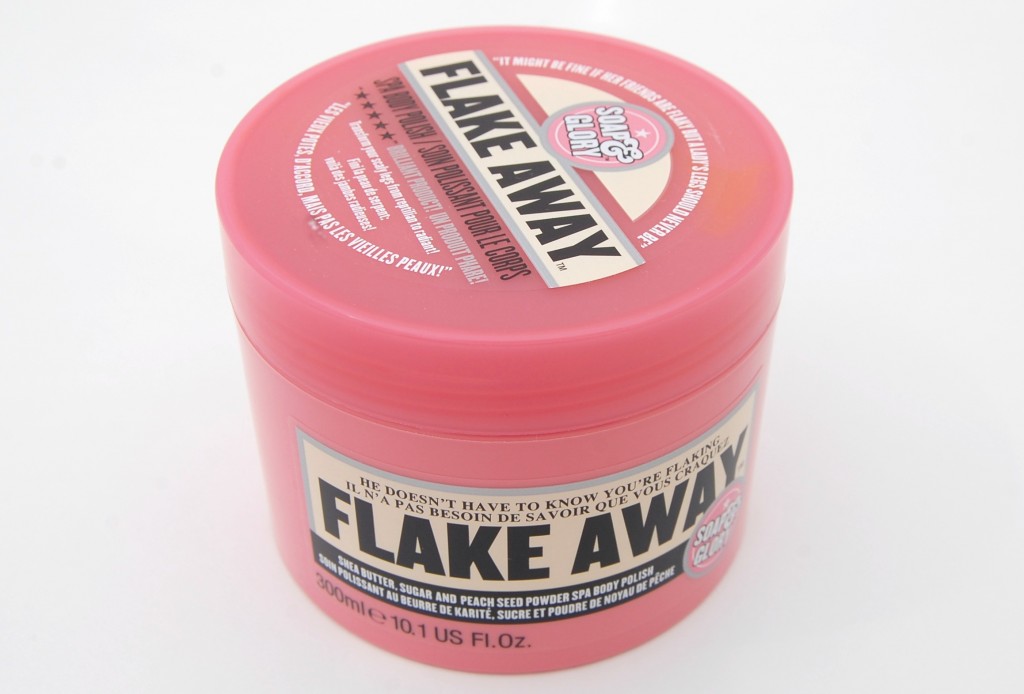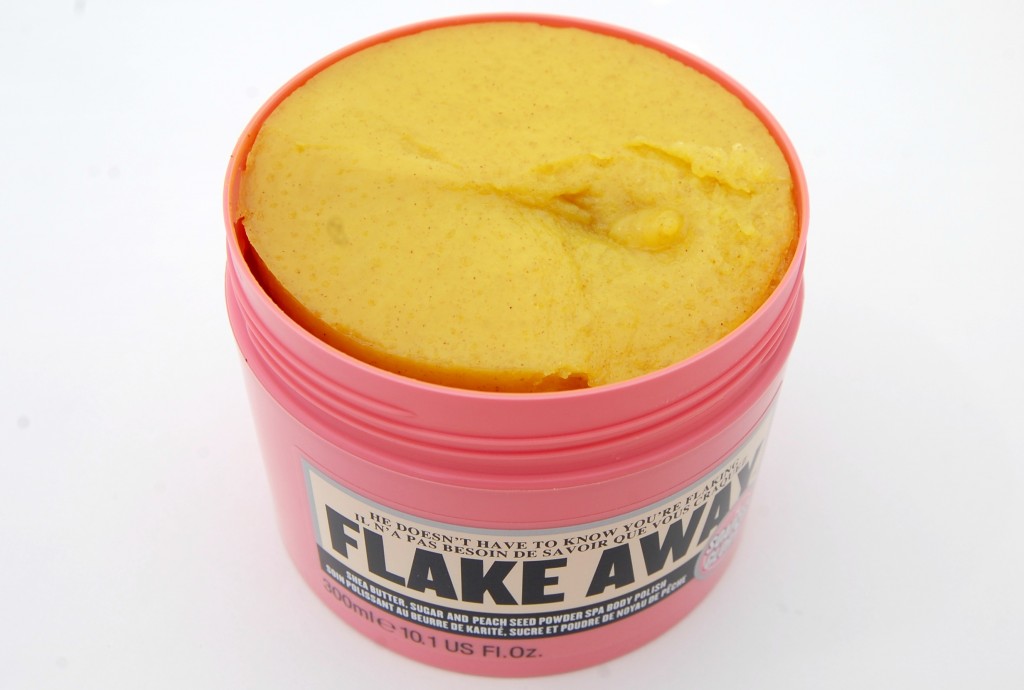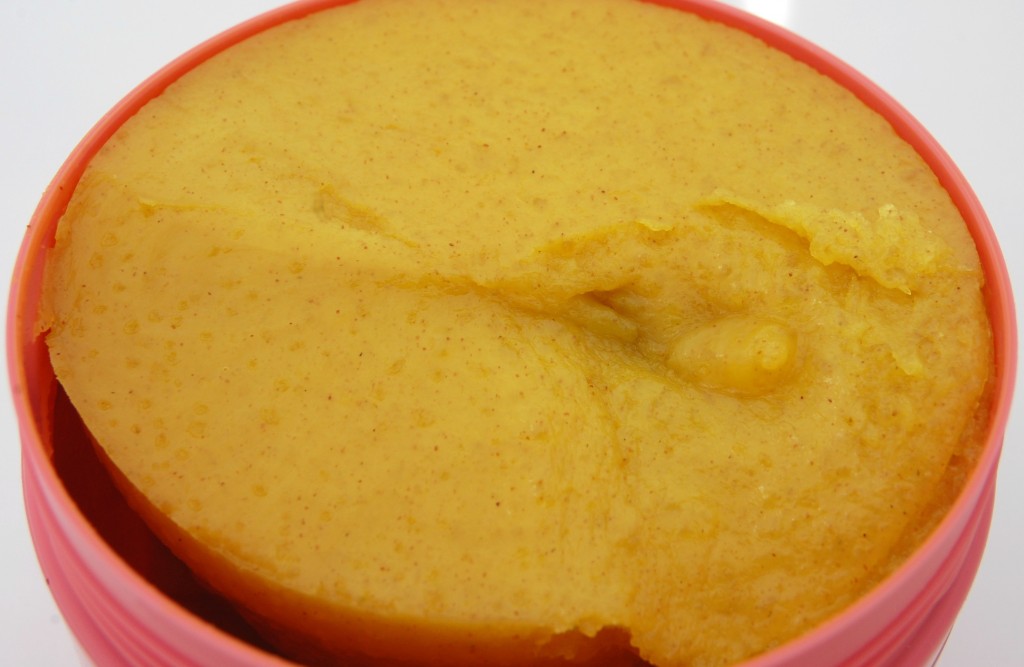 Up next is Soap & Glory Pulp Friction that is just one of three new products from the Soap & Glory Fruitigo Collection that are scented with a new exotic fruity fragrance and notes of frozen yuzu, orange oil, green fig and jungle pomelo essence. Pulp Friction is a clay-based foamy body scrub formulated with polished pumice, fig seed power, vitaminballs A, C and E and invigorating essentials oil of peppermint for beautiful dewy, smooth skin.
Soap & Glory Pulp Friction body scrub, unlike the Flake Away, comes in a pink squeeze tube that keeps everything neat and tidy while in the shower; if you're not one for dipping your hands into a tub, this would be perfect for you. Pulp Friction has a gritty texture and a liquid consistency to it, it applies as a white cream but once massaged into the skin it foams up releasing small pink beads that gently exfoliate the skin. As like the Flake Away, a little goes a long way, you only need a small amount to cover large areas. It has a totally different scent than the Flake Away, more of a citrus and peppermint smell which I'm head over heels for.
Overall I was really surprised at how much Soap & Glory Pulp Friction lathered up on my skin, it wasn't abrasive, yet had enough grains to give my skin the exfoliation that you would expect in a scrub. It leaves my skin silky smooth and moisturised throughout the day with no greasy residue left behind. It retails for $20 for 200ml.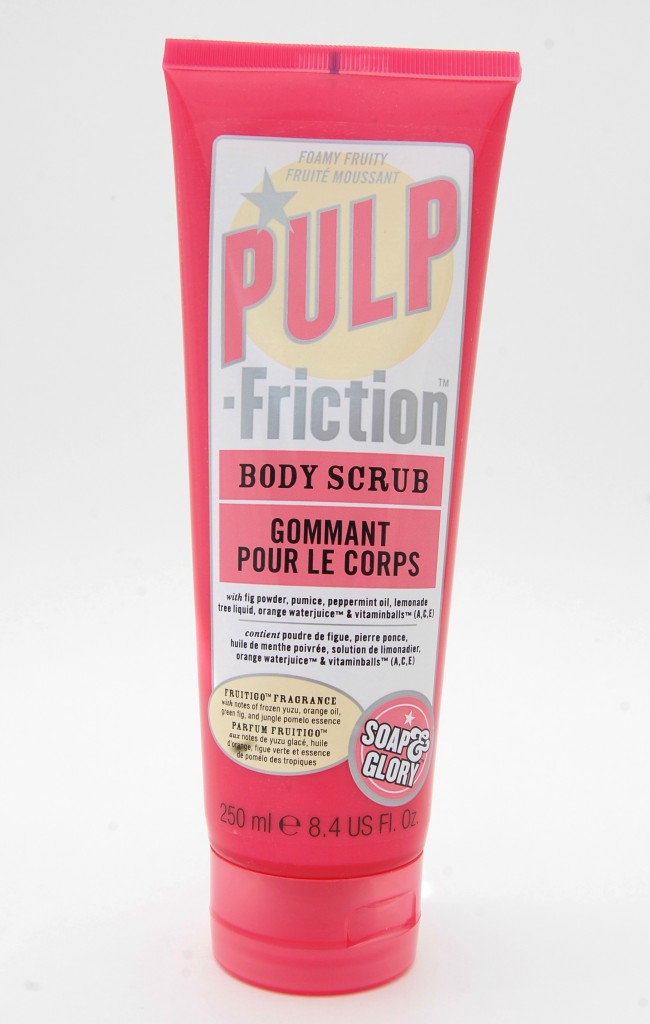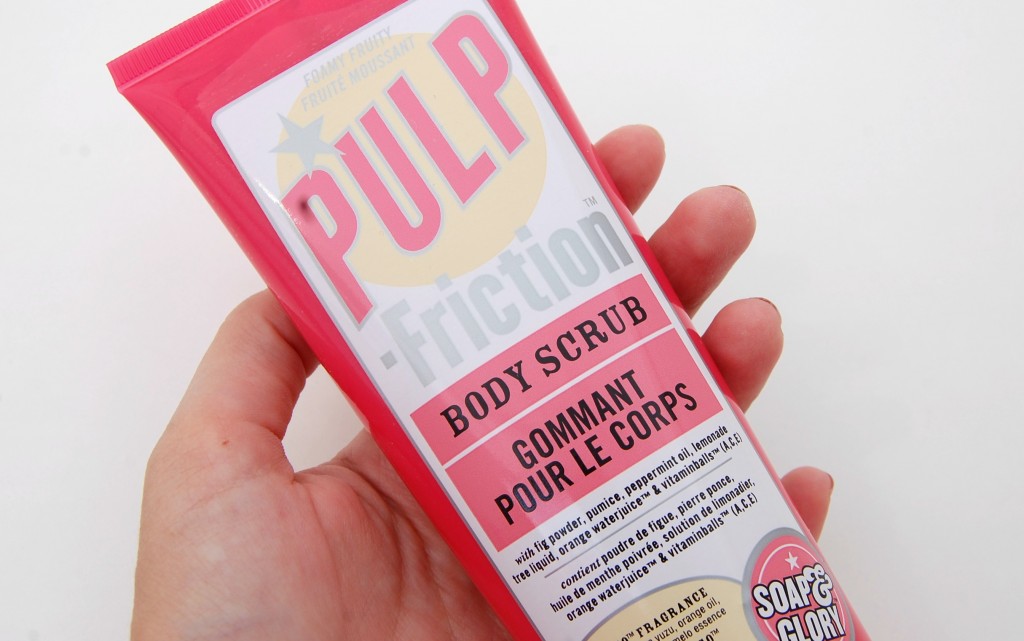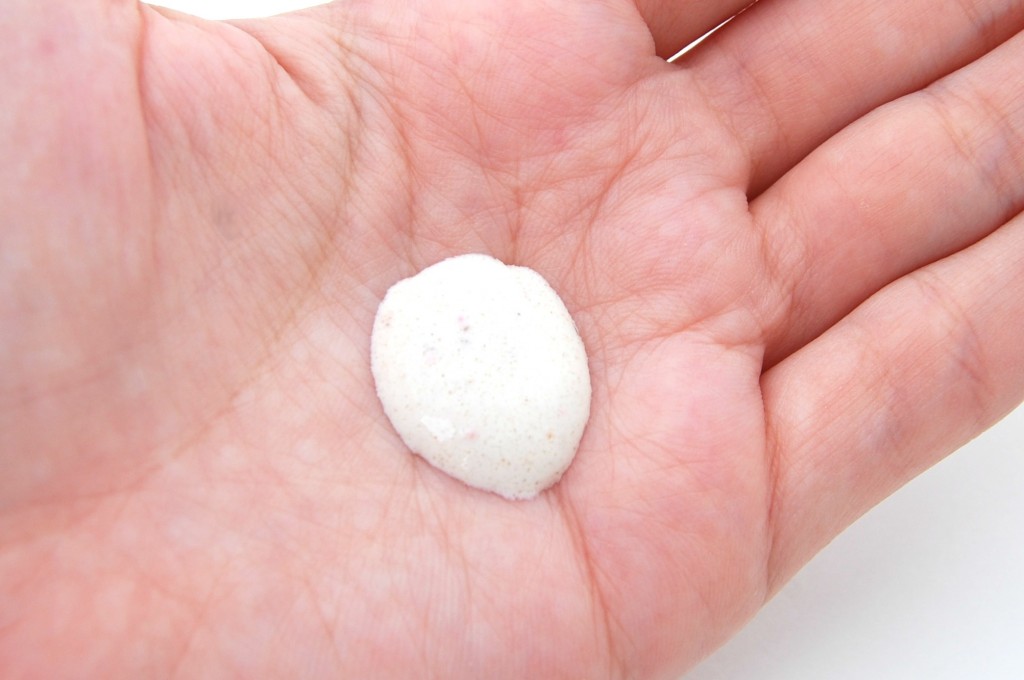 Soap & Glory Clean on Me is a creamy clarifying shower gel that's made with natural mandarin peel extract, brightening lactic acid and a bonus built in body lotion that gives you soft, clean, smooth, sexy skin with each use.
Soap & Glory Clean on Me comes in a convenient clear plastic bottle with a pump dispenser which saves you from wasting your money on over usage. It has a creamy, thick pale beige gel texture that lathers extremely well, with or without a loofah. You only need a few pumps to produce a decent amount of bubby foam/ lather which cleans well, massages into the skin with ease and rinses off easily with no sticky, greasy, residue left on the skin. It has the original Soap & Glory pink fragrance scent with its fruity citrus blend with notes of bergamot, summer rose, peach, strawberry, gardenia blooms, jasmine, patchouli, warm amber and lush musks.
Overall, Soap & Glory Clean on Me is a really nice body wash, which cleans well without being harsh and leaves my skin feeling soft and supple after every shower, thanks to its built in body lotion. It has a lovely mix of fragrances, which create a feminine scent that lingers on my skin for quite a while after I've used it. It retails for $14 for 480ml and I do believe with daily use it should last a good 5 months.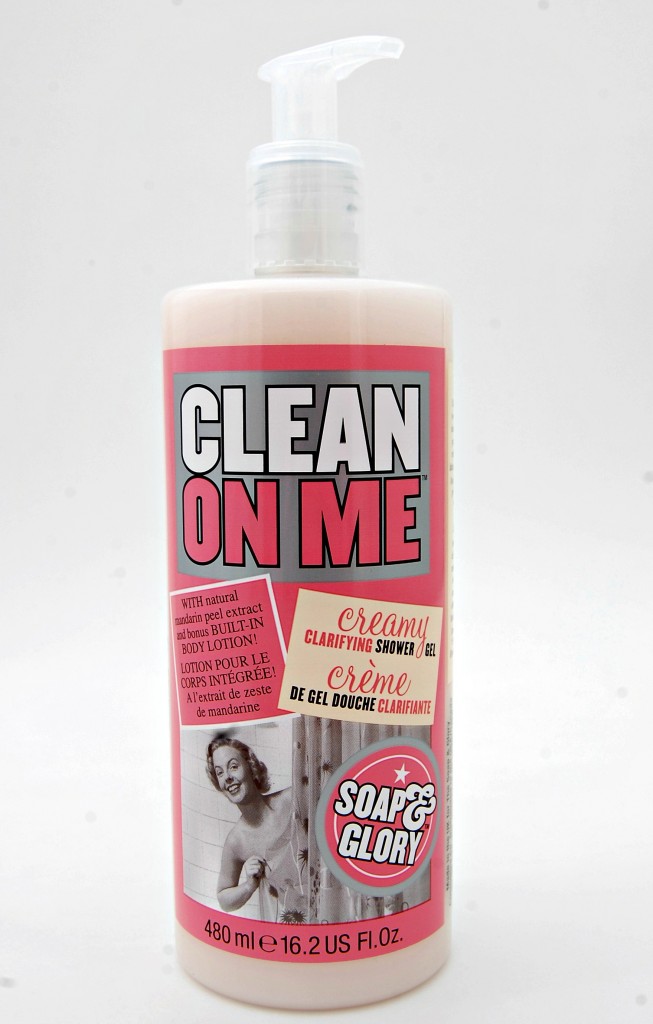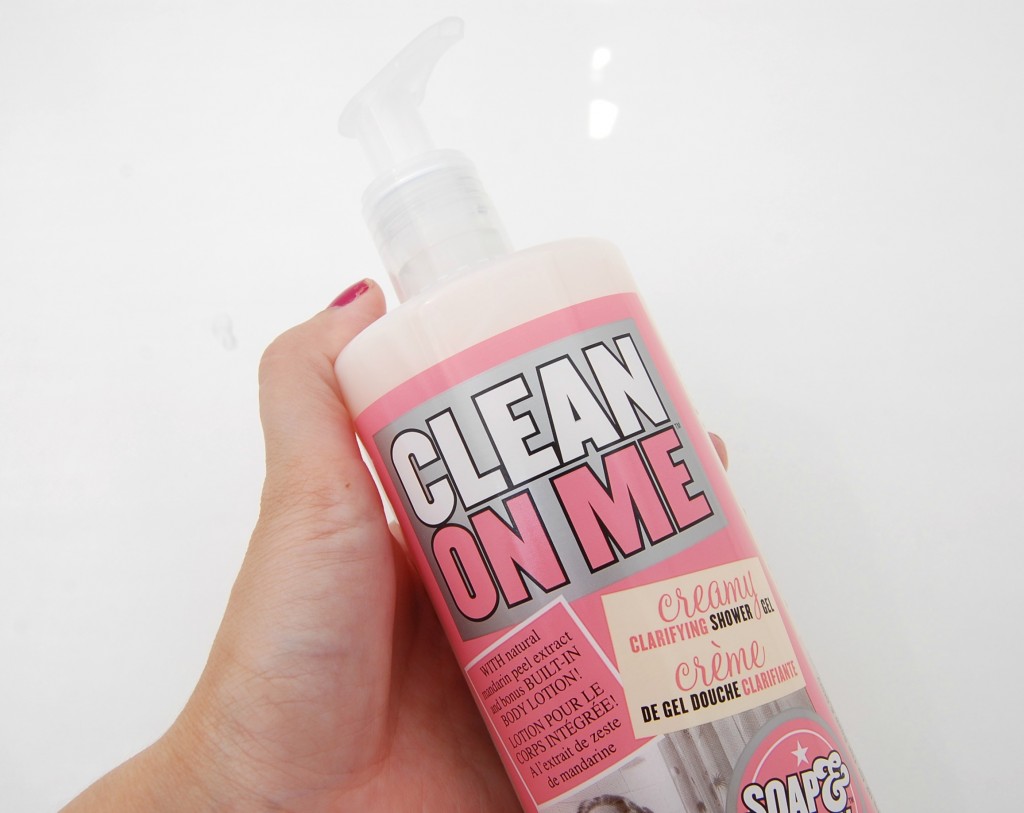 Soap & Glory The Fab Pore Facial Peel is Canada's best-selling Soap & Glory skincare item and after only 15 minutes with it, you'll feel like every last bit of grease, dead cell debris and dullness has been sucked right off your face. It contains fomes officianalis extract to help tighten pores, salicylic acid to help loosen dead cells that contribute to clogging and kaolin to get rid of any extra oil on the skin. It's ideal for oily, spot-prone or problem skin, or for a strategic attack on misbehaving t-zone areas.
Soap & Glory The Fab Pore Facial Peel comes in a small white plastic tub with a twist off lid and is a thick white cream with small blue beads in it. Its thick consistentlily helps to easily cover your entire face without any dripping or runniness and as you rub the cream into your skin the blue beads will burst letting you know that the application is complete and you don't need to massage the product into the skin anymore; very convenient. It has a relaxing, spa like scent to it, almost minty and very soothing to the skin.
You will need about a quarter size amount to cover the entire face and you can leave it on for 5 minutes for a 'quick refresher' or 15 minutes for a 'do it yourself facial'. Be careful to not over irritate the skin, so twice a week for 15 minutes would be the most you would want to use it. When you first rub this mask in, you'll get a slight stinging sensation that quickly wears off and since it never completely dries your skin will never feel tight and dry. The mask feels lovely on the skin, at one point I forgot I even had it on my skin and it easily washes off; I only had to use luke-warm water. After your face will look slightly red, this will wear off leaving your face looking radiant and clear. I'd recommend not wearing make-up or touching or washing your face for at least 8 hours after this mask for full effect.
Overall, Soap & Glory The Fab Pore Facial Peel is really easy to use, nice and thick so easy to cover your face and its not a bad price, only $25 for 50g, for a salicylic acid mask. It has great effects on your face, unclogging it, leaving your skin glowing with less breakouts. You don't need to use a lot so the tub will last awhile.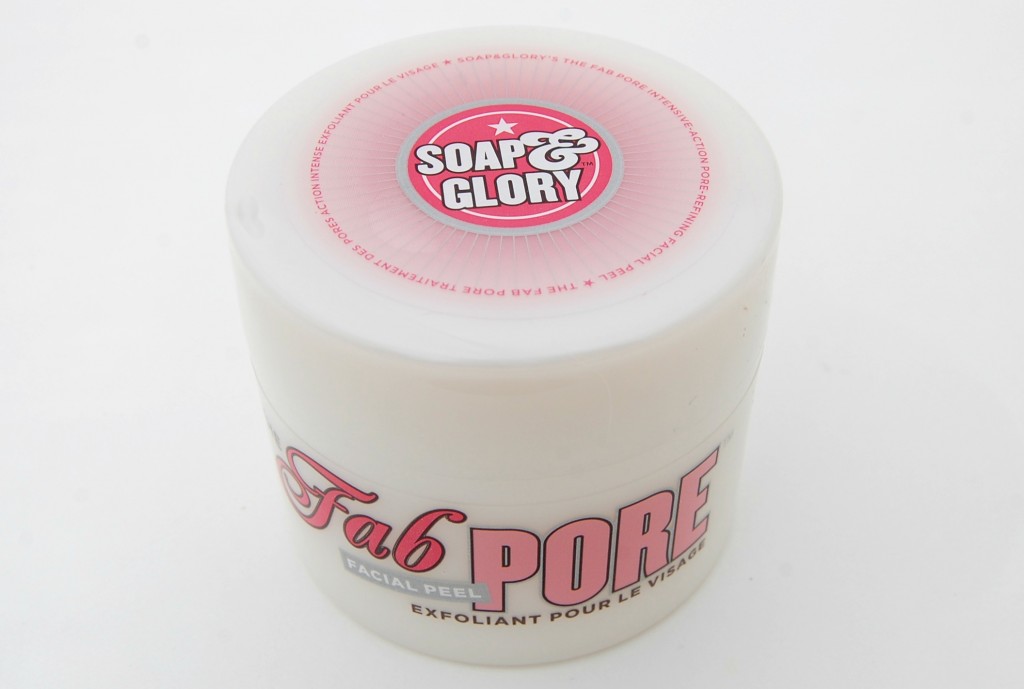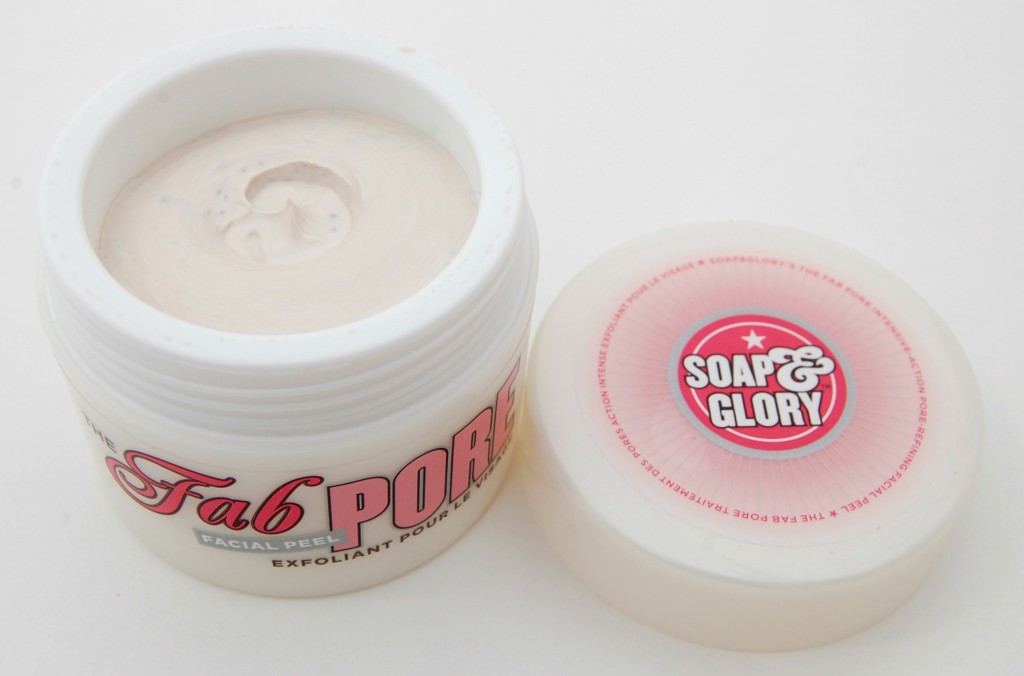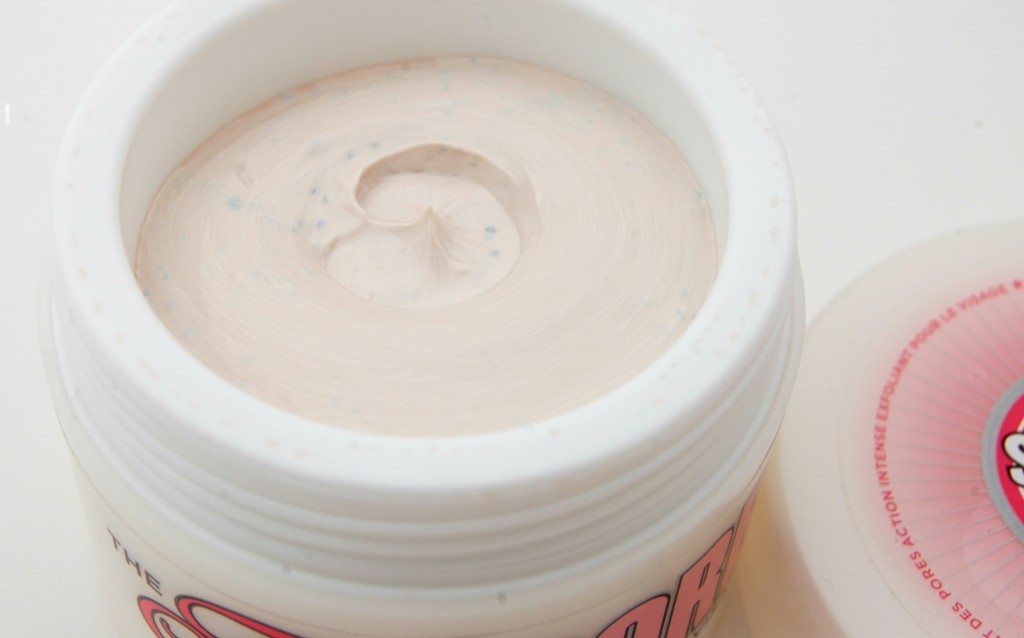 Last but not least is Soap & Glory Sexy Mother Pucker XL is the strongest lip plumper on the planet, in the opinions of the experts at Soap & Glory and gloss promises to "immediately plump, buzz, tingle and zing" the lips. There is a disclaimer at the back of the box saying "New Sexy Mother Pucker tryers should finish a couple of tubes of our 'original strength' SMP plumper before going to extremes' but I felt the need to jump right into the strongest formula possible, I'm pretty badass like that.
Soap & Glory Sexy Mother Pucker XL is a super-sizing, extra-strength collagen clear lip shine with LIPSWELL™ natural plant oil infusion, SUPERFILL™ nanovectors and VISIVOLUME™ immediate effect lip filler that will help plump up your lips. It comes in a tube for easy application, has a simple plastic angled applicator and the gloss is dispensed in the middle of the applicator. The color of gloss is off white and very thick and creamy in texture. It smells and tastes amazing, like cinnamon and chocolate and leaves a tingling sensation on the lips. It gets more intense after about 15 minutes after applying it and lasts about 30 minutes before you'll want to re-apply.
I'm not sure if the Soap & Glory Sexy Mother Pucker XL actually pumps up your lips, although you can defiantly feel the tingling sensation, however I'm sold on the name alone. If you've tried lip plumpers in the past, you know you're not going to see miracles, but this would have to be my favorite plumper that I've tried so far. It doesn't sting like others, only tingles and does a good job at filling in the fine lines on my lips, giving the appearance of fuller and smoother lips. It does an excellent job at moisturizing my lips and since it's clear, at anything else, it would be a great gloss to apply over/ under lipsticks. It retails for $22 for 10ml.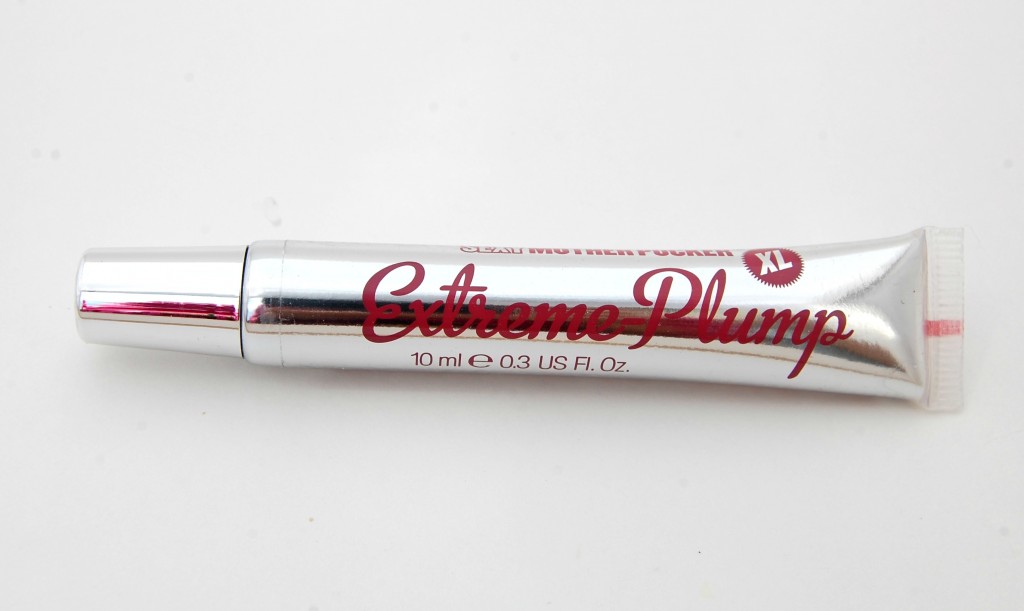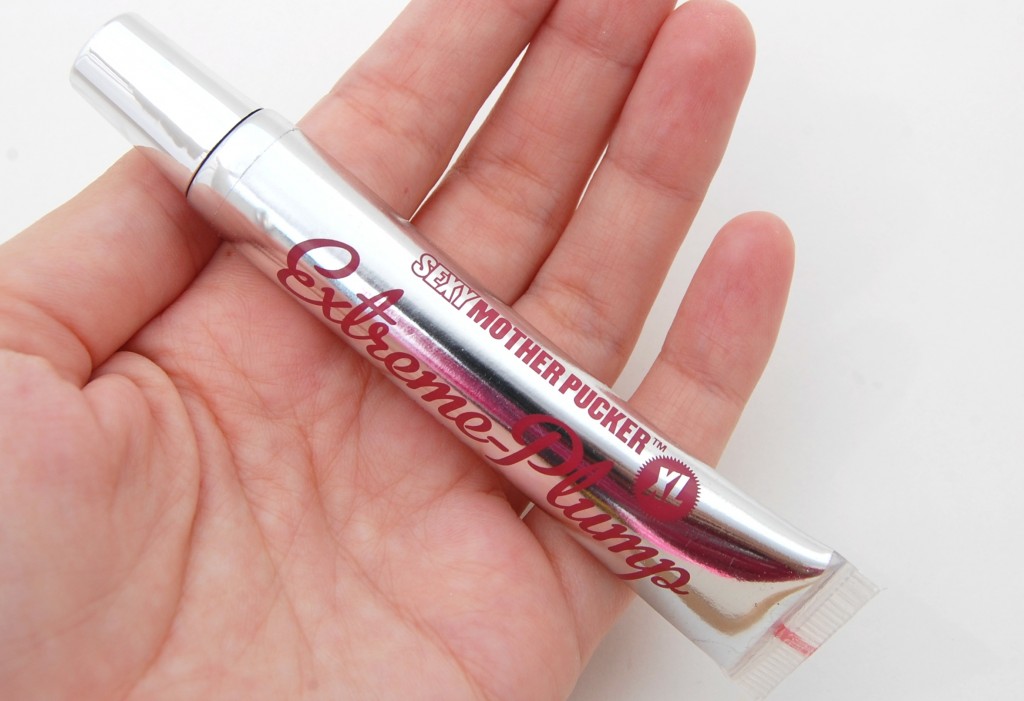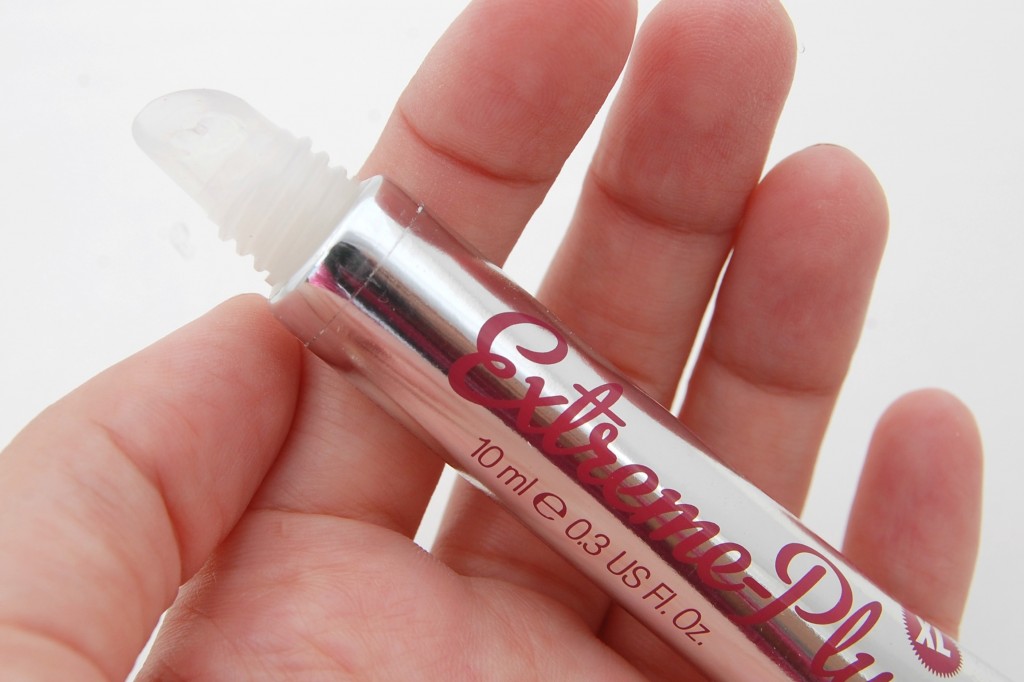 Never Wash Alone….. get your mind out of the gutter and take Soap & Glory's 2 minute timer with you when you shower. Did you know that earth's most imminent ecological disaster is water shortage, either did I. I'm probably one of the highest contributors of this, I love to take baths and since I have a huge whirlpool tub I use a lot of water. The average 5 minute shower uses 35 liters of water (I think my tub holds 50 liters, yikes) which is 70% or in my case more like 85% of our daily recommended water use. Soap & Glory have started a "Save Water, Come Clean, Do The 2 Minute Rinse" and has christened the second day of the workweek, Tuesday, as 2-Minute Rinse Tuesday. Soap & Glory has put their staff to the test and came out with its totally possible to get washed, shampooed, conditioned and rinses using somewhere around 120 seconds of running water.
Are you ready to take the challenge, Soap & Glory has step by step instructions to make it possible; there is going to be a little tap on/ tap off involved. First step is to turn the tap on for about 40 seconds to warm up and get all over watered. Step two is turn off the tap while you suds, scrub, shave and shampoo. Third step, the tap is back on while you rinse for 40 seconds. Fourth step is tap off again while you massage in your conditioner (if you use it) followed by the fifth and last step of tap back on for your final 40 second rinse. Seems easy enough, are you up for the challenge? Would love to hear your results and any of your favourite must have Soap & Glory products for the summer!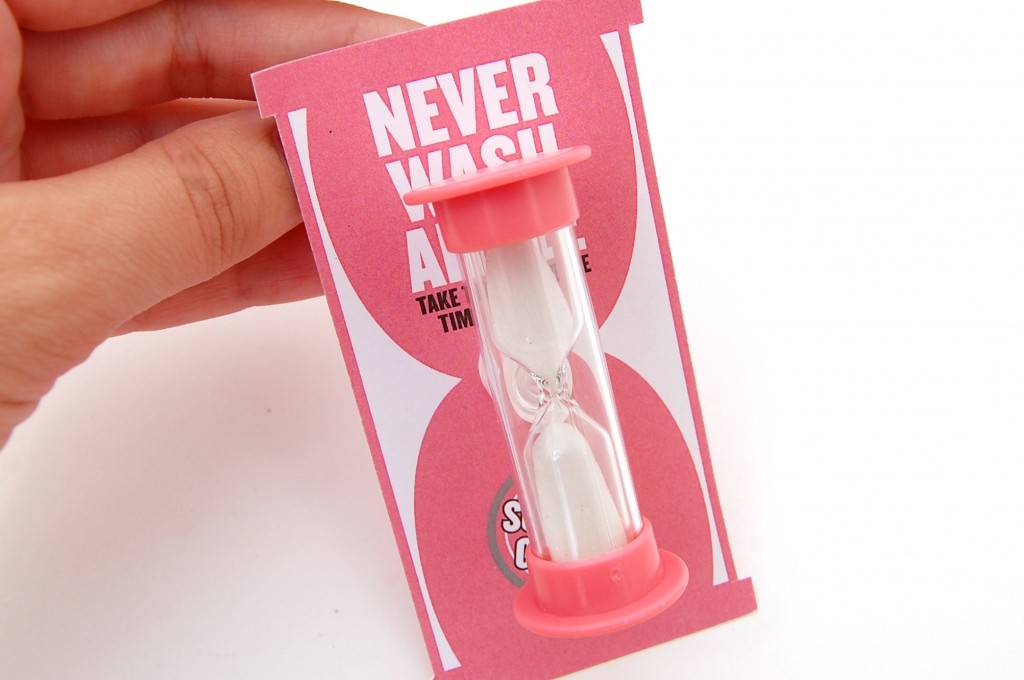 ***Disclosure: product was sent to me for review consideration, all opinions are 100% mine and I was not paid to do this review!***