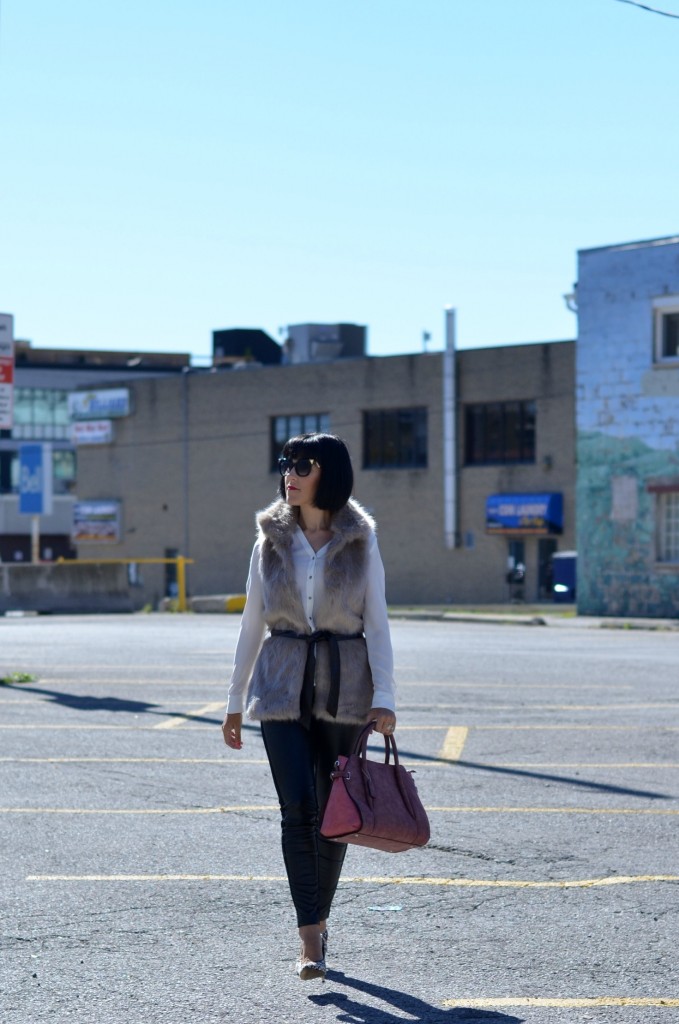 The weather's been a little bipolar this past few weeks, freezing one day, hot and sunny the next. This was totally the wrong outfit to wear today, as temperatures reached mid-20's here in London, but I was super excited to pull out this faux fur vest from last winter. I often get asked how to style a fur vest without looking frumpy and the answer is simple… wear form-fitting pieces underneath.
A faux fur vest is a timeless piece that will go with pretty much everything in your wardrobe and is an excellent option for adding that touch of chicness and luxe to an otherwise basic and plain outfit. Since it makes a bold statement, the rest of your outfit should be balanced and less flashy. Pair it with a white winter shirt and sexy leather tights for a dressier evening look, or toss on a basic tee and some boyfriend jeans for a more relaxed and laidback weekend feel. If you're looking for a work appropriate approach, try pairing it with a classic pencil skirt combined with a swankier blouse or for a casual daytime look combine it with a chunky knit sweater, skinny jeans and riding boots.
A faux fur vest is chic, incredibly cozy and warm and still right on trend. I love that its cruelty-free, yet gives the effect of indulgence. It's a great way to add a touch of luxury to your look without breaking the bank. Faux fur is an essential part of winter and fall, whether it be in a vest, a coat or a lined jacket. If you're still having doubts about this vest, get some inspiration for the look below.
What I Wore- Winter White Blouse- Smart Set, Faux Fur Vest- Le Chateau, Purse- c/o Pinkstixs, Sunglasses- c/o Polette, Pumps- Nine West