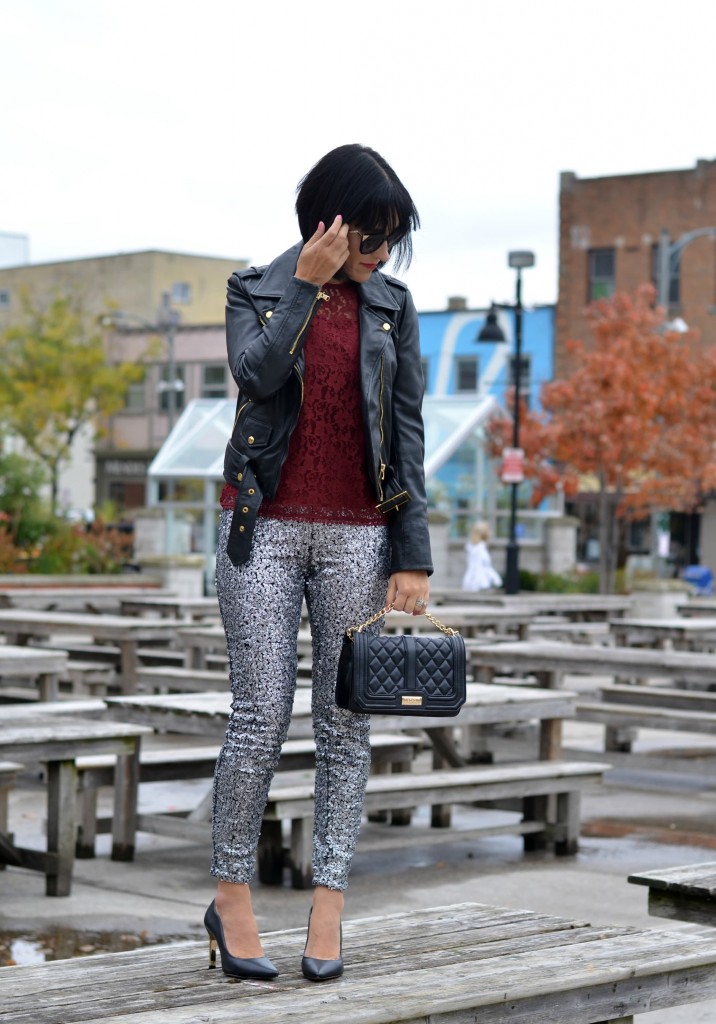 sparkly leggings
Sequin pants have been getting a bad rep for years. Just because they're shiny, sparkly and jazzy, doesn't mean they have to be tacky. Forget saving them for Vegas bachelorette parties or New Year's Eve, and try incorporating a pair into your everyday style. Sequin pants can look extremely chic when styled the correct and modern way. So what's the secret for not looking like an 80's disco ball? Keep the top and accessories more casual. For an even more relaxed and weekend look, rock them with a basic tee, oversized denim shirt or even a cable knit sweater or turtleneck.
Nothing is sexier than sequin, leather and lace. It's the perfect date night outfit and sets you apart from others. Although some may think a simple pair of sequin pants is too over the top for daytime, I'd have to disagree. Sure it may look loud, outlandish and festive, but these don't have to be saved for festive or holiday looks. You'd be pleasantly surprised how effortlessly these are to style with every piece in your wardrobe. It can easily be dressed up or down and take you from day to night. When paired with a denim shirt, it's a casual, yet chic outfit. When paired with leather or lace, it gives the real feeling of rock n roll and edge.
Sequin leggings instantly revamps any dull and boring style into a more glamorous and fashionable look. First time wearing sequins, opt for something in a darker hue, like navy or black. Either way, I highly suggest picking up a sparkly piece to add to your closet this season. You won't regret it.
What I Wore- Top- H&M, Leather Jacket- Danier, Purse- BCBG, Sunglasses- c/o Polette, Sequin Pants- H&M, Pumps – Le Chateau