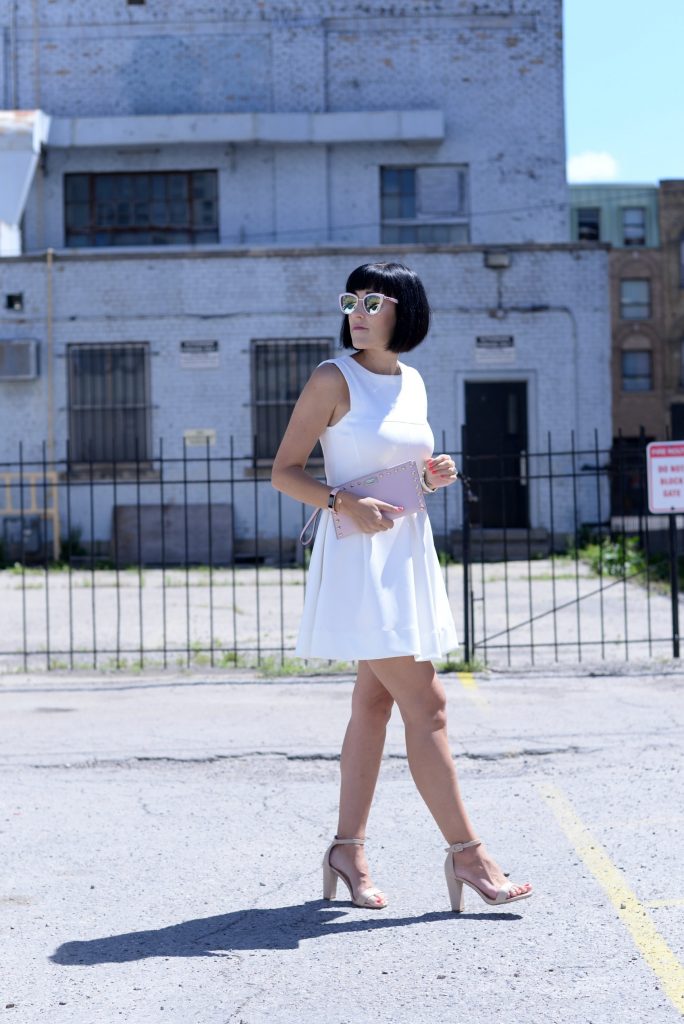 White dress and neutrals  
My A/C has been working hard these past few days, and it doesn't seem to be cooling off any time soon. This makes me incredibly happy. I'd take heat over snow any day of the week. All I want to do is wear dresses and sandals, for those places where I can't get away with a swimsuit, which unfortunately turns out to be most everywhere.
I truly believe a girl can never own too many dresses in the summer. There's just so easy to throw on. I tend to look for pieces that are unique, have different details and in interesting fabrics. This way, even though I tend to stick to the same colour palette, not all my dresses look the same. Its honestly all I want to wear in the dead heat of summer, but I still want to have different options. I love that this crisp white dress is made from a thick neoprene, which means its not see-through. Although you'd think it'd be too heavy for the summer, its breathable. Its rubber material is flexible, durable and resilient. The pleats down the front of the dress give it some visual interest.
There are so many ways to wear this dress, the possibilities are endless. For an effortlessly chic and casual look, just add sneakers. For a dressy, but cool look, pair ankle boots. Looking to go full-on glam, try nude heels and a sequin bag. Looking for a street-style inspired look, add an embellished statement boot.
What I Wore- Dress- Forever 21, Quay Sunglasses- c/o Too Faced, Clutch- Michael Kors, Fitbit, Watch- Daniel Wellington, Bracelet- Keep Collection, Bracelet- c/o Thomas Sabo, Heels- Le Chateau