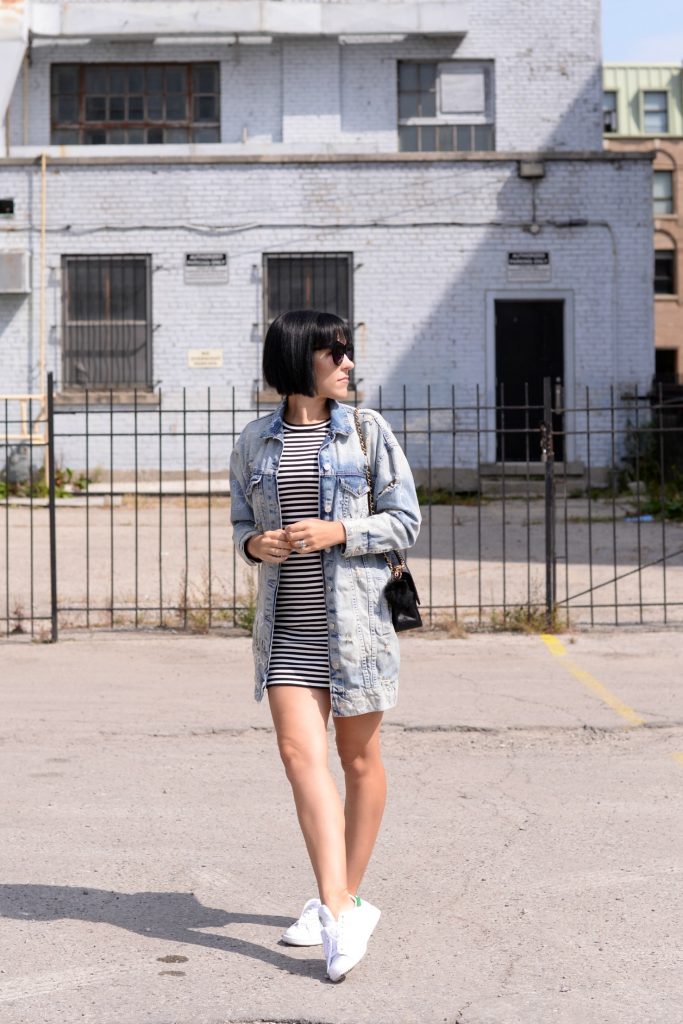 Oversize Denim Jacket  
If we're learned anything this year, it's that oversized everything was in. From oversized sweaters, jackets, t-shirts and beyond, it seemed like the larger, the better. The oversized denim jacket was one trend I could get behind. It makes a statement on its own, yet is still wearable for every day life. Slightly different than your typical denim jacket, cropped or more "fitted" jean jackets, it creates a totally different vibe than an oversized one. This creates an effortless, "found n the back of your boyfriend's closet" moment and has a more raw and grunge feel to it.
The trick to finding that perfect one, is look for one that looks almost too big for your body, yet is still form-fitting and shows off your curves. You want it slightly longer, wider and more slouchy than denim jackets of the past. When paired with the right pieces, it instantly becomes super stylish. Looking for that instant street-style look, toss on your fave large tee, over-the-knee boots and oversized denim jacket. Although not for everyone, this is ultra-trend right now. Mixing your jean jacket with unexpected textures like velvet, satin and silk is a sure way to create a luxe and high-end feel. Don't be afraid to layer. Fall is the perfect time to play with cozy knits and comfy sweaters. Toss on your favourite skinny jeans and some classic kicks and you're ready for the weekend.
Of course, my favourite way would have to be paired with a form-fitting dress. It kept it casual for today's look, but you can easily toss on some tights and chic booties to take you into winter.
Are you going to be picking up an oversize denim jacket this season? How will you wear it?
What I Wore- Dress- Aritzia, Oversize Denim Jacket- Zara, Sunglasses- Karen Walker, Watch- c/o Medium Watches, Purse- Chanel, Sneakers- Adidas Stans