mark. Pout Vinyl Lip Paint Velvet Lip Paint
Let's face it, we're all busy. Even though we know the importance of priming our lips, before we place a lip product overtop, we still tend to skip this step. Just like paint won't adhere to your walls without a good primer, your lipstick will also start to fade faster and wear unevenly without a smooth, even surface to adhere to. The new mark. Pout Vinyl Lip Paint Velvet Lip Paint is an all-in-one lip colour and primer. Its innovated longwearing formula helps to smooth, define and nourish the lips, while creating a vibrant, bold pop of colour to the lips. It helps to keep the colour fresh and vivid, in fun and flirty colours, the entire day without fading. It's more intense than a lipstick, more comfortable than a long-wearing liquid lipstick and yet more saturated than a traditional gloss.
mark. Pout Vinyl Lip Paint Velvet Lip Paint comes in a clear, square, plastic packaging with a doe-foot applicator for precise and easy application. The unique shapes follow the natural curve of your lips for a seamless and flawless application every time. It features a luxe, almost silky, liquidy texture that creates a soft-focus effect on the lips. Its incredibly lightweight formula feels almost invisible once applied to the lips. It still manages to provide a full coverage, completely opaque appearance to the lips in a single swipe. You'll immediately be able to achieve an intense and bold pop of colour thanks to its pure pigment formula. It glides on effortlessly, sets and dries within a few short seconds and stays put for upwards of 8+ hours. It helps to create a perfectly flawless finish that holds up beautifully throughout eating and drinking, with minimal fading or creasing.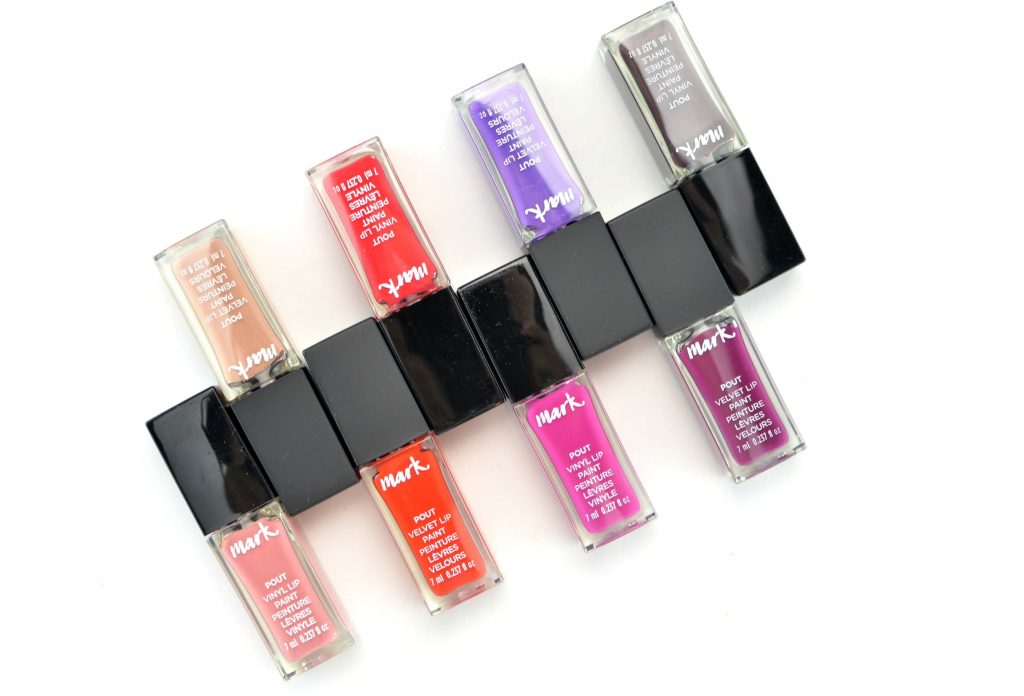 Although 2-in-1 lippies have already been introduced to the market, not at this price point. These new mark. Pout Vinyl Lip Paint Velvet Lip Paints lay down just the right amount of product for a fresh and flawless finish in seconds. Its almost mousse-like text makes the application process a breeze. It allows you to touch-up on the go without having to fuss too much. The weightless consistency allows you to easily build up the intensity, without it becoming thick or goopy. Although it sets and dries quickly, it still allows you to create a flawless finish before drying. It doesn't seem to migrate outside the lid or bleed into fine lines the entire day. It's an extremely comfortable lippie that never feels tight or drying on the lips. It's not necessarily kiss-proof or smudge-proof, however, you'll see very little transfer or wear.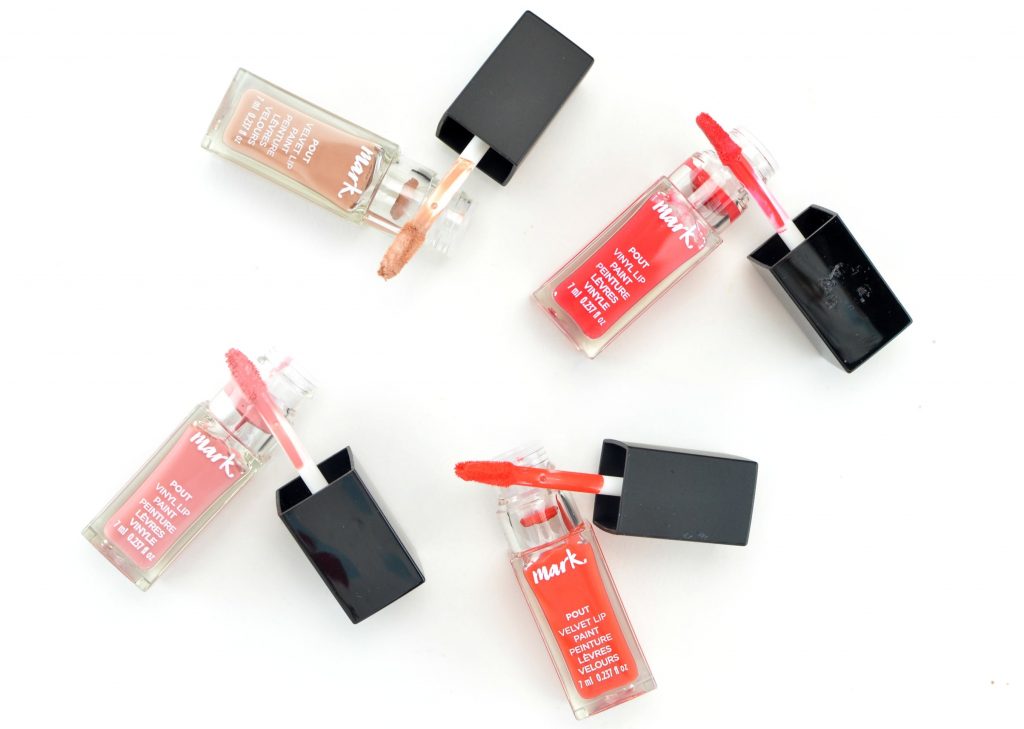 Finding that perfect shade is easy with the new mark. Pout Vinyl Lip Paint Velvet Lip Paint, there's literary a shade for every style, occasion and mood. It retails for $12 in 8 electrifying shades.
mark. Pout Vinyl Lip Paint Velvet Lip Paint in Cozy, Quiet, Spark, Glamour.

mark. Pout Vinyl Lip Paint Velvet Lip Paint in Shocking, Fantasy, Fancy and Covet.