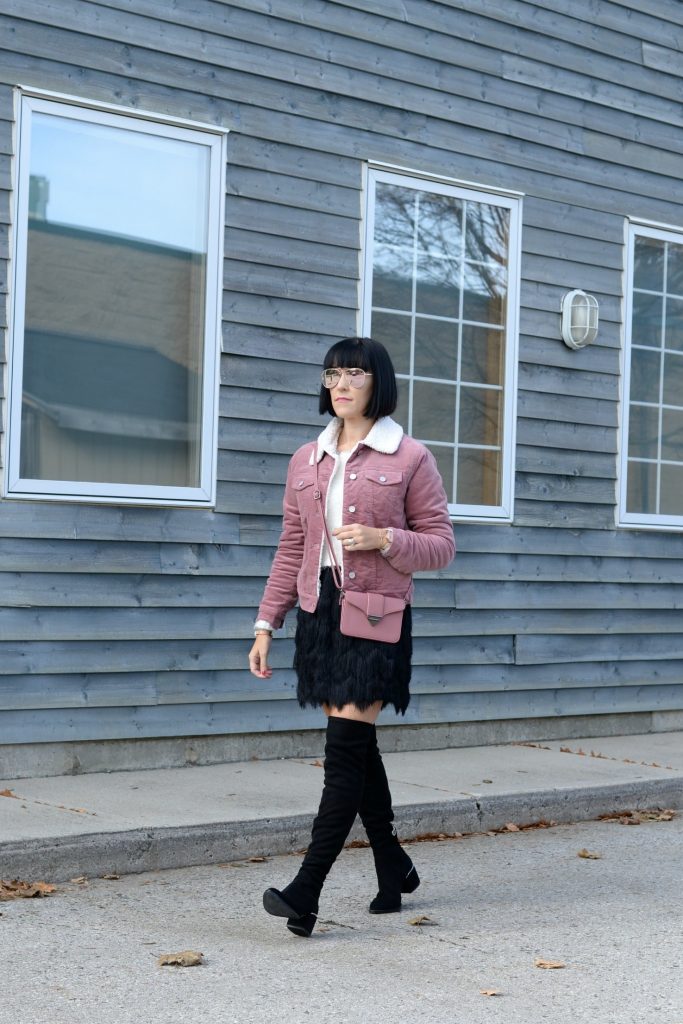 Take the weight off your shoulder
If you would have told me a few years ago, I'd be walking around with a small purse, I would have thought you were crazy. I always saved my dainty and smaller clutches for hitting the clubs, and since those days are behind me, I never felt the need to own a smaller handbag. I always associated smaller purses for items you saved for the evening and going out. Those nights when you only need the bare necessities and when you left all your responsibilities and obligations at home. If you're anything like me, and carry around everything you own on the daily, the new year is the perfect chance for a fresh start.
I'm not going to lie, it's not going to be easy. It's going to take some time and adjustments on your part, but in the end, it's so worth it. You'll feel lighter, you'll have less stress and you'll feel more organized. Honestly, your purse doesn't need to be filled with an entire makeup bag, endless packs of gum, mints and candies, hand sanitizers, antibacterial wipes, tampons (unless you're on your period), books, pens, hair accessories, loose change, pain relievers and medication, sunglasses, snacks, kleenex, etc. You'd be surprised what you need. Most days, I can get away with just my wallet, keys, iPhone, a stick of gum and my fave lippie.
Take the weight off your shoulder, literally, by starting with a cute, chic purse. The larger the purse, the larger chance you'll fill it with unnecessary things. This Pixie Mood Jacqueline Pouch from Chapters is large enough to hold my wallet, cellphone, lipstick, keys and a few other must-have items, but small enough that it doesn't weigh down my shoulders. Its sleek, clean lines and metal detailing is perfect for the day, but its elegant and structure design is fancy enough for evening. It's the perfect bag to take me from day to night. It's made from vegan leather, is easy to clean and fits all my daily needs.
My second tip is to downsize your wallet. You'd be surprised at how many cards you actually do need. Let's be honest, how many business, loyalty, and points card do you have in your current wallet? Now, when's the last time you actually used one? Put those business card contacts on your phone and download some of your favourite store apps and upload your point cards to it. Most stores can usually look up your account my email or phone number, so you don't actually need to hold onto the physical card itself.
Third tip goes hand in hand with cleaning out your wallet, toss unwanted/ old receipts. I can't help but think of George Costanza on this one, but we tend to hold onto old bills, papers and receipts in our purses, when in fact, they should be filed away at home or tossed in the garbage.
Step 4 is to toss all those "just in case" items. You know, the items you have in your purse in case of an emergency. An umbrella in case it rains, a bag of snacks for when you're hungry, a pen for when you might actually write something down on paper, an entire bottle of Advil on those days when you have a headache. Eliminate the items you've been carrying around for years and have never used and focus on the essentials you actually need in your everyday life.
My final tip is to clean out your purse regularly. Even though you now have a smaller handbag, it can quickly get messy. Instead of spring cleaning or only clearing out your purse. when you switch to a new one, get in the routine of going through everything once a month. Dump out the entire purse at the end of the month and only put the items back into it that you truly need.
Do you have any other tips for a lighter load? Any other tricks on how we can save our shoulders and back?
What I Wore- Sweater- Banana Republic, Cord Jacket- Forever 21, Sunglasses- Forever 21, Skirt- H&M, Purse- c/o Pixie Mood via Chapters, Braclete- c/o Thomas Sabo, Watch – c/o Christian Paul, Over The Knee Boots- Browns