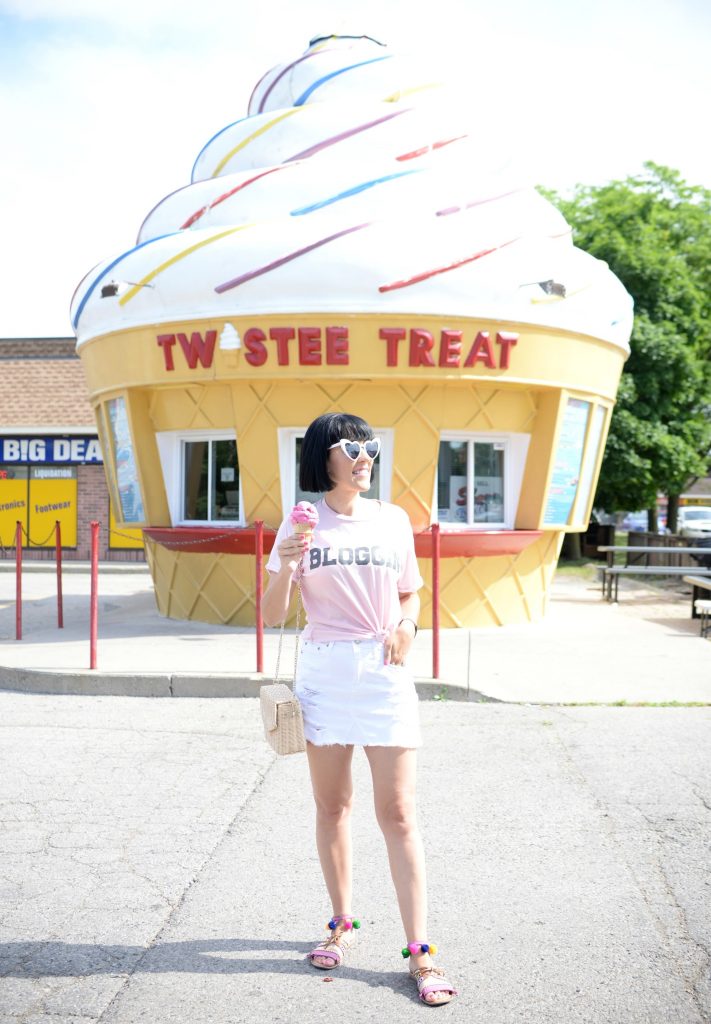 Summer Trends
Today we're talking about the top summer trends for 2018. These are the items you're going to want to add to your shopping list and incorporate into your current wardrobe. I truly believe you don't have to spend a ton of money to look fashionable, but adding a few inexpensive, trendy items to your collection each season will ensure you stay current and look like you just walked off the cover of Vogue.
Pastels are always huge for summer, it's crisp, it's clean and after a sea of all dark hues in the winter, it's quiet refreshing. As much as I want to say baby pink is the hottest shade, this season is all about lavender. Violet is the Pantone colour of the year, and a shade every designers have been using for these past few months. When you add a touch of white to it, you get lavender, making it the perfect shade for spring. Pastel shades are universally flattering on all skin tones and an easy shade to incorporate into your current wardrobe.
Gingham is going to be the statement print for summer. Plaid and checks were huge for fall and winter, so playing off that trend, designers have freshened things up with a lighter gingham print. From breathable dresses, to crop-tops and smokin' pants, this fun and flirty print is taking over the fashion market. It's a playful way to slip some texture and patterns into your wardrobe. It adds visual interest to any look without being too complicated. Since it's a smaller print, don't be afraid to mix it with other stronger, bolder, louder patterns in your collection.
Speaking of prints, florals are always huge for summer. Flowers are the first thing that come to mind when you think spring, so of course it falls into clothing as well. Although this isn't a new trend, it's one we're going to be seeing a lot of. It's a fun way to play with prints and colours, and can work beautifully with all your other articles of clothing.
Raffia bags made a strong appearance at the end of summer 2017, but a lot of people didn't embrace that trend, as it started to show up near the end of the season. Straw handbags and purses are in full swing this season and are making a strong statement already.
I'm not going to lie, I'm still a statement, over-size sunglass kinda gal, but this summer it's all about the thin and skinny sunglasses. It's the ultimate statement accessory and a fairly inexpensive way to have fun with a trend. Wearing a pair of microscopic sunnies is a sure way to grab attention. It's retro chic with just a touch of coolness, without trying too hard.
One of my personal faves, patchwork denim. Jean everything has been a huge part of the fashion world for these past few years, but this season it's all about colour blocking the denim in different textures, shapes and hues. It's a fun way to take a basic jean and tee outfit and take it to the next level. It adds visual interest, while still maintaining your carefree and laid-back vibe.
Sparkle, glitter and all things bling are right on trend for spring. What is normally saved for New Years Eve or holiday parties, it becomes apart of our everyday routine. If you're going for an all glitter dress, try pairing it with more causal pieces like a denim jacket or kicks to tone down the look. If you're not wanting to embrace a full-on glittery number from head to toe, a great way to combine this trend for every day wear is look for sparkly shoes. Whether glittery sneakers or sparkly flats, it's a fun way to elevate any basic outfit. 
It's going to take a certain kind of person to pull this next trend off, but when done correctly, it looks amazing. It's the ugly sneaker, aka the dad sneaker. It's white, it's oversized and chunky and it just screams 80's. A few years ago we started seeing the mom-jean and dad-jean trend, so it's so surprise that it would make its way down to our feet.
We've been seeing logo's everywhere for awhile now, what started in the mid-90's has quickly taken over the world again. There's no denying that logos are having a major moment. The Gucci white tee probably started this trend again, and although I've been eyeing it for what seems like forever, I just can't bring myself to drop over $700 on a T-Shirt. Stamping a logo on a basic tee is a strong statement, and what makes it so appealing, is the fact you've taken an inexpensive item and gave it a real luxe feel.
It seems like all the decades are coming back, and you can't think late 80's and early 90's without thinking of the fanny-pack. Belt bags are making a come-back and in a powerful way. For anyone who hates carrying around a purse, or for those that only purchase over-the-shoulder handbags, this is a great option for you. It's honestly such a practical bag. It's completely hands-free yet holds everything you need when you're out and about.
What I Wore- Bloggin' Tee- Forever 21, Purse- Zara, Watch- c/o Medium Watch, Sunglasses- c/o Zero UV, Skirt- American Eagle, Sandals- Europe