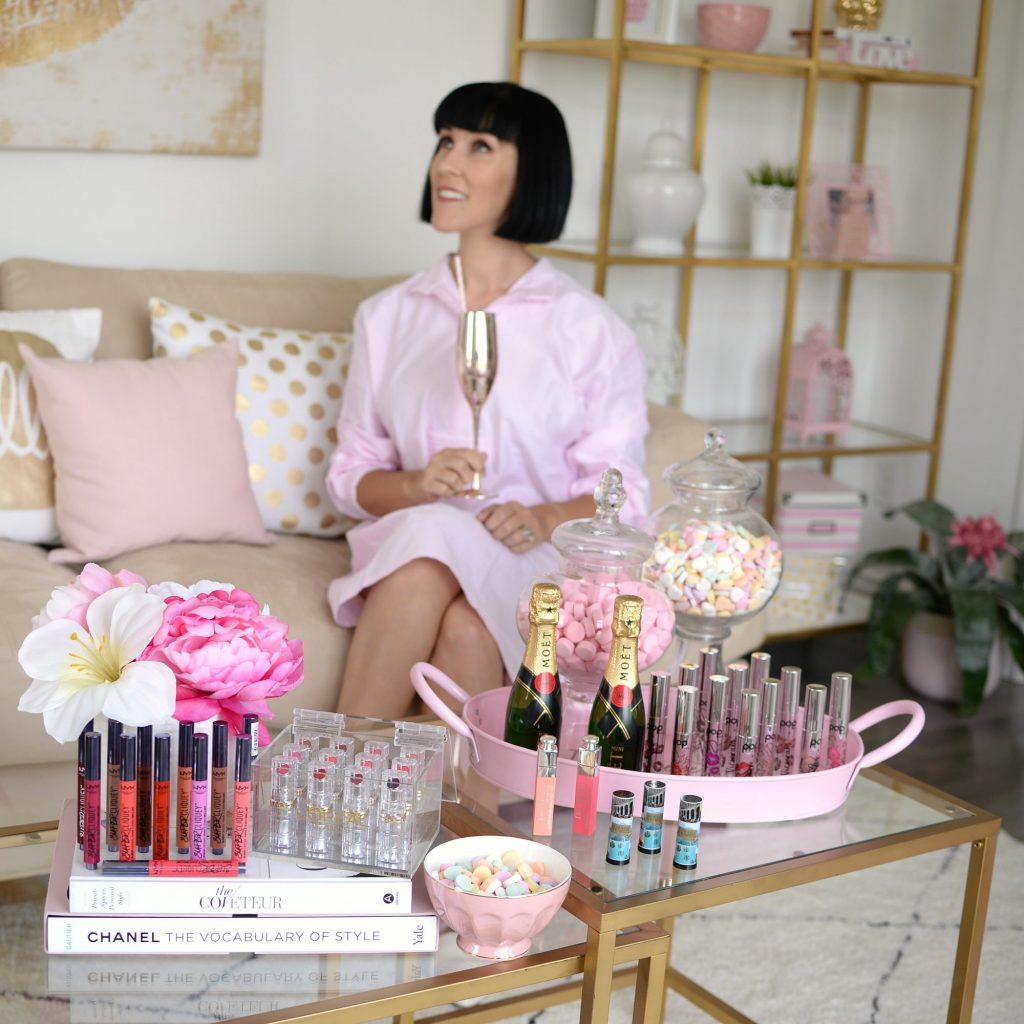 Best Lipsticks For Summer
Sometimes you just need a new lippie or two to enjoy during the hot, humid summer months. Summer is the perfect time to experiment with colour, and what better way, than on your lips. Finding that perfect lipstick formula is like finding that perfect pair of jeans, when it's right, it's life changing. Depending on your wants and needs, skin tone and colours, the lipstick aisle can be a little intimating and overwhelming. From sheer glosses, to fully opaque coverage, to metallics, holographic and mattes, how's a girl to know which new lipstick to try? Brands release so many new formulas each month, it's hard to keep track of them, let along know which ones to purchase. Today on the blog, I'm sharing my top 5 lipsticks for summer.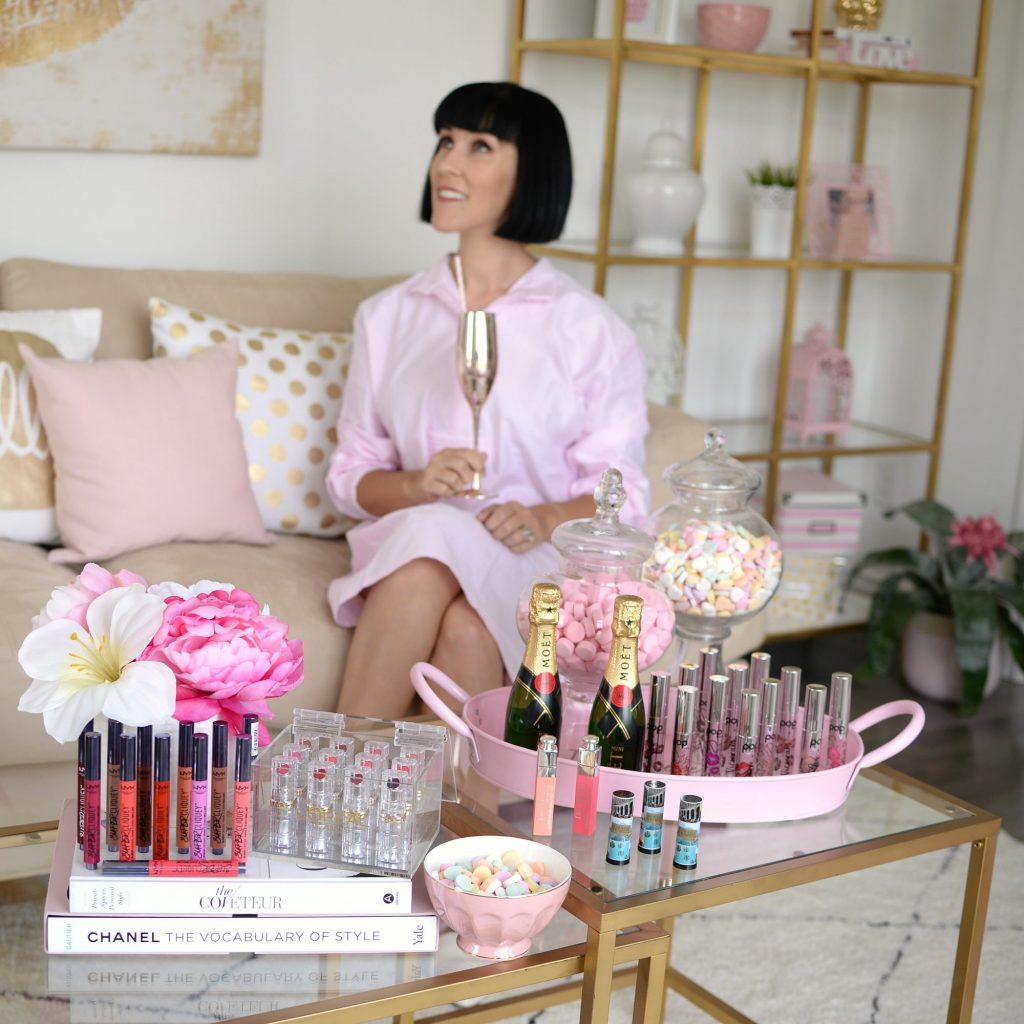 Drench your lips in moisture-rich colour this season with the new L'Oreal Colour Riche Shine Lipsticks. This full-coverage, high-shine, moisturizing lipstick is almost like a lipgloss in a tube. It coats your lips in intense pigments that stays put for several hours without compromising comfort. It's formulated with a unique non-wax formula that's infused with natural oils to help keep lips youthful and hydrated all summer long. It helps condition and retain moisture, ensuring lips stay nourished, soft and smooth throughout the wear. Unlike high-shine, ultra-glossy lipsticks that require a lip liner or primer, to ensure the colour stays true and help stop it from bleeding outside the line, this innovated formula doesn't slip around on the lips, nor does it require a base. It provides a bold wash of colour, while keeping lips healthy and plump with a luminous glow.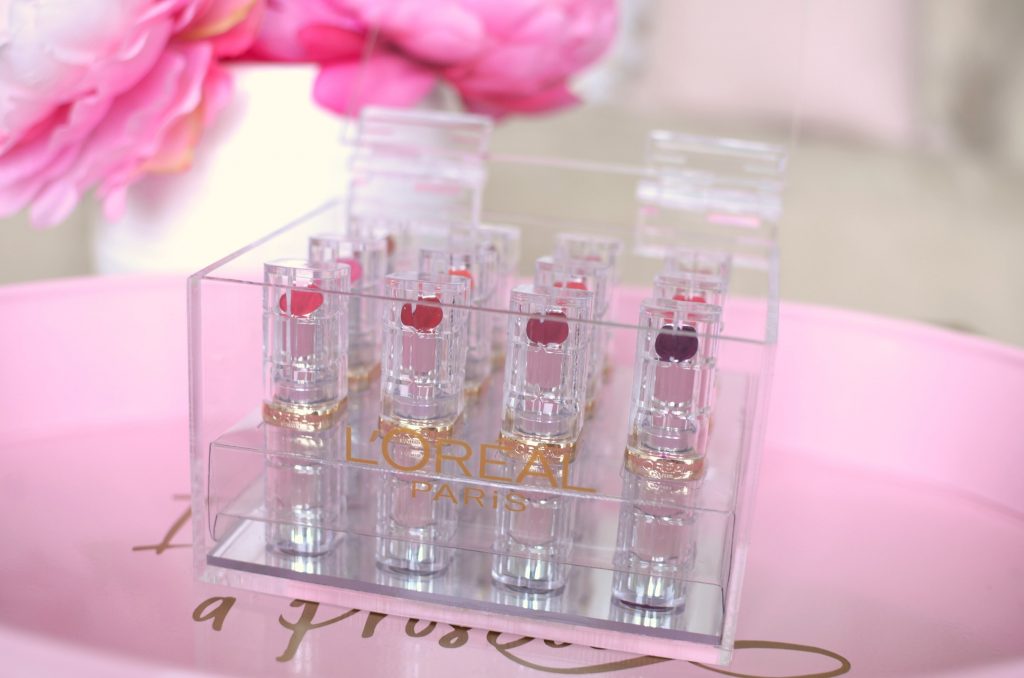 The L'Oreal Colour Riche Shine Lipstick collection features those bold pops of colour you'd expect in the summer, along with a few wearable, every day nudes. Its buildable texture, comfortable formula and incredibly hydrating consistency is just a few of the reasons why these make the perfect lippie. Its ultra-rich and extremely creamy texture glides onto the lips like butter and in a single swipe you'll receive a lovely sheer wash of colour. For having such a silky-smooth consistency, it's still surprisingly pigmented. A second coat will help intensify and deepen the shade, while continuing to be completely weightless. No matter how many layers you apply, it doesn't pill, slide around or become goopy. It wears beautifully throughout the day, but you will have to reapply after eating and drinking. It retails for $12.99 in 12 juicy shades.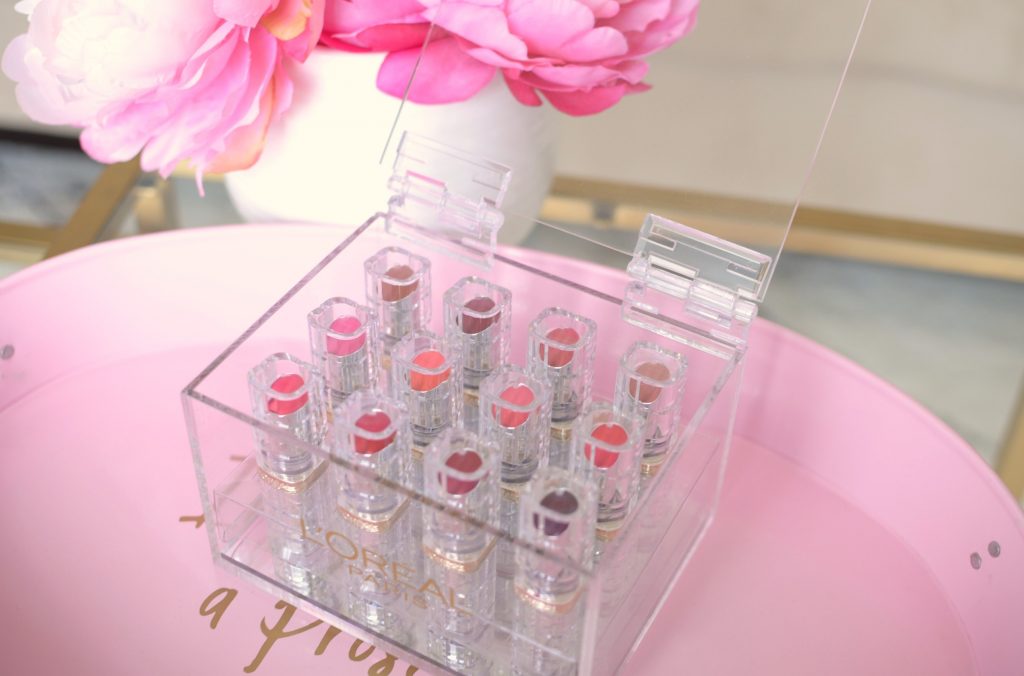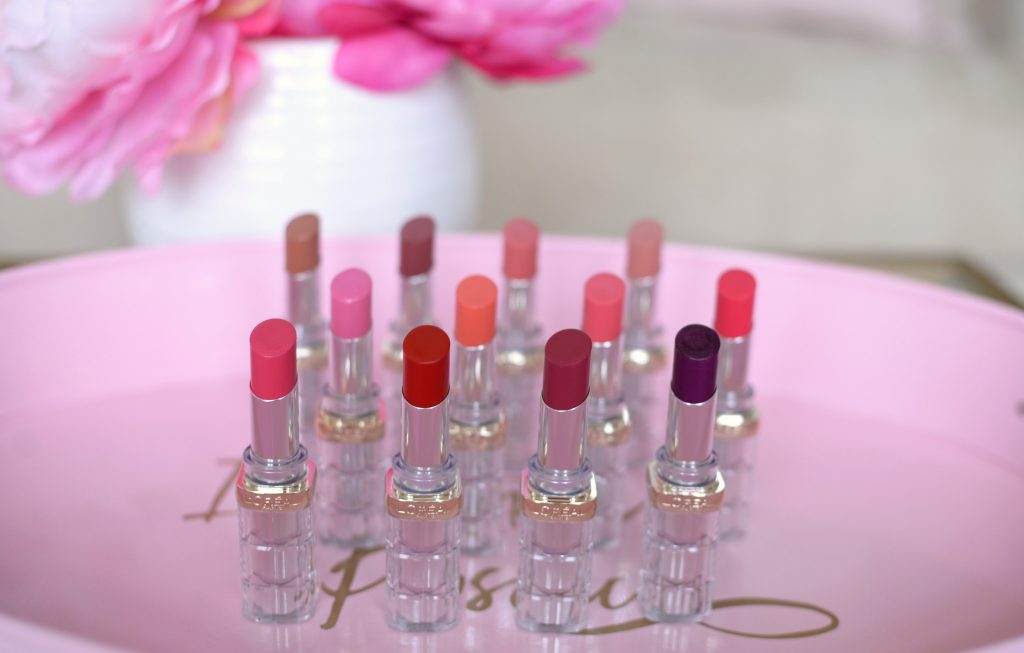 L'Oreal Colour Riche Shine Lipstick in Laminated Fuchsia, Enamel Red, Glassy Garnet and Gleaming Plum.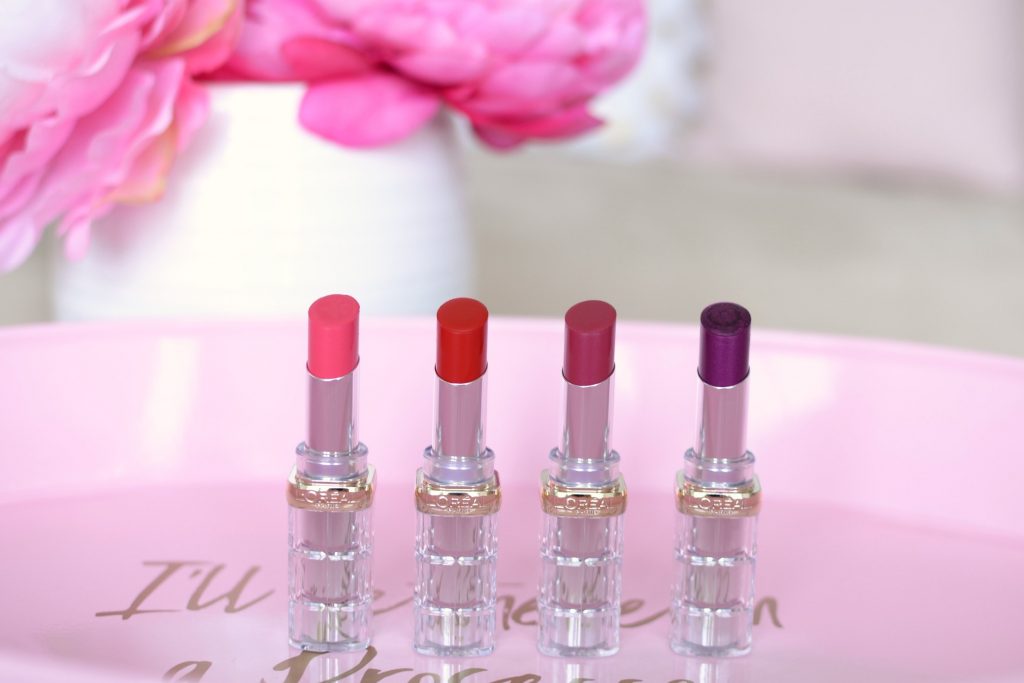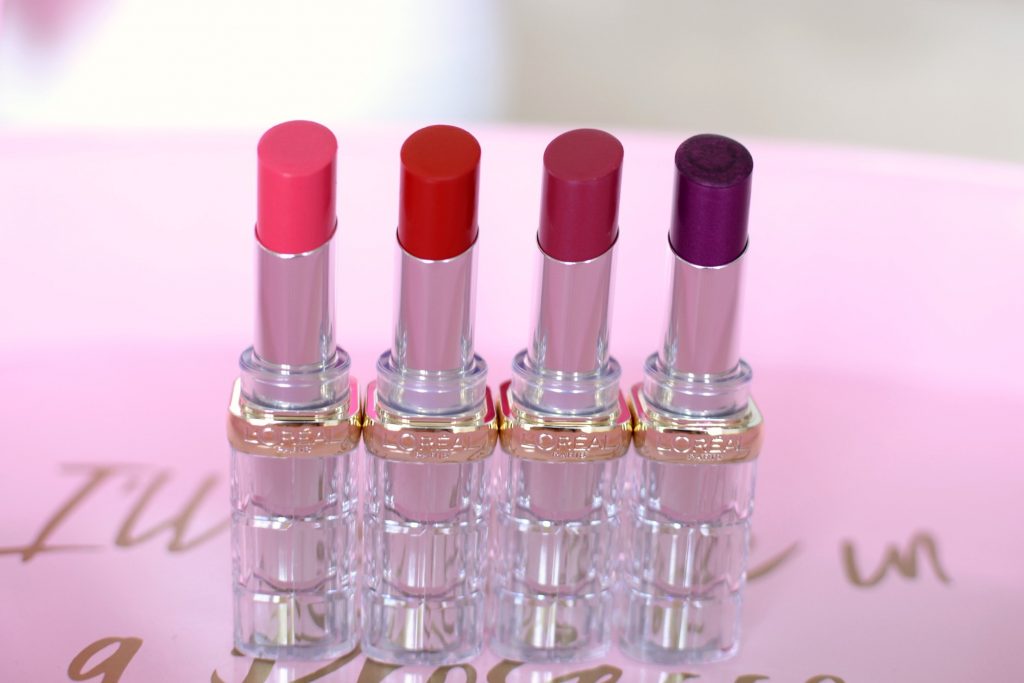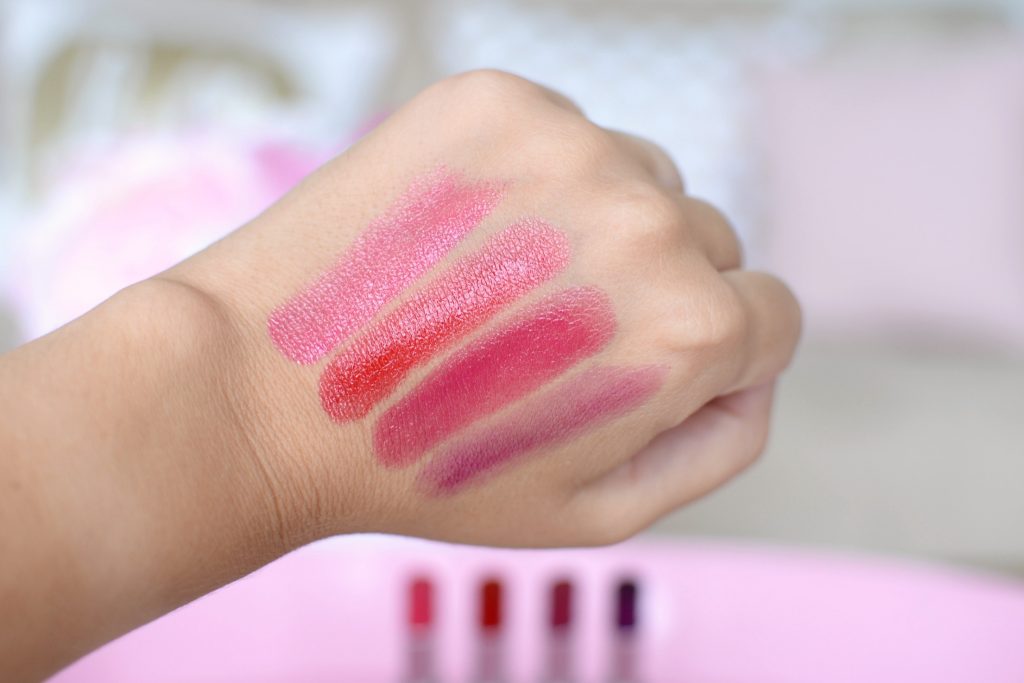 L'Oreal Colour Riche Shine Lipstick in Glazed Pink, Luminous Coral, Polished Tango and Lacquered Strawberry.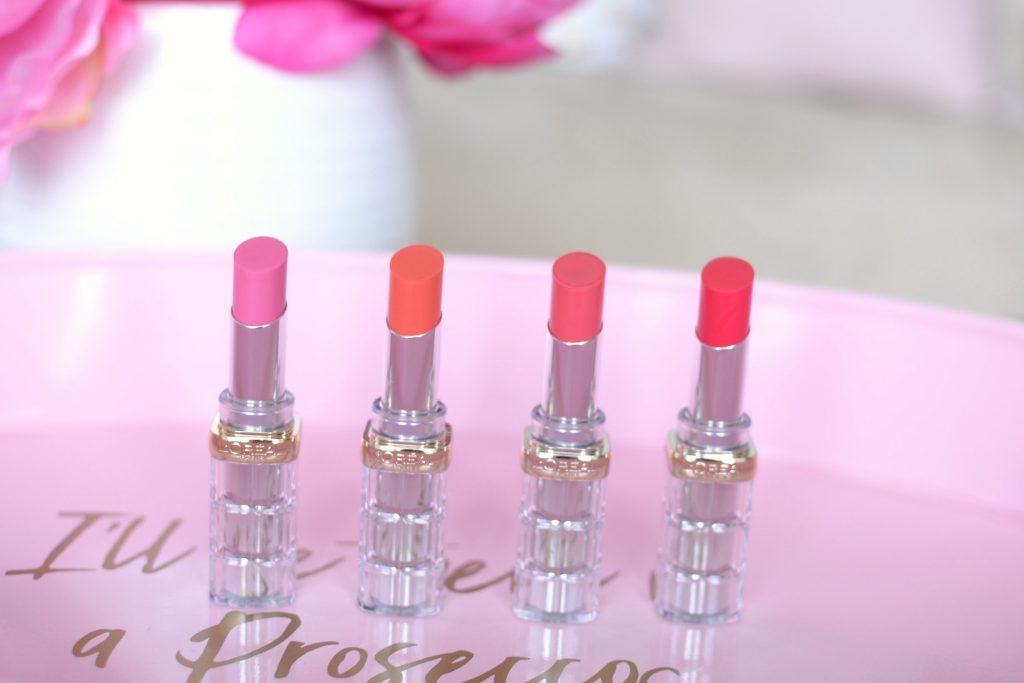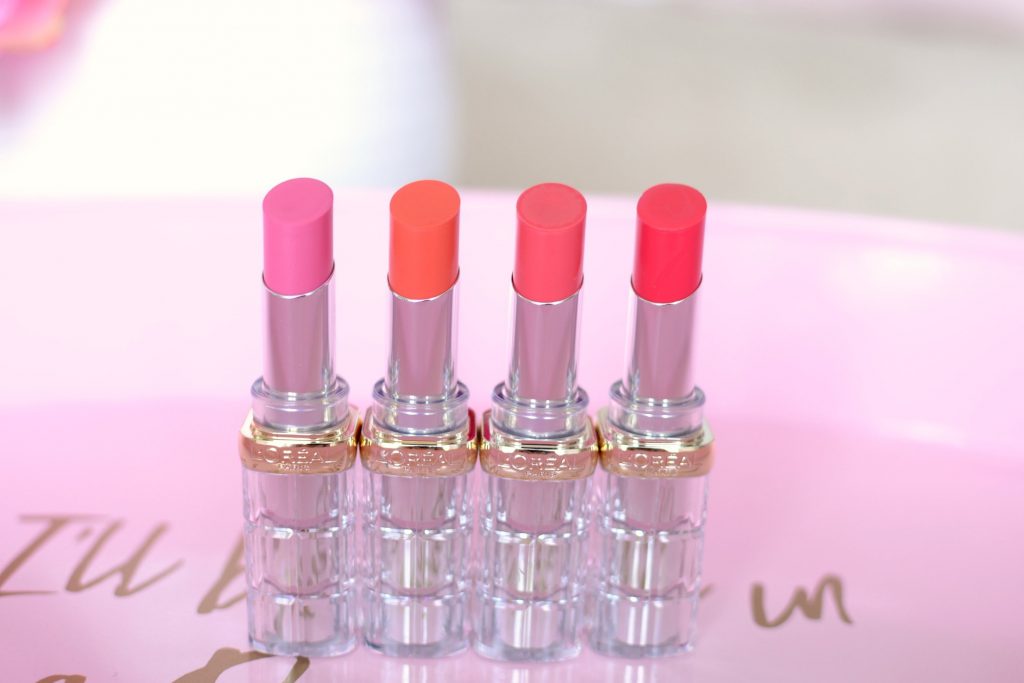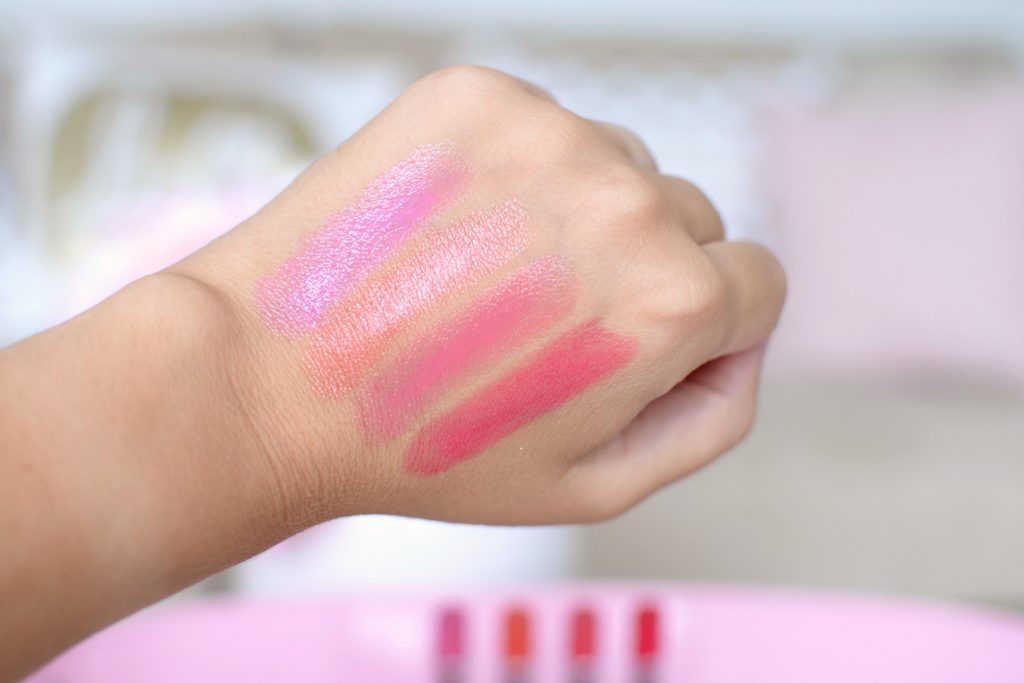 L'Oreal Colour Riche Shine Lipstick in Glossy Fawn, Varnished Rosewood, Sparkling Roes, Shining Peach.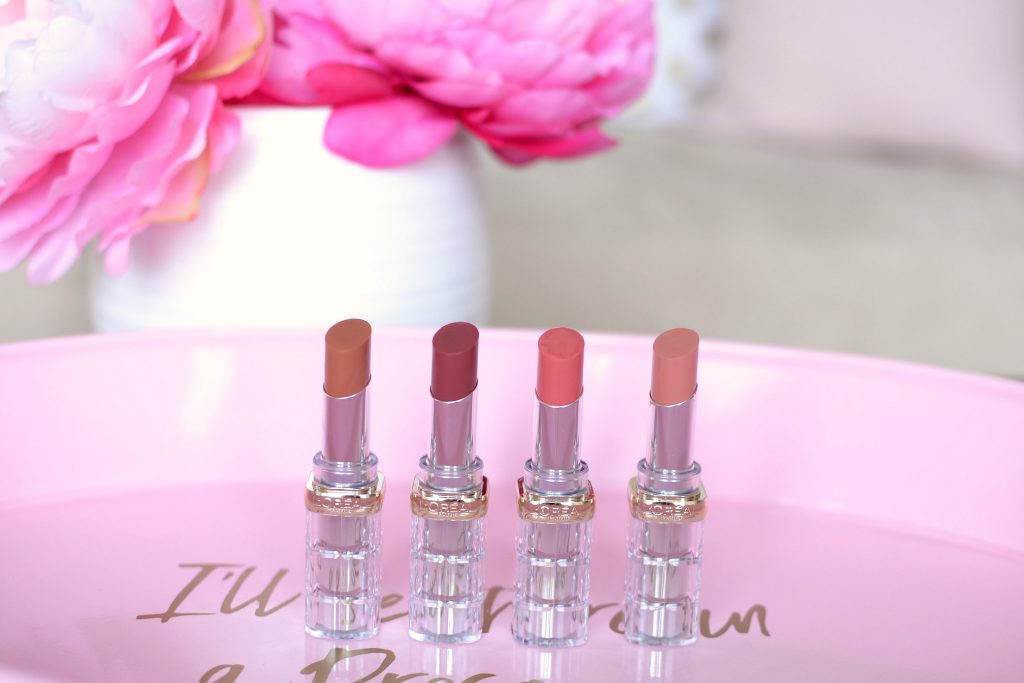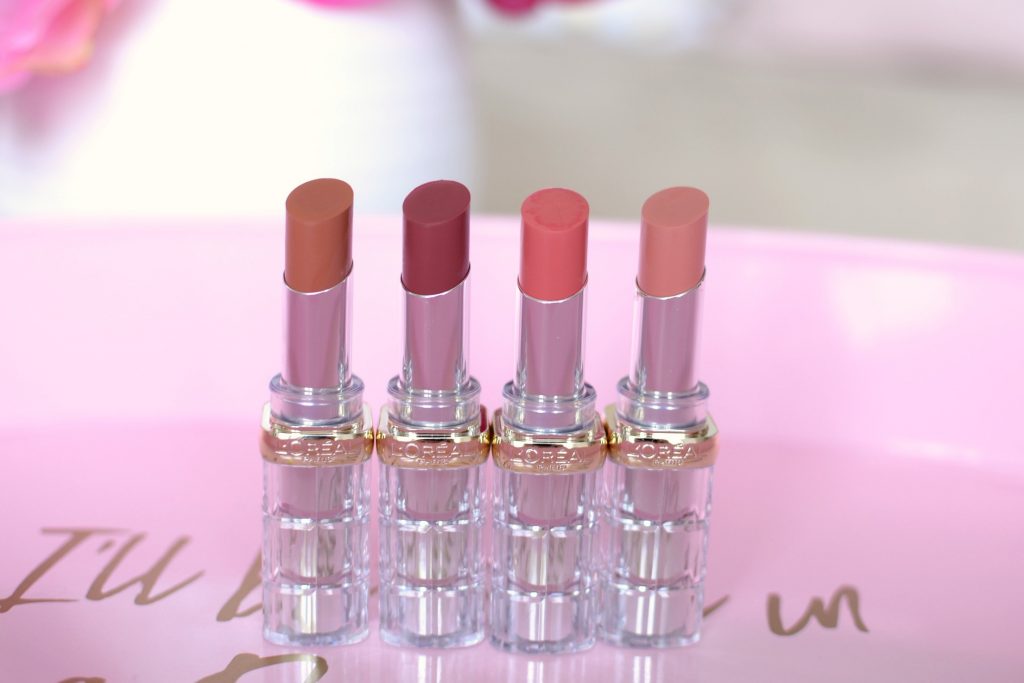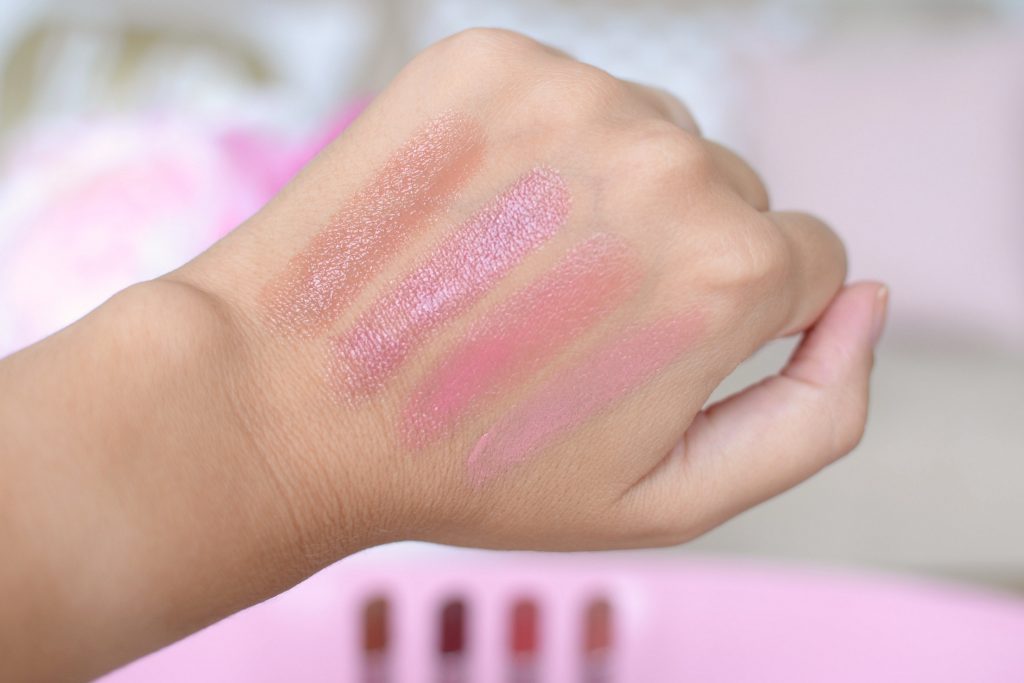 Get a perfectly pouty lip this summer with the new Pop Beauty Permanent Pout Matte Lip Paint. It features an incredibly lightweight, ultra-pigmented, incredibly moussey-like liquid lipstick formula that offers a long-wearing, velvety-matte finish. Although the fully saturated formula may start off as a traditional lipstick texture, it quickly liquifies and almost melts into the lips. It instantly turns into a luxurious, velvety smooth consistency that fully covers the lips with extreme pigmentation. This paint-on liquid lipstick demands attention and provides a bold pop of colour in a single swipe. It has an incredibly rich and creamy, almost whipped like texture, that is easy to apply. Its slightly thicker consistency thins out during application, to almost a stain-like finish.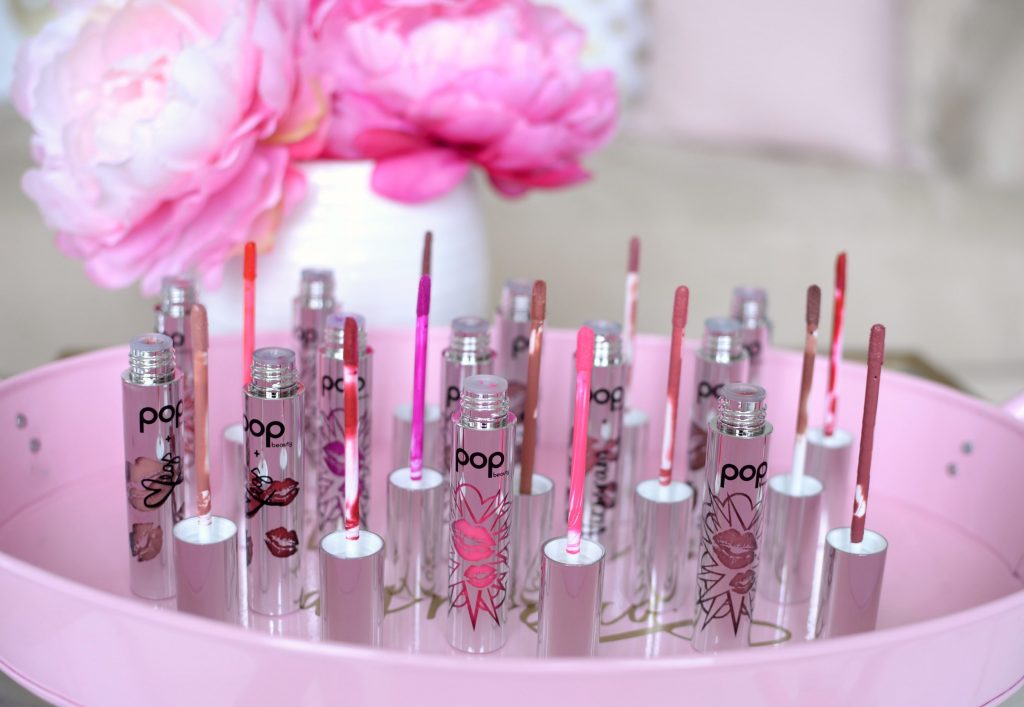 Pop Beauty Permanent Pout Matte Lip Paint is extremely lightweight and comfortable to wear the entire day. Although not necessarily moisturizing, they aren't drying either. They seem to keep your lips hydrated without clinging or adhering to dry patches. It's super pigmented, concentrated and provides an intense, opaque, bold and bright colour payoff in a single swipe. It sets and dries fairly quickly to a stunning matte finish. As for the wear time, upwards of 6+ hours. As it slowly starts to fade, you'll be left with a beautiful stain. The lineup is broken up into three collections between Beauty Expert, Aimee De La Torre, lifestyle guru, Victor Ramos and Professional Makeup Artist, Megs Cahill. Each retail for $8.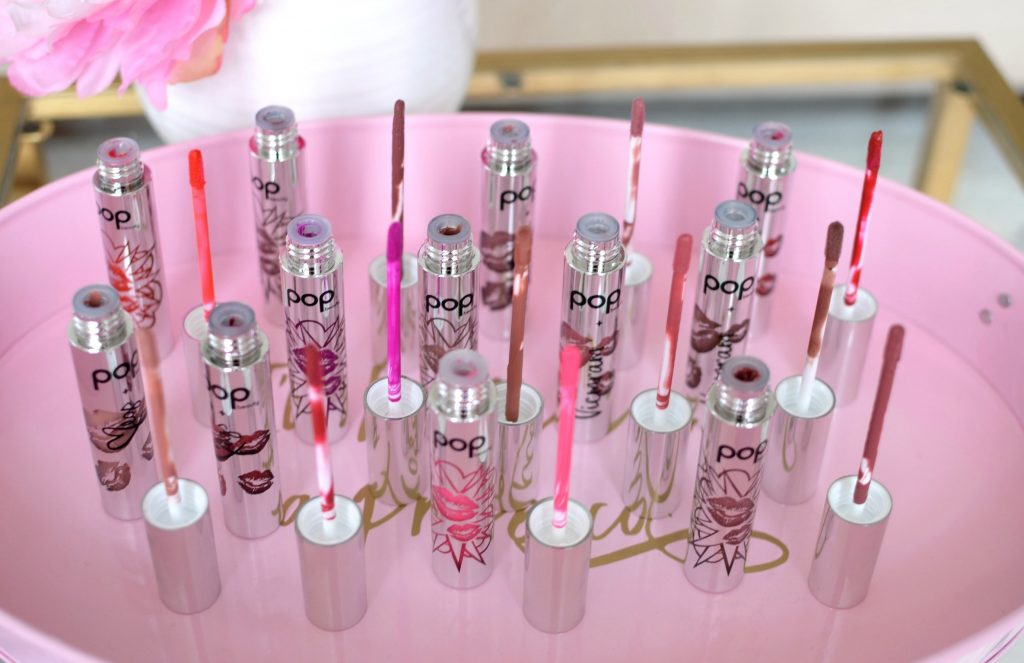 Pop Beauty Permanent Pout Matte Lip Paint in Rouge Red, Mauvelous Mauve, Sweet Harmony and Go-Getter.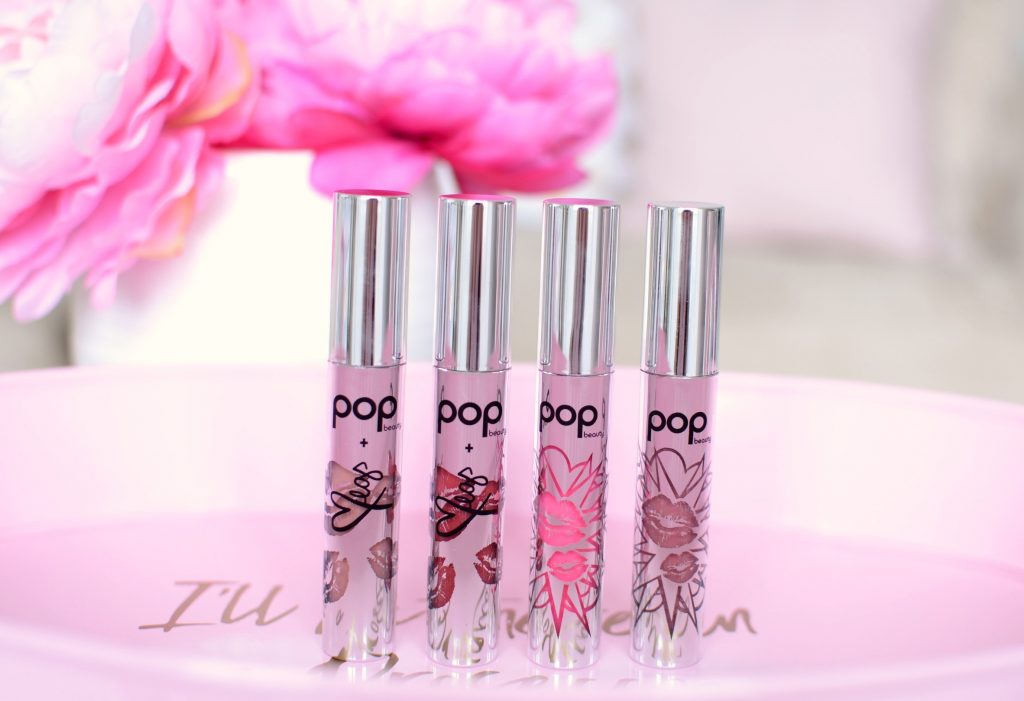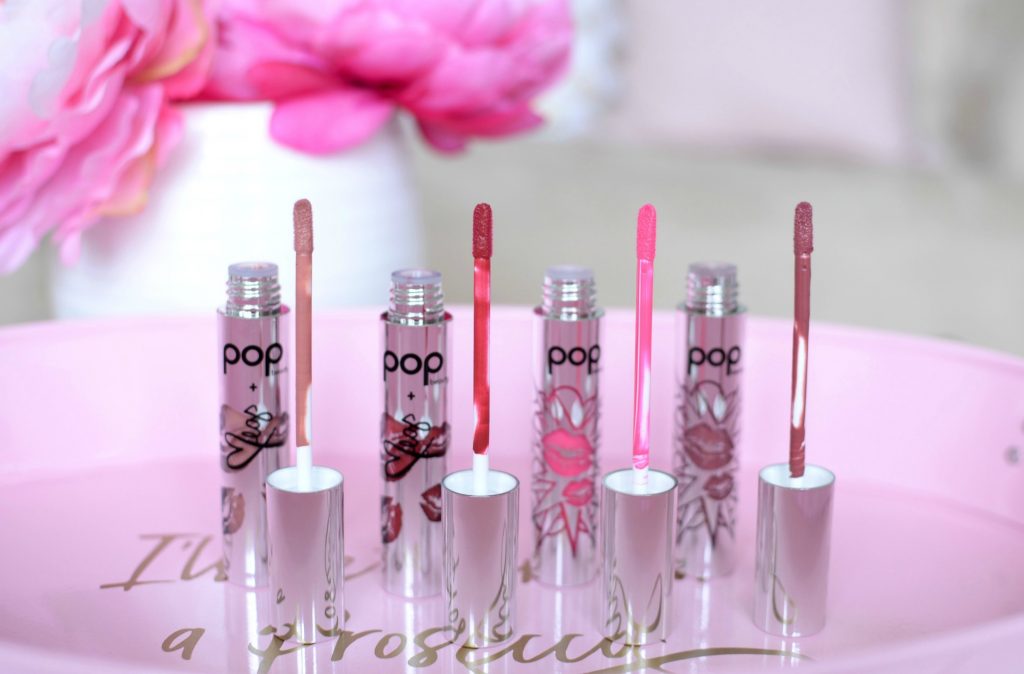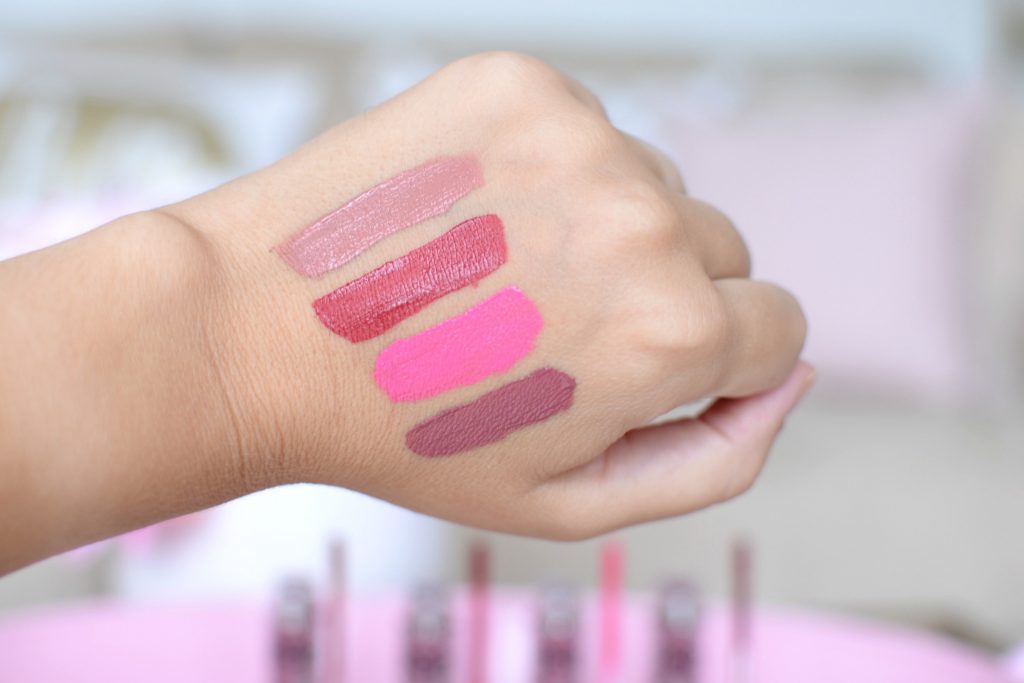 Pop Beauty Permanent Pout Matte Lip Paint in OMG Violet, Nearly Nude, Z and Basic B.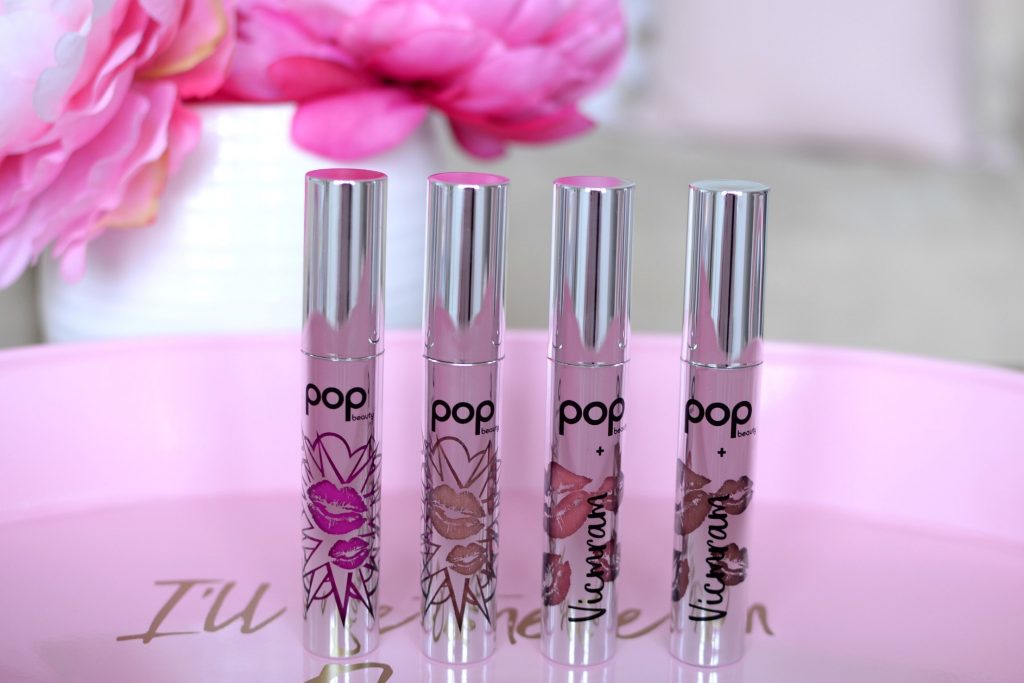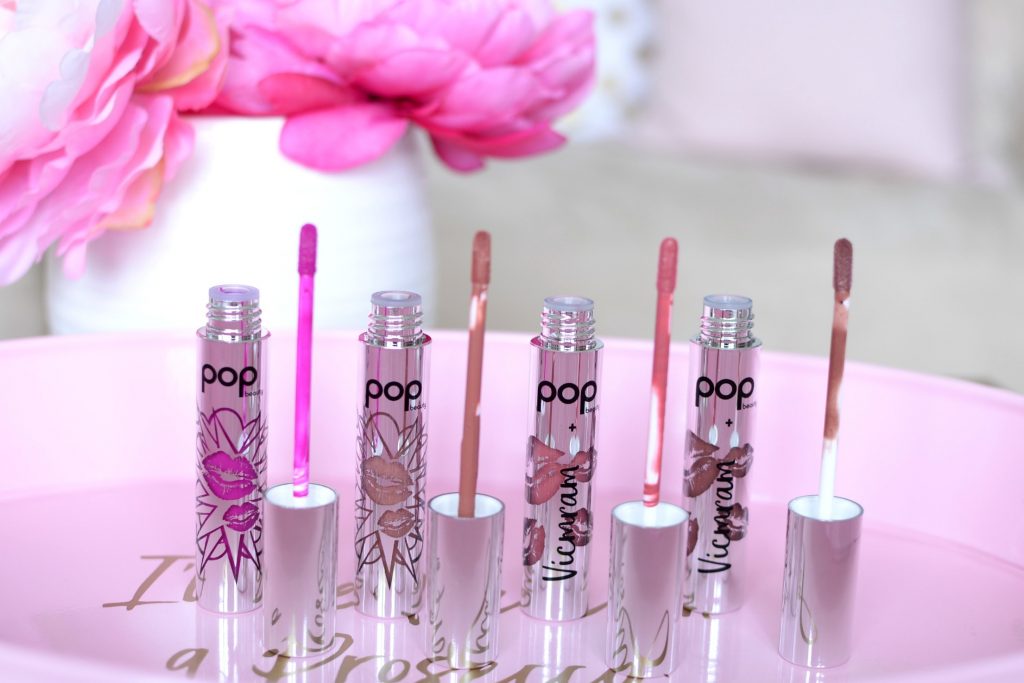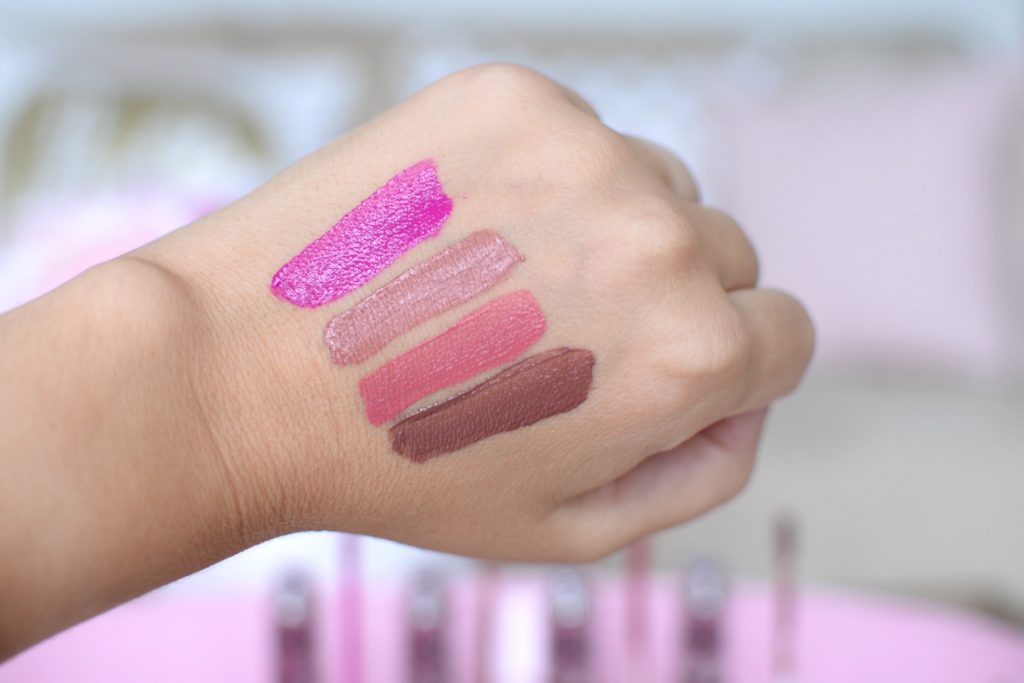 Pop Beauty Permanent Pout Matte Lip Paint in Pale Baby, Chakra, Power Pink and Razzle Rose.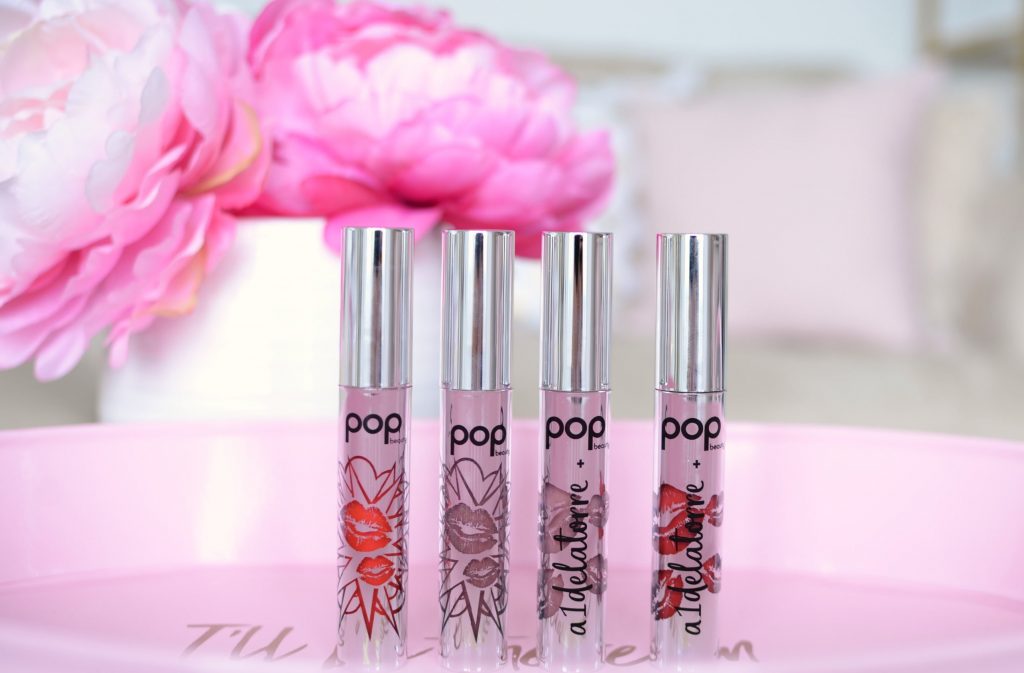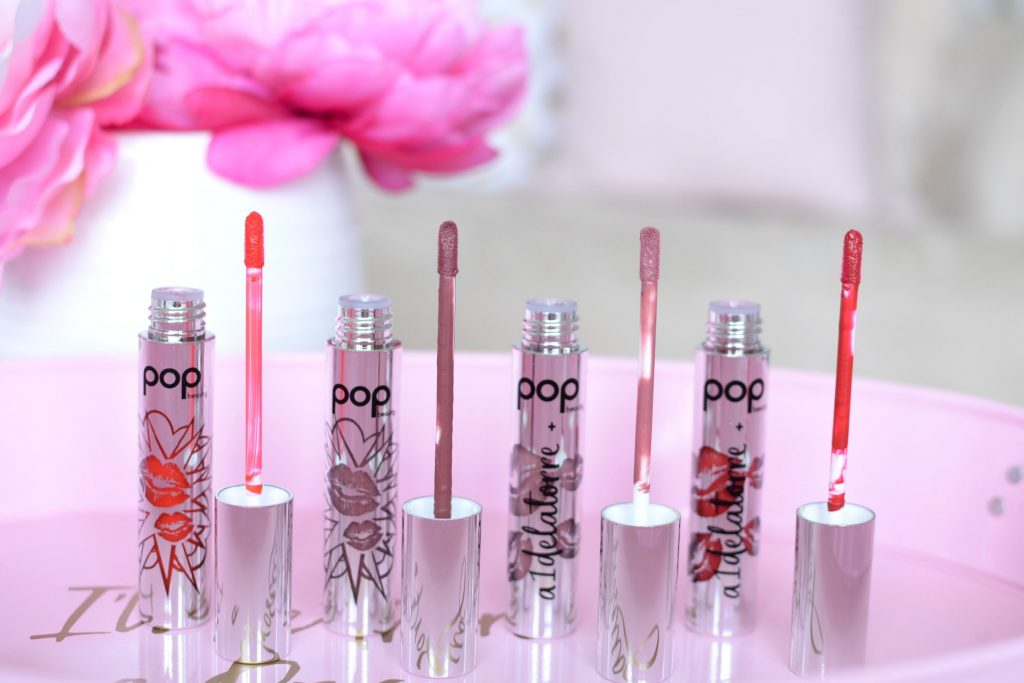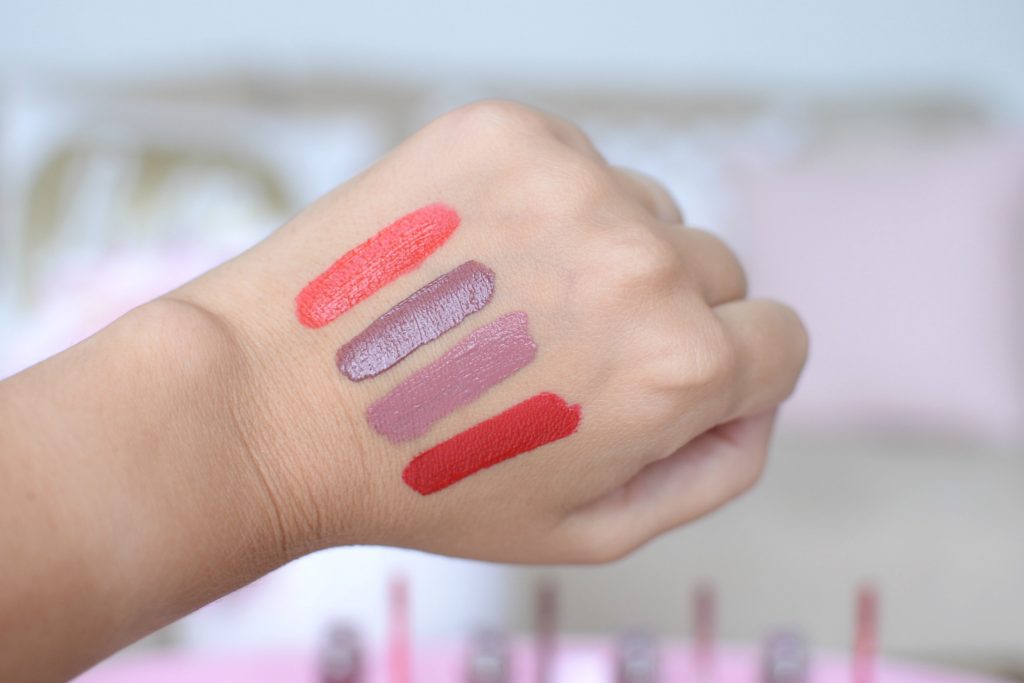 You've heard me rave about the NYX Super Cliquey Matte Lipsticks, but in the summer, we tend to look for something weightless with a high-shine finish. The new NYX Super Cliquey Glossy Lipstick has the same innovated teardrop-shape bullet that hugs your lips beautifully, allowing for control and precision with easy, but with a glossy finish. It instantly provides a bold dose of colour that's electrifying and screams summer. Thanks to its click-style, push-up design, you'll receive just the right amount of product onto the incredibly soft applicator, ensuring you never waste any product. It's incredibly lightweight, richly pigmented and creates a lovely lustrous finish on the lips.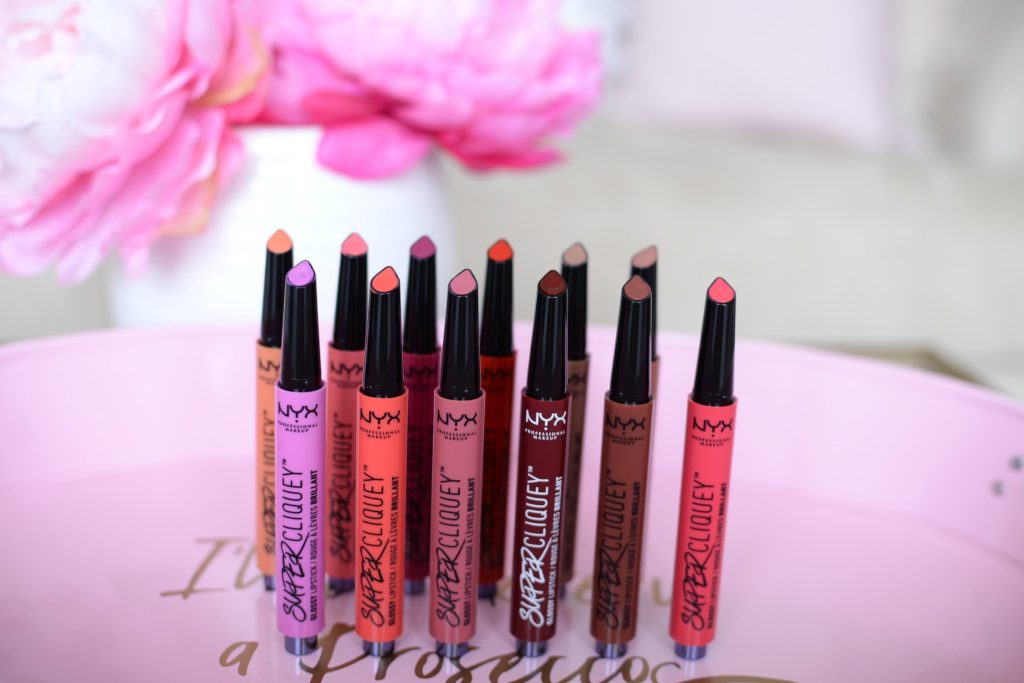 It seems like every trend from the 90's is coming back, and I'm okay with that. Lip glosses were huge, but nowadays we're looking for a little more colour and coverage. Don't be fooled by the slight gimmicky packaging, the unique design of the NYX Super Cliquey Glossy Lipstick is actually beneficial. You have total control over how much lipstick you use, and when it comes to silky and shiny finishes, this comes in handy. With a few layers, you can easily achieve opaque coverage, while continuing to be lightweight and comfortable on the lips. Just as pigmentated as your favourite lipstick, but with a high-shine, glossy finish. It's non-sticky, non-goopy and non-greasy. Although not the longest wearing lipstick on the market, it's easy to apply without a mirror, so touch-ups on the go shouldn't be a problem. It retails for $12 in 12 shades.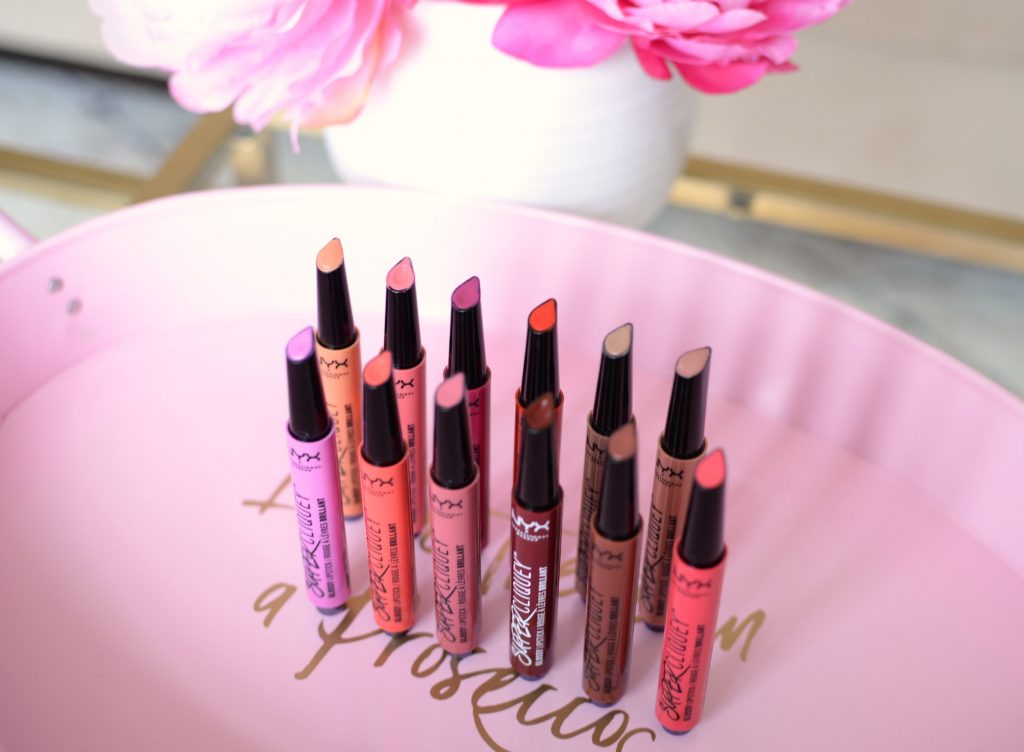 NYX Super Cliquey Glossy Lipstick in Baby, Bam Bam, Brunch & Bubbles, Cherry Cola, Cold Brew and Main Squeeze.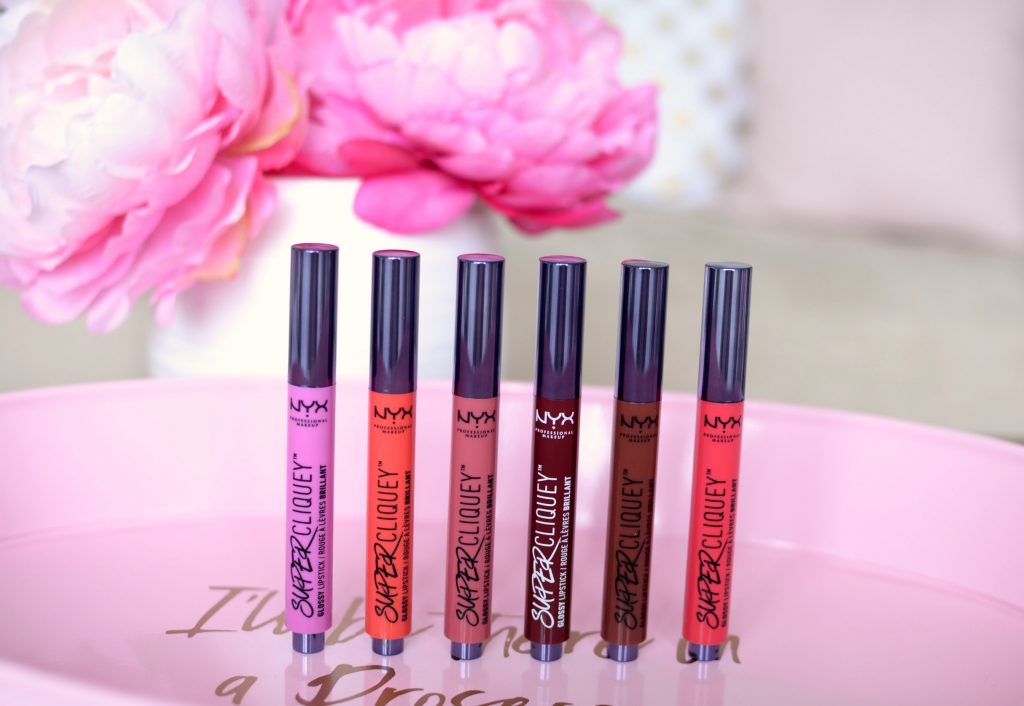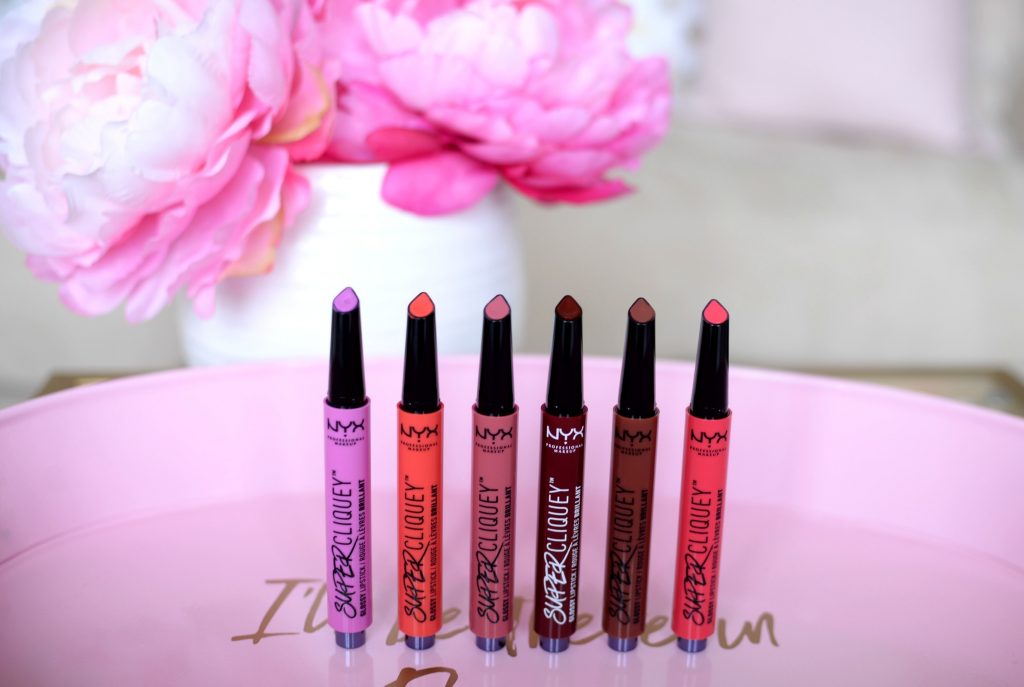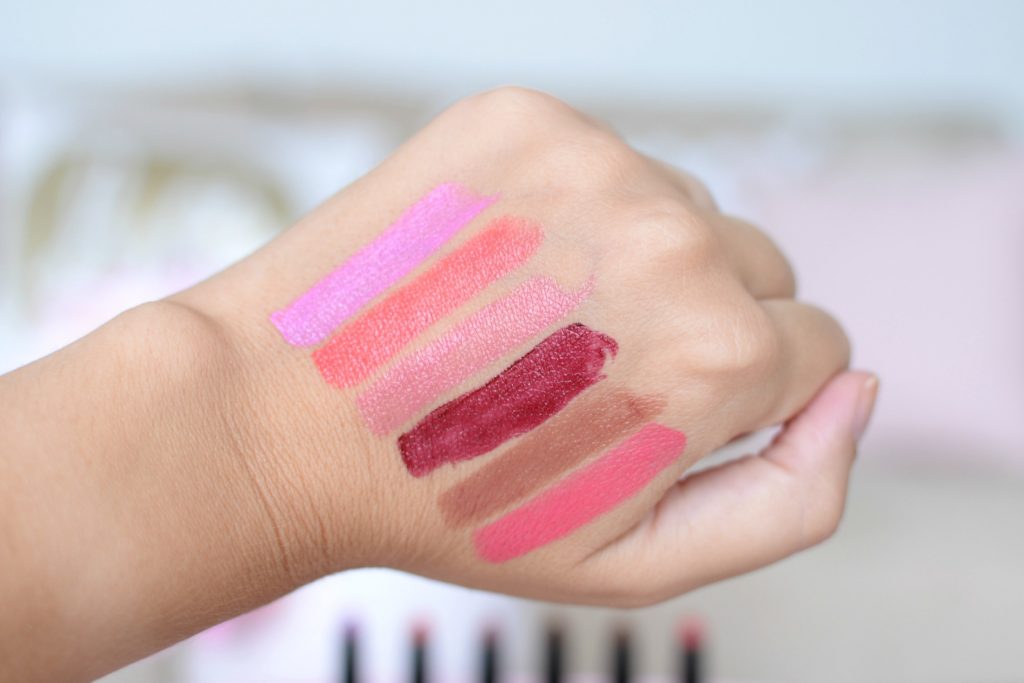 NYX Super Cliquey Glossy Lipstick in Munchies, Peachy Keen, Resort, Sunny In LA, Tiki Time and Teenie Bikini.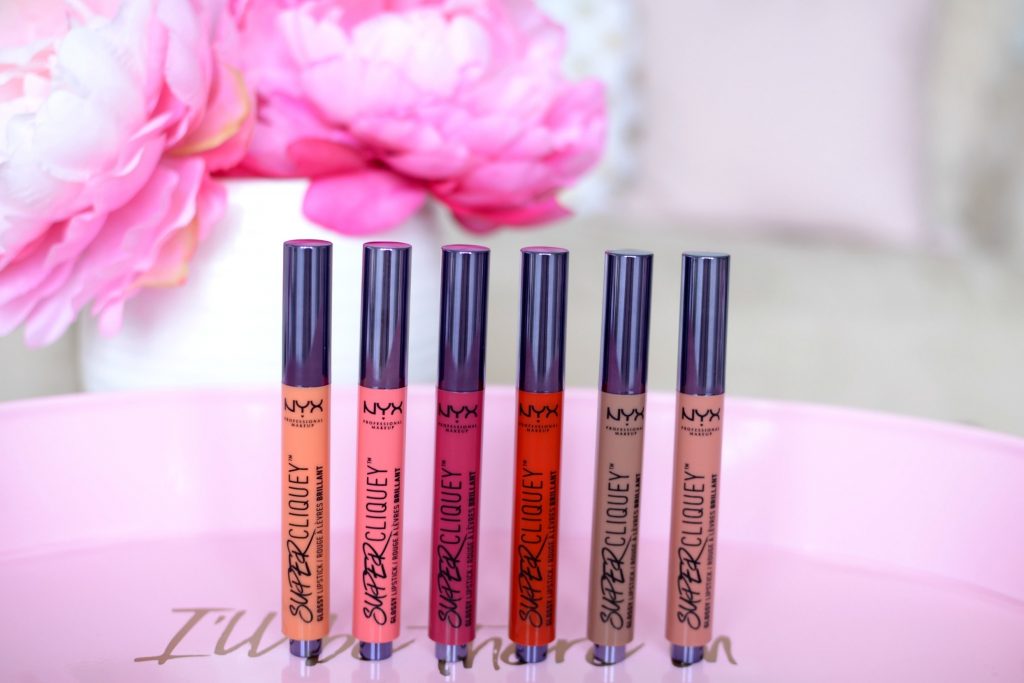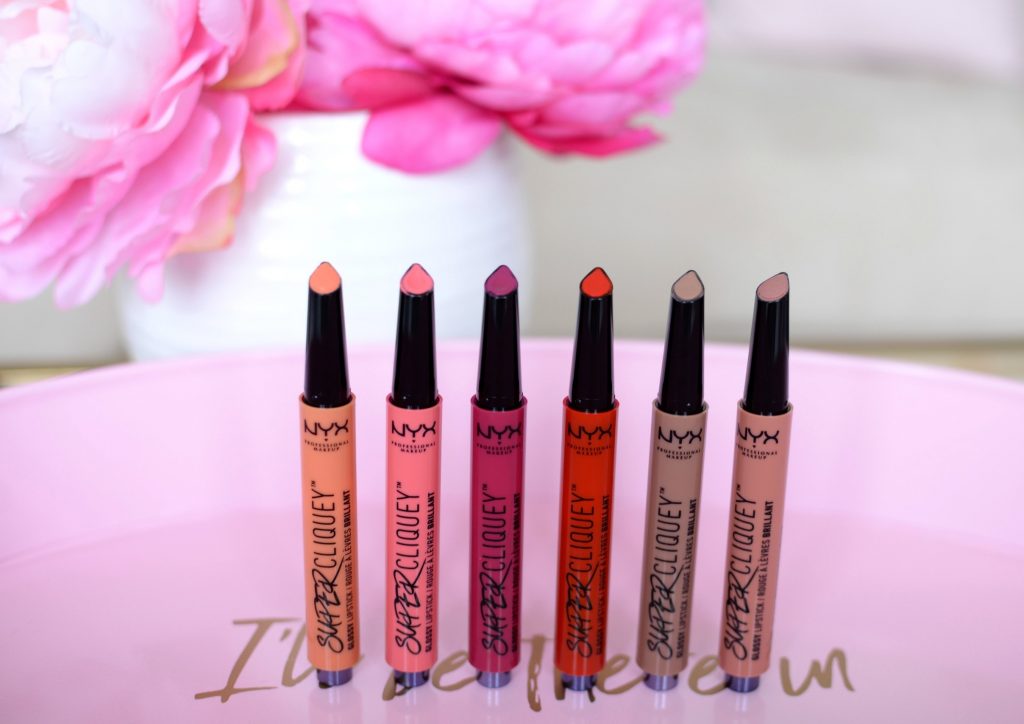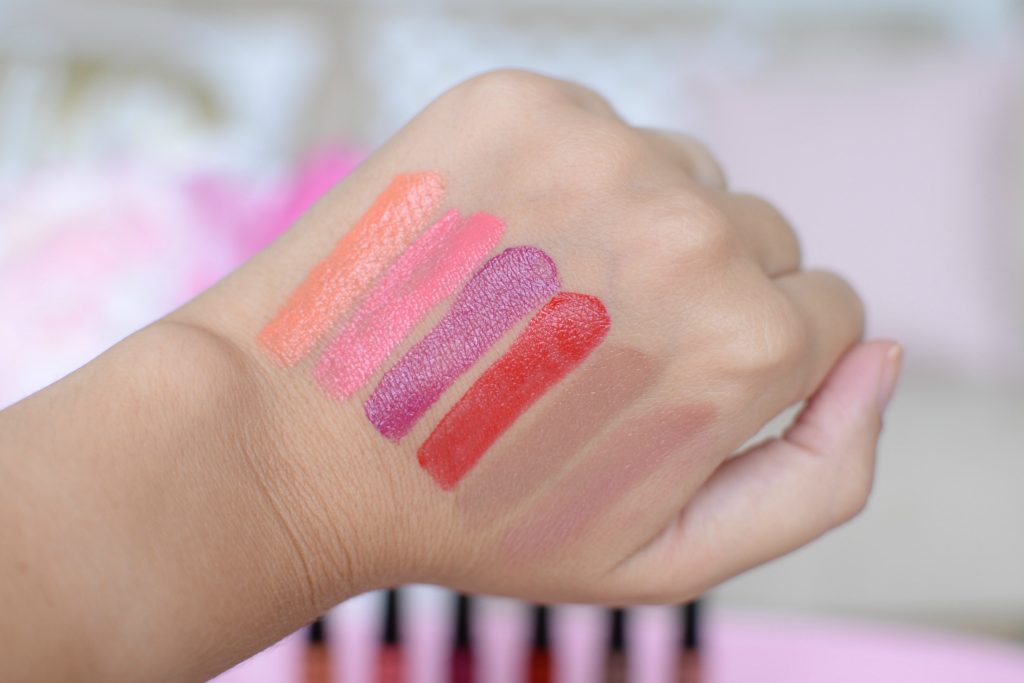 There's not denying that metallics are huge this season, and as intimidating as it may be to wear on your lips, the 3 new limited-edition Urban Decay Vice Lipsticks from the Born To Run Collection are actually quiet wearable. The lineup features 2 metallic shades to play on the metal craze, along with a stunning matte shade that's perfect for every day life. In a single swipe, you can instantly create that ultra-trendy metallic effect that's so much more wearable than other brands. Its rich and creamy formula features an intensely pigmented formula that delivers true opaque coverage in a single swipe. All 3 shades instantly create a sophisticated, yet high-fashion effect that's perfect for a night on the town. The metallic finish also helps to give the illusion of volume and plumper lips.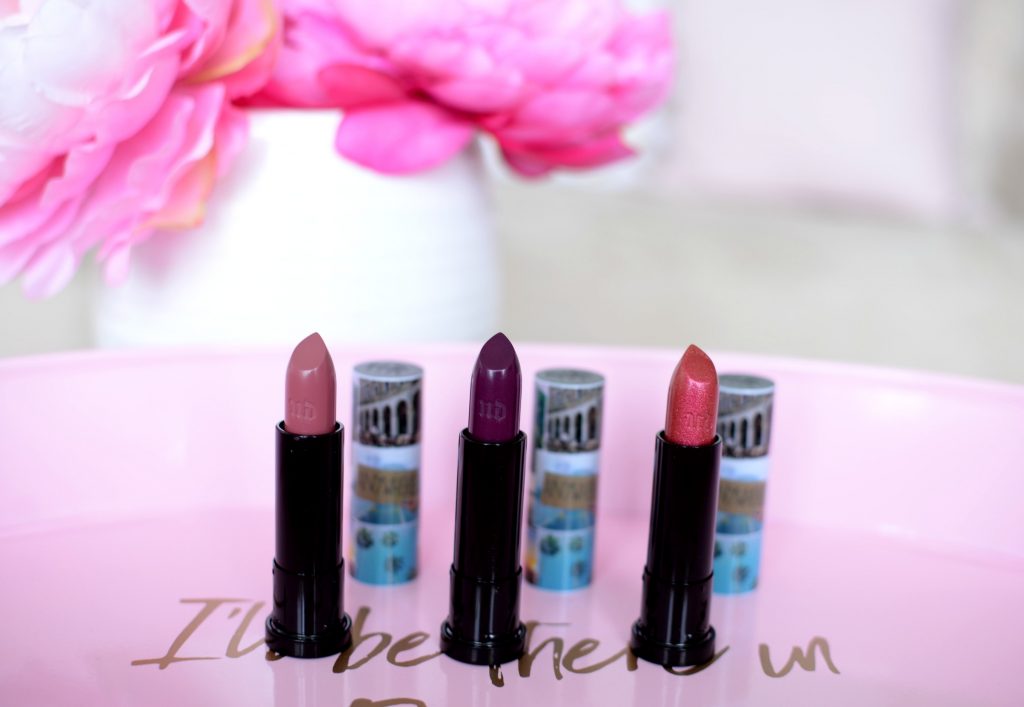 If you're looking for a sexy, evening lipstick, try one of the shades from the Urban Decay Vice Born To Run Collection. Thanks to its nourishing and hydrating formula, it helps to keep lips moisturized and comfortable all day and night. It applies evenly and smoothly, without pulling, tugging or skipping. Its silky-smooth consistency ensures you achieve an even and flawless finish each and every time. Its bold and fully-saturated formula provides an intensely dramatic effect on the lips. Ready? is a bright rose sparkle with a metallic finish, Marfa is a dark berry with pink micro-shimmer and a metallic finish, and 66 is a rich mauve-nude with a matte finish and perfect if you're not looking to make the jump into the metallic world. All 3 shades create a cool, after-hour vibe on the lips that's right on trend this summer.  Each retail for $22.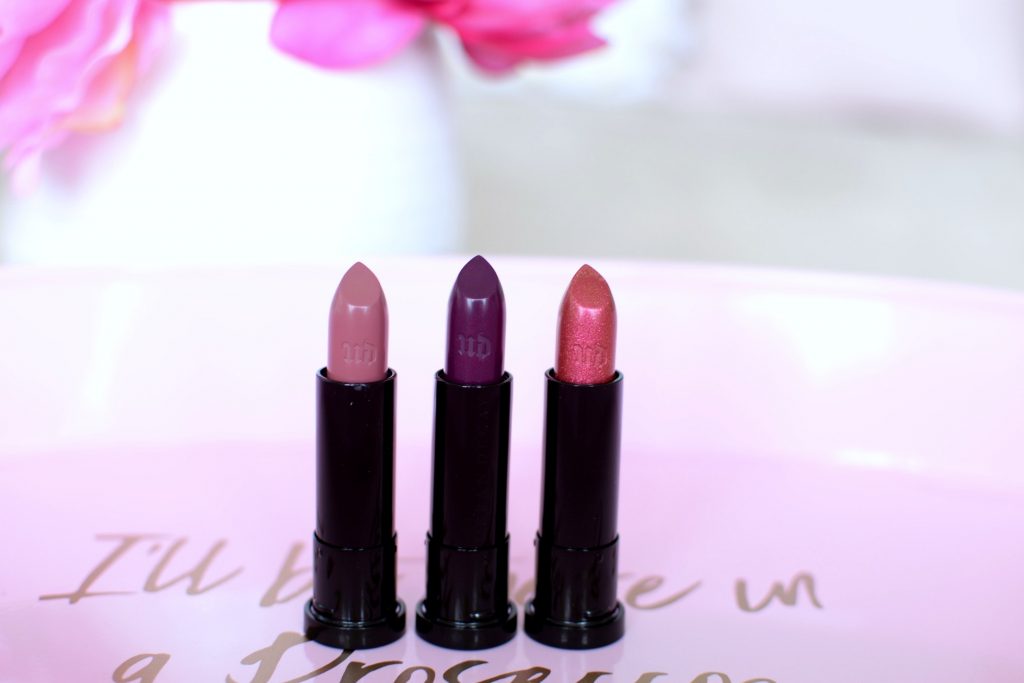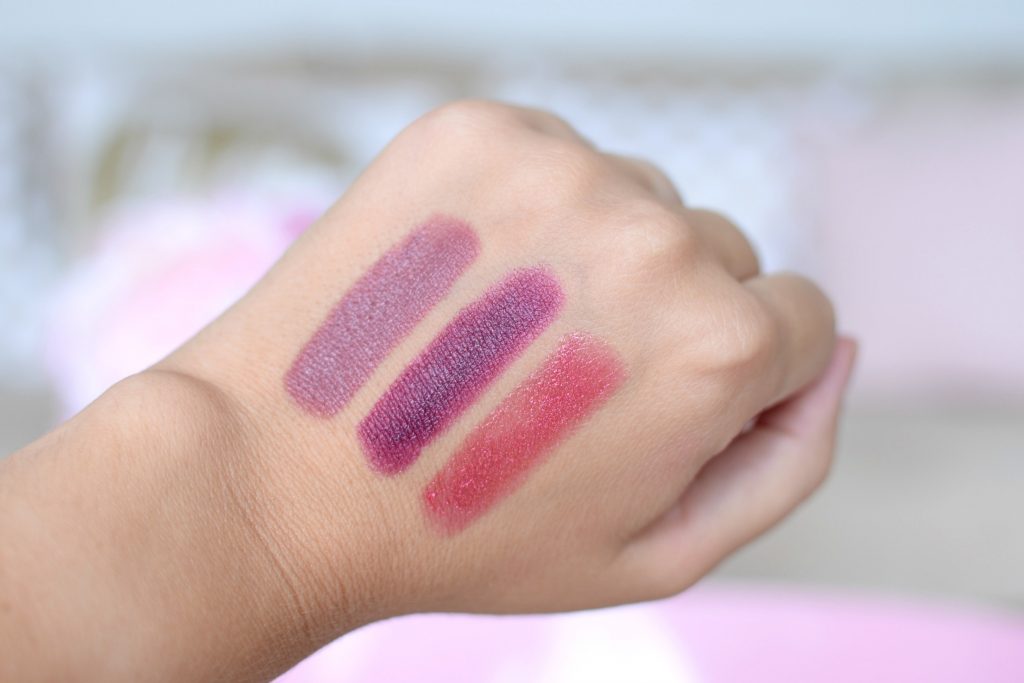 Lip tattoos have been a huge trend in Asia for years, but who has the time to fuss with the peeling?? Dior Addict Lip Tattoo Long-Wearing Color Tint provides the same long-lasting results as the tattoos, without the peeling. It's formulated with tinted ink, water and oil, which within seconds after application, evaporates and leaves the stunning colour and nourishing emollients behind. This not only helps the pigments adhere to the skin better, but it provides upwards of 10+ hours of wear time without fading or transferring. The hydrating formula also helps to keep lips moisturized all day long.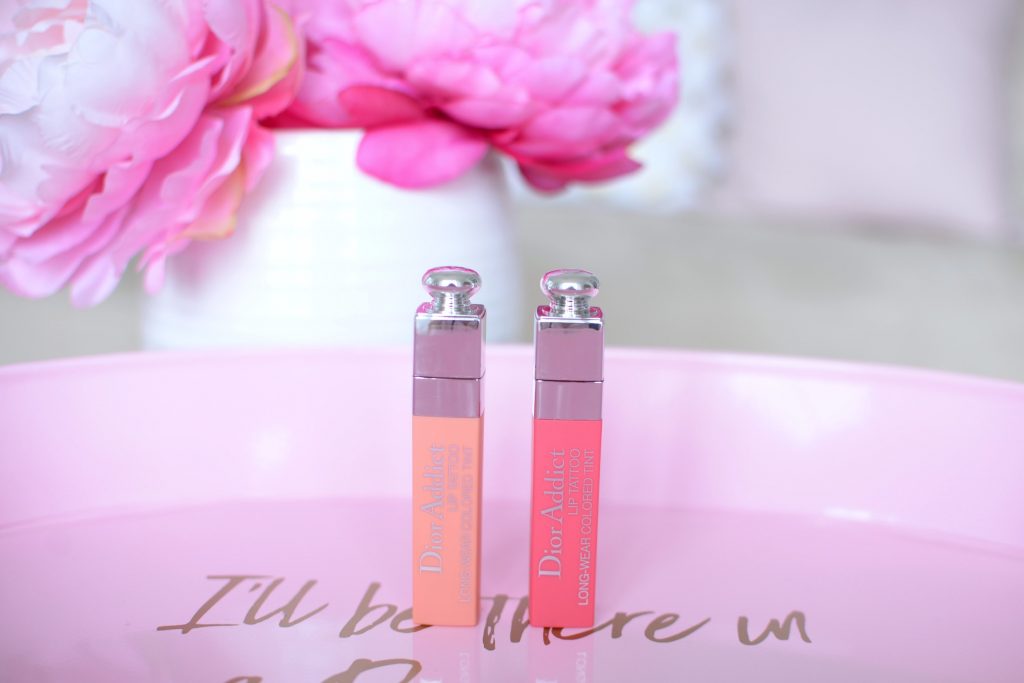 This season, the Dior Addict Lip Tattoo Long-Wearing Color Tints are all about fun, cheerful hues. The rounded and bevelled applicator lays down the perfect amount of product for a seamlessly and flawless application. It fits the natural contours of your lips, to ensure the stain stays within your natural lip line. It's incredibly comfortable to wear and features a slightly minty fragrance that adds a burst of freshness. It features a luminous and glossy finish that looks incredibly natural. It retails for $37.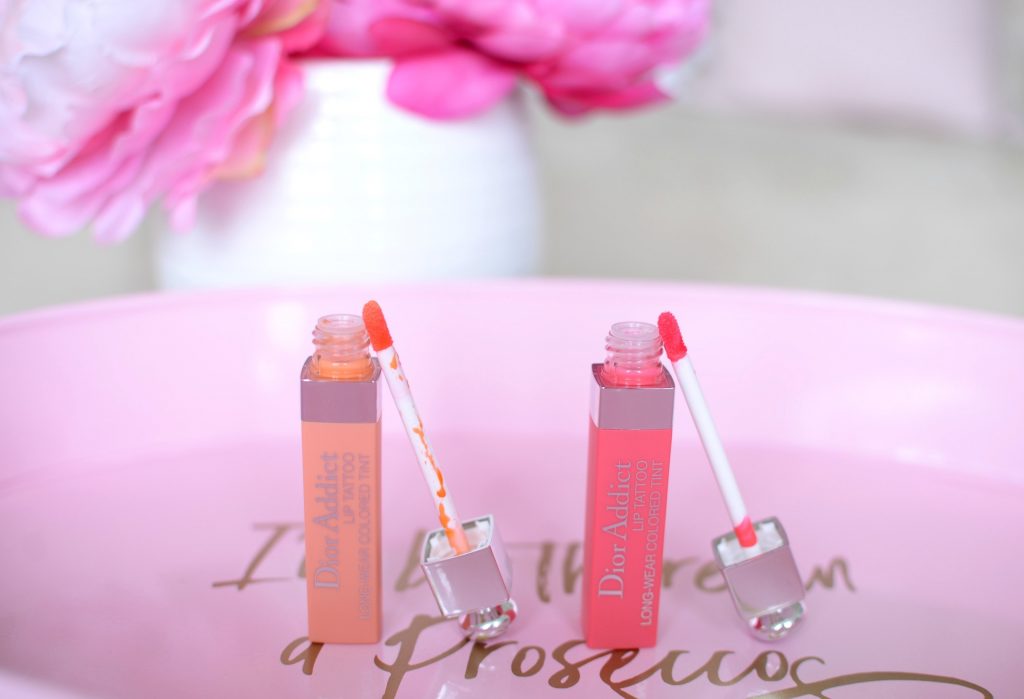 Dior Addict Lip Tattoo Long-Wearing Color Tint in Orange and Watermelon.