By now, everyone knows the danger of too much exposer to the sun and the harmful effects the UV rays can have on the skin. We all want to go back in time, start putting on our SPF 50 at birth, and continue to do so daily for the rest of our lives. Unfortunately, we can't turn back the clocks, but we can prevent future damage and treat current imperfections. You may remember my view on Vichy ProEVEN Daily Dark Spot Corrector that gently exfoliates discoloured, dead skin to help reveal a brighter, healthier complexion, but did you know your skin is naturally most active in the fight against dark spots overnight? Between the hours of 11PM and 4AM, your skin regenerates and mature skin cells fill up with melanin, you hope they are then replaced by newer, healthier cells. Sometimes this isn't enough and gets slower over time, which means dark spots become more prominent, not to fear, Vichy ProEVEN Night Overnight Concentrate Dark Spot & Uneven Skin Tone is here to help.


Vichy ProEVEN Night Overnight Concentrate Dark Spot & Uneven Skin Tone is formulated with the highest concentration of LHA to help gently exfoliate and boost cell renewal. Vitamin C, Procysteine and Eperuline help protect fibroblasts from oxidation and inflammation that can directly influence melanin production. It is used nightly after cleansing the skin and can also be applied once or twice a week as a mask. When using as a mask, you're going to want to apply a thicker layer all over the face, wait about 5 to 10 minutes and remove the excess with a cotton pad or just rub in.
Vichy ProEVEN Night Overnight Concentrate Dark Spot & Uneven Skin Tone has a thin, lightweight, gel like texture that absorbs into the skin fairly quickly. It has a fresh, citrus scent that slowly disappears as soon as it soaks into the skin. It's hydrating enough that I don't need to apply a nightly moisturizer, it's non-greasy or oily and has soothing properties to keep skin calm and smooth throughout the night.

Vichy ProEVEN Night Overnight Concentrate Dark Spot & Uneven Skin Tone is the perfect night treatment that goes hand in hand with my current laser treatment. I noticed that after only a few nights, my skin was way more even and hydrated. It's now been almost a month and my dark spots are visibly less noticeable (I know this also has a lot to do with my IPL treatments) and my skin is a lot smoother and lighter. It retails for $49.50.
In addition to treating dark spots, you want to limit your exposure to UV rays or at least protect yourself with sun protection of at least SPF30 while outdoors. Don't be fooled into thinking that sun damage only occurs in the summer, although it is more prominent, UVA rays are consistent throughout the year. Snow and heavy clouds can reflect up to 80% of UV rays and water (like the pool and ocean) can reflect up to 25% UV rays. Just something to think about next time you step outside with sun screen on. If you're like me, and 80% of Canadians, you want a sun screen that's comfortable, easy to apply, lightweight and non-greasy and Vichy's line covers all of those above. Vichy's sun screen line contains broad spectrum protection from both UVB and UVA rays, are suitable for all skin types, contains Vichy Thermal Spa Water to help soothe and regenerate the skin, along with being hypoallergenic, fragrance and paraben free. It also features a lightweight texture that's quick drying and leaves no sticky or greasy residue on the skin.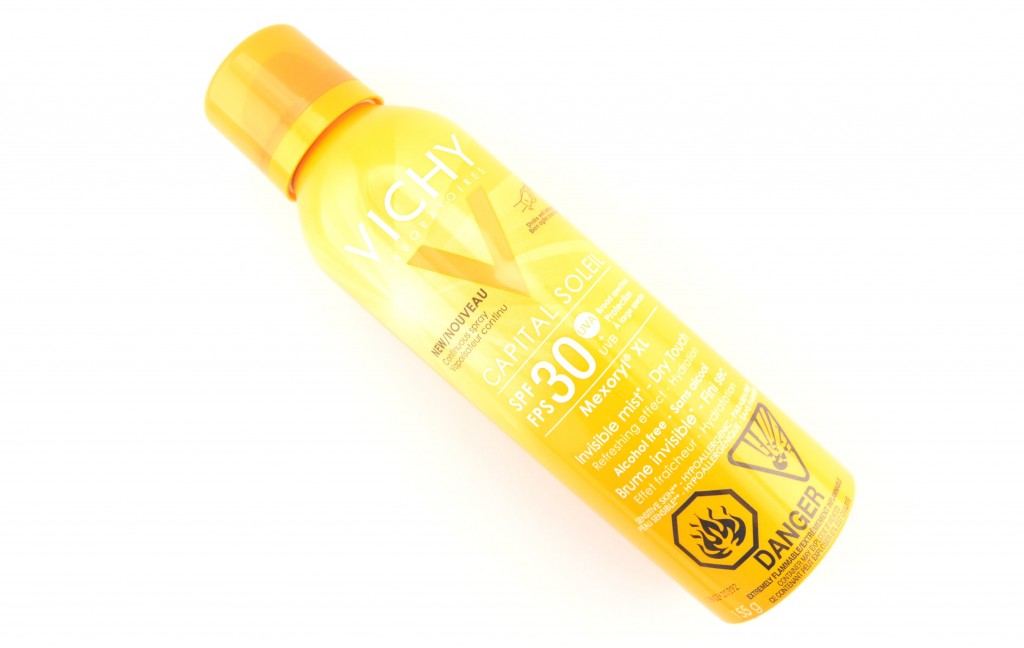 Vichy Capital Soleil Invisible Mist SPF 30 is brand new to the collection this spring and offers high protection of both UVA and UVB in a fresh continuous spray that's dry to the touch. This spray bottle application couldn't be easier or more convenient. Its lightweight, invisible mist is made with ultrafine droplets of the smallest particles, making it dry to the touch within seconds. Just spray in circular motions on arms (3 seconds each), legs (7 seconds each), front (4 seconds) and back (4 seconds) and you're good to go. Since it's made with 0% alcohol is incredibly hydrating and doesn't irritate the skin (perfect for those with sensitive skin).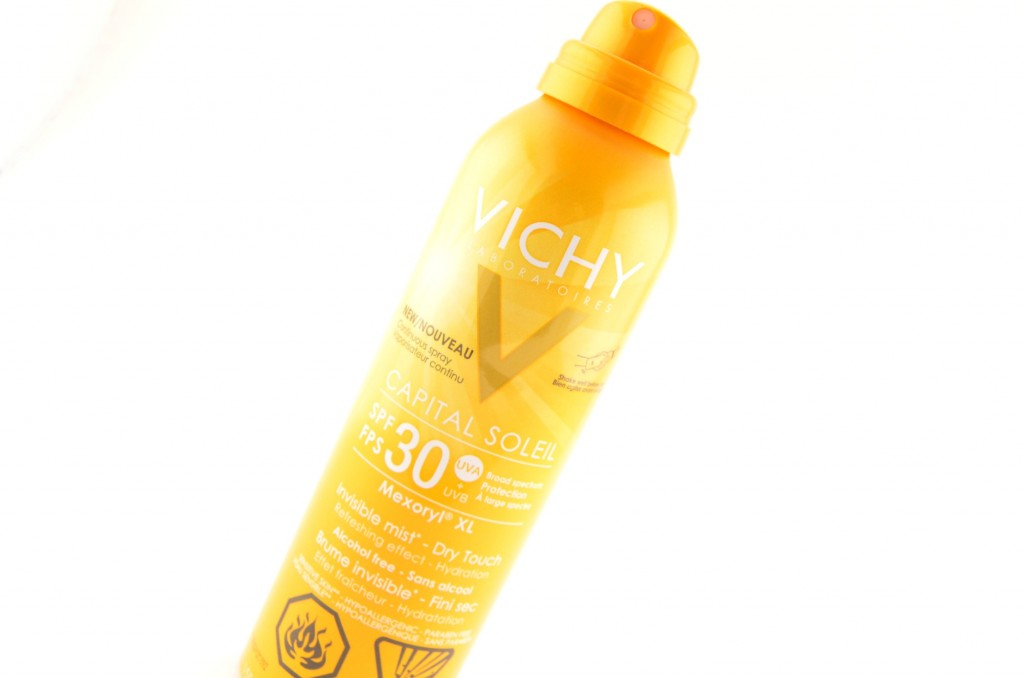 Vichy Capital Soleil Invisible Mist SPF 30 will be coming everywhere with me this summer. I love that I can get the full protection I need in as little as 30 seconds. Its non-greasy formula and invisible spray means I don't have to worry about it getting on/ and or staining, my clothes. I can just spray, get dressed and be out the door in no time. It's convenient to take on the go and reapply throughout the day (we all need to be reapplying every 2 to 3 hours). It retails for $29.95 for 155g.