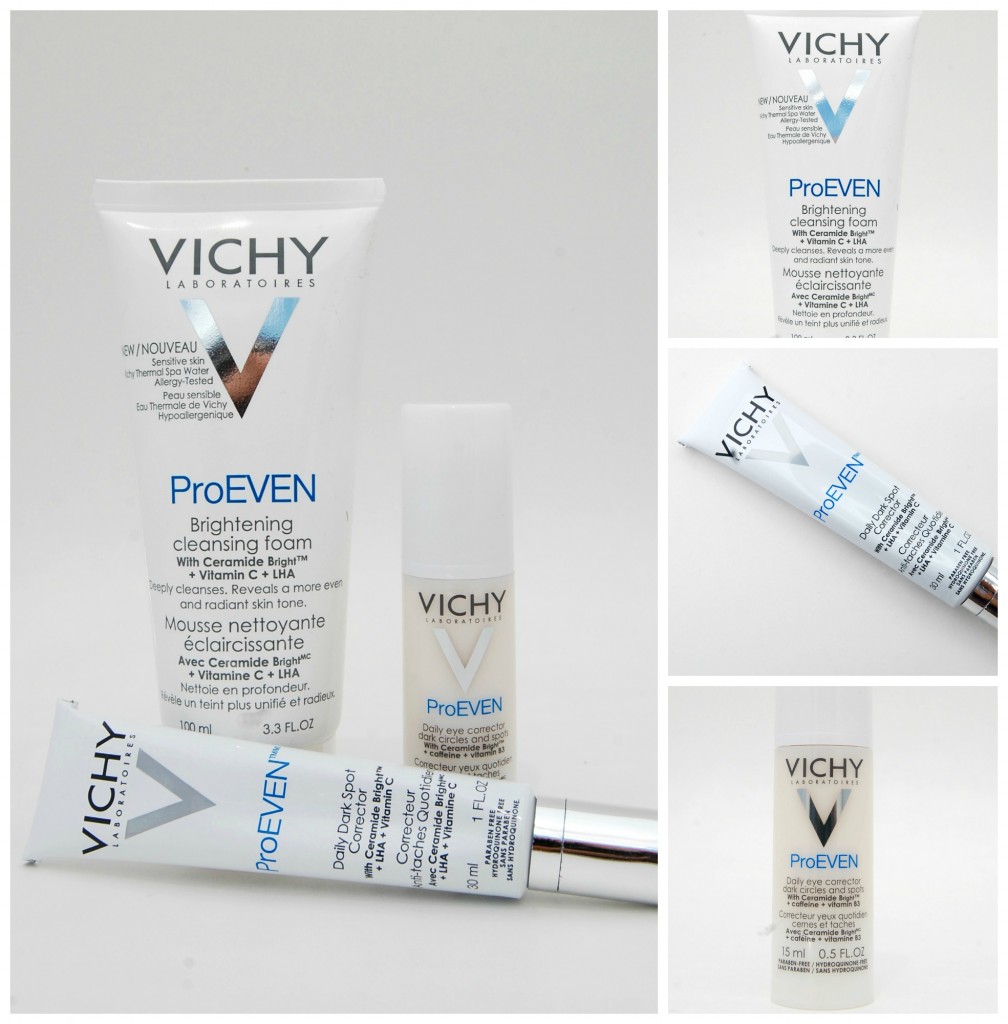 In my teens and early 20's I was a tanaholic, then when my best friend passed away from cancer and I started a charity in her honor (5 years ago now) I swore to myself to stay out of the sun and try my hardest to wear SPF every day. As you can see from pictures, I've kept it up, I'm so pale I'm almost see-through. I also had breakouts/ still suffering from them, so when you add both sun and acne together you get sun damaged skin, age spots and acne scars that seem to take forever to fade. When I heard about the new Vichy ProEVEN line that is designed to specifically reduce the appearance of dark sports and even out skin tone, I was more than excited to try it.
The Vichy ProEVEN line consists of 4 different products that all work together to combat all symptoms of skin unevenness. First up, you're going to want to cleanse the skin with Vichy ProEVEN Brightening Cleansing Foam, followed by correcting the skin with Vichy ProEVEN Daily Dark Spot Corrector and Vichy ProEVEN Eyes and then perfect the skin with Vichy ProEVEN BB Cream.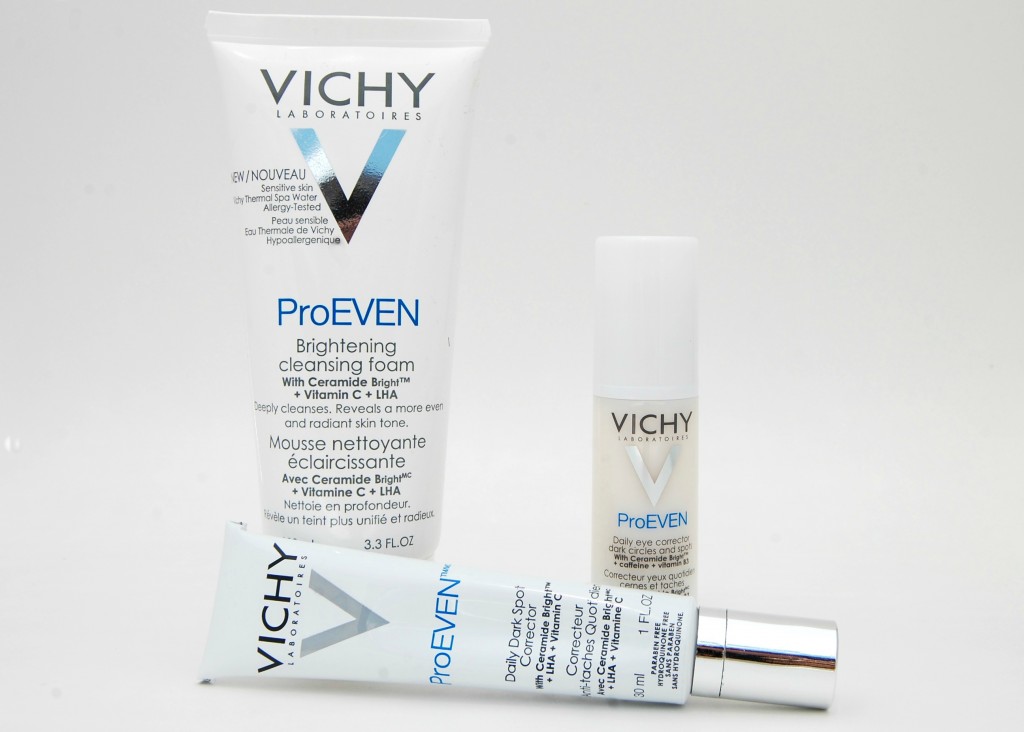 Vichy ProEVEN Brightening Cleansing Foam exfoliates skin without irritation, helps control melanin production and reveals a brighter more even looking complexion. Excess accumulation of dead skin cells on the skin's surface causes skin to look dull, but thanks to Vichy's unique patented formula, it gently removes dead skin cells revealing younger and more even skin, vitamin C leaves the skin looking immediately brighter and provides an instant glow. It's suitable for sensitive skin and is also fragrance-free.
Vichy ProEVEN Brightening Cleansing Foam is the perfect way to start a ProEVEN routine, it has a soft, almost gel like texture that quickly turns into a soft foam when added to water. It's gentle on my face, doesn't feel tight or drying afterwards and my skin feels softer with less breakouts after only a few days. You only need the smallest amount in the palm of your hand to get a good lather going and it whisks away minor makeup, dirt, and oil leaving your face feeling fresh and clean. This cleanser feels luxurious, is gentle on my skin and does an amazing job of cleaning it, so for only $20 for 100ml, it's a steal.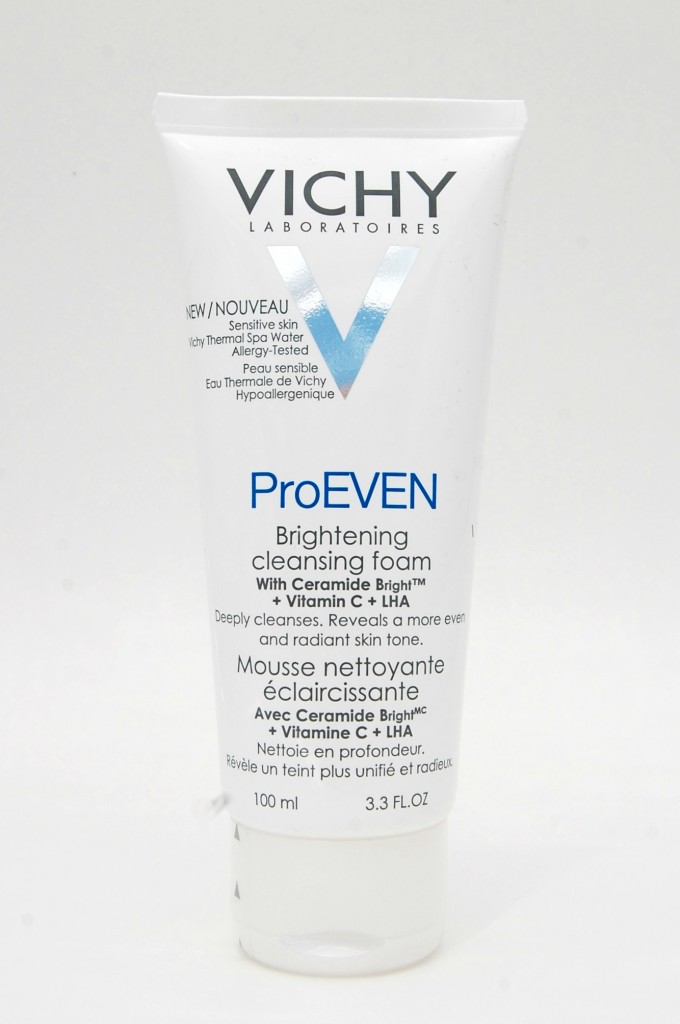 Vichy ProEVEN Daily Dark Spot Corrector gently exfoliates discoloured, dead skin cells while unifying and brightening the complexion with micronized mother of pearl. It even outs skin tone, fades dark spots and sun spots through gentle LHA exfoliation and is formulated to hold the inflammation and oxidation that can lead to the overproduction of melanin and thus discoloration at bay. ProEVEN Daily Dark Spot Corrector is also a daily moisturizer that's suitable for even the most sensitive skin.
I've been using Vichy ProEVEN Daily Dark Spot Corrector both day and night, and find the texture and feel of this product to be very nice. It has a light, yet moisturizing texture to it and has a pleasant, citrusy clean scent which is not over powering. I found that while using this product my skin looks more luminous, suppler and hydrated and I've even been skipping my daily moisturizer and just been using this. As for its spot fading properties, I can honestly say this product has lightened/ faded some of my freckles and sun spots and each morning, my skin looks better, healthier and brighter. It's been almost 2 months now and while my skin is far from perfect, the sun spots are less visible and I have noticed a huge difference in the brightness of my overall skin tone. It retails for $44 for 30ml.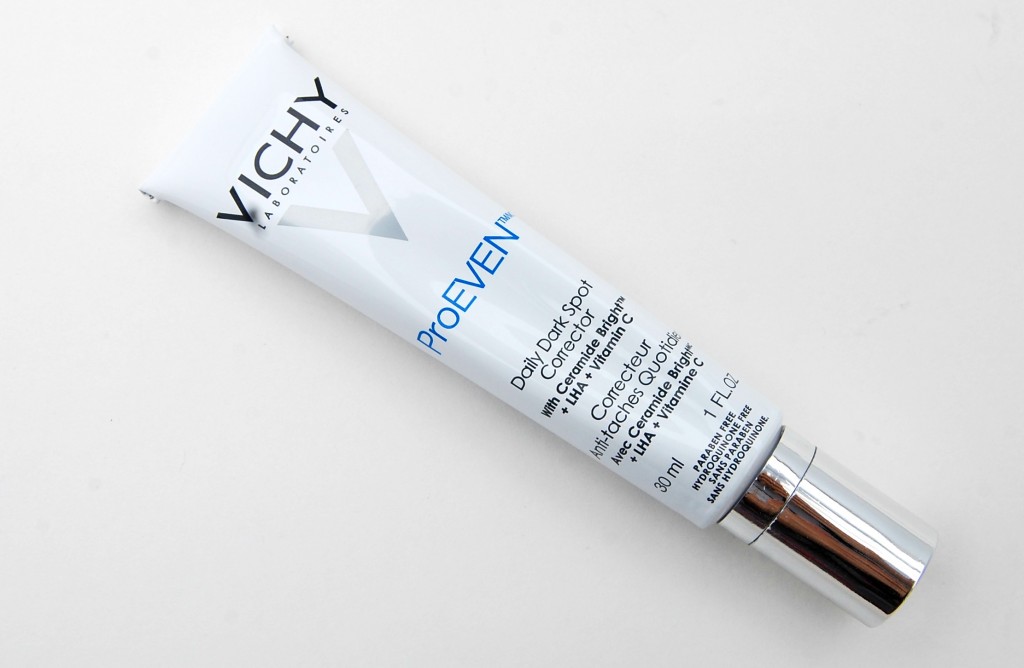 Vichy ProEVEN Eyes will help lighten and decrease the surface area of dark circles around the eyes thanks to its unique formula that addresses all causes with its blend of ingredients such as caffeine and Vitamin B3 that deal with the puffiness caused by nasal congestion and inflammation, LHA gently exfoliates to remove dark dead skin cells and Vitamin C and Ceramide Bright brightens overall skin tone.
I have to admit I have never been one to use an under eye cream, I don't really suffer from dark circles, yet, but as with the Brightening Cleansing Foam, I noticed that I had a more awake look almost immediately after using the Daily Eye Corrector because of the brightening effects of the Vitamin C. Vichy ProEVEN Eyes comes with an easy to use pump dispenser, has a white, creamy texture to it and when applied to the under eye area gives a cooling effect to the skin. It absorbs fairly quickly into the skin and leaves my under eyes hydrated throughout the day. After only a few short weeks I did notice the skin under my eyes seemed noticeably lighter and brighter, so I will now continue to use it. It retails for $39.50 for $15ml.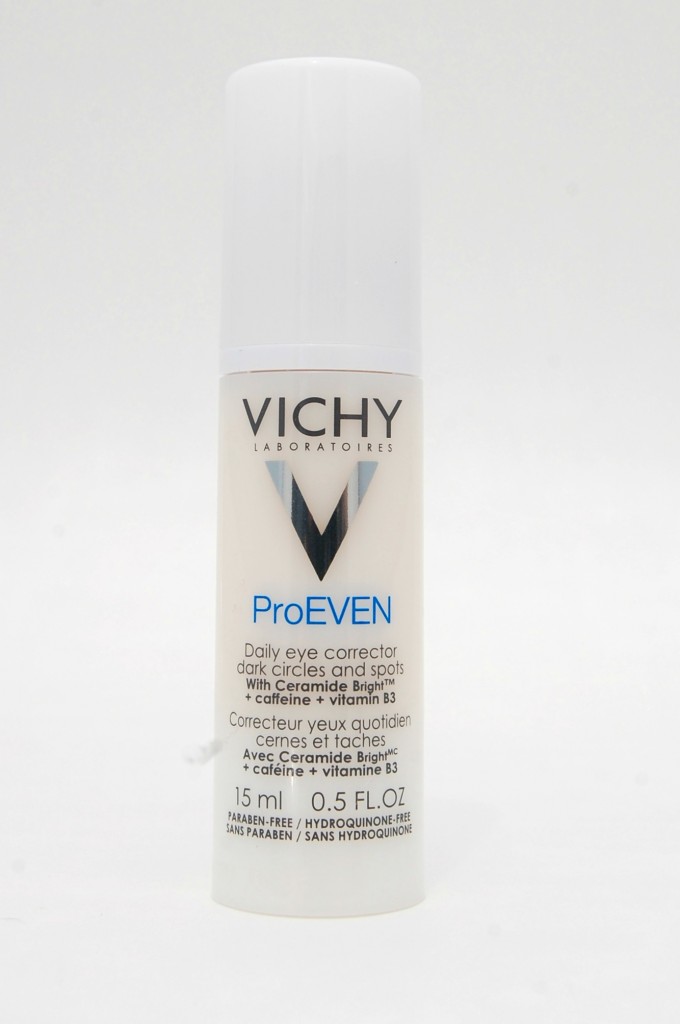 I highly suggest this line for someone that's looking to combat uneven skin tone and is looking for a brighter, more flawless and radiant skin complexion without breaking the bank. These products are suitable for all skin types, are hypoallergenic making them great for even the most sensitive skin and can be found at your local drug stores making them super accessible.
You can also find my review on the Vichy ProEVEN BB Cream here