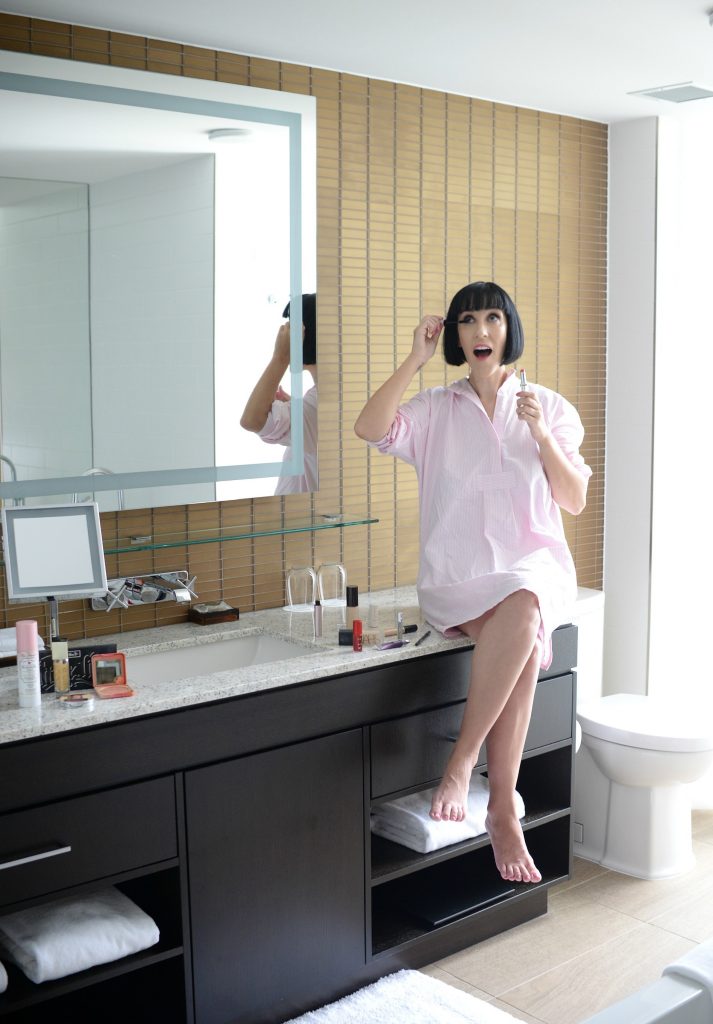 Hotel X Toronto
If you're looking to escape to a resort-style hotel without leaving the county, or the city, look no further than the brand-new Hotel X Toronto. Unlike other Toronto hotels, that are stuck in the busy downtown area, with its heavy traffic, loud and aggressive noise, and nothing but building views, this new hot-spot is actually located on Lake Shore and comes with both a lakeside and city view. It's still only a few short minutes away from all the major attractions like the Eaton Centre, CN Tower, Scotiabank Arena, etc. and with its free pick-up and drop-off within 5 KM of the hotel, it makes it incredibly easy getting around the city without a car.
Upon arrival, you're greeted by an extremely welcoming staff, who quickly introduce themselves and ask for your name. Little did I know they would walkie talkie my name up to the front desk, so as soon as I got there, they already knew my name. This is an incredibly personal way to get to know their guests and make them feel right at home, even before checking-in. Walking your way through the lobby, you'll come across the most instagrammable floral green wall and marble countertop that's elegant, grand and quite breathtaking.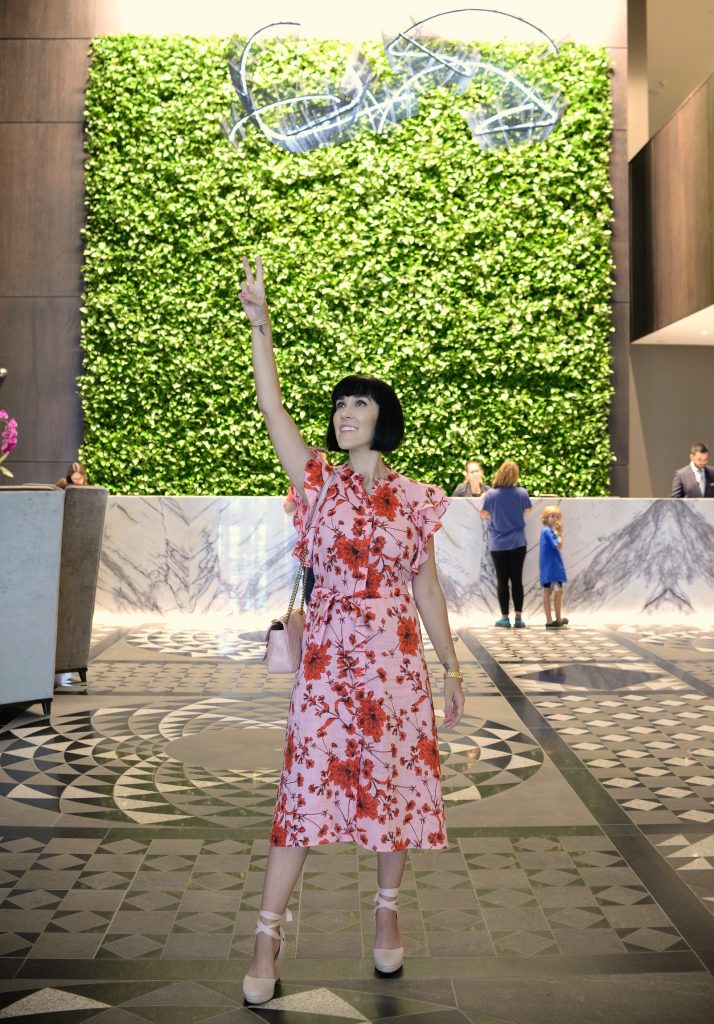 They say the higher the better, and they weren't wrong. The view from our One Bedroom Suite on the 22nd floor was nothing but spectacular. Words can't describe the view from up there. The corner unit has 9" floor-to-ceiling windows that not only provide a ton of natural light but offers the best lakeshore and city views I've ever seen in the city. We could have honestly spent all night staring off into the sunset. The 770 square-foot room offers both a bedroom, master bathroom, powder room, living area and even a designated work space.
The bedroom has a chic, fresh and contemporary feel with a king size, pillow top mattresses and deluxe headboard. For someone who tends to get chilly at night, the irresistibly soft and warm duvet was a nice touch. As soon as your head hits the cloud-like, incredibly soft and plush pillows, it's lights out. It's the perfect place to relax, recharge and get a good night's sleep before taking on a busy day.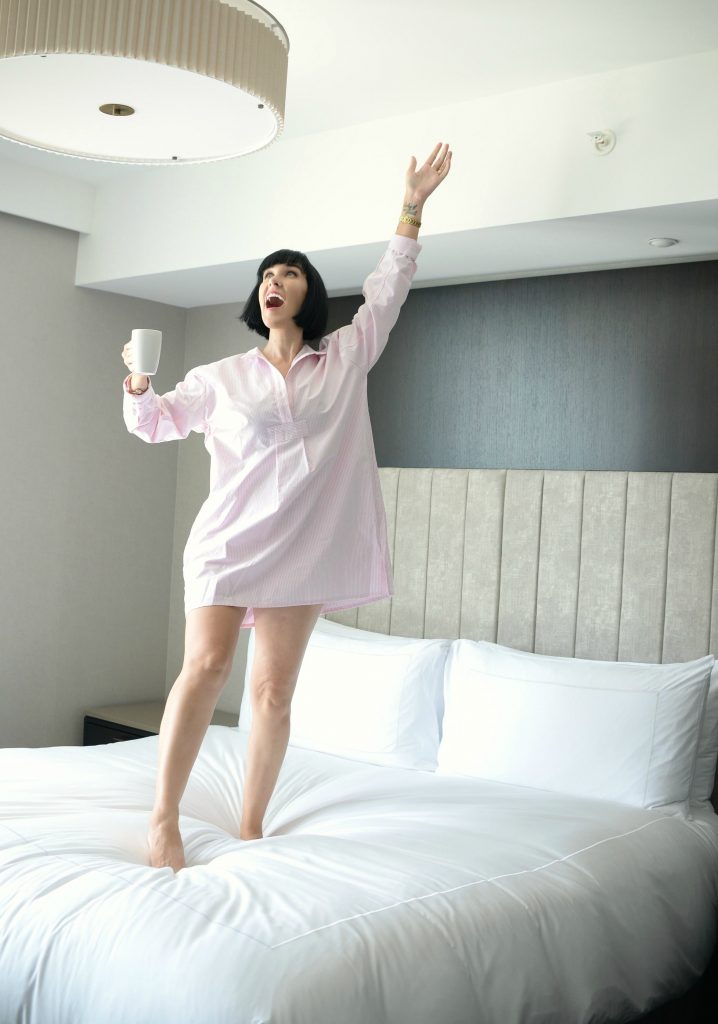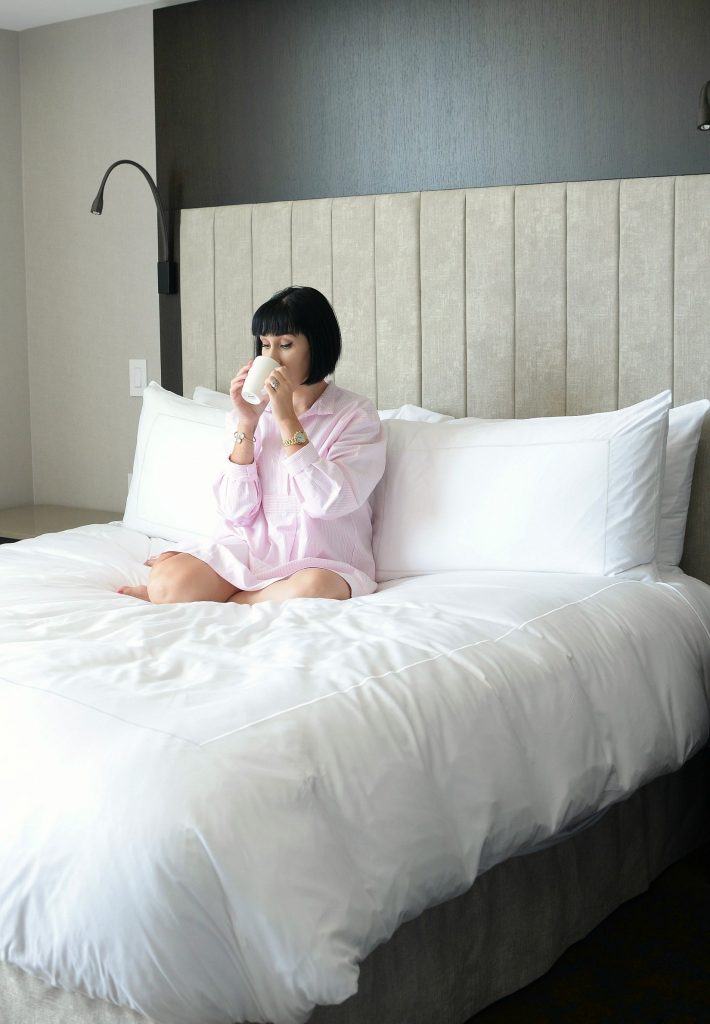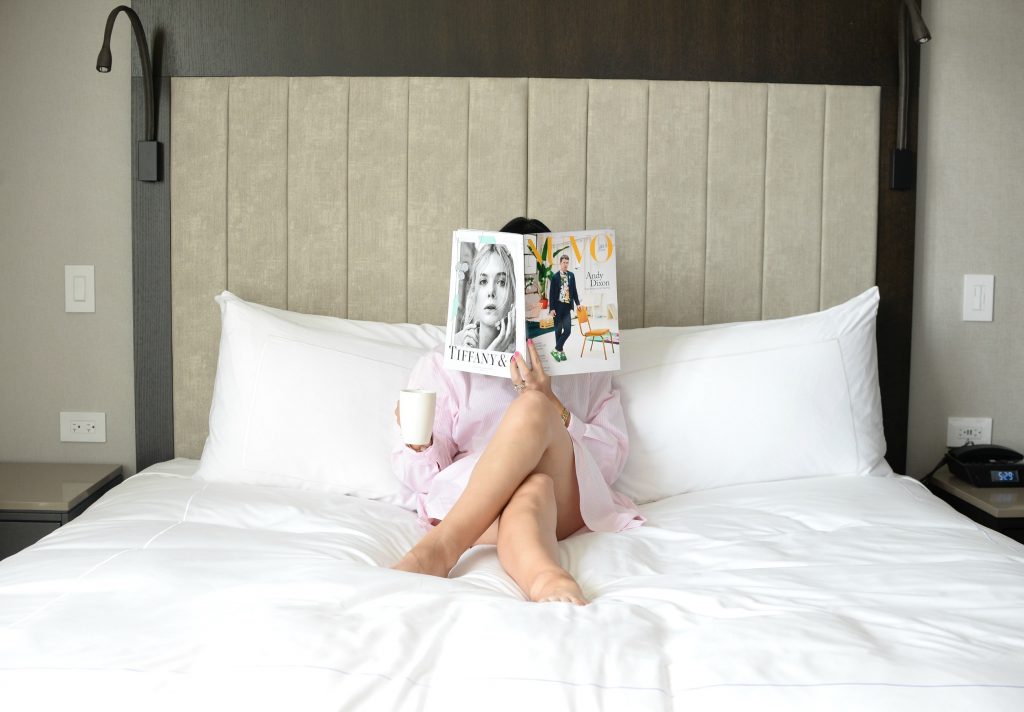 No detail went unnoticed in the master bathroom. This spacious bathroom features a stand-alone bathtub, along with a glass encased shower, and large vanity countertop and sink. The large light-up mirror was an excellent touch and kinda spoiled me from doing my makeup at home now. It also comes alongside a moveable magnifying mirror for easy makeup application and L'Occitane bath amenities. Whether getting out of the shower or bath, make sure you slip into the bathrobe and slippers for that extra touch of luxury.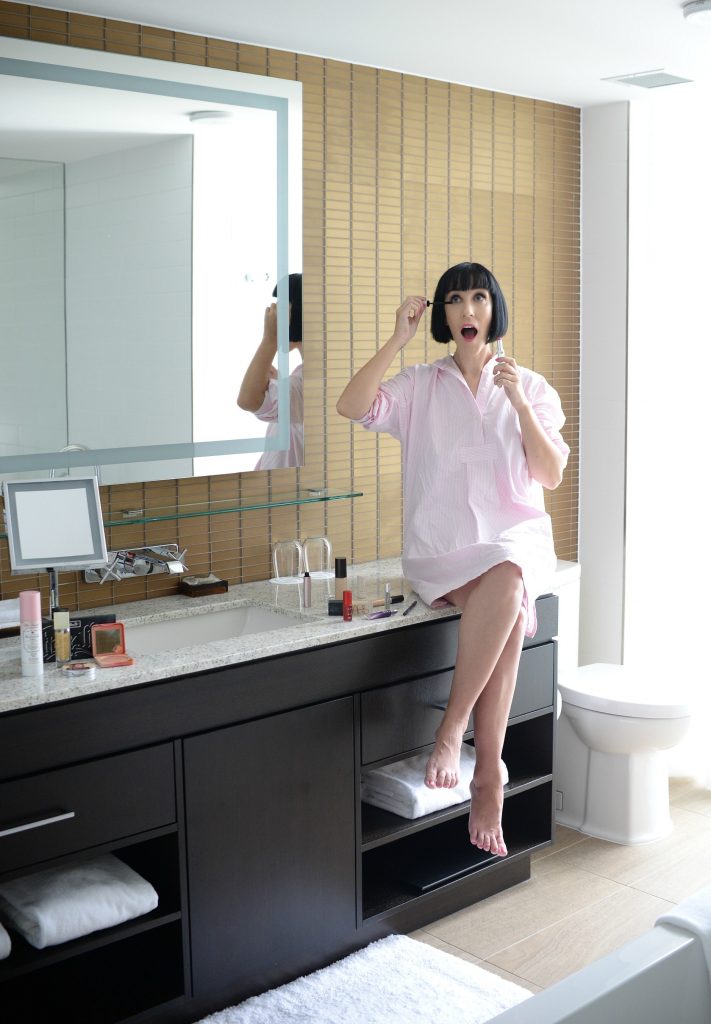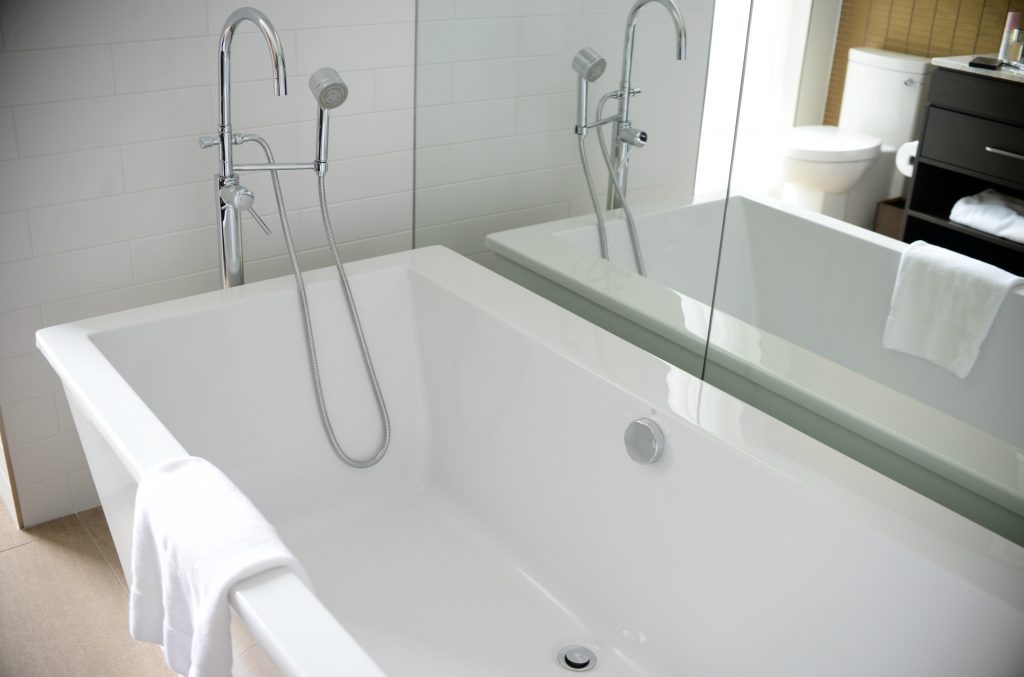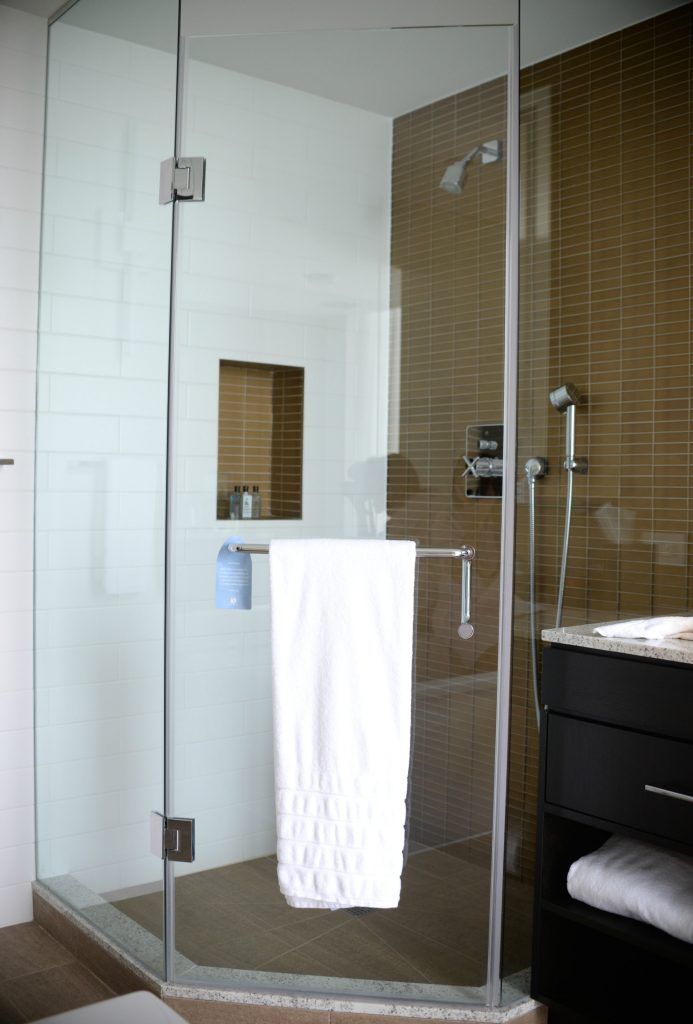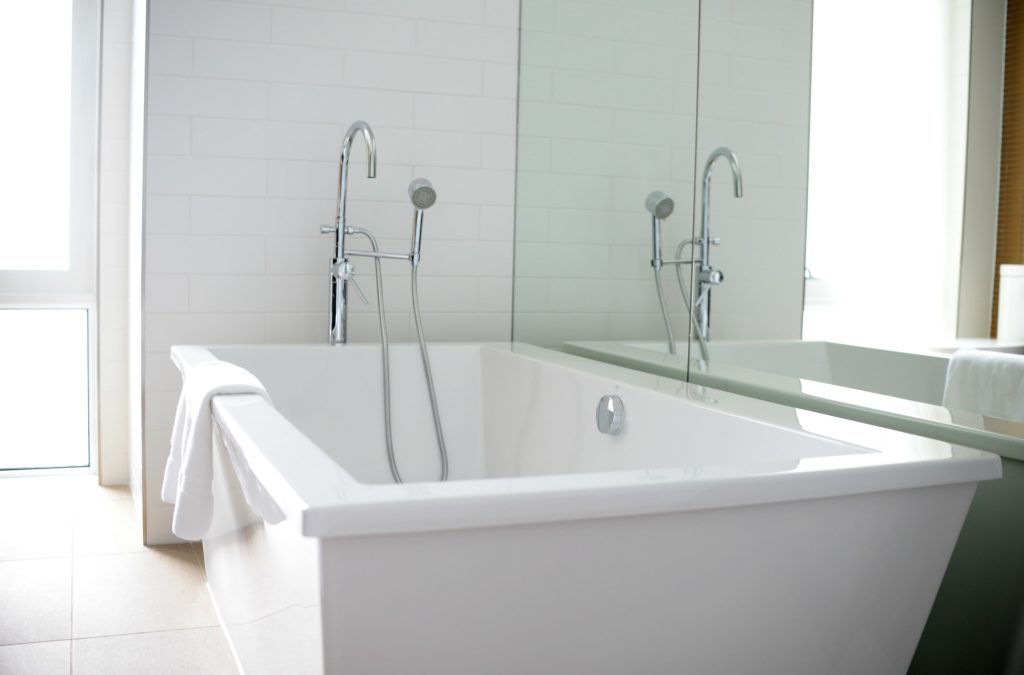 The living area's navy and rusty orange colour palette helps to create a calming mellow atmosphere to this cozy seating area. I love the touch of femininity with the chic velvet couch against the slightly more masculine leather club chairs. It's a nice contrast between the both, and the marble coffee table helps pair the two together. Catch the morning news or evening movie on the 55″ Samsung TV. I couldn't get over how spacious, open and airy the rooms felt.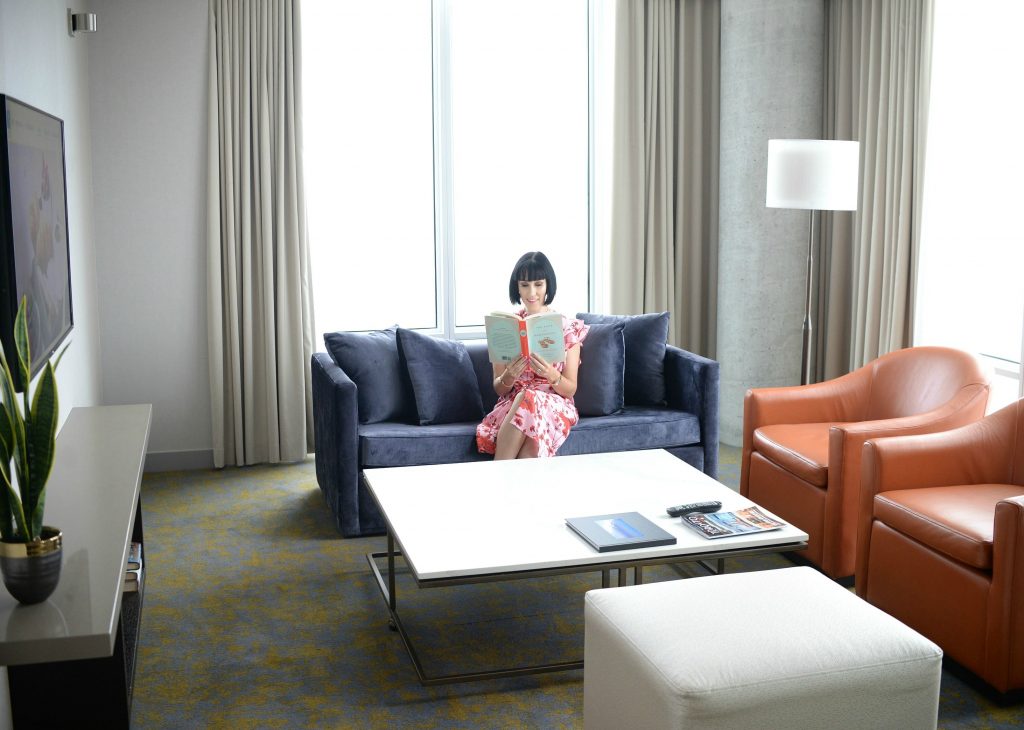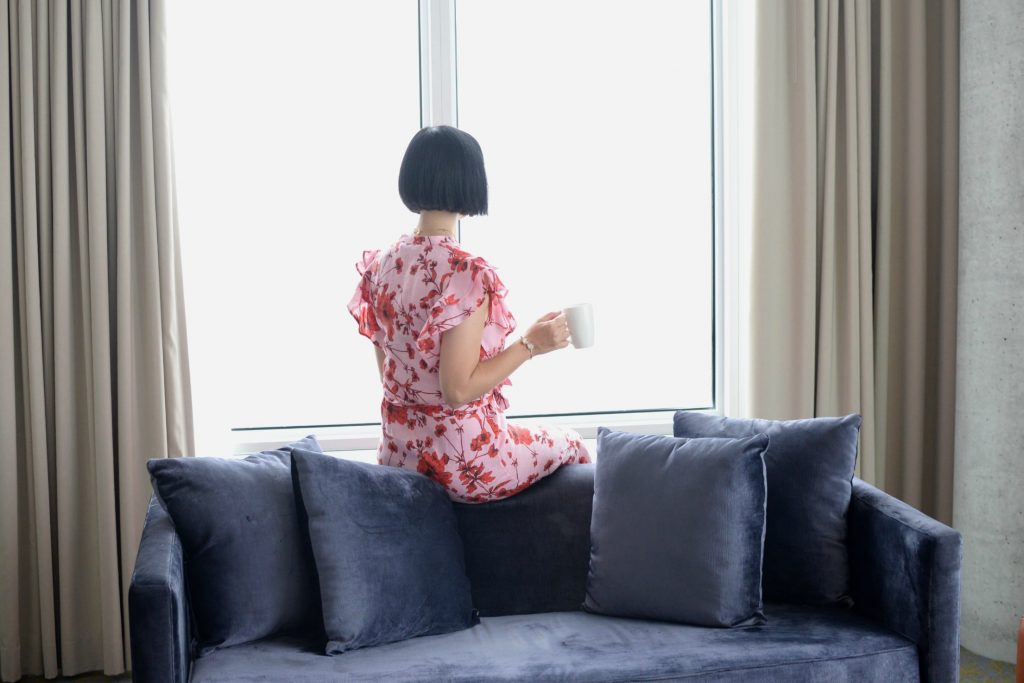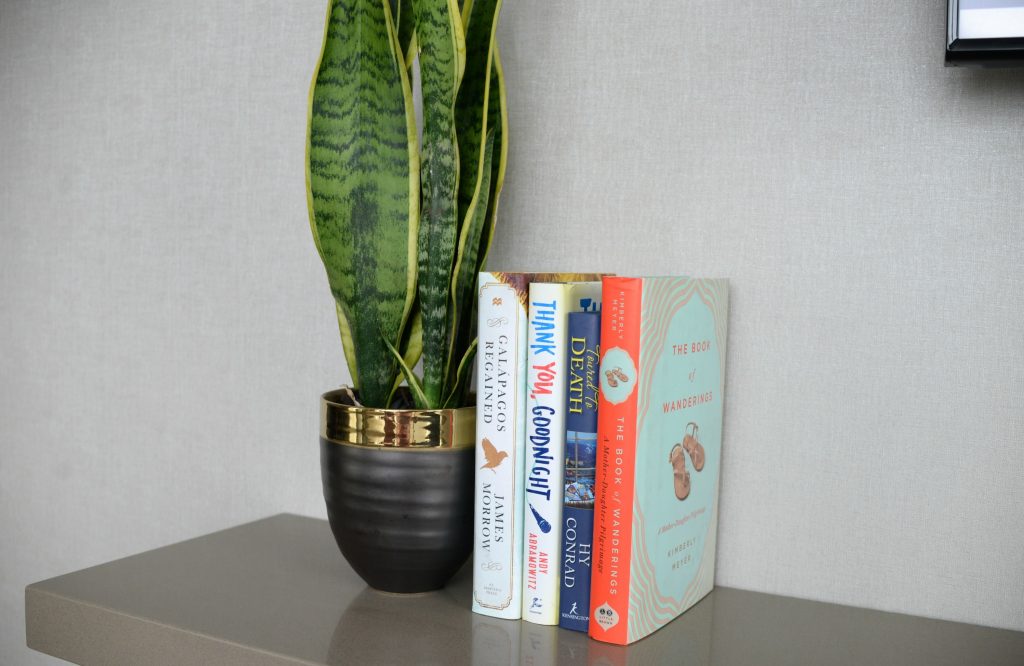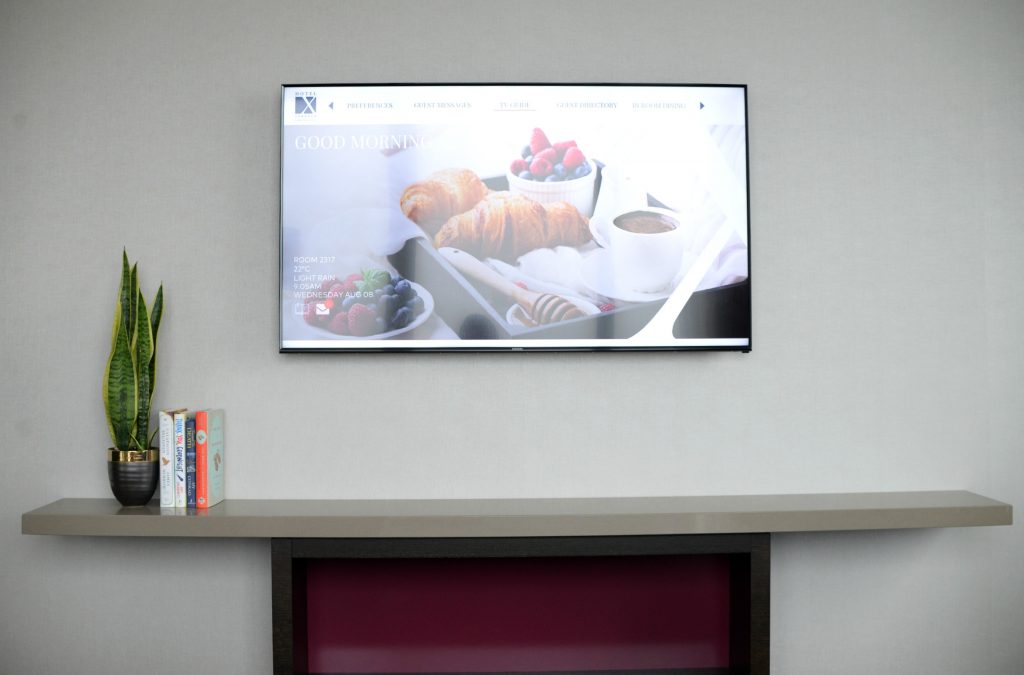 When staying in one of the suites, you not only have an in-room Nespresso Zenius Pro, mini fridge and bottled water, but you also have access to the Library Club Lounge. Located on the 3rd floor, start your morning off right with a complimentary continental breakfast. In the evening, enjoy complimentary wine and cheese.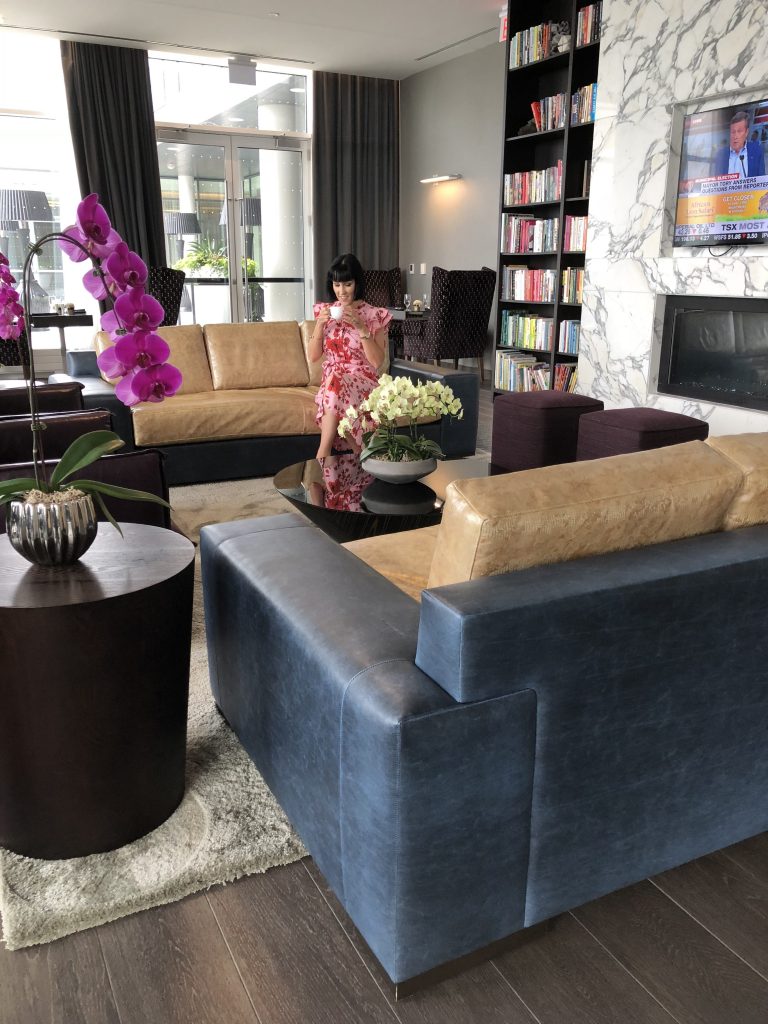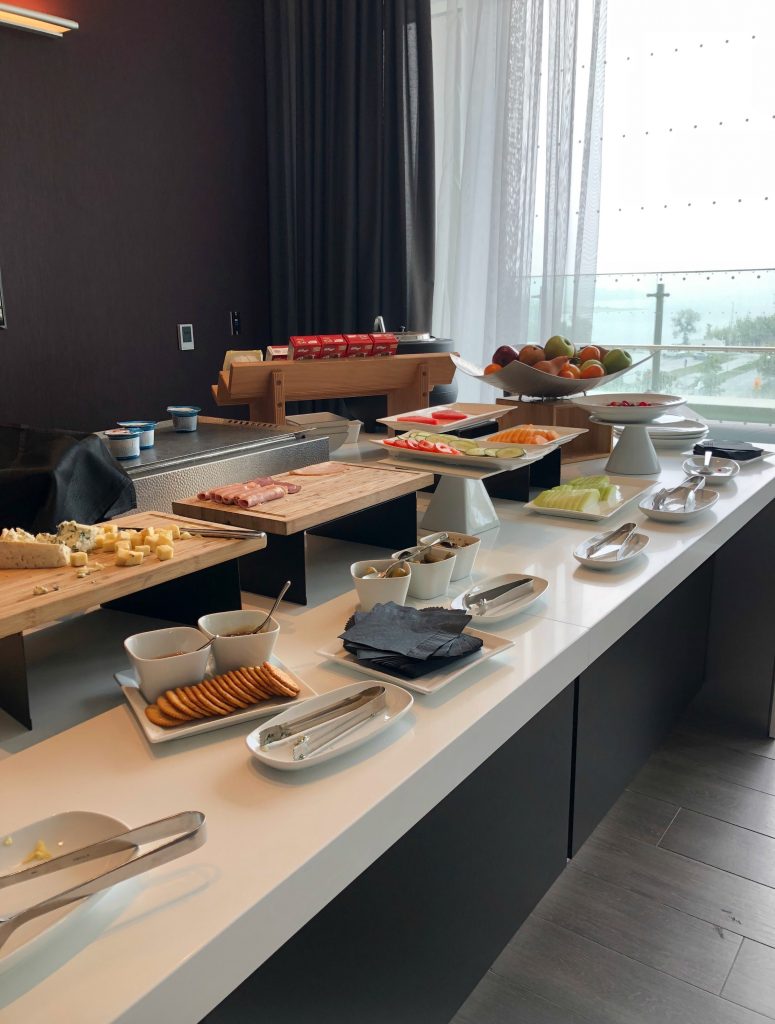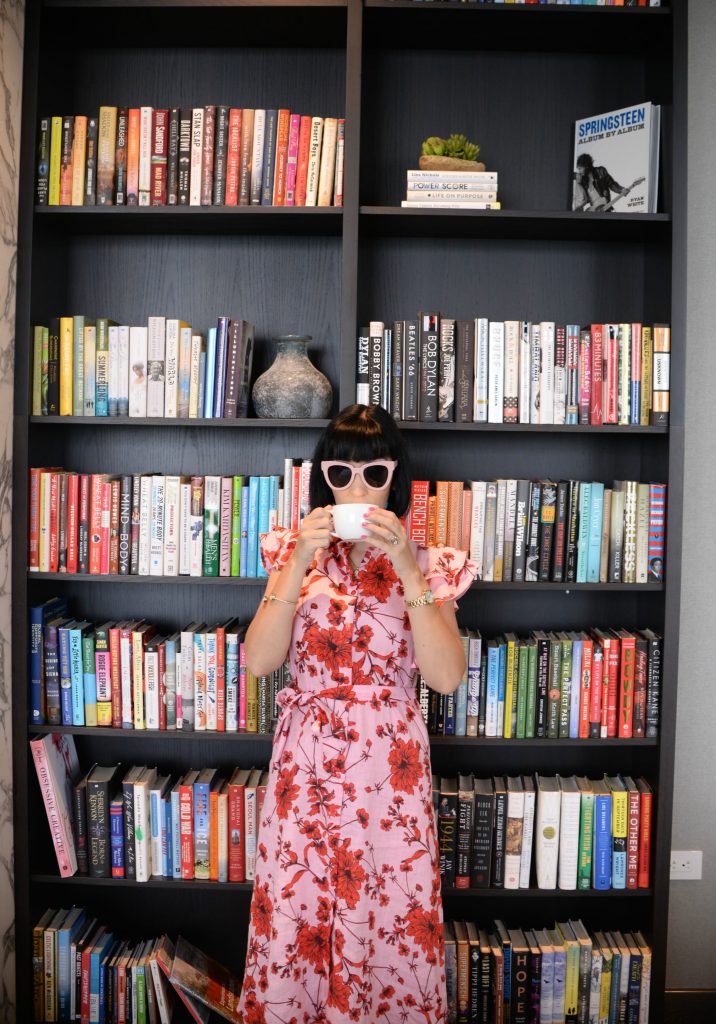 Located on the 28th floor, you'll find the 55" heated pool and deck. Revitalize and rejuvenate in a tranquil oasis all while taking in the breathtaking views of Lake Ontario. Although it was raining while we were there, that didn't stop us from taking a refreshing dip. I swear we thought we were at a tropical resort in the Caribbean thanks to all the natural light.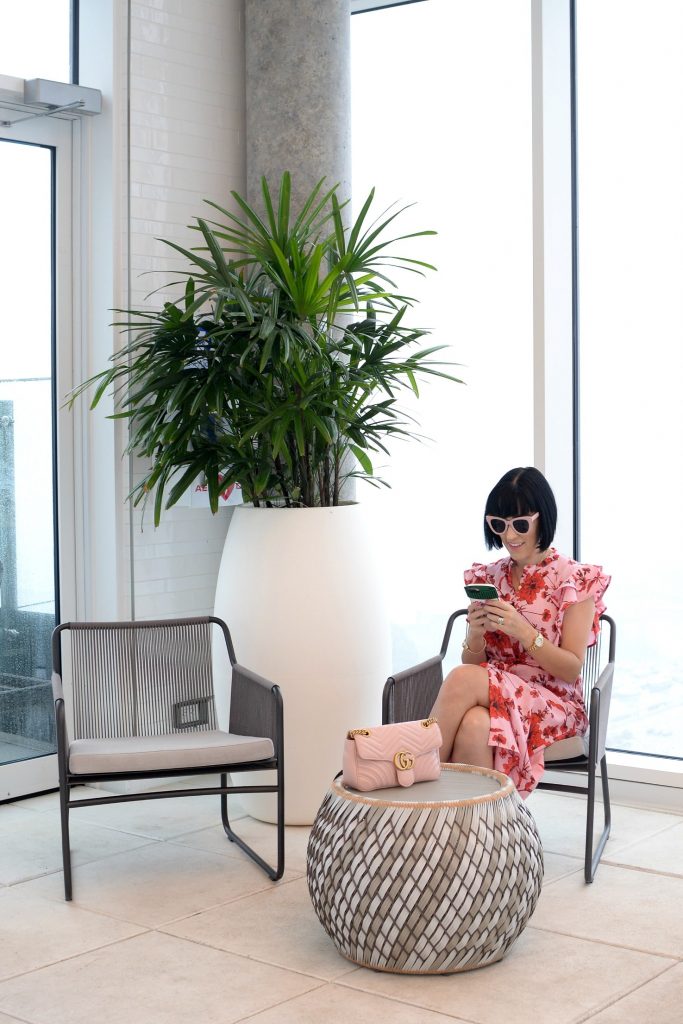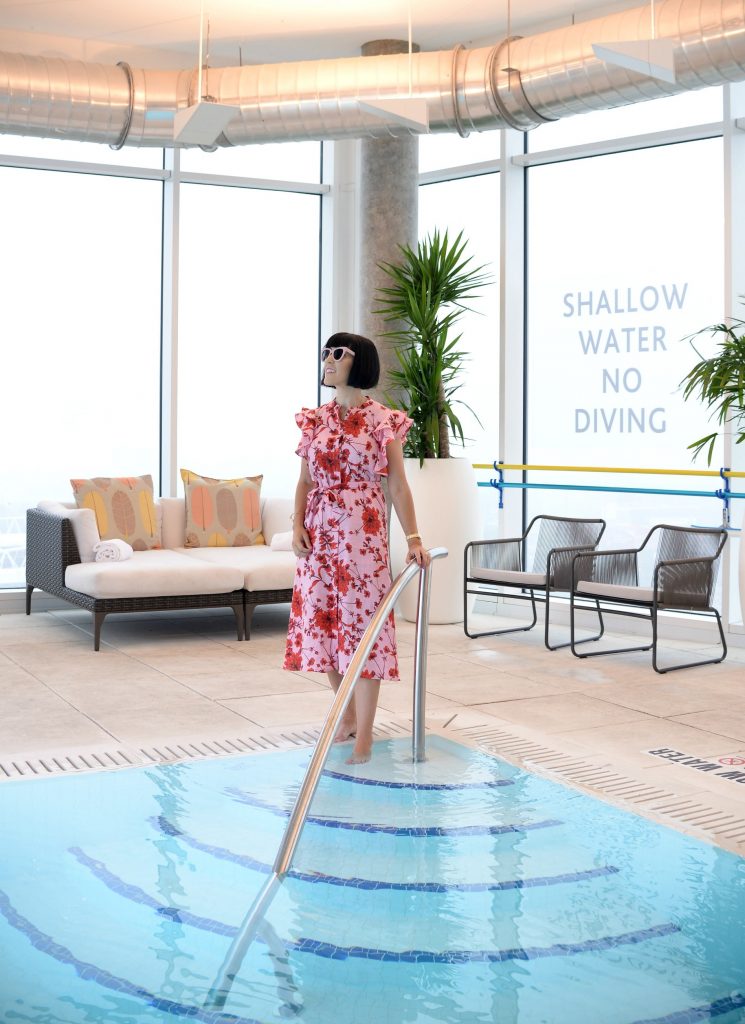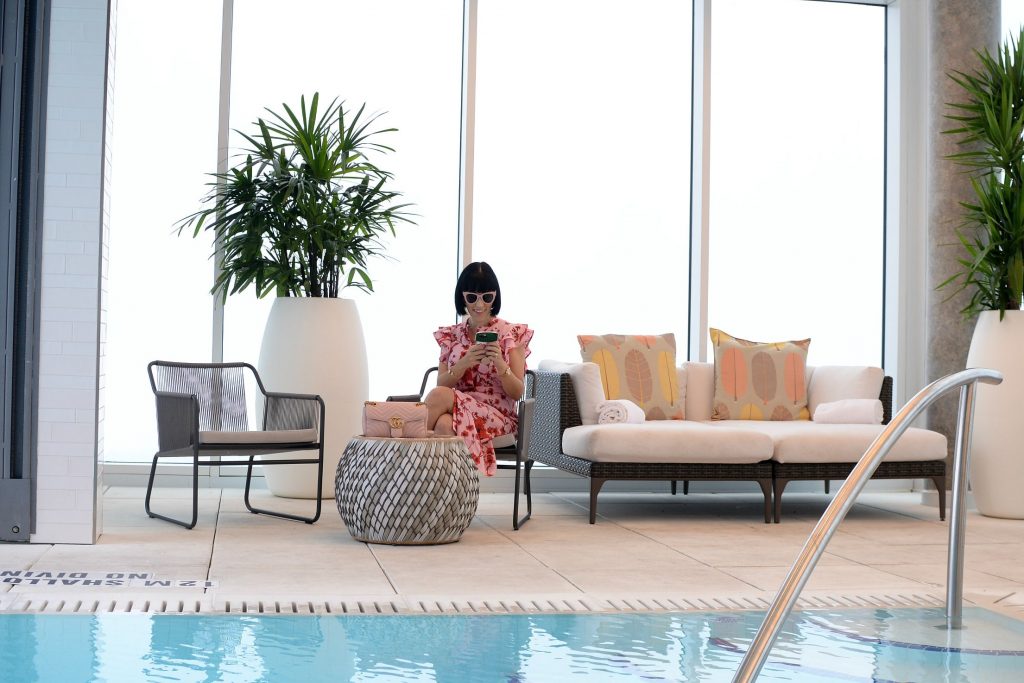 Sadly, we ran out of time, and didn't get the chance to enjoy all the fabulous amenities Hotel X Toronto has to offer. Can you believe it even has its own cinema and screening rooms? Sitting back, relaxing over some popcorn and catching a movie in their 250-seat cinema sounds divine. I was also told it's pet-friendly, meaning I need to treat my fur-babies to a staycation ASAP. This would also be an excellent way for us to take full advantage of all their services and facilities that we didn't get to experience this time around.
For example, Derek has always wanted to teach me how to play tennis, and the hotel has 4 indoor tennis courts. We've also always wanted to learn squash, and the hotel offers 9 squash courts. Looking for a more zen and peaceful activity, try pilates, spinning or yoga in one of their dedicated rooms.