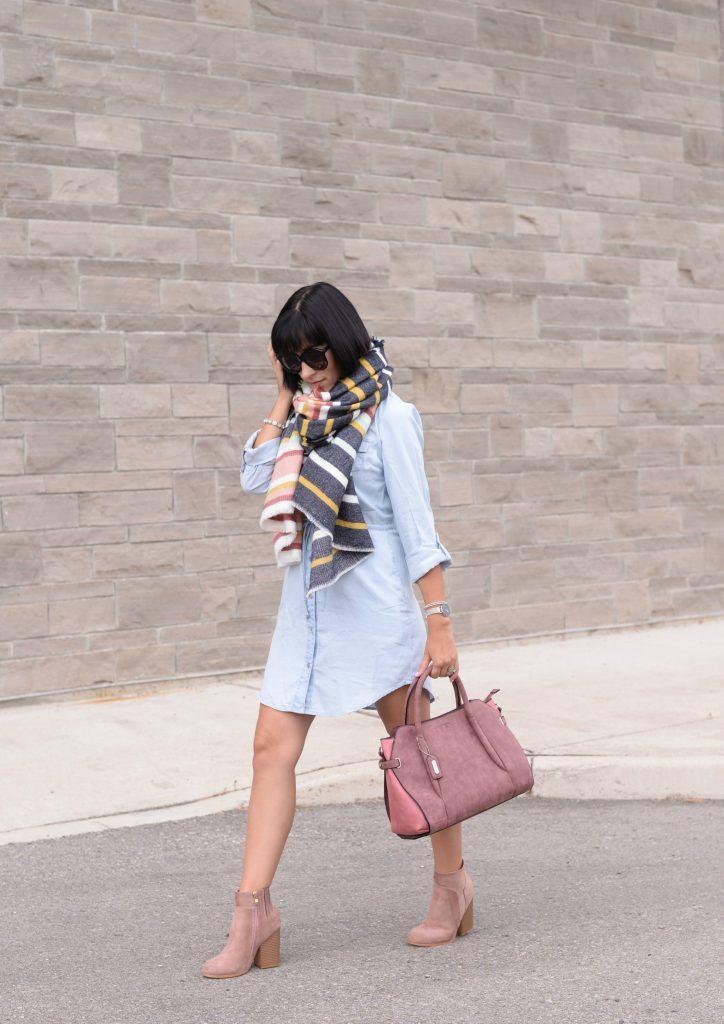 Shirt Dress
I know the rest of Canada might be thinking, aren't your legs cold? The truth of the matter is, London hasn't dropped in temperature yet. Last week, we were in double digits, and even this week it's been above zero. What does that mean in terms of fashion… I can still go bare-legged. I love the idea of a denim dress in winter, both with over-the-knee boots or ankle booties with tights, but right now, I can still show a little skin.
With a ton of different variations when it comes to denim dresses, the possibilities are endless. This season, whether you decide to fit up a form-fitted one, button down, long and oversized, or maybe even a denim jacket worn as a dress, there are so many ways you can style it, just have fun with it. That being said, a denim dress is a statement on its own, and doesn't require a lot of accessories or layers. It's the one "trendier" piece, that's easy to style, and you absolutely need this winter season.
A simple denim shirt dress is probably the safest option when it comes to style. It's fitting enough to give you a little shape, without being uncomfortable to wear. We're all obsessed with denim shirts, and this is just a slightly longer version of that. Whether it's fitted or slouchy, a pull-over or button down, it's an effortlessly chic way to wear denim. A shirt dress looks amazing with heels or booties to add a little length, and looks stunning with bare legs. The contrast between the denim covering your entire body, combined with the sexiness of a bare leg, looks street-style chic.
Of course, come the cooler months, a denim shirt dress looks equally as amazing with fitted leggings, tights or over-the-knee boots. Toss on your favourite oversize cable knit cardigan or faux leather bomber and you've instantly created that oh-so trendy layered look. Toss on a cross body bag for brunch with the girls or weekend errands, or keep the look more streamlined and dressy with a structured bag for work. You can easily dress up or down a denim dress depending on what accessories you pair with it.  
What I Wore- Dress- Guess, Purse- c/o Pinkstix, Bracelet – c/o Pearls for Girls, Watch- c/o Daniel Wellington, Sunglasses- Karen Walker, Blanket Scarf- Zara, Booties- Marshalls