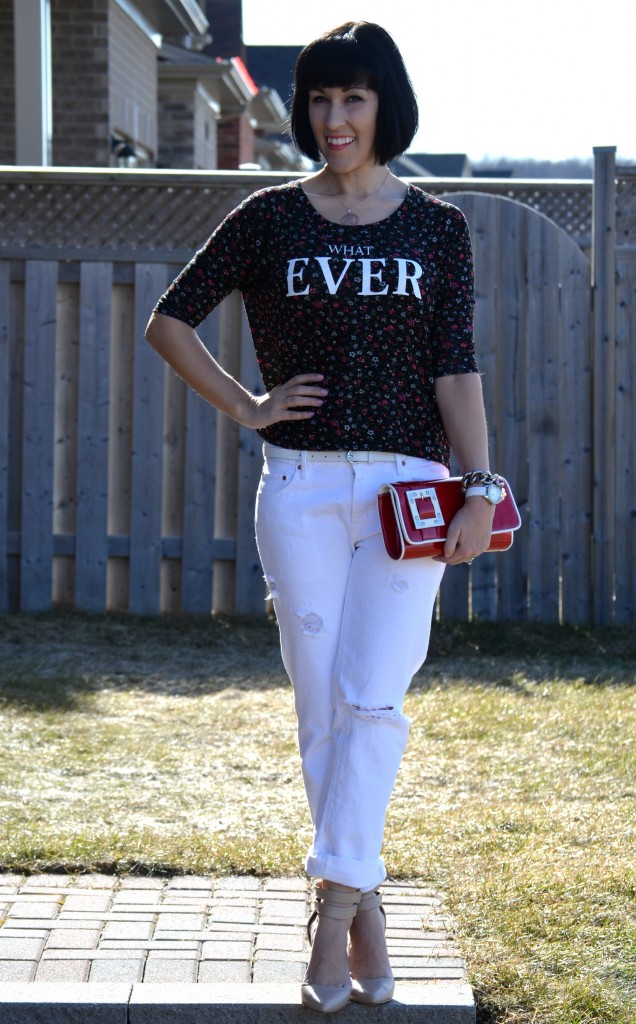 As soon as I saw this Whatever crop-top I instantly thought of the 90's. I was a teen in the 90's so "whatever" was a part of my daily vocabulary, along with "as if", "phat", "whoh" and "not".
I never missed an episode of Saved By The Bell, 90210, Melrose Place, Full House and Fresh Prince of Bel-Air.
Favourite movies were Now and Then, My Girl, Empire Records, Boyz 'N The Hood, Scream and Shawshank Redemption.
My playlist, aka cassette tapes, were always playing TLC, Nirvana, NKOTB, No Doubt, Boyz II Men, 2Pac and Biggie and Spice Girls.
I was reading Sweet Valley High, Goosebumps and The Babysitters Club and had major crushes on Joey Lawrence and JTT, Will Smith, Luke Perry and Jared Leto.
In grade 7 and 8 I remember owning a lot of tear-a-ways, umbros, Airwalks, slap bracelets, stick on earring on the corner of my eyes and hypercolor tees.
I rocked the grunge look in grade 9, yep, overalls, greasy hair, baggy flannel shirts, wide-leg jeans and Dr. Martens.
In grade 10 I totally wanted to be Cher from clueless, wore babydoll dresses with thigh-high stockings and slip dresses worn over tees.
By grade 11 and 12, I really started to come into my own, pretty much wore high heels and dresses every day.
I still remember having the Zak Morris cell phone, being kicked off the internet when my mom wanted to use the phone and getting charged 50 cents for using *69 to find out who called.
What are some of your favourite memories of the 90's?
Tee- Smart Set- in stores now
Clutch- Purseaholics
Watch- Guess
Boyfriend Jeans- The Gap- in stores now
Pumps- Le Chateau- in stores now