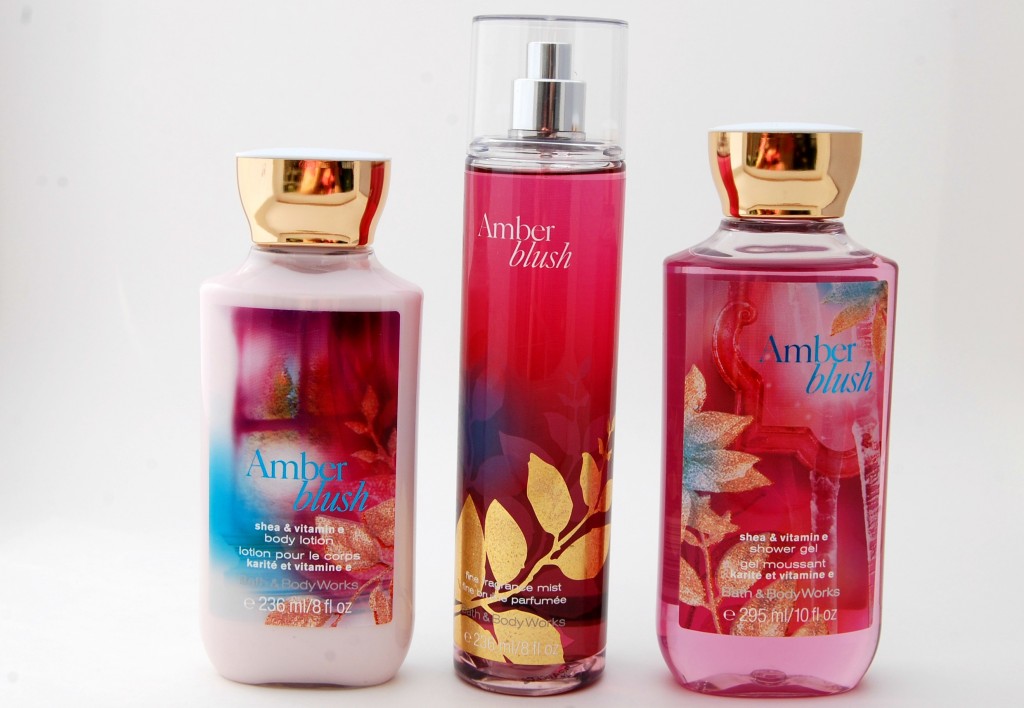 Welcome to the wonderful world of cuddling up by the fire with a snuggly blanket and a warm cup of coco with the comforting scents of Raspberry Champagne, Gardenia Petals, Magnolia Blossom, with a kiss of Creamy Vanilla Suede and Crystalized Amber in Bath and Body Works new Amber Blush Collection. The fragrance is screaming my "name", not only because of the name itself, but because it describes my Fall routine to a tee. I can now surround myself with supreme comfort and ultimate luxury with this new fragrance inspired by autumn in this feminine scent, where rustic meets refined.

Amber Blush is the perfect balance of floral, fruity, and seductive with its top notes of Sparkling Bergamot, Juicy Mandarin and Raspberry Champagne, middle notes of Jasmine, Gardenia Petals, Star Anise, Apricot Nectar and Magnolia Blossom and base notes of Creamy Vanilla, Suede, Crystallized Amber, Golden Sandalwood and Soft Musk.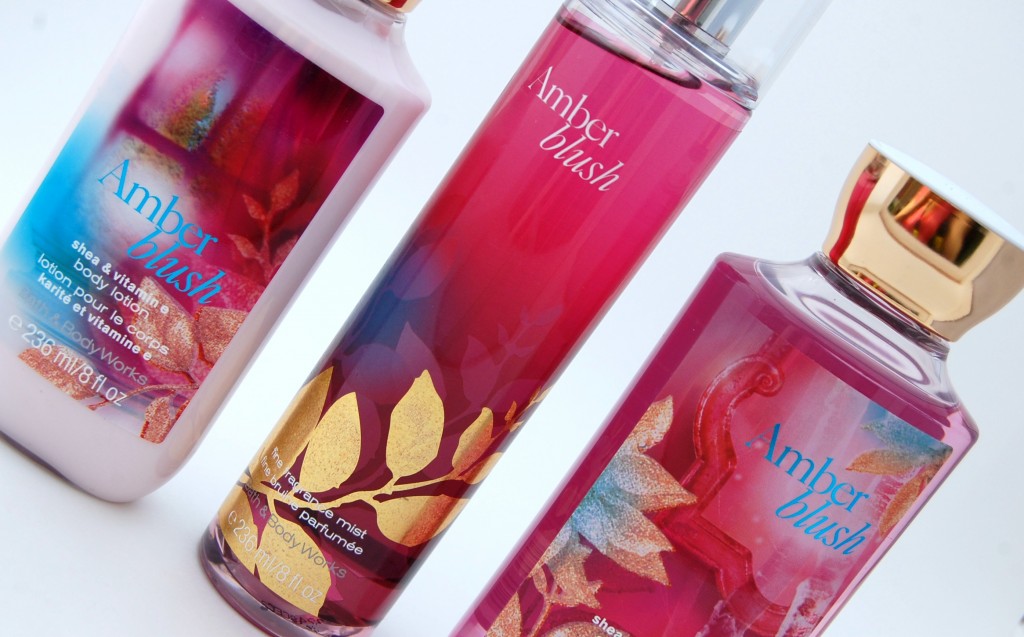 At first sniff, the raspberry champagne is very prominent and very sweet, but as it dries down, the warmer notes of vanilla and Amber take over and it softens up the scent a little. After about 20 minutes the scent of sandalwood and musk make its appearance, making it the perfect balance of floral and fruit that's soft, sexy and sophisticated.
The packaging of this collection is my favourite yet, it has the silhouette of the woods in beautiful jewel tones done in pink, purple and turquoise with glittery gold leaves to add just the right amount of sparkle to the bottles.
I'm sure by now we've all tried their shower gels and Amber Blush gives the same great lather and cleanses the body thoroughly with only a few drops, as does the rest of the Bath and Body Works collections. It has a lightweight texture to it that rinses easily, leaves body feeling silky smooth and with no soapy residue. Skin is left feeling clean, supple and soft with a floral and fruity scent that's ready to be moisturized with Amber Blush Body Lotion.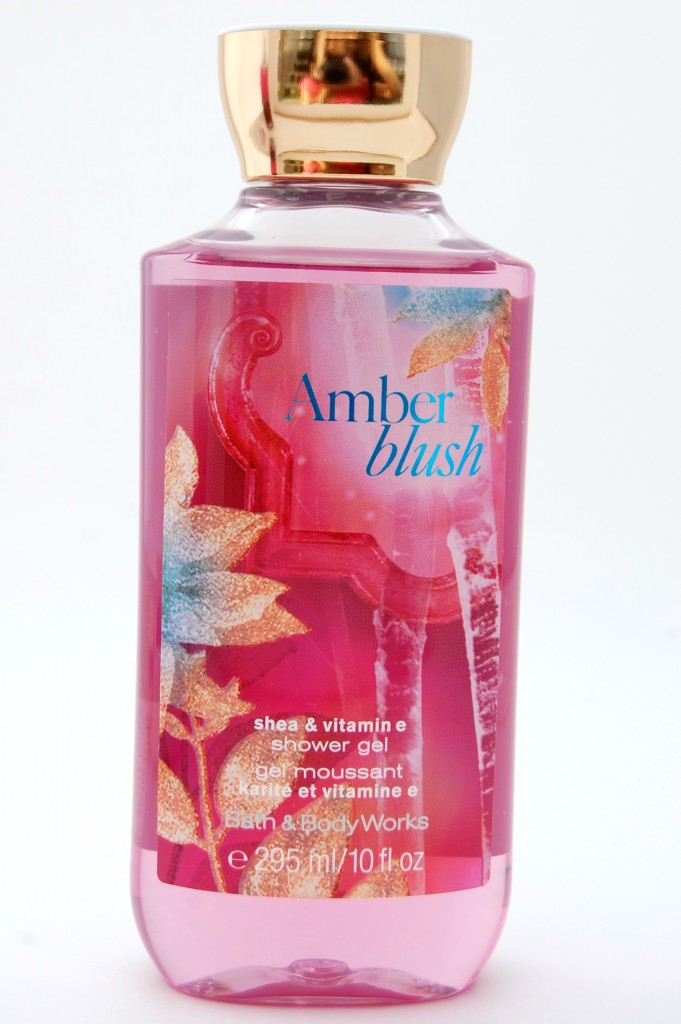 Amber Blush Body Lotion is enriched with Shea butter and vitamin E giving it a creamy and smooth texture that absorbs quickly into the skin. It has a non-greasy formula that leaves skin soft, hydrated and smooth throughout the day. It blends into the skin almost instantly and gives the body a nice warm floral scent with just the hint of vanilla.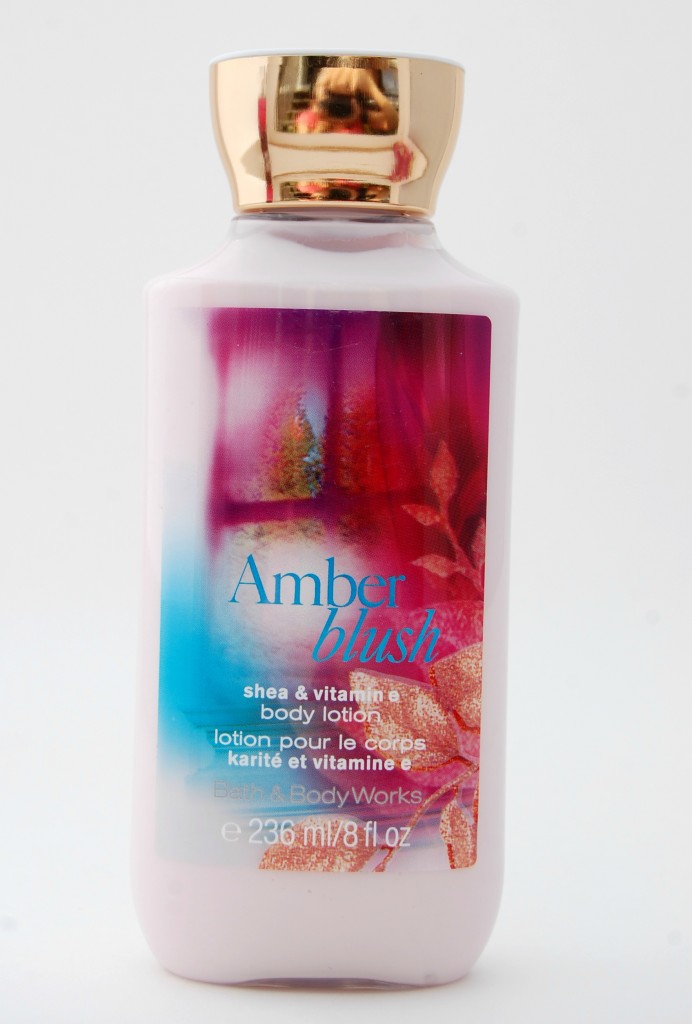 Amber Blush Fine Fragrance Mist is the perfect way to end your skincare routine in the morning, it delivers just the right amount of fragrance for those that don't like a heavy perfume. When built on top of the shower gel and body lotionm this mist can last all day.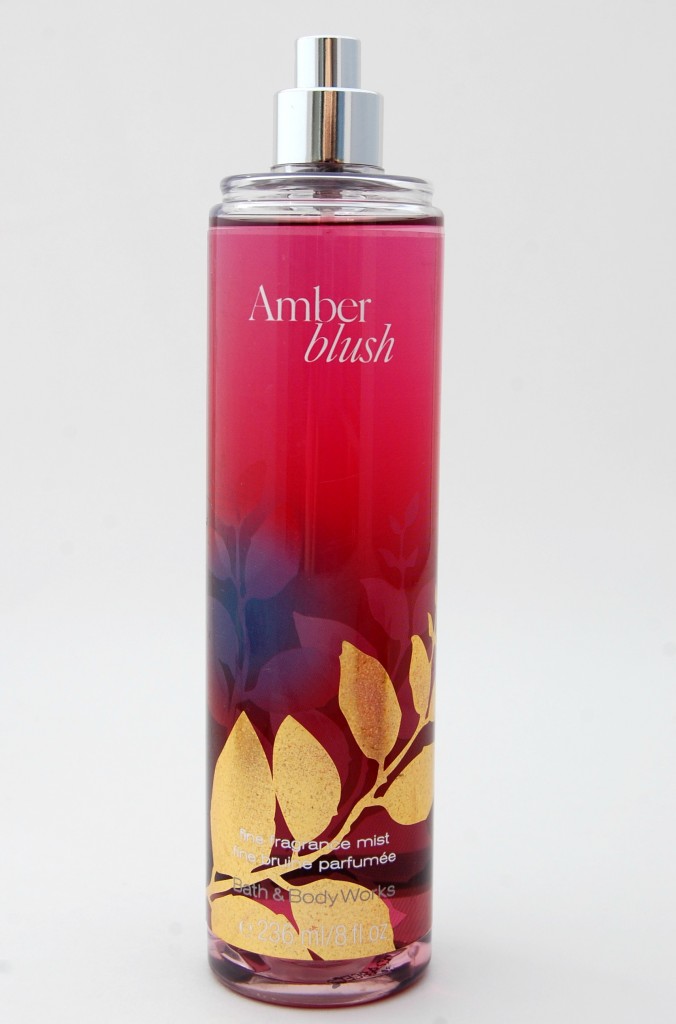 The Amber Blush Collection includes Eau De Toilette $30.00, Shower Gel $13.00, Body Lotion $13.00, Fine Fragrance Mist $14.50, Body Cream $13.00, Shimmer Mist $14.50, Golden Shimmer Body Soufflé (New Form!) $20.00 and Sheer Perfume Mist (New Form!) $20.00 and is available in stores now.