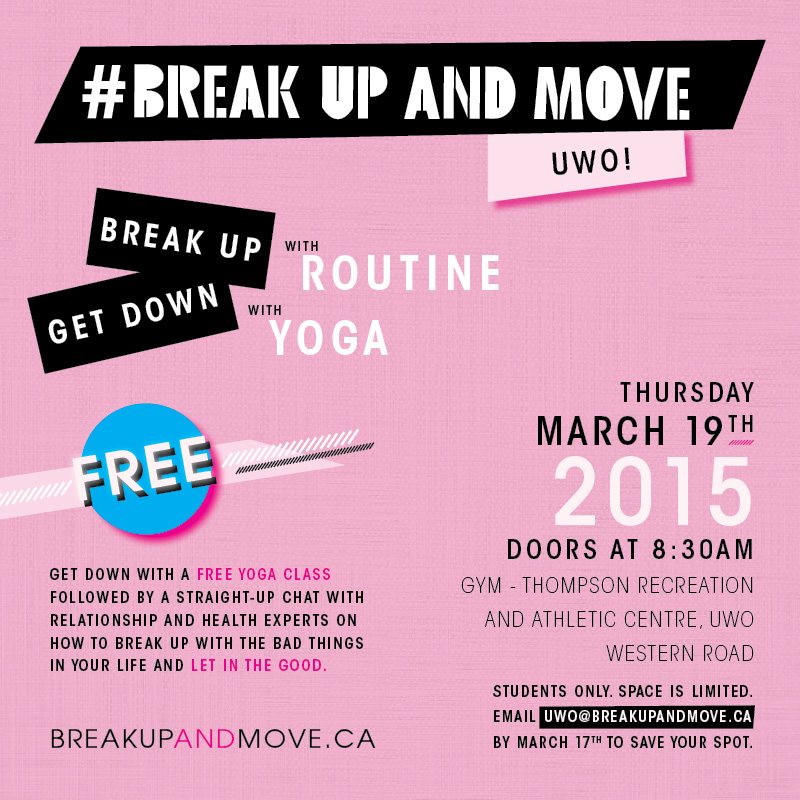 Get Down with Yoga
Last week I talked about how you can easily break up with your closest. Now, it's your turn to get involved and talk about what's toxic and unhealthy in your life. Come join me on Thursday, March 19th from 8:30 – 10:30 a.m. in the Thompson Recreation And Athletic Centre at Western University. The Break Up and Move event will feature a free yoga class, followed by a moderated panel discussion with two experts, relationship expert Kimberly Moffit and Dr. Christine Palmay.  
Break up with your regular routine and get down with yoga. This is the perfect opportunity to experience yoga for the first time, or to get back into the swing of things. The yoga instructor for the day, Mindy Willis-Menard, will use the term "break up" as the theme for the morning, creating a positive atmosphere to talk about what's working in your life, and what isn't.
The conversation that will follow the relaxing yoga session aims to motivate you to consider possible changes in your lifestyle, including health decisions that may be right for you. This will include topics that range from quitting bad habits to improving your sexual health.


Make sure to RSVP by March 17th by emailing UWO@breakupandmove.ca. You can also find out more details at breakupandmove.ca