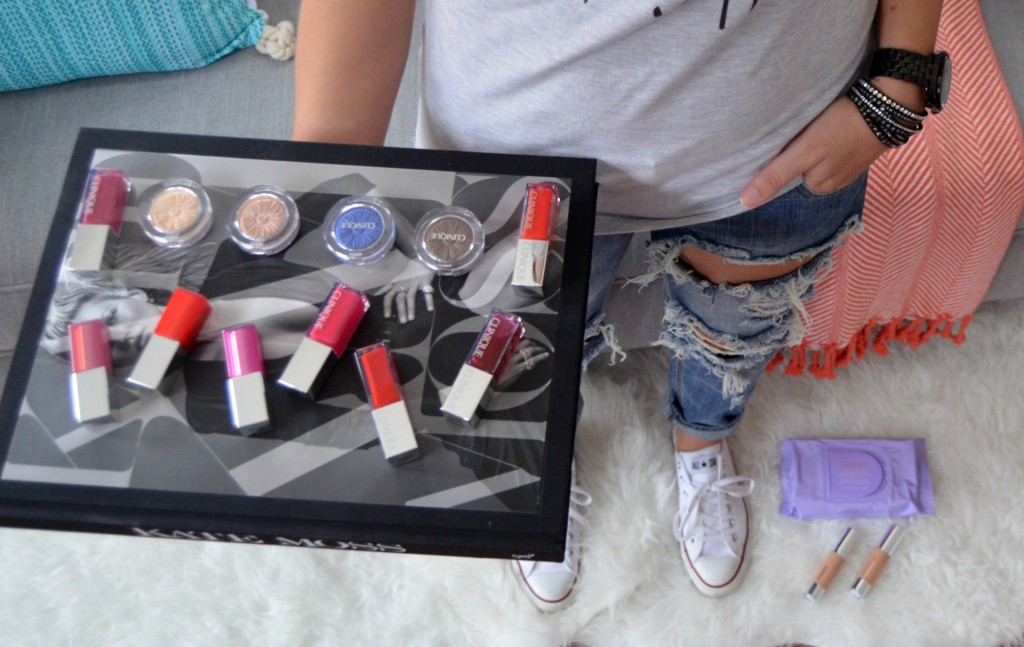 Clinique kicks off Spring 2016 with a wink, smile, an addictive remix, and a nod to natural, beautiful-looking skin!  You may remember my review on the new Clinique Pep-Start Eye Cream designed to help your eyes look vibrant, refreshed and hydrated with a quick snap, pop and swipe. Today I'm bringing you some new Clinique Spring 2016 Releases, starting with the newest additions to the Clinique Pop family, a lineup of Pop Glazes, Laquers, Oils and Eye Shadows in an array of vivid, vibrant and stunning shades. This collection not only features a wide selection of sheer pops of colour to full coverage, long-lasting patent shine, it also includes nourishing tints to help add a hint of dewy colour to both your lips and cheeks.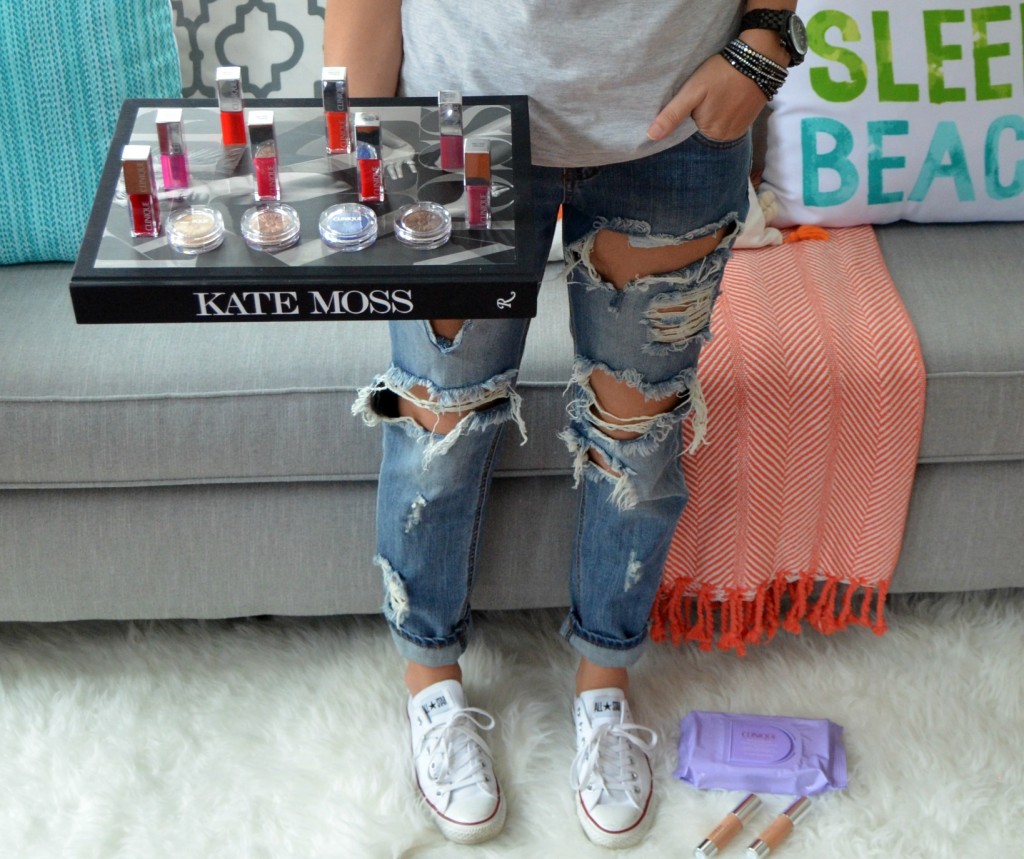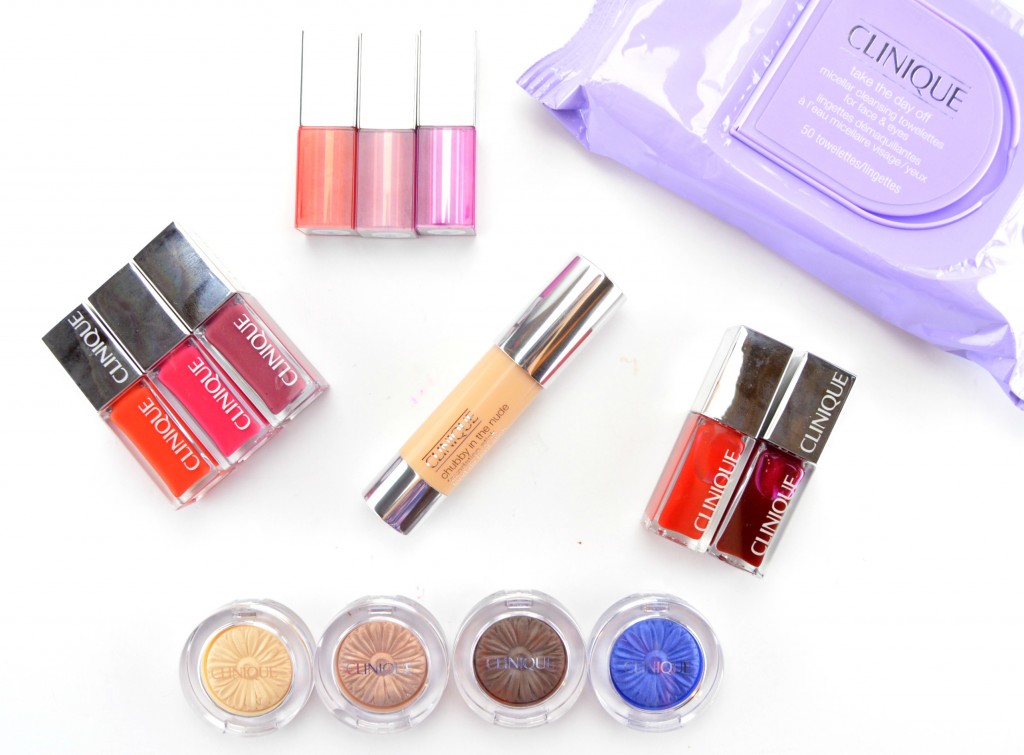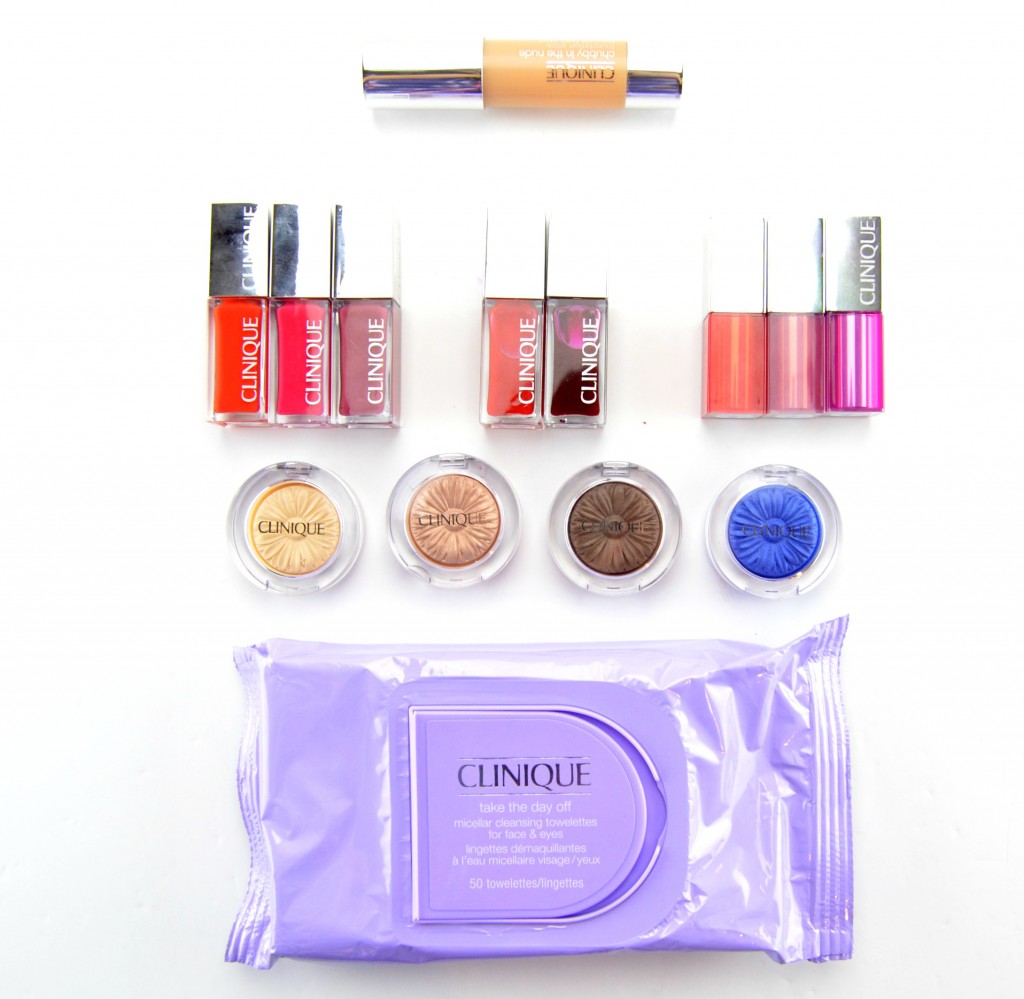 I'm still obsessing over the Clinique Pop Lip Colour + Primers that came out last summer, but these new Clinique Pop Glaze Sheer Lip Colour and Primers are going to be the perfect lippie for spring and summer. It comes with the same moisturizing shea and murumura butter formula, combined with the same flexible polymer blend as the original Clinique Pops, but with a slightly sheerer, see-through colour. Application tip, apply one shade to the centre of your bottom lip, paired over another colour to give the illusion of fuller, poutier lips.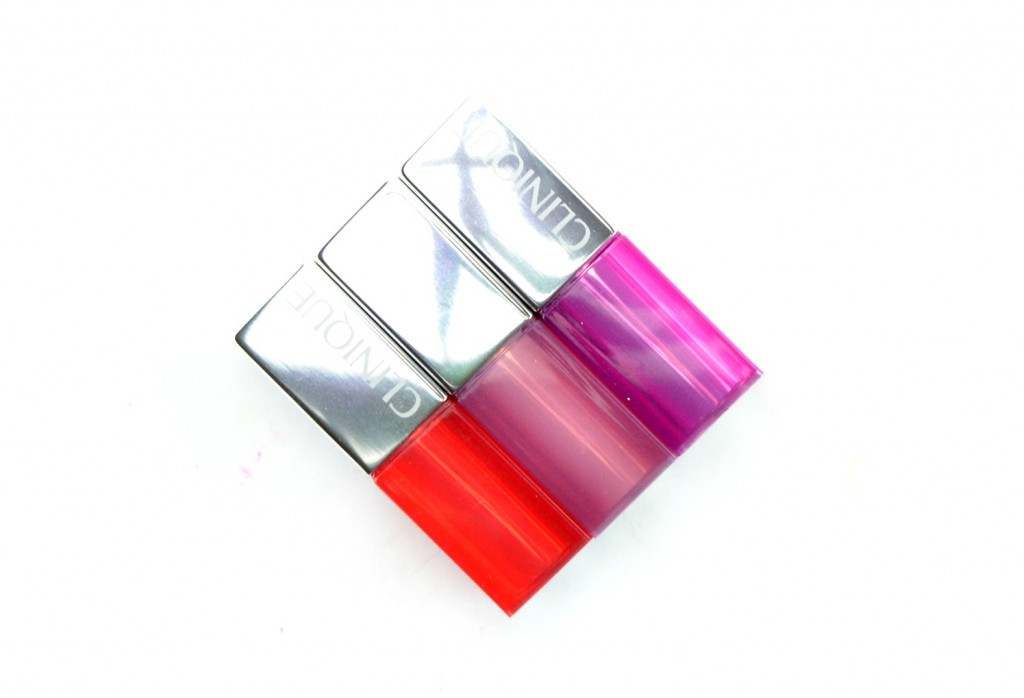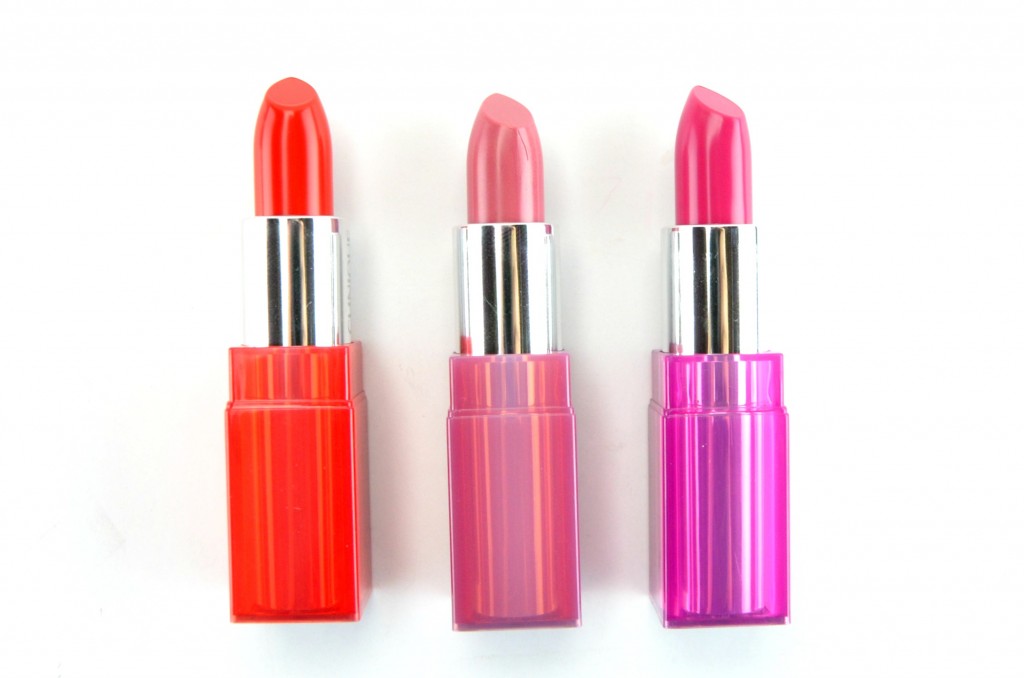 Clinique Pop Glaze Sheer Lip Colour and Primer comes in the same square packaging as the original and features a luxurious, yet weightless texture within. Its combination of emollient oils gives it a rich and creamy consistency that applies evenly and smoothly, without tugging or pulling on the lips. Its built-in primer helps to glide the product on the lips with ease and ensures it stays put for the entire wear time. Although not incredibly pigmented, it does provide a bold pop of sheer, slightly translucent, colour with an incredibly lustrous shine and finish. It's long-wearing, for such a sheer lipstick, we're talking a solid 5+ hours before fading. It's incredibly smooth, comfortable, conditioning and moisturizing formula, has me reaching for it, day after day. It retails for $23 in 6 candy inspired colourful shades.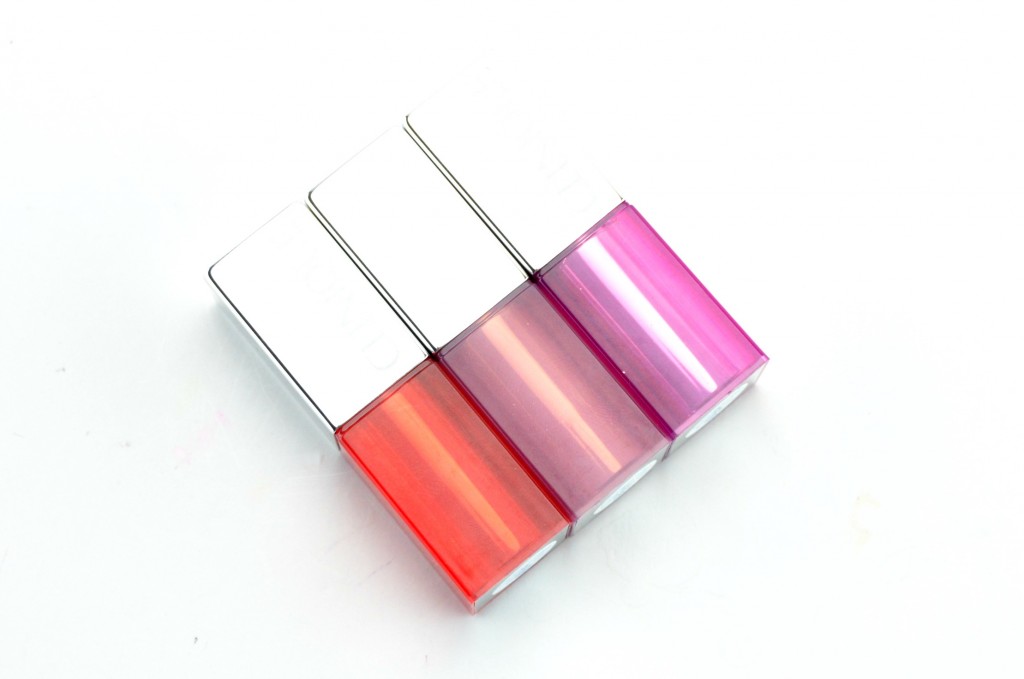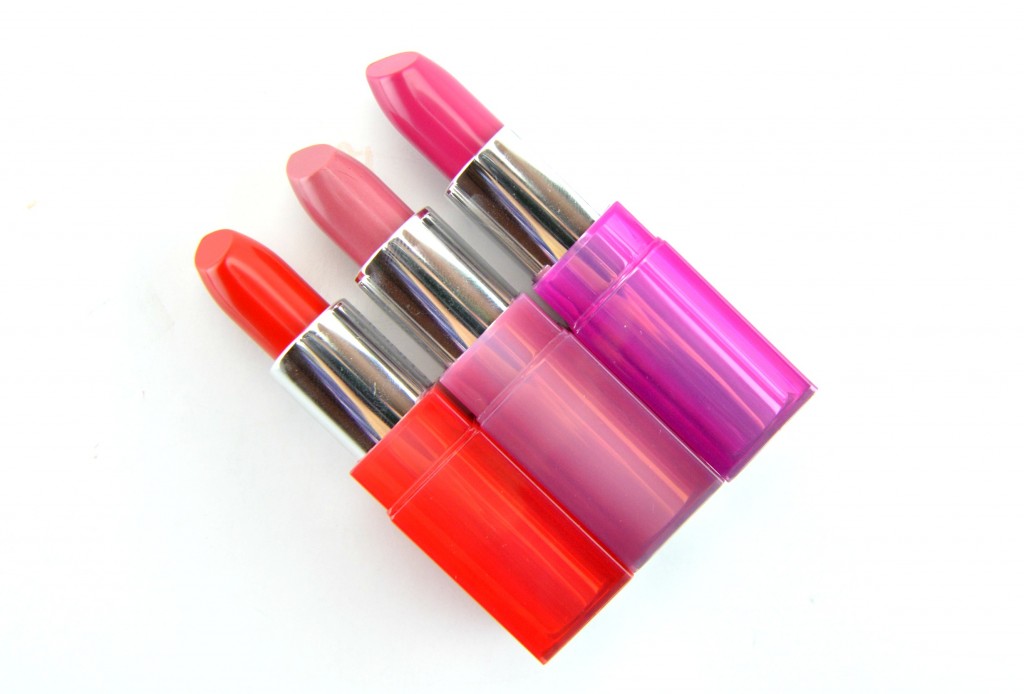 Clinique Pop Glaze Sheer Lip Colour and Primer in Fireball Pop, Sugar Plum Pop and Sprinkle Pop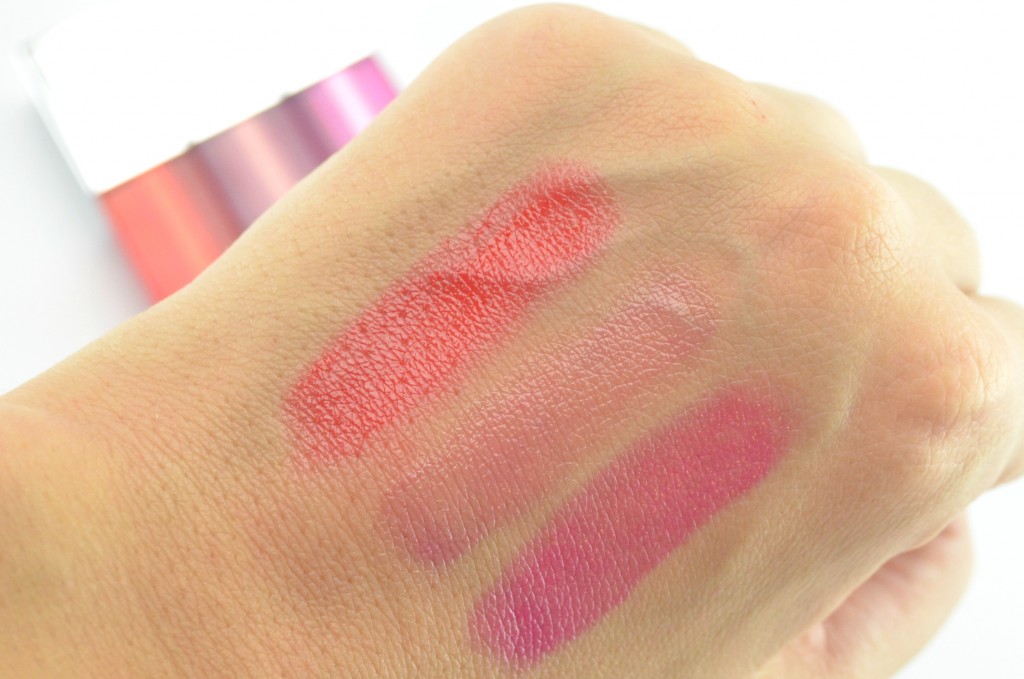 Clinique Pop Lacquer Lip Colour + Primer is a luscious liquid lipstick that provides a full-coverage finish with incredible shine. With just a single swipe of the applicator, you'll immediately receive intense colour in a modern lacquered finish that also moisturizes and smooths the lips. Application tip, apply in the middle of your lips and gently push the colour out to the edges for that perfect patent leather lip effect.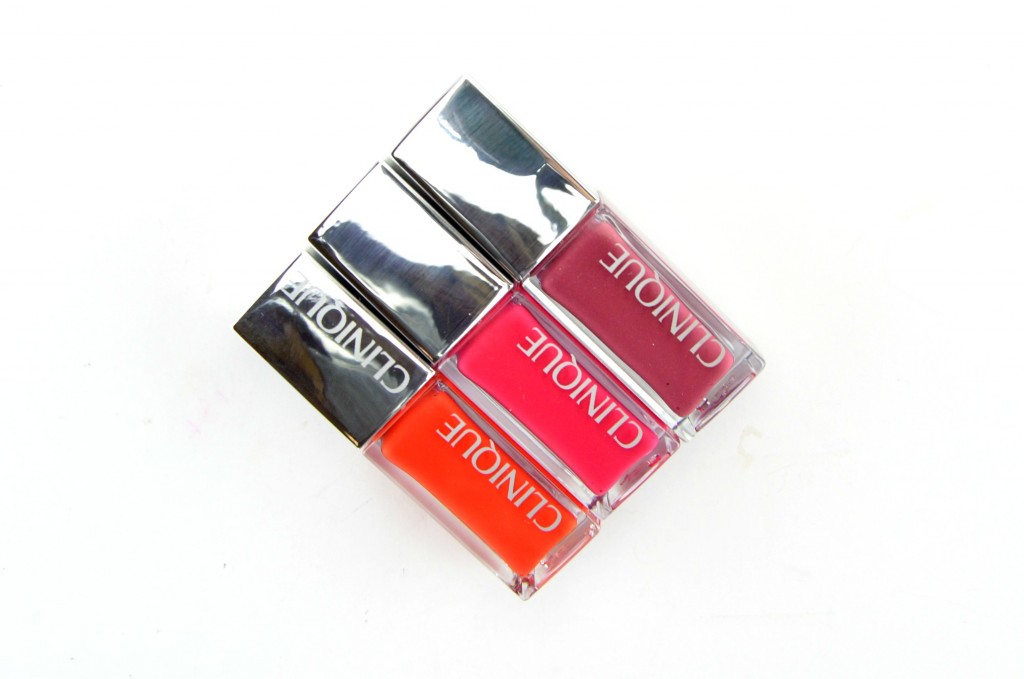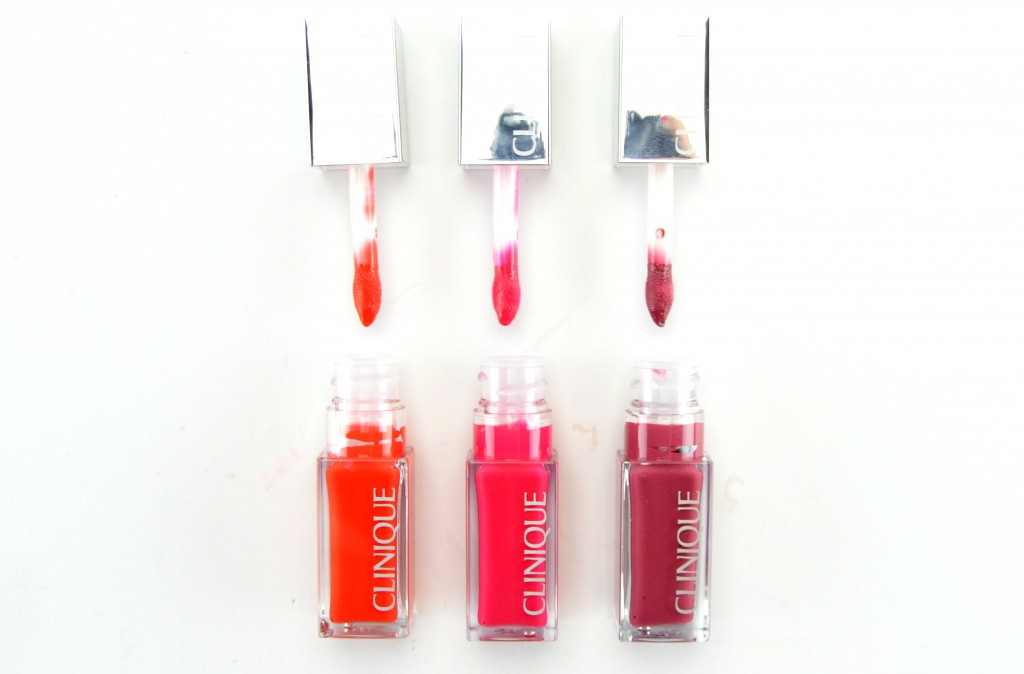 Clinique Pop Lacquer Lip Colour + Primer comes in the same square packaging as the original, and the ones above, but is in a liquid lipstick format and comes with a doe-foot applicator that's precise design allows you to follow the natural curve of your lips for a seamless application. It's silky, smooth and creamy texture glides on smoothly and flawlessly. It's lightweight, I swear it feels like you have nothing on your lips, yet its highly pigmented formula provides true colour payoff in a single swipe. It sets and dries within a few short seconds and is almost completely budge and transfer proof. If you're eating and drinking, it will transfer and fade quicker, but besides that, you can expect a good 6 hours of wear time. It's comfortable to wear the entire day, is moisturising and has a lovely lacquered finish. It retails for $23 in 10 irresistible pop inspired shades.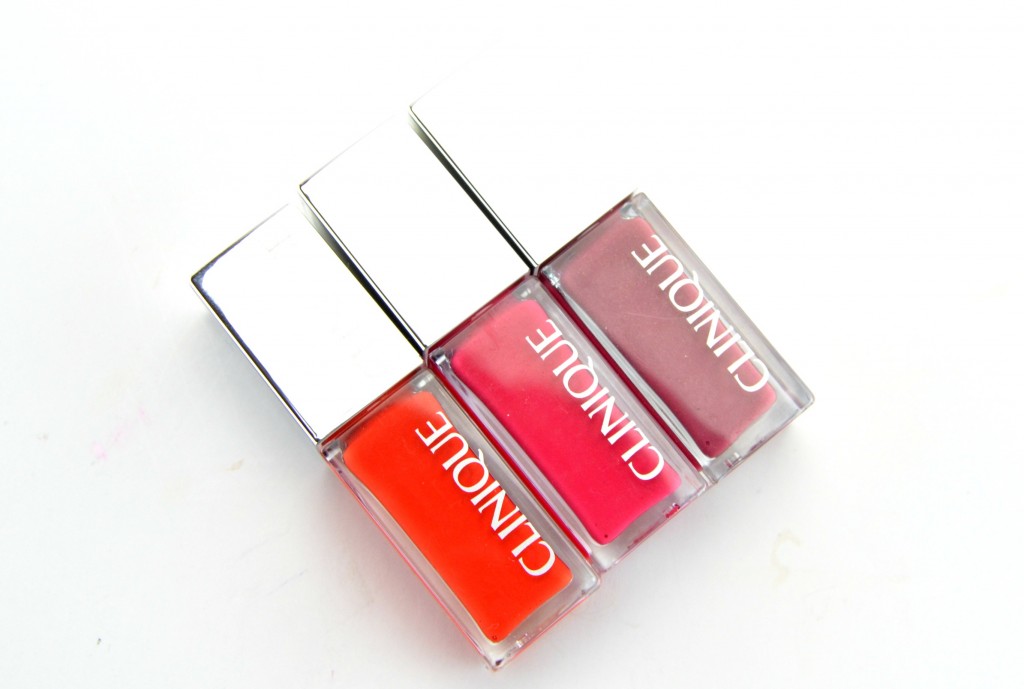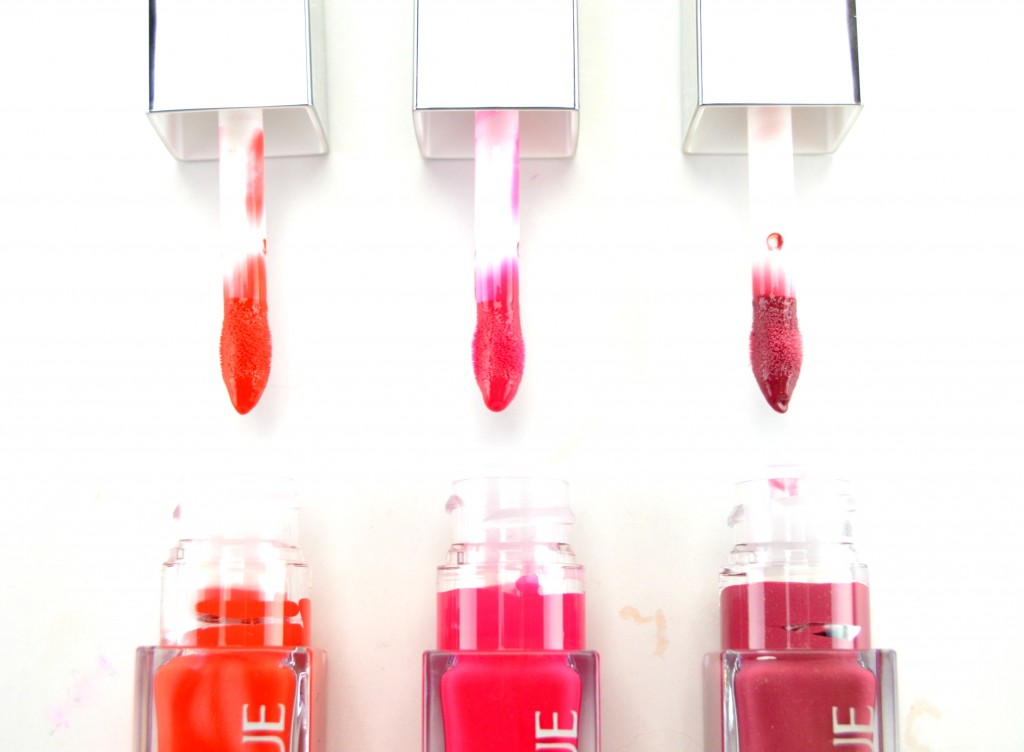 Clinique Pop Lacquer Lip Colour + Primer in Happy Pop, Sweetie Pop and Love Pop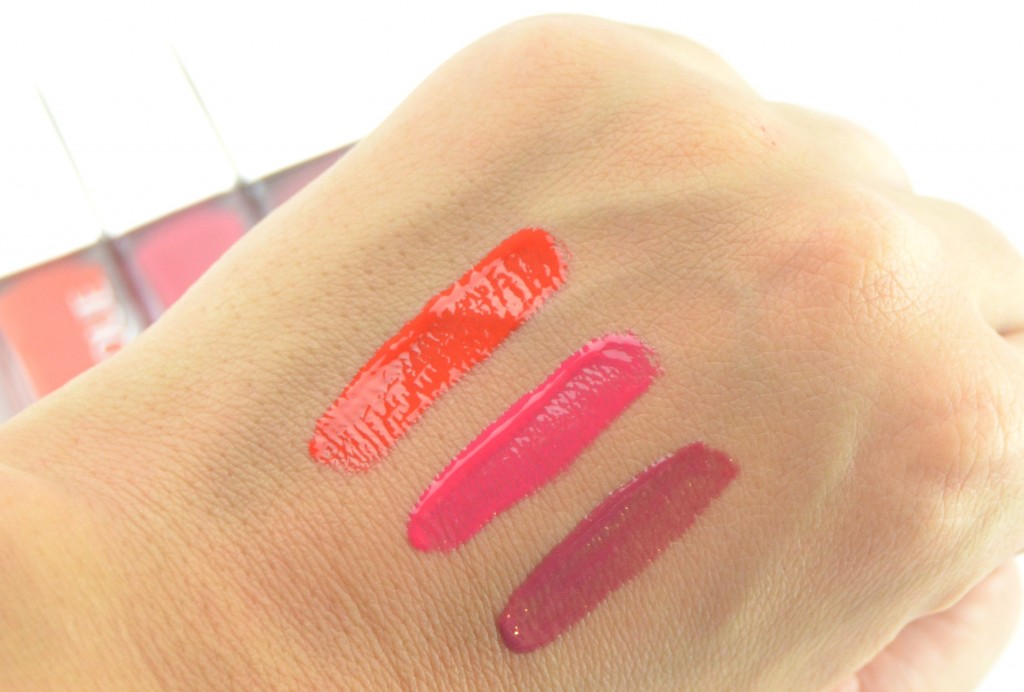 Clinique Pop Oil Lip & Cheek Glow is a liquid cheek and lip stain that's fluid-gel formula features a blend of nourishing safflower, jojoba and sunflower seed oils to help hydrate both the lips and cheeks. Its convenient wand applicator helps deliver just the right amount of this incredibly lightweight, luscious product, each and every time. Application tip, place one dot on the centre of your bottom lip and blend outwards for that perfect "bitten effect" or apply a drop or two on either side of your cheek, directly below the iris of your eyes and blend outwards, along your cheekbone using your finger, for that healthy pop of colour on your cheeks.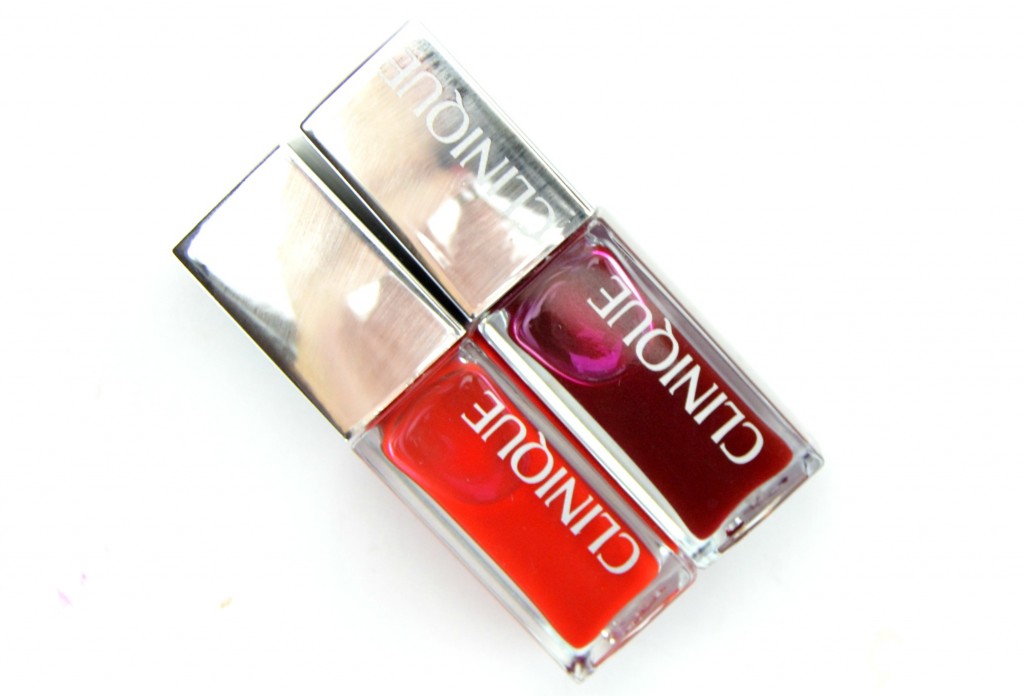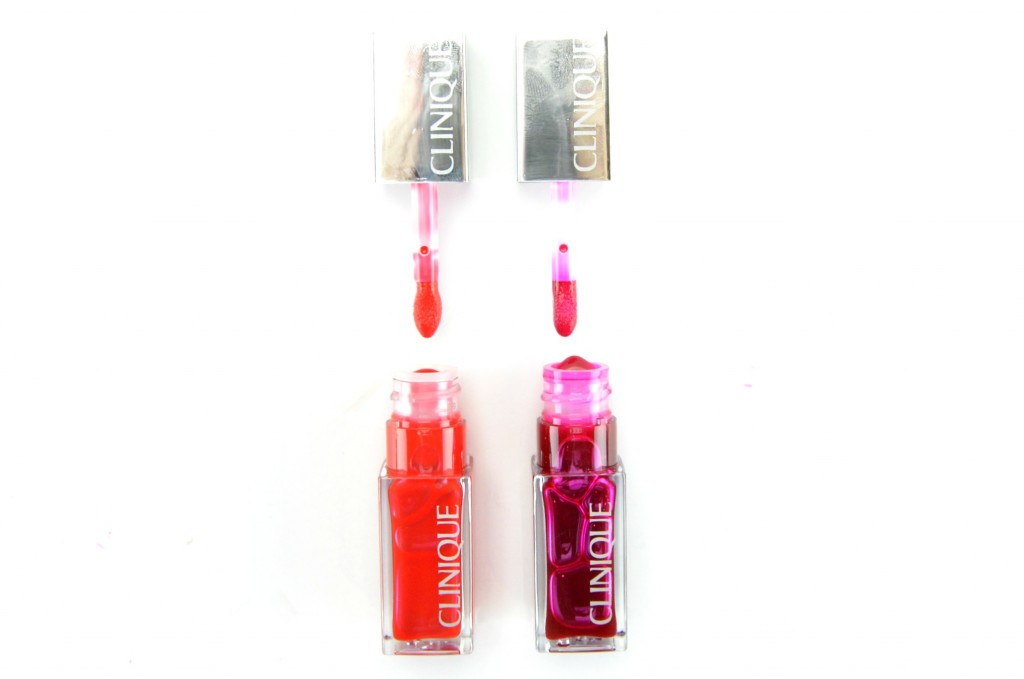 Clinique Pop Oil Lip & Cheek Glow also comes in the same packaging as the rest of the collection, but with a thick, yet thin, liquidy consistency. It's soft, buildable tint immediately provides an instant glow to both the cheeks and lips. By layering the colour or applying more of it, you can achieve a stronger colour payoff that's quite lovely. I do believe it's intended to be worn quite sheer and to just help provide a flush tint to the skin? Although it sets and dries fairly quickly, there's enough time to blend and perfect your look before it does. You can easily blend out without having to worry about waiting for it to dry. It works well over or under your foundation (when using it as a blush), but looks equally as beautiful on the lips.  I'm loving the subtle pop of dewy colour that it provides and how long it lasts on both the cheeks and lips. It retails for $23 in 4 beautiful shades.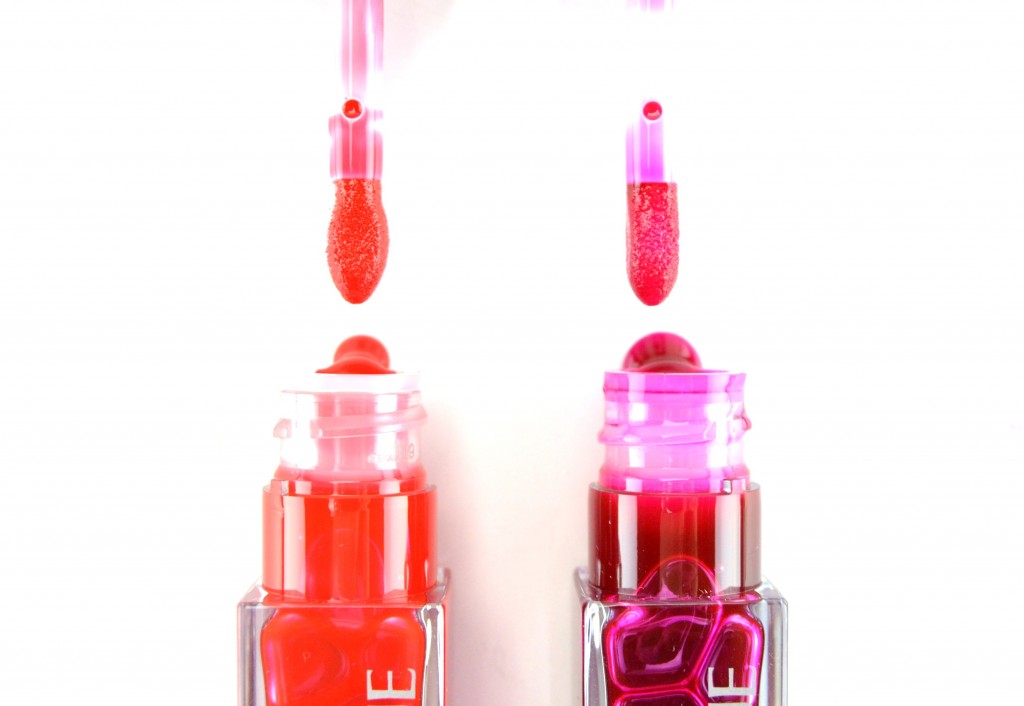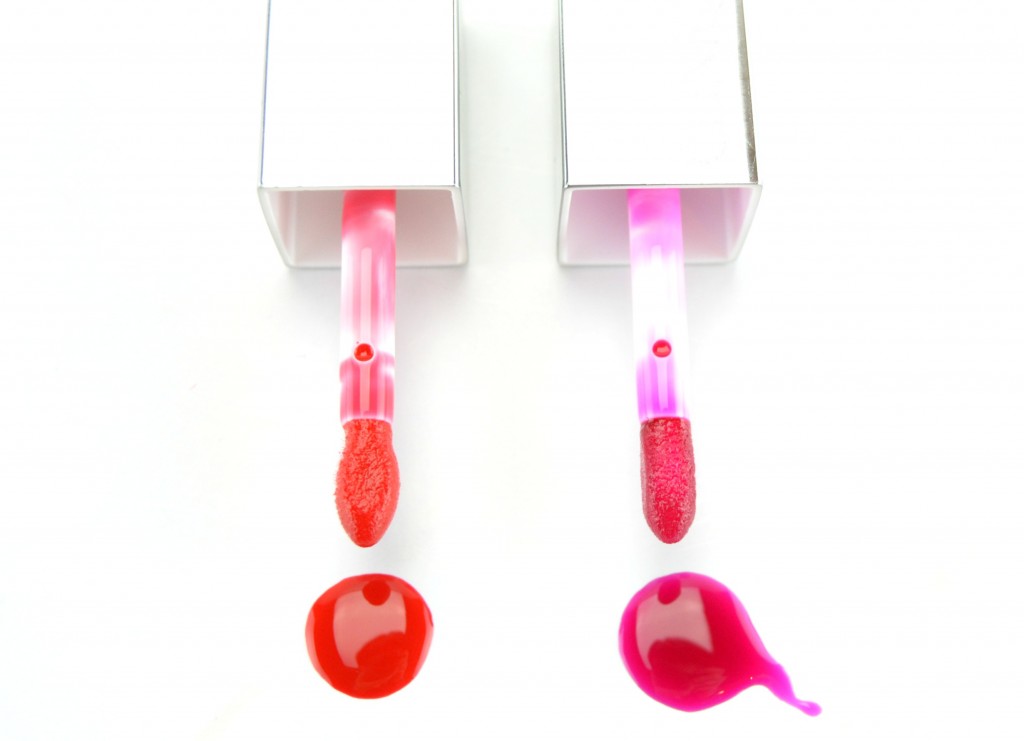 Clinique Pop Oil Lip & Cheek Glow in Poppy Glow and Rose Glow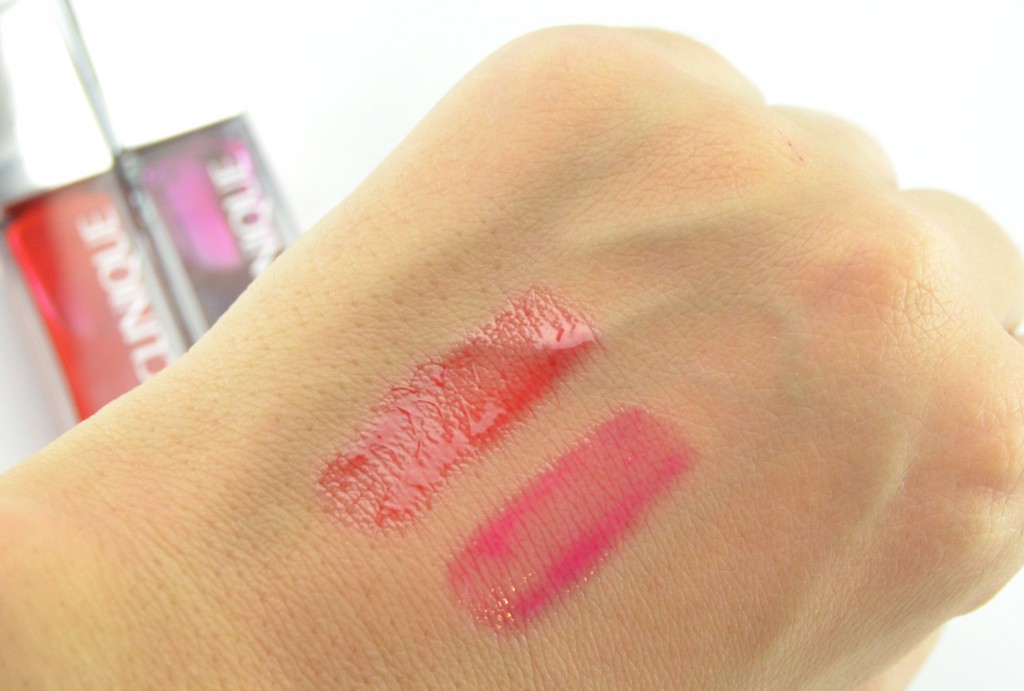 Clinique Lid Pop are much like the Cheek Pop Blushes in the sense they come in the same adorable small, round, translucent, plastic compact where your able to see the shadow within, along with a three-dimensional gerber daisy design on the actual shadow itself. It features a silky smooth, light as a feather formula that instantly provides a pop of colour for a completely powderless and seamless finish.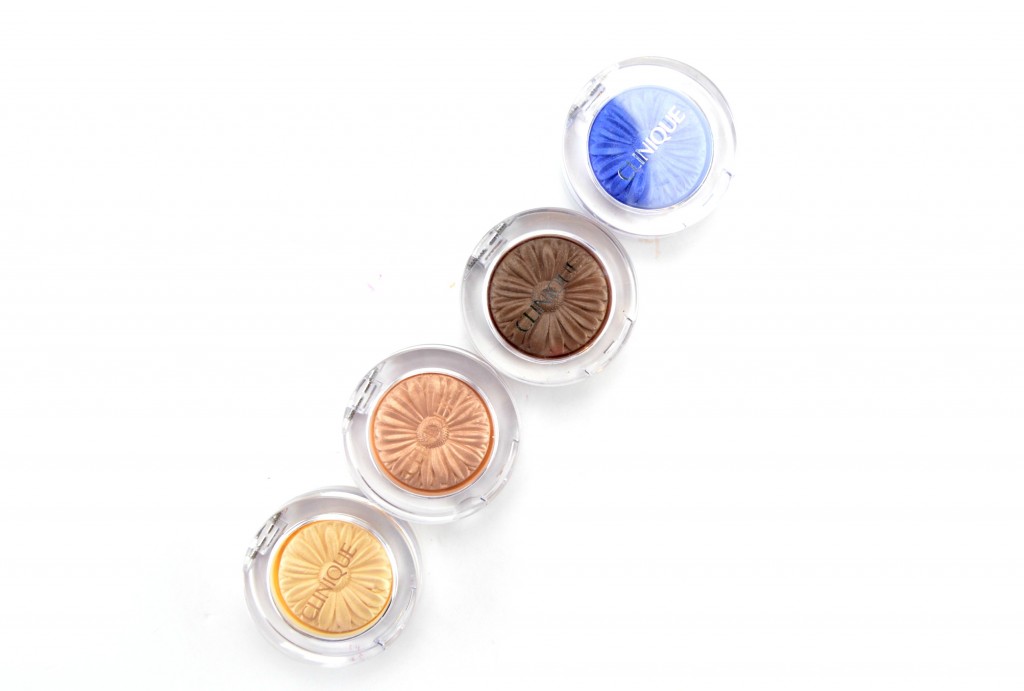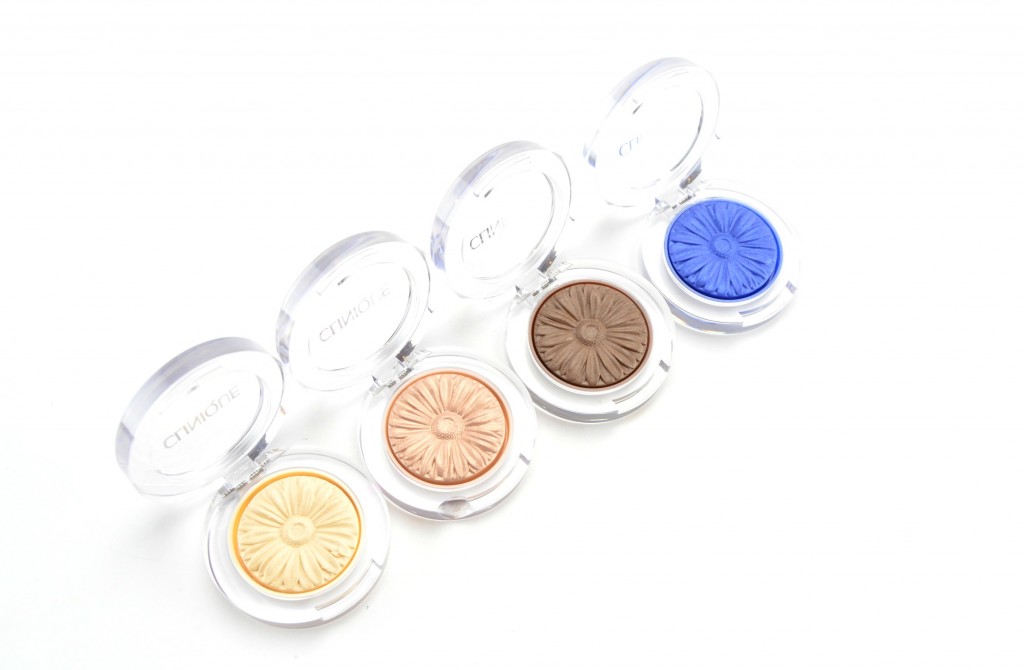 Clinique Lid Pop is a highly pigmented eye shadow that blends into the skin beautifully for a sheer, yet vibrant wash of colour to the lid.  It's buildable, if you're looking for a more intense colour payoff without becoming chalky or powdery. It lasts throughout the day without fading and gives a stunning effect to the lid. It comes in 8 new shades and retails for $22.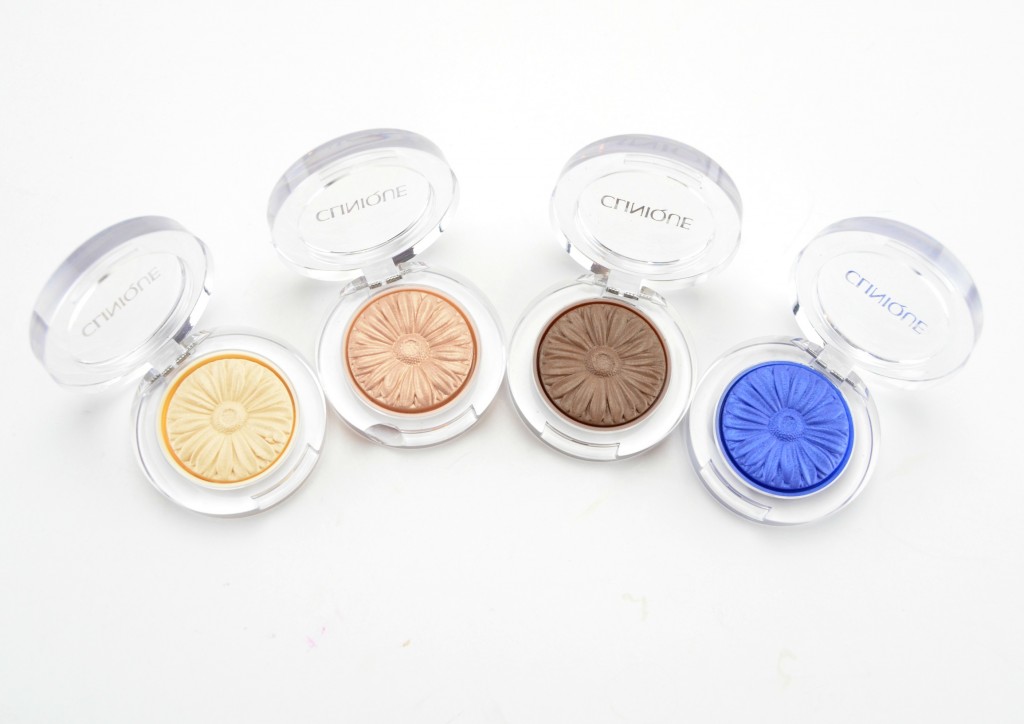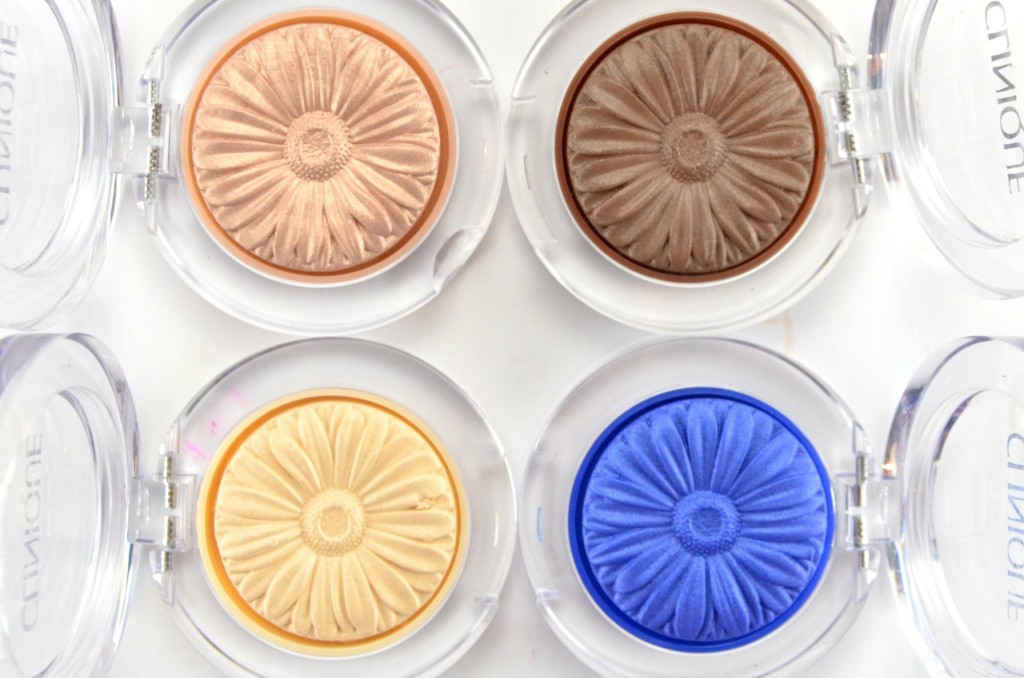 Clinique Lid Pop in Vanilla Pop, Cream Pop, Cocoa Pop and Surf Pop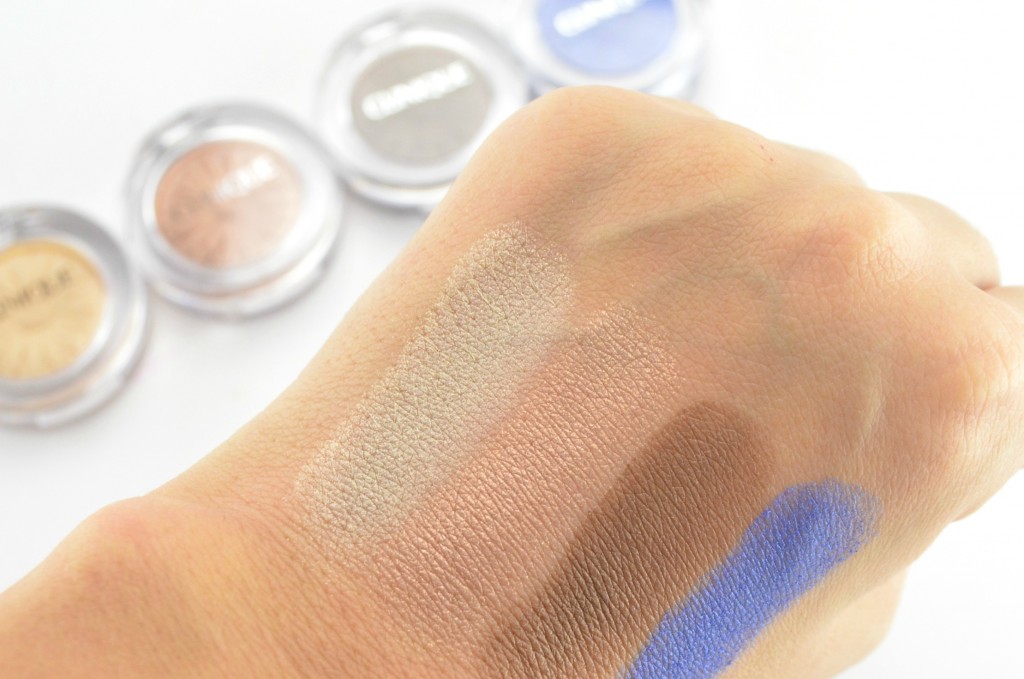 Playing off the success of their chubby stick lineup, Clinique releases the new Clinique Chubby in the Nude Foundation Stick. This on-the-go, portable foundation provides an instant, buildable, longwearing, natural finish that's moisturizing and hydrating at the same time. It features a unique blend of polymeric gels, waxes, moisturizing ingredients, Vitamin E and coconut fatty-acids to help give it its rich and creamy texture, long wearing, true colour, comfortable, flawless application benefits. It's perfect for all over coverage, touch-ups on the go, concealing minor imperfections with a sheer to moderate, smooth, natural finish.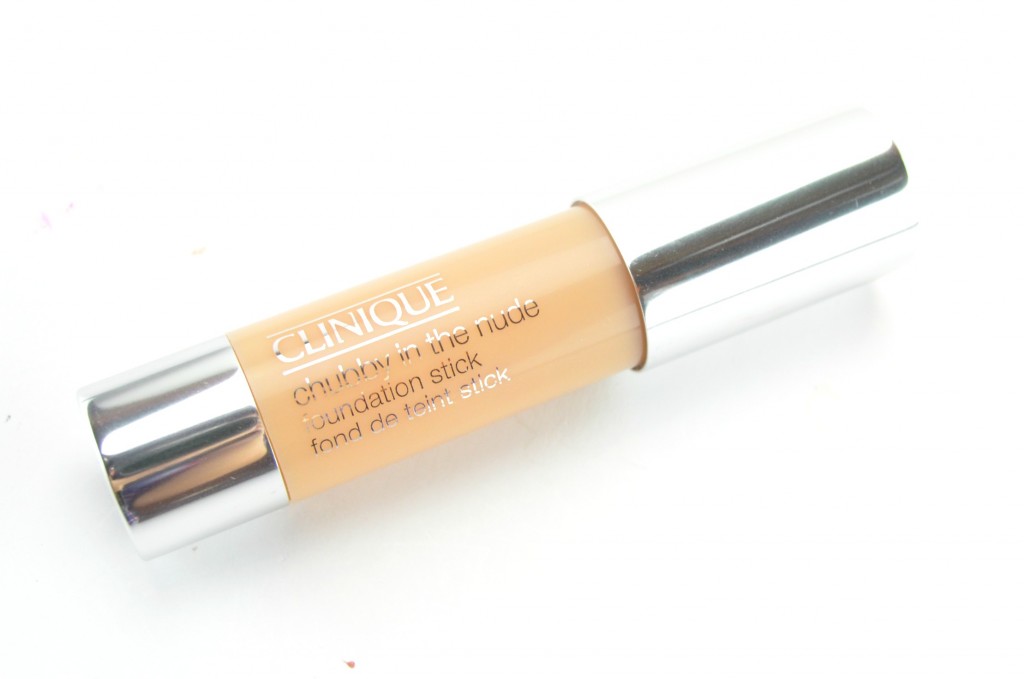 Clinique Chubby in the Nude Foundation Stick comes in the same jumbo size, swivel up design with dome shape head that you'd expect from the brand with a rich and creamy formula. The buttery consistency not only glides onto the skin with ease, but with the warmth of your fingers, it almost melts into the skin. It blends like a dream and sets and dries to a velvety, dewy finish. Although not highly pigmented, like a traditional liquid foundation, it provides enough coverage to even out complexion and provide a natural finish. Simply swipe the stick across the forehead a few times, down the bridge of your nose, across either side of your cheeks a few times, along the chin and then blend. It gives a smooth, seamless finish that doesn't settle into fine lines, cling to dry areas or settle into pores. It stays put for a solid 7+ hours without fading, creasing, becoming greasy or shiny, or oxidizing. The perfect foundation for that no-makeup, makeup look.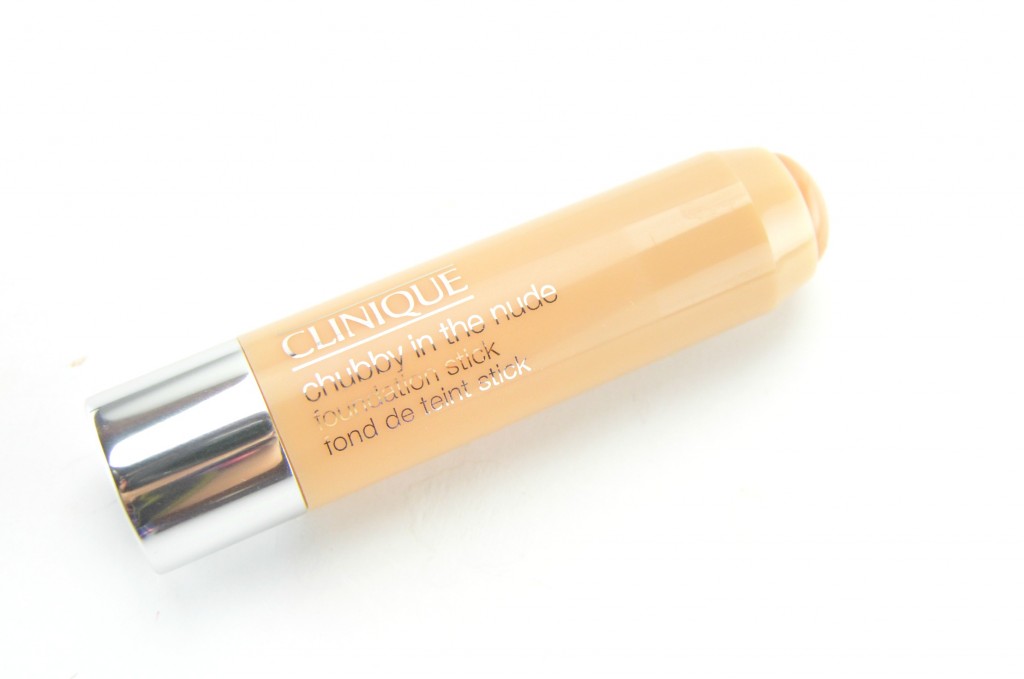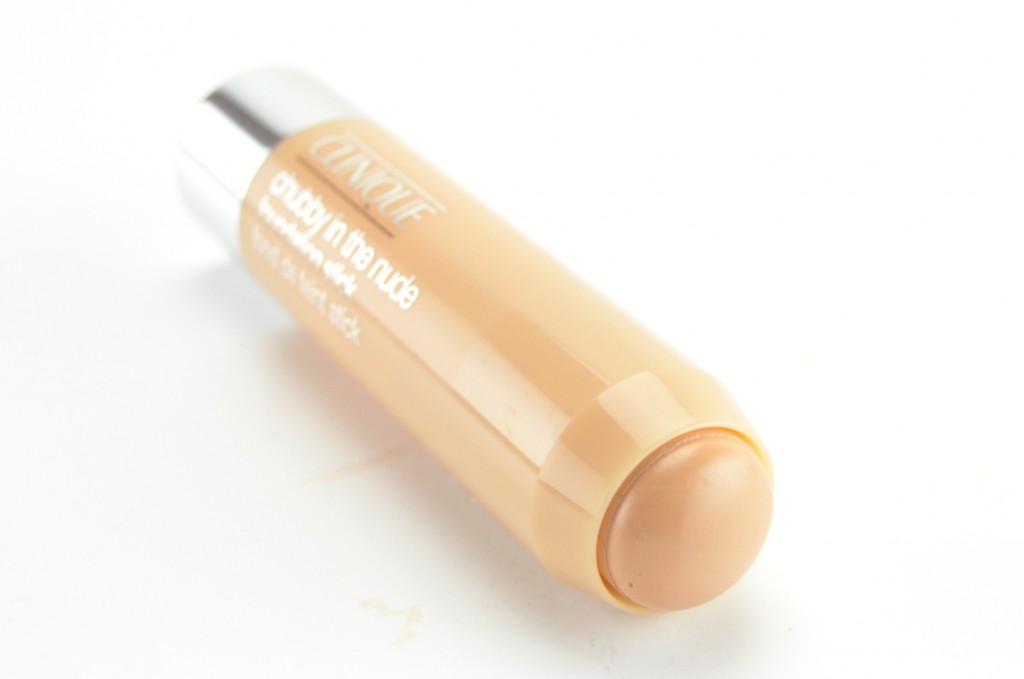 I'm not going to lie, I have a love/hate relationship with stick foundations. I love that they are easy to use, no brushes or fancy sponges required, just simply swipe and blend and you're good to go. That being said, the coverage is never that good, slightly one step up from a tinted moisturizer, until now. Although the new Clinique Chubby in the Nude Foundation Stick may start off very sheer, you can easily build it up to almost a medium coverage, without looking cakey or overdone. Not only does it help to even out my skin tone and brighten my complexion, it does a wonderful job at hiding minor imperfections, like redness around my nose and even minor blemishes. Its lightweight texture is breathable and extremely comfortable to wear the entire day, without feeling like you have a ton of product on. Although not completely matte, it's slightly dewy finish is the perfect balance between a dewy and matte, which looks incredibly natural, healthy and second-skin like. It retails for $29.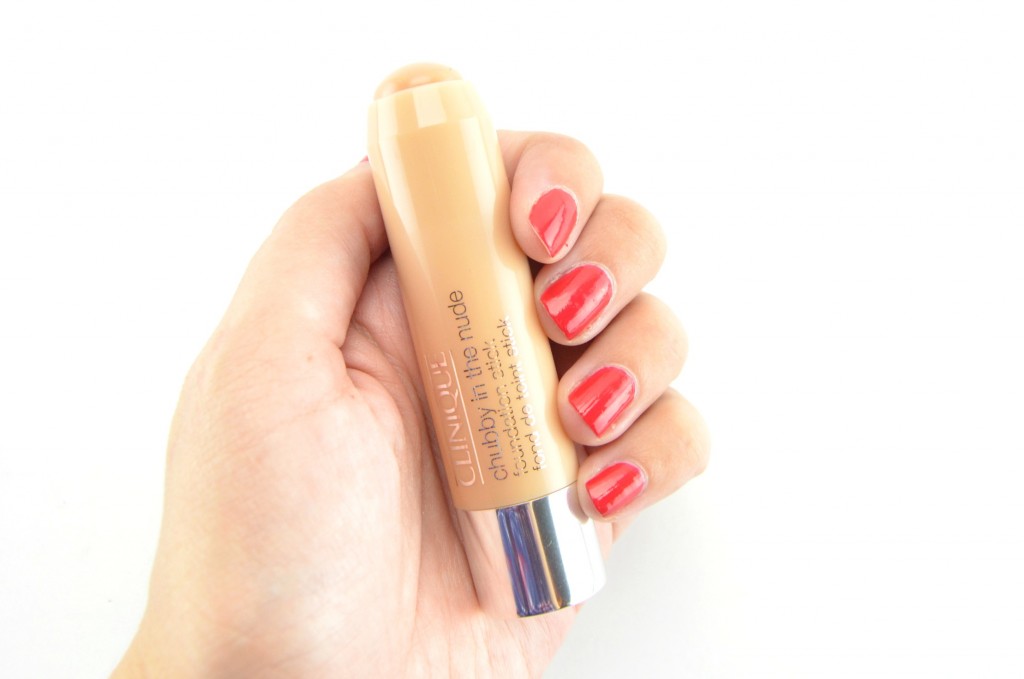 Help "take the day off" with the new Clinique Take The Day Off Micellar Cleansing Towelettes for Face & Eye. This ingenious little towelettes combine my two loves, cleansing wipes and micellar water. It comes packaged in a lavender, re-sealable, ready to-go packaging that's not only perfect for at home use, but is travel, gym and beach friendly. These oversize wipes are saturated in micelle spheres that gently and effectively breakdown dirt, oil and makeup, even waterproof and longwearing makeup, for a fresh, clean feeling. Simply swipe over entire face, even lips, to wash away the day. No rinsing is require, yet doesn't leave a greasy film or oily residue behind. It retails for $17.