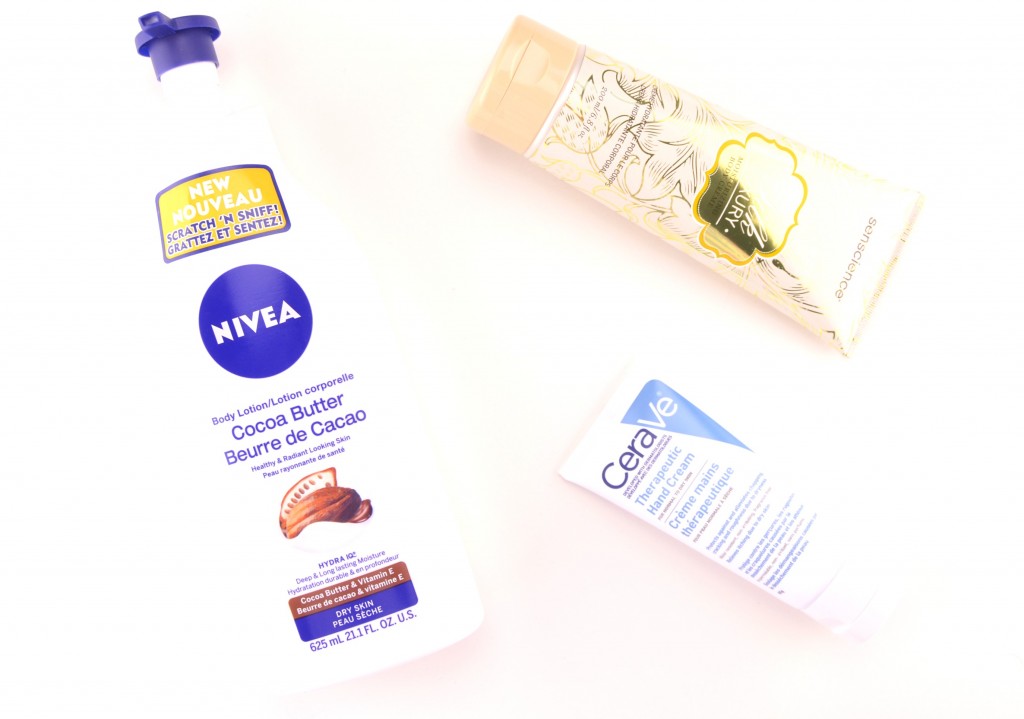 Keeping skin silky smooth

I've had the heat on and off in my house endless amounts of time this week. I think Mother Nature is confused on what season it is? One day it's extremely warm, next day it's freezing. With these colder months, come dry, chapped skin, but I'm being proactive this year and getting a jump start on highly moisturized skin this season. My three favourite body lotions for winter are Senscience Silk Luxury Moisturizing Body Crème, that's perfect for an all over body lotion, CeraVe Therapeutic Hand Cream, for you guessed it, your hands and Nivea Cocoa Butter Body Lotion for those days when you want a hint of chocolate.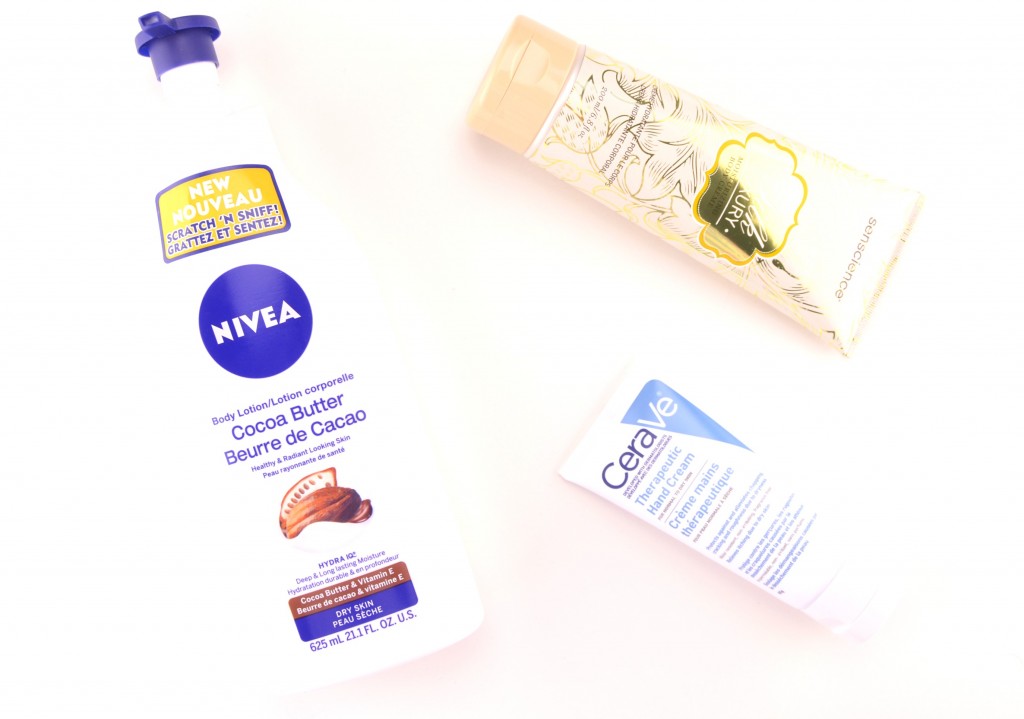 Senscience, has helped create flawless, beautiful looking hair for years, and has now expanded its line of professional hair care products. This season it introduces Senscience Silk Luxury Moisturizing Body Crème, with its unique blend of aloe vera, olive oil and safflower oil to keep skin silky smooth, super soft and extremely hydrated.

Senscience Silk Luxury Moisturizing Body Crème comes in a beige, with stunning gold detail, squeeze tube and features a thick, rich, white and creamy body lotion. It's luxurious, velvety texture instantly penetrates deep into the skin tissue and absorbs almost immediately for instant results. It doesn't have a sticky, greasy or oil residue, you're just left with soft, silky skin. It has the wonderful scent of pure vanilla extract and keeps skin moisturized for an entire 24 hours.

Senscience Silk Luxury Moisturizing Body Crème does an excellent job at replenishing moisture back into my dry, dehydrated skin. The aloe does a wonderful job at soothing my irritated skin, while keeping my skin smooth, silky and super soft for the entire day, without having to reapply. It actually gives a healthy glow to the skin, without looking shiny, just extraordinary hydration that lasts. It protects my rough skin and helps to nourish and add moisture back into my dry, dull skin. I'm kinda obsessed with the scent, sweet vanilla, almost like vanilla cupcakes. Keep in mind, it does linger on the scent for a few hours, which I'm totally okay with. It retails for $14.95 for 200ml at professional salons near you.
CeraVe was the first skin care brand to contain 3 essential ceramides, cholesterol and fatty acids in their skin care products to help and promote healthy skin needs. It recently just launched a "'handy' new hand cream to help support daily hand health. CeraVe Therapeutic Hand Cream features dimethicone, a skin protectant that helps to shield your hands from harmful irritants, allergens and other annoying stimuli to help repair, restore and protect dry hands. Hyaluronic acid attracts water to the skin to ensure the skin remains moisturized and hydrated throughout the day, while Niacinamide helps to repair and restore skin's natural skin barrier and helps to reduce redness. Ceramides helps to repair, restore and maintain skin's natural barrier, which is essential in preventing water loss.
CeraVe Therapeutic Hand Cream comes in a convenient squeeze tube with an extremely thick, rich and creamy formula. It has a silky, lightweight, yet extremely hydrating texture that has enough emollients to keep very dry hands feeling highly moisturized. It instantly absorbs into the skin without feeling oily or greasy. Skin is instantly smoother with less dry patches and both nails and cuticles are softer with less rough edges. Its scent free and blends into the skin within seconds for a soft and smooth feeling that lasts all day.
CeraVe Therapeutic Hand Cream is the perfect lotion for daily use, as it features a water resistant formula that protects skin, even with excessive hand washing. Skin not only looks and feels softer, it looks and feels smoother, more hydrated and a lot healthier. It's the perfect size to carry in your purse, as you can apply it throughout the day (not that you'll need to) without that sticky or greasy feeling. You can instantly continue on with your day without having to wait for it to absorb into the skin. It helps to protect chafed, chapped, cracked dry skin and restore it back to its natural state. It retails for $13.99 for 85g at mass retailers and grocery stores across Canada.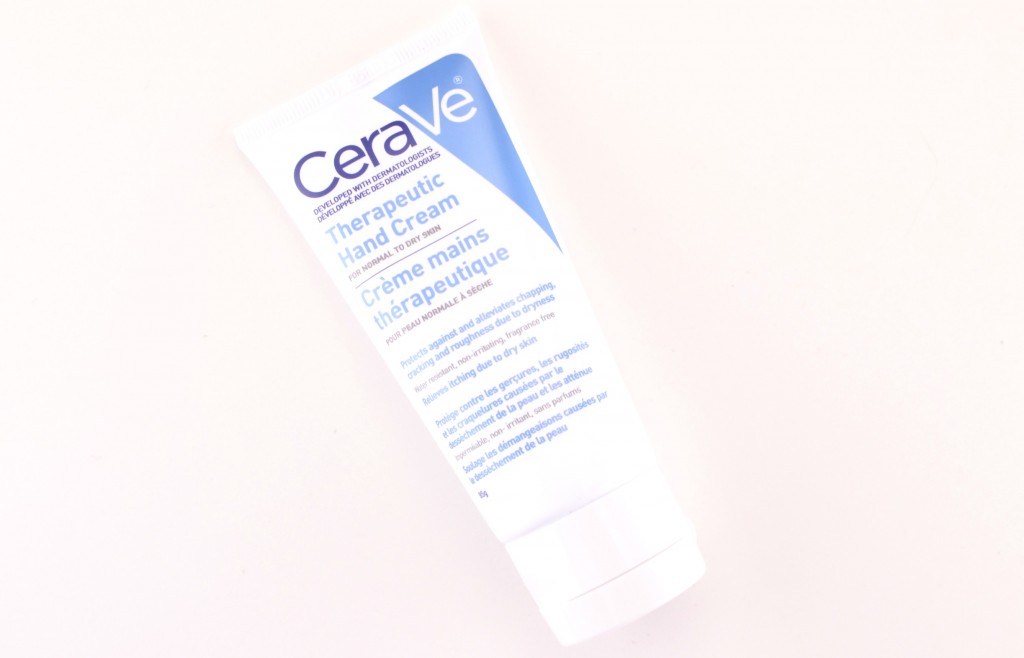 Nivea Cocoa Butter Body Lotion will not only keep your skin hydrated and extremely moisturized, it hits you with intoxicating cocoa goodness. This irresistibly scented lotion helps to soothe dry skin for intense, long-lasting moisture that keeps both hands and body silky smooth, soft and radiant. Of course, it features cocoa butter, along with vitamin E, to help keep skin moisturized and smooth, no more rough, dry skin.
Nivea Cocoa Butter Body Lotion comes in a pump bottle with a scratch and sniff sticker on the front, so you're able to tell if you're going to enjoy the scent (of course you will). It has a thin, lightweight, almost gel-like texture that applies, blends and absorbs fairly easily and quickly. It provides 24 hours-worth of moisture, leaving skin feeling smooth, nourished, but never greasy. It provides a beautiful, healthy looking glow and retails for $9.99 for 625ml.