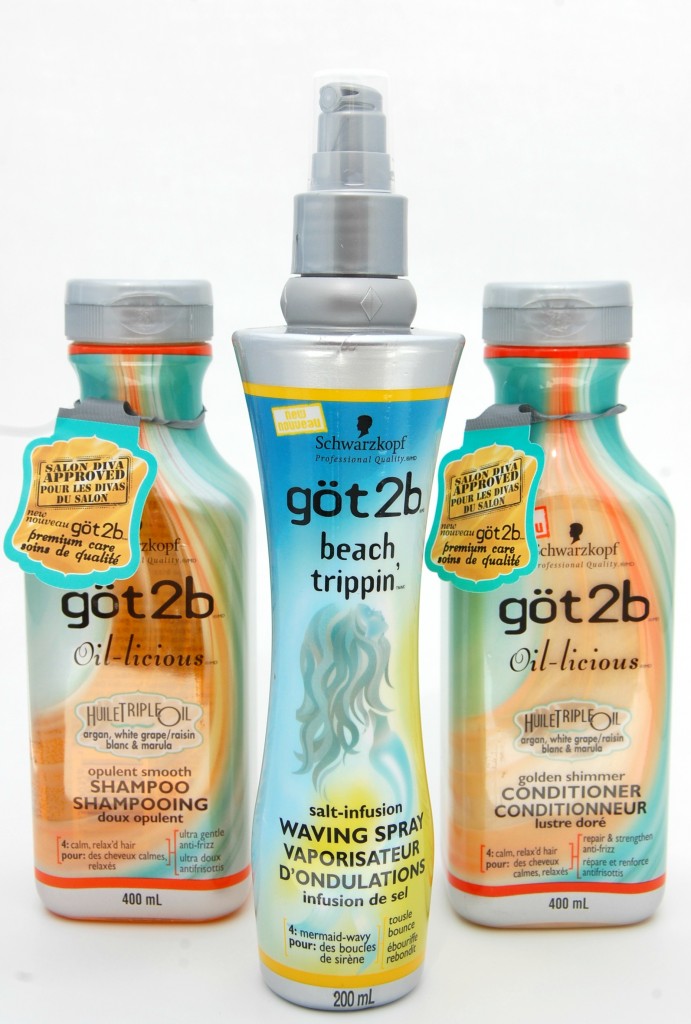 What a long, long winter, this girl is finally ready for spring and so is her hair. In the winter months I tend to use a lot of hair masks with extra hydrating properties so my hair doesn't feel so dry, but in the hot summer I want something a little lighter but still offers my hair the nourishments it needs.  göt2b launched it new Oil-licious Opulent Smooth Shampoo & Golden Shimmer Conditioner this past February coming off the success of their styling oil; it delivers just what your hair needs to be calm and glamorous at the same time! I was given a bottle of each to test out and my hair has been very happy and healthy for the past 2 weeks.
By now we all know that Argan Oil, Marula Oil and White Grape Seed Oils are beneficially to our hair but sometimes come with a hefty price tag, thanks to göt2b Oil-licious Shampoo and Conditioner you get all these wonderful ingredients with a cost everyone can afford.  göt2b NEW Oil-licious Opulent Smooth Shampoo and Golden Shimmer Conditioner retail for only $7.99 each for 400ml and can be found at your local Shoppers Drug Mart, Walmart, PharmaPlus, Loblaws and Target across Canada.
Both these shampoo and conditioner are extremely lightweight, leave no greasy feeling behind, they both smell amazing, I swear I didn't want to get out of the shower after using them and it leaves your hair feeling manageably and silky smooth….. touchable soft is an understatement!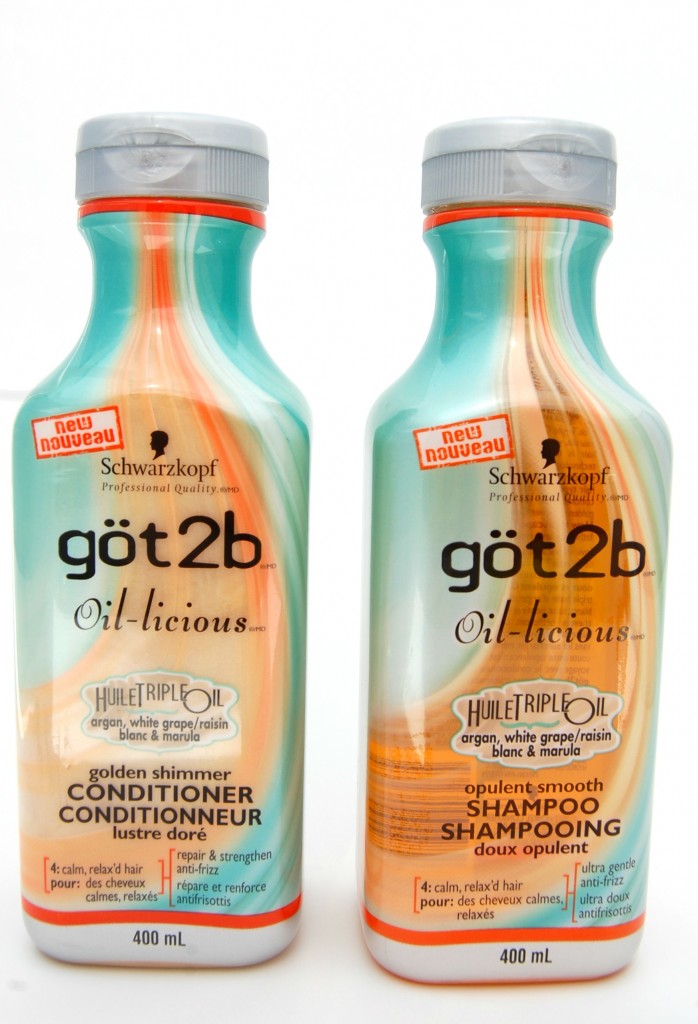 Each product offers something a little different; the göt2b Oil-licious Opulent Smooth Shampoo has micro-emulsion technology providing sumptuous shine and touchable smoothness and will also improve the shine of your hair by 100% versus untreated hair. I'm not normally a drug store shampoo kinda gal, but I did notice that after showering I was left with fewer frizzes, which made it a lot easier when straighten my hair. I don't know about you but I don't feel like the shampoo is working unless I see a lot of bubbles building on my hair, with only a small pea size amount (which I usually go overboard on) I  got a nice lather going and I was one happy girl.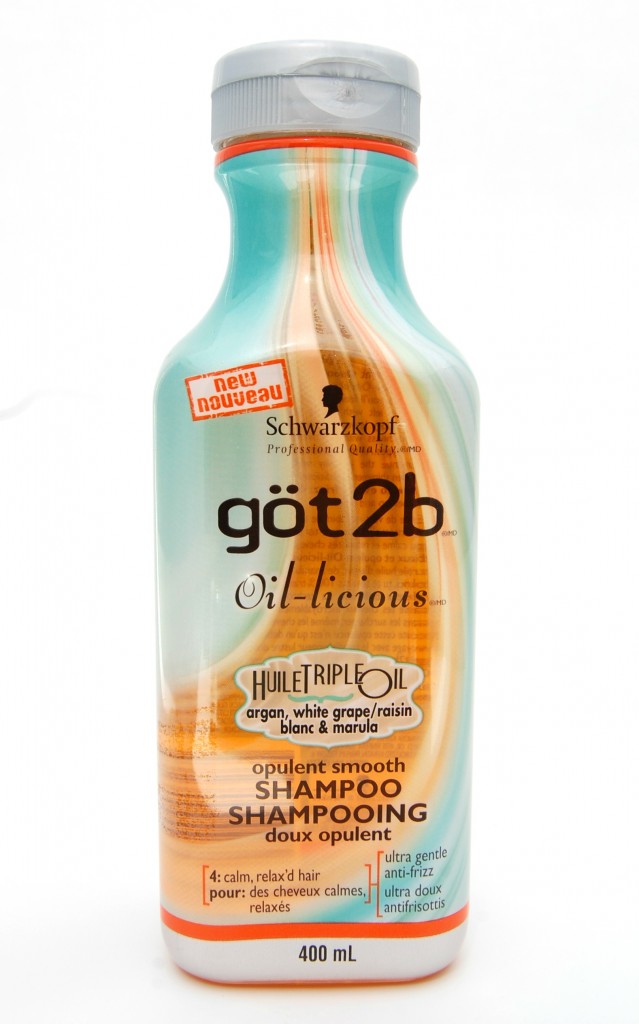 The göt2b Oil-licious Golden Shimmer Conditioner delivers effective detangling properties while nourishing your hair with indulgent care of precious oils and is infused with mica to impart a delightful golden shimmer to the hair. I'm not gonna lie I was a little scared when I saw "shimmer" but now I'm kinda in love with it; it's not overwhelming at all, but when the sun hits your hair is really sparkles.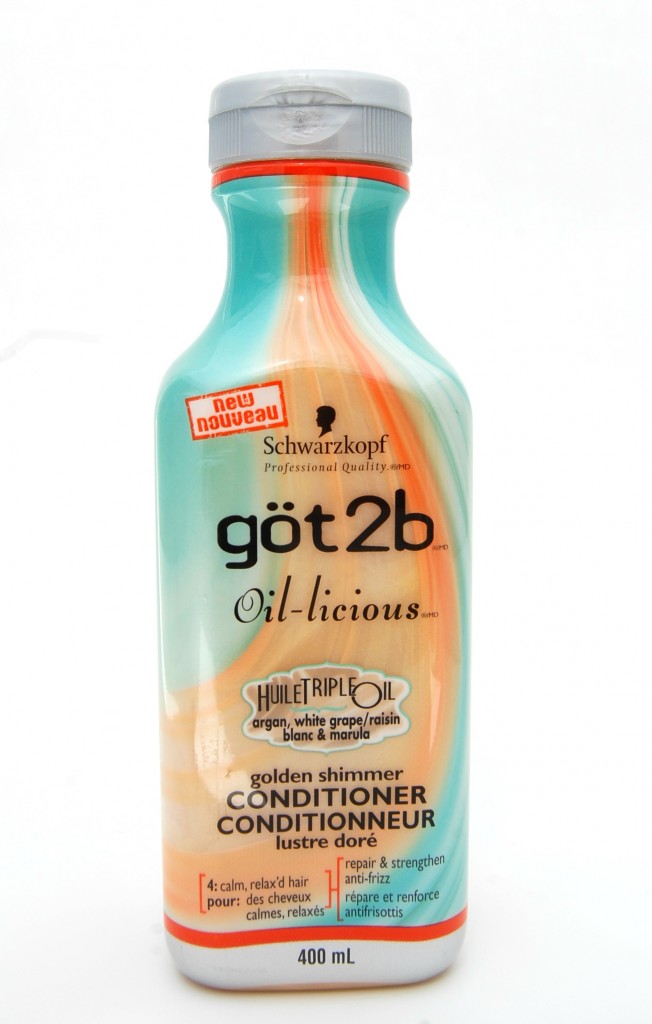 I found both to be ultra gentle on my hair and left a nice glossy shine behind. Both products didn't weigh my hair down and by the end of the day it was still silky smooth and shiny; I could probably go 2 days without washing it if I wanted to.  I really do love both, they go hand in hand and if nothing else, they smell amazing… probably the best smelling shampoo and conditioner I've smelt in a long time!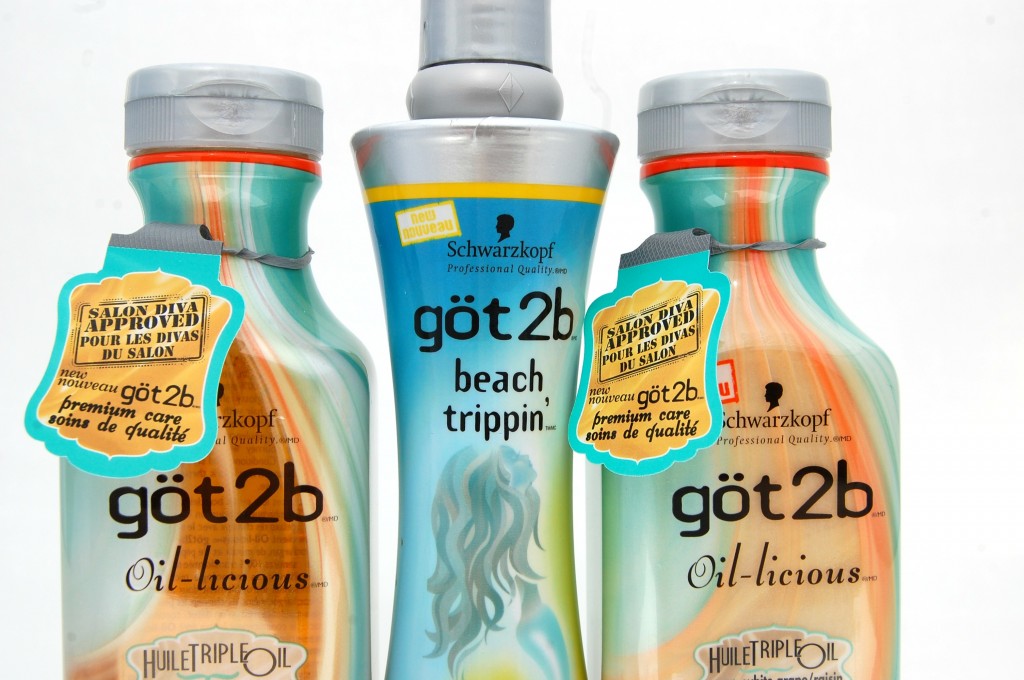 No matter how hard I try I can never get my hair to curl, hair dressers have no problem, I come home follow the easy steps they taught me and…. nothing! My hair just looks like a crazy mess and I gave up. Now there's no need to wait for your next vacation to get the waves you've always dreamed of thanks to the new göt2b's Beach Trippin' Salt-Infusion Waving Spray!Infused with natural salts to rival any sea sirens', göt2b's Beach Trippin' Salt-Infusion Waving Spray will deliver just the right amount of rough matte texture and 'piecey' dimension for enviable mermaid strands. and it will also add moisturizer that will help prevent dryness with continued use over time. I have yet to test this out cause I've afraid of the turn out, not because of the product but because of how badly I style my hair. If and when I do use it I'll be sure to share my thoughts…. I'm sure its amazing!
Have you tried any of these 3 new products I would love to hear what you think?