Alicia here from Funny Face Beauty and while some enjoy the reprieve from hot and humid summer weather, and others the opportunity to pull out their favourite leggings and cozy sweater, my personal favourite thing about fall is the chance to change up my everyday makeup routine. Gone are the days of bronzed skin, neutral eyes and bright neon lips. For me, fall is all about my favourite combination, a fall-inspired smoky eye and deep vampy lip.

While, I'm sure most us have heard the 'rules' that a bold lip should be paired with a neutral eye and a smoky eye should be paired with a light nude lip, I'm here to tell you to throw caution to the wind and ignore those rules. Fall makeup is all about the drama and, in my opinion, there is nothing more dramatic than a dark vampy look.

Below is one of my favourite fall looks. Using my Anastasia of Beverly Hills 'Catwalk' palette, I chose autumn inspired colours (golds, oranges, plums and deep browns) to create a slightly colourful smoky eye. Knowing that both my eyes and lips were going to be the centre of attention for this look, I decided to keep my cheeks neutral using three (yes, three) of my favourite blushes, a nude brown to contour my cheekbones, a light plum to add definition and a berry-pink for a subtle pop of colour. Of course, my favourite part of the look is the deep, vampy lip. I started by using a deep lip liner (this will help your dark lip from creeping its way past your lip line and giving you that scary 'joker' look), then one of my favourite MAC lipsticks, 'Rebel', a dark purple that, while scary in the tube, looks amazingly sophisticated once applied to the lips. After using one of my favourite glossy lip pencils to add a hint of shine, I made sure to trace the outside of my lip line using a small brush and a flesh toned concealer, making the lips looks crisp and well defined.

I absolutely love my finished vampy look and will, without a doubt, be wearing it throughout the fall. Below is a list of all of the products I used to achieve my look.

Face:
Gorgeous Cosmetics Base Perfect Liquid Foundation in '1NB'
MAC Prep and Prime Highlighter in 'Radiant Rose'
Make Up For Ever Pro Finish Powder in '113'
Hourglass Cosmetics Ambient Lighting Powder in 'Luminous Light'
Tarte Cosmetics Amazonian Clay Blush in 'Exposed' (used to lightly contour)
NARS Powder Blush in 'Sin'
Wet n' Wild Powder Blush in 'Heather Silk'
Eyes:
Anastasia Catwalk Eyeshadow Palette
L'Oreal Paris ' Infalliable Super Slim' Liquid Eyeliner
L'Oreal Paris Voluminous Power Black Smoke Mascara
Lips:
Lancome Lip Liner in 'Mauvelle'
MAC Lipstick in 'Rebel'
Revlon Just Bitten Kissable Balm Stain in 'Smitten'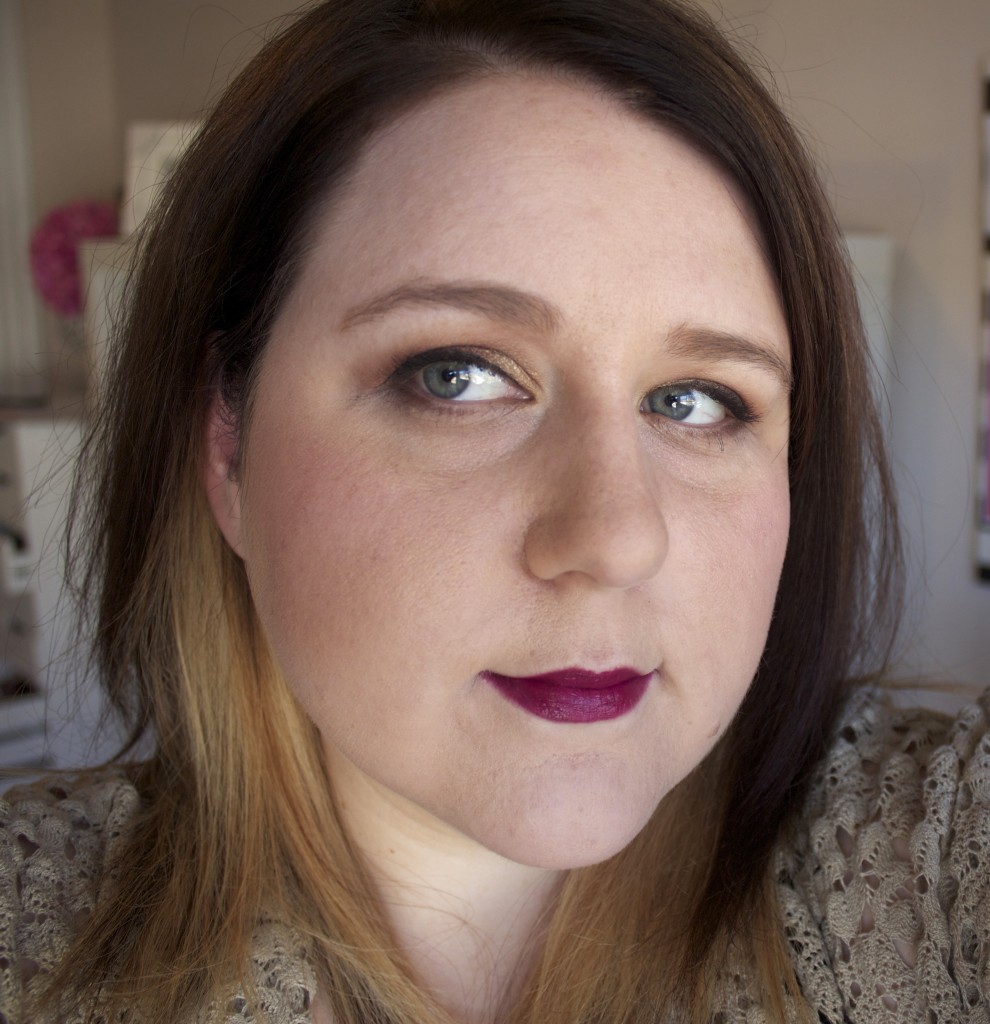 I would love to hear from you, please feel free to stop by my blog at Funny Face Beauty and say hello