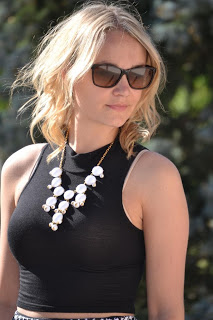 Hey everyone! I'm Jenelle from Nelle Creations and I'm filling in for Amber as she's away celebrating with her man for her 7th anniversary and birthday! Very exciting and I would be lying if I didn't say I was a bit jealous that she's probably sitting on a beach right now sipping on a Pina Colada!
While she's there I'm going to talk to you guys about Fall trends!
I'm personally a big fan of Fall – you can wear over sized sweaters, adorable boots and leggings and I'm going to share with you some of my favourites that are all under $100 each and some of my past Fall looks that I've worn.
Which looks are your favourite? Be sure to stop by my blog, Nelle Creations and say Hi!