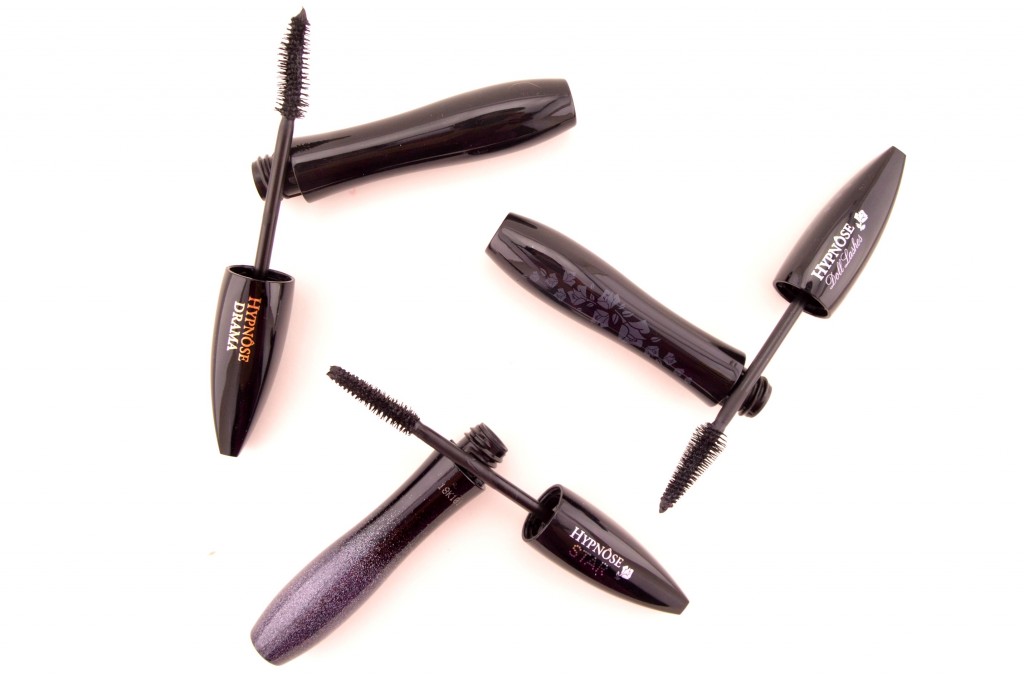 4 Iconic Mascaras

Lancôme has 4 iconic mascaras that I've mentioned a few times on the blog before, but have never really gone into detail about them. Lancôme Hypnôse Doll Lashes give you that wide-eye, volumunized look, Lancôme Hypnôse Star give you intense volume, Lancôme Hypnôse Drama gives you intense full body and Lancôme Hypnôse give you a more custom volume look.

Lancôme Hypnôse Doll Lashes create a wide-eye, doll like lashes with extended lift and volume. It has a lightweight drier formula that adds lift and thickens every single lash without weighting them down. It features a unique cone shaped brush that's pointed at the top for precise defining, even those hard to reach corners, and lower lashes, along with a wider base to provide extremely smooth, clean, fanned out lashes. It contains nylon powers that help to sculpt and curl each lash for that doll-like look. Although it doesn't add a ton of length, it does provide enough volume and dimension to the lashes to give the appearance of bigger, brighter eyes. If you're looking for a flirtatious, volumized, wide-eye look, this is the mascara for you. It retails for $31.50.
Lancôme Hypnôse Star creates show-stopping, glamorous volume with alluring length. It comes in a black sparkling tube with a light texture, with a somewhat drier formula. It features an exclusive double-sided brush that's flat on one side to help coat each lash for mega volume, where the rounded side easily combs through each lash to help separate, add definition and provide superior length. Once lashes are curled, its hard wax formula helps to set and hold them throughout the day. Its black diamond complex contains light-reflecting particles for luminous, intense colour that gives each lash an almost glossy, patent leather finish that's incredibly black. If you're looking for intense volume, starting at the lash line, along with sensuous curve from root to tip, this is the mascara for you. It retails for $33.50.
Lancôme Hypnôse Drama creates instant full body volume. It has triple coating formula with a creamy, liquidy texture that applies quickly and easily for a clump free look. It features an S-shape brush with lots of soft, thin bristles that really help to pack on the mascara. It helps to curl, grasp and load each lash for a fanned out, full body fringe. Use the flat side to brush on the mascara, comb through the lashes using the other side and then finish using the tip to get into the inner corners of the eyes. Its texturizing complex contains highly saturated waxes and intense black pigments for maximum volume and length, with a high gloss, extremely black look. It gives longer, thicker, fuller lashes with defined, curled lashes that lasts throughout the day. Although it's not waterproof, it doesn't flake or smudge, even in this hot, humid weather. If you're looking for ultra volume, with a define curl for a dramatic false eyelashes look, this mascara is for you. It retails for $31.50.
Also in the collection, which I have yet to try, is the original Lancôme Hypnôse for 6 times the volume for hypnotizing eyes. It retails for $31.50. If you like this Lancôme Hypnôse Mascara Review, you might also like  Lancôme Golden Riviera Collection Star Bronzer and Lancôme Lip Lover