A matte gloss, isn't that a contradiction? How can something that features a matte finish, also be glossy? The new L'Oreal Infallible Pro Matte Gloss is the first long-wearing matte liquid lipstick with a gloss-like texture. It's plush and cushiony consistency offers a tiny bit of shine, similar to a gloss, but sets to a matte finish. It provides intense bold coverage, yet doesn't feather or bleed outside the lines. Its hydration formula helps to keep your lips incredibly smooth, velvety and soft, that's never flat or dull for up to 6 hours.

L'Oreal Infallible Pro Matte Gloss comes in your standard lipgloss tube with an exceptionally wide flocked applicator that's wide at the base, to help deposit the perfect amount of colour and pointy at the tip, which helps for creating that flawless fine line or adding detail around the cupid's bow or corner of your mouth. No lip pencil required. It features an amazingly rich, creamy, almost whipped-like texture that's incredibly velvety soft. Although it has a fairy thick consistency, it applies smoothly and evenly to the lips. It's intensely pigmented, truly opaque and provides full coverage in a single swipe. It does have an incredible amount of shine when you first apply it, but quickly sets and dries (usually within 20 minutes) to a completely matte finish. If you're looking to speed up the drying process, try blotting with a tissue or even applying a tiny amount of translucent powder overtop. It's not totally transfer-proof, but doesn't smear or smudge like other glosses.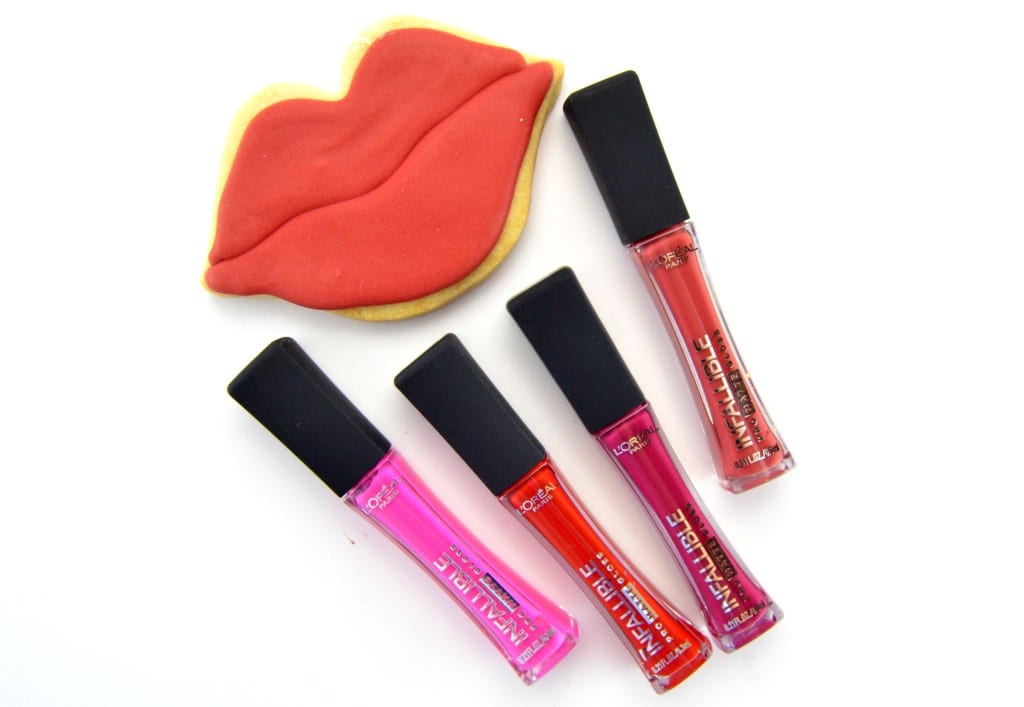 I can't tell you how many matte lipsticks I've tested out that never make it onto the blog. They're often way too drying, and no matter how little of product I apply, it always seems to accentuate every single lip line. The drugstores' brands are really stepping up their game, (yes, I'm looking at you Maybelline) the majority of the ones I've tried are better than the high end brands. These new L'Oreal Infallible Pro Matte Glosses are no exception. The colour payoff is outstanding, no need to build up with multiple coats, a single swipe provides true intense colour that's bold, vibrant and absolutely stunning. Although it does set to a matte finish, it's not nearly as drying as other matte lipsticks. Even though it doesn't necessarily add moisture back into the lips (like it claims), it's comfortable to wear the entire day. I'd say it lasts a solid 4+ hours before you'll want to reapply, although if you don't eat or drink during that time, I bet you can get the full 6 hours like it states. Added bonus, it applies like a gloss, provides intense colour like a lipstick, but doesn't bleed outside the line or flake throughout the day. It comes in 10 new shades and retails for $13.99.

L'Oreal Infallible Pro Matte Gloss in Fuchsia Amnesia, Shanghai Scarlet, Forbidden Kiss and Nude Allude