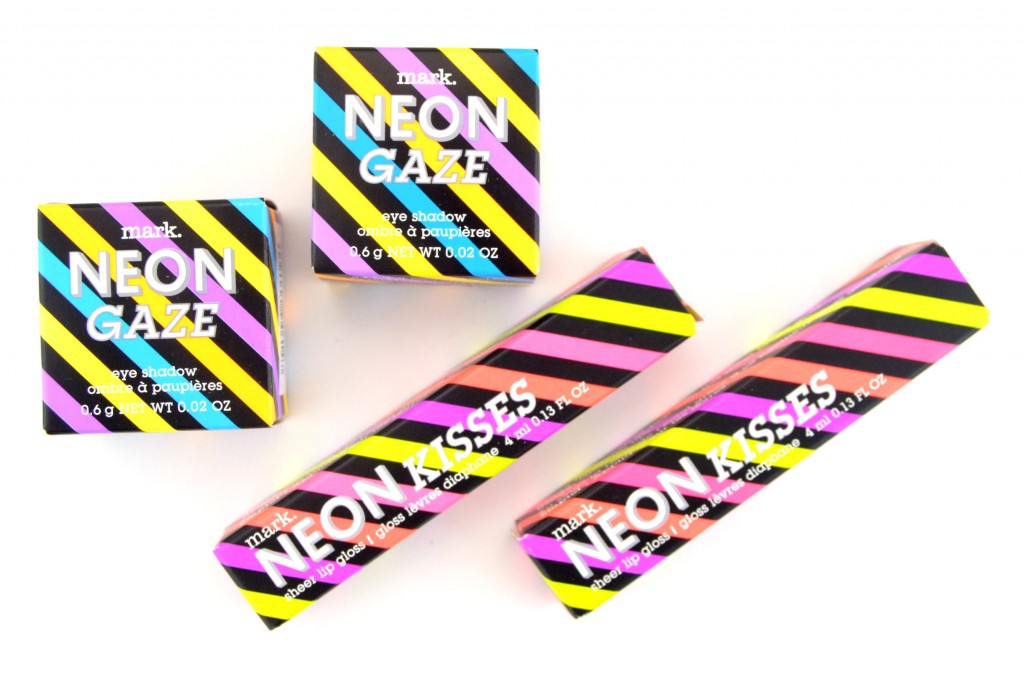 They say everything eventually comes back around, and this is true with the return of neon. It was huge in the 80's and we're now seeing it pop up again in both fashion, makeup and home décor. Mark. Limited Edition Neon Collectionplays on the neon trend with Mark. Neon Gaze Eye Shadow and Mark. Neon Kisses Sheer Lip Gloss.

Mark. Neon Gaze Eye Shadow comes in a small black jar with a twist off lid with a rich, extremely pigmented, dome-shape eyeshadow within. It features a lightweight, silky and velvety texture that can be applied both wet and dry to create a unique custom look. It comes in both satin and shimmer finishes that glide on smoothly, blends out beautifully and has a long wearing formula that lasts throughout the day. It retails for $11.
Mark. Neon Gaze Eye Shadow in Neon Gaze is a bright and cheery satin yellow with just a hint of shimmer. It's highly pigmented for a yellow, with even more intense opaque, colour when applied wet.
Mark. Neon Gaze Eye Shadow in Sun Flash is a bright neon blue with shimmer throughout, and like the yellow,is extremely pigmented.
 Mark. Neon Kisses Sheer Lip Gloss comes in a sleek, square, clear tube to see the colour within and a black, high gloss, twist off lid. It has a standard doe foot applicator for easy application. Although the gloss looks extremely bright, and a little scary in the tube, it provides a super sheer wash of colour once applied to the lips. It has a soft and creamy texture that provides high shine with extra moisturization to help soothe, soften and hydrate dry, cracked lips. It's thicker, yet lightweight, formula stays on the lips for hours and although I enjoy the high gloss finish, I can't get passed the smell; it's awful. I can't put my finger on the scent, but it has to be the worst smelling lip gloss I've ever tried, in my opinion. My mom ended up with both of them, she didn't mind the smell. It retails for $14.
Mark. Neon Kisses Sheer Lip Gloss in Wild Orange is a sheer coral shade with shimmer throughout it.
Mark. Neon Kisses Sheer Lip Gloss in Twisted Lime may look green in the packaging, but is actually a sheer golden shade with hints of green shimmer throughout it.
 Mark. Nail This Look Nail Lacquer and Bracelet Set combines 2 nail polishes and a bracelet set that coordinates perfectly together. This is the third Nail This Look from Avon, and in my opinion, better than the last 2.
Mark. Nailed It Mini Lacquers in Pink Spark and Orange Blast come in a clear acrylic bottle with black lacquer lid that match the rest of the neon collection. These mini bottles create 10 manicures with a perfectly round brush for easy application. Neon shades can often be streaky and hard to apply, but the consistency of these polishes are smooth, pigmented and easy to work with. It's opaque in 2 coats, delivers high shine, but with a matte finish and its quick drying, longwearing formula lasts for a solid 3 to 4 days before chipping. The kit also comes with four stretchable bracelets with studded jewels that match the polishes beautifully. This set would be perfect as a gift, who doesn't love nail polish and accessories. It retails for $28.