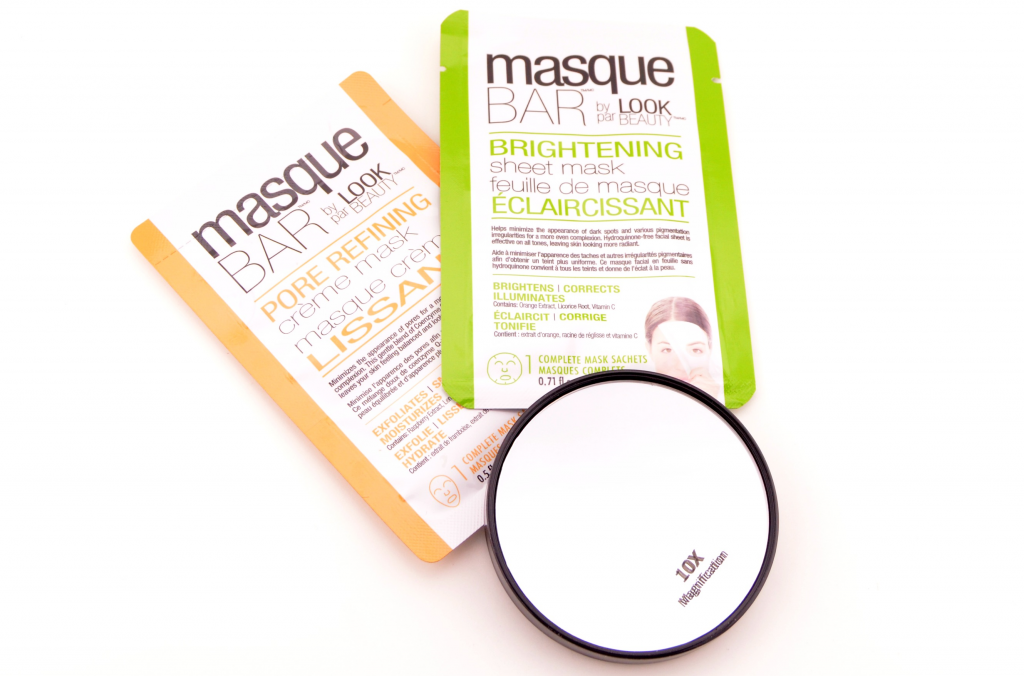 Masque Bar by Look Beauty have been in the US for the past year or so and are finally in Canada. Masque Bar by Look Beauty was developed in Korea by a team who traveled the world to source out the best ingredients and to discover the most innovative new beauty practices known to man. It features a full range of facial masks that are made up of spa- quality ingredients and soaked in high quality serums for gentle, yet effective absorption, to help treat everyday skin issues. The masks are pre-cut to match the contours of our face so it's easy to apply and comfortable to wear. The mud and crème masks combine fruit extracts and vitamins to help soothe and replenish the skin and are worn for 20 to 30 minutes.
Masque Bar by Look Beauty collection features a Wrinkle Reducing Sheet Mask that contains green tea extract, collagen and vitamin E soaked in thin cotton fibers to help reduce wrinkles and hydrate for smoother, softer, refreshed looking skin. Brightening Sheet Mask contain orange extract, licorice root and vitamin C also soaked in thin cotton fibers to help minimize the appearance of dark spots, hyperpigmentation and irregularities for a more even, brighter, radiant finish. Pore Refining Crème Mask combines a gentle blend of Coenzyme Q-10 with raspberry and lemon extracts to help minimize the appearance of pores while soothing and evening out skin tone. Finally Anti Blemish Mud Mask contains tea tree, kaolin and vitamin A to help minimize blemishes while simultaneously replenishing essential nutrients and controlling excess oil.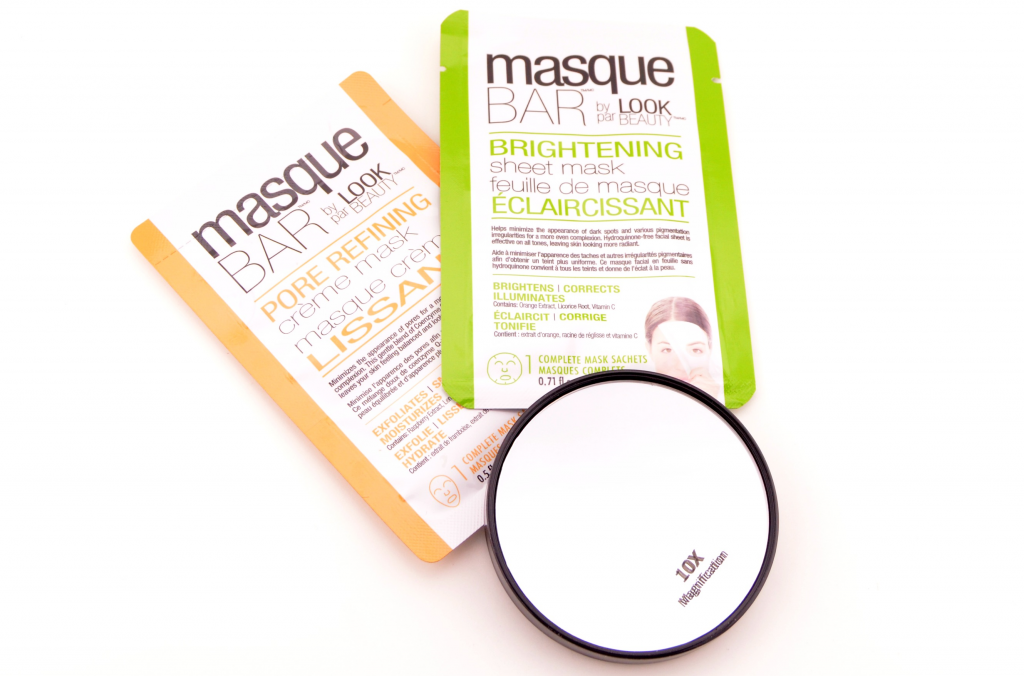 Masque Bar by Look Beauty Brightening Sheet Mask is applied to cleansed, dry skin by smoothing the mask across the face to ensure good contact with the skin. It is made out of thick cotton fibers that's pretty saturated, but not too wet. The fit was a little too large for my face shape and parts of the mask hung off the side of my mouth, but nothing that pressing my palms against the mask couldn't fix. The mask is left on for 20 to 30 minutes to let all the ingredients really absorb into the skin before slowly peeling the mask off starting with the edges. I applied it in the evening during my bath, I didn't notice anything right away, but in the morning my skin appeared brighter and more refreshed. As far as dark spots and hyperpigmentation, I'll have to use it more regularly to see if it works.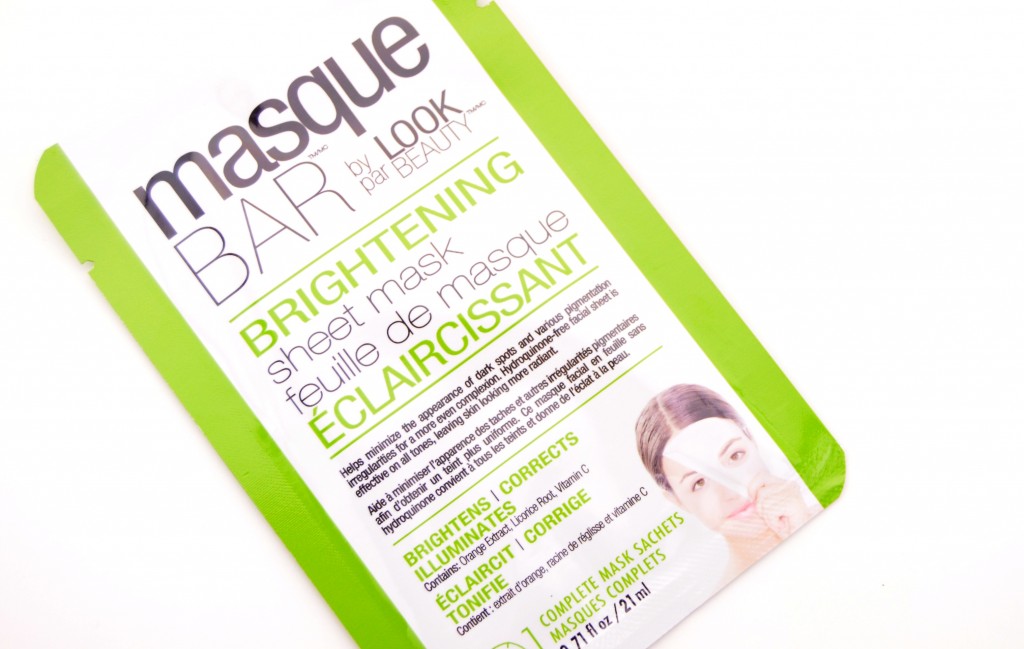 Masque Bar by Look Beauty Pore Refining Crème Mask is applied to cleansed, slightly damp skin by spreading it evenly all over the face and neck. It has a thick, creamy, silky texture that applies beautifully to the skin and is left on for 20 to 30 minutes. When it started to dry it didn't feel too tight or uncomfortable and washed away clean by using a little warm water. Skin is instantly cleaner, smoother and more hydrated. It did an excellent job at cleaning out my pores and bringing all the junk to the surface, which made it easy to exfoliate the next morning. I didn't experience my pores to be any smaller, but I didn't expect it to (you can't diminish the size of your pores once enlarged), but I did experience less breakouts in the weeks to follow.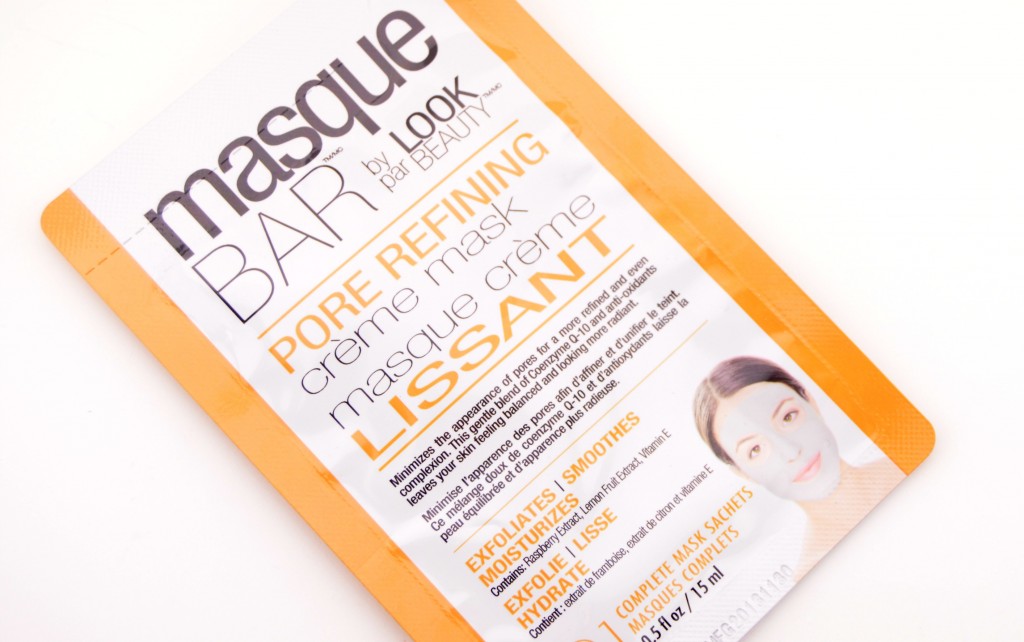 Masque Bar by Look Beauty are now exclusively at Shoppers Drug Mart and retail for $9.99 for a set of 3. I love that you can unmask better skin in less than 30 minutes and I'm excited to test out the other 2 from the collection. After my mask treatment, I got up close and personal with my skin using Quo's Magnifying Mirror. I comes in a handy travel pouch for on the go gorgeousness and magnifies 10 times which is also perfect for applying your makeup with.