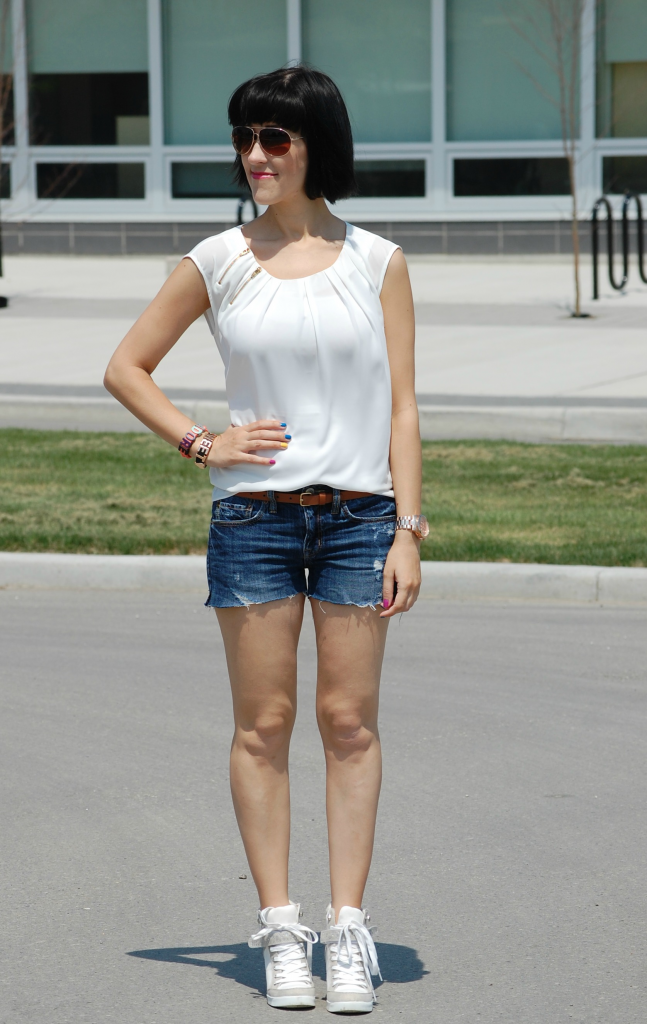 Every time I wear these new sneaker wedges, although this is only my second time wearing them (found here), I feel like I should be auditioning for the 6th member of the Spice Girls back in the 90's. You probably already heard/ seen the 90's are making a huge comeback; I didn't a recent post with Fashion Magazine on how to take trends of the 90's and make them current for today (found here) and these sneaker wedges along with crop tops, harem pants, slap bracelets are the hottest trends right now.
These sneakers have come a long way since the Spice Girl days; they are no longer a platform but more of a wedge. Baby Spice use to wear 6 inch sneakers and tiny neon dresses, where now a days it's more wearable/ less chunky with a 2 inch wedge. So if you're like me and can't give up her heels but want to have the comfy, laidback feel of a sneaker, these would be a great option. I still have mixed feeling on these, it's a love/ hate relationship right now, but I'm hoping the more I wear them this summer the more I will like them?

If you're looking for a trend to try this season, why not give the sneaker wedge a try, you can find many for under $60 at places like Target, Spring & Aldo. They're comfy and you can wear them with pretty much anything; cute casual dress, a pair of shorts (like I'm wearing), skinny jeans or even leather pants and a basic tee. These would be a great trend to try for busy moms who want to stay current and fashionable; Jessica Alba, Beyoncé, Alicia Keys to name a few have all be spotted wearing them lately and they make them looks so effortlessly.
Top- RW& Co- $55- March 2013
Sunnie- Smart Set- $12- June 2012
Watch- Aldo- Gift from hubby
Bracelet- BCBG- Gift from a friend
Bracelet- BCBG- Gift from hubby
Shorts- AE- $39- July 2010
Sneaker Wedges- Spring- $60- April 2013