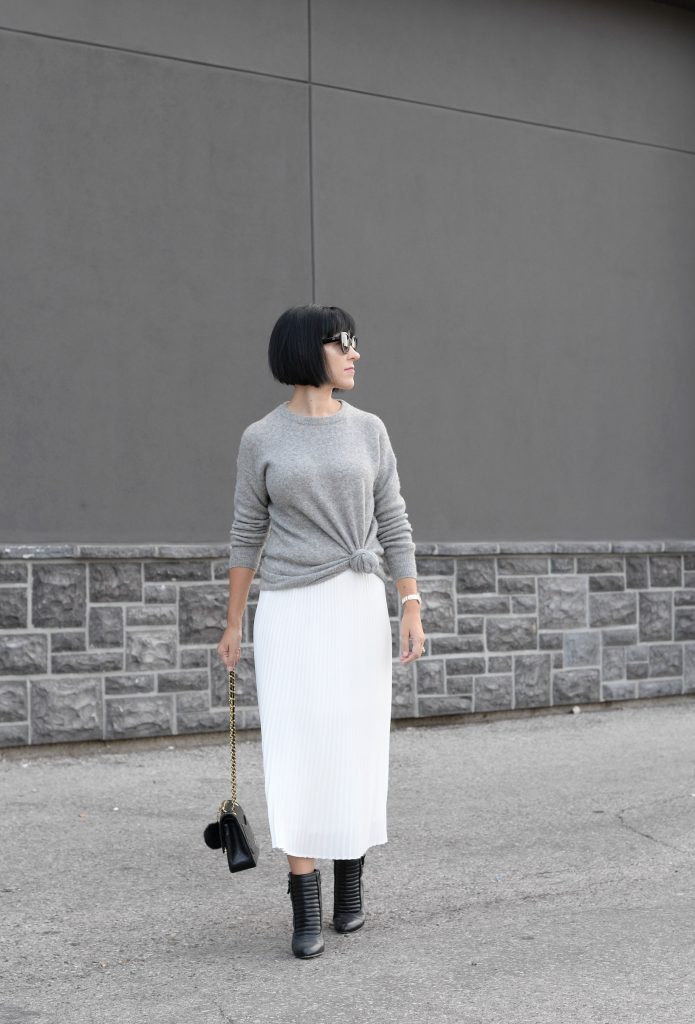 Springtime "it" skirt
Pleated skirts are making a huge come-back, and with good reasons. Not only are they easy to style, they are incredibly comfortable. They are universality flattering on all body types. I promise you, they suit everyone. A pleated skirt is an excellent trans seasonal piece, meaning they work well across all seasons. In the winter, style it with your favourite oversize sweater, or in the summer with a trendy, flowy blouse. It's a versatile item that not only goes with everything in your current wardrobe, but can effortlessly take you from day to night, work to play.
Even if you're not a skirt person, or you think you can't pull off the pleats, here are just a few reasons why I think you can. The idea is not to look too outdated or frumpy. You want a chic, stylish and modern effect. My first tip is, size really does matter. When you're choosing that perfect pleated skirt, the size of the pleats is critical. You don't want to add extra volume or bulk to your frame. You want your silhouette to be slim and sleek. Look for a thin, streamline pleat.
The length is also something you should pay attention too. My favourite two lengths are either just below the knee or just above the ankle. Those just happen to be the two most narrow parts of your leg, ensuring your eye will be drawn to the smallest part of your lower half. Remember, you don't want the skirt to hit you at your widest part, as that will only draw attention to areas we might be trying to hide.
Since a pleated skirt tends to be extremely dainty and feminine, try pairing it with more casual pieces. This will help add visual interest to your outfit and keep it looking fresh. Think a chunky over-size sweater, a basic t-shirt, white kicks or even a denim jacket. Not only will this create a modern-day twist to an otherwise ultra-girly outfit, it will help keep it looking relevant and right on trend this season.
What I Wore- Cashmere Sweater- Aritzia, Purse- Chanel Double Flap, Watch- c/o Bulova, Sunglasses- co Toms, Pleated Skirt- Aritzia and Booties- Vince Camuto