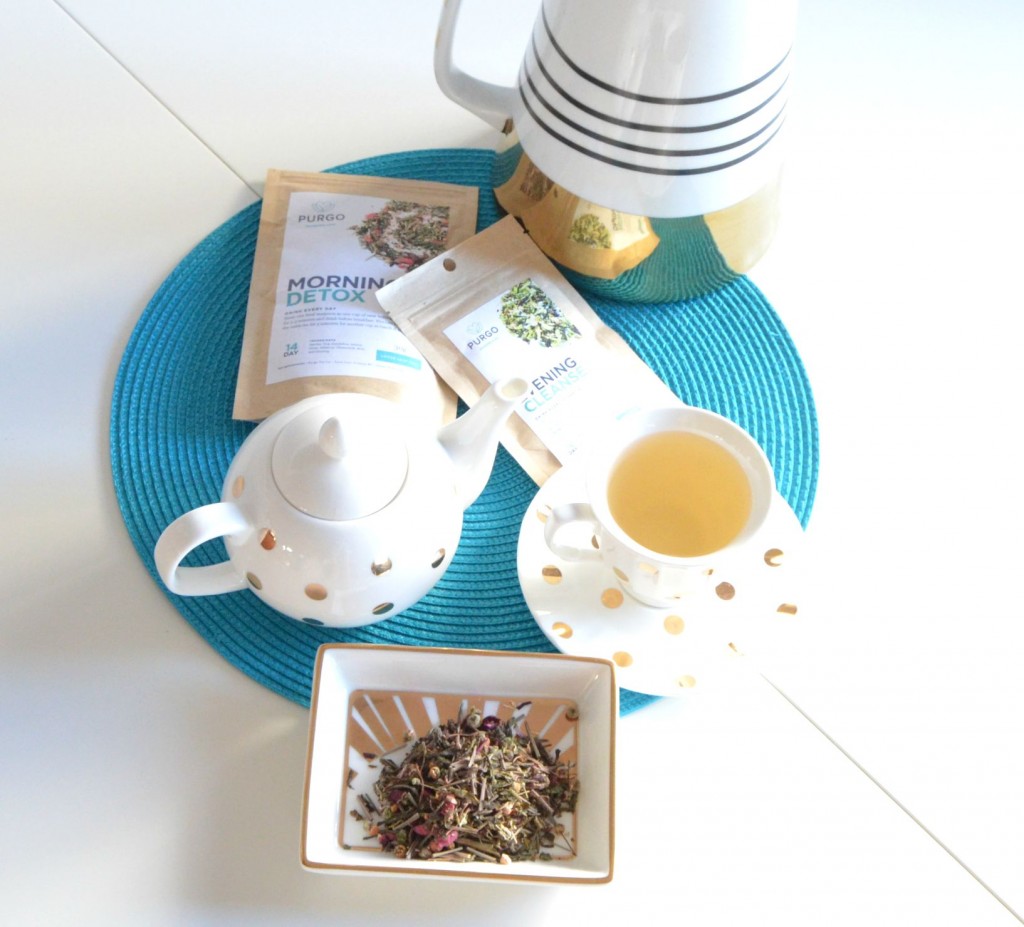 Detox Tea
I've always been scared to do a cleanse, afraid to never leave the bathroom the entire time I'm on it and I also hate the taste of tea. When Purgo, a Victoria, BC base detox tea company, approached me and asked if I wanted to take part in their weekly cleanse, I was a little hesitant at first. After reading up on them, I came to learn that not only will it help boost my metabolism and reduce bloating, it's made from all natural ingredients and contains no laxatives or gluten. I was intrigued. Still worried I wouldn't be able to get down a cup in the morning and a cup in the evening, I took the challenge. I was sent the 14 Day Teatox Cleanse which contains both The Morning Detox and The Evening Detox. It was to be taken daily over the course of 2 weeks and retails for $29.99.
Purgo The Morning Detox, which contains Sencha, goji, Dandelion, Lemon Grass, Hibiscus, Camomile, Acai and Ginseng is to be taken every morning before breakfast. Since I don't work your typical 9 to 5, I have plenty of time in the morning to sit back, relax and unwind. It does take some time to steep, compared to my 30 second Keurig coffee maker, but then again, I have nothing else to do in the AM. Surprisingly it didn't taste awful, a little herbal mixed in with the taste of grass. After a few cups, I was used to it and actually looked forward to it.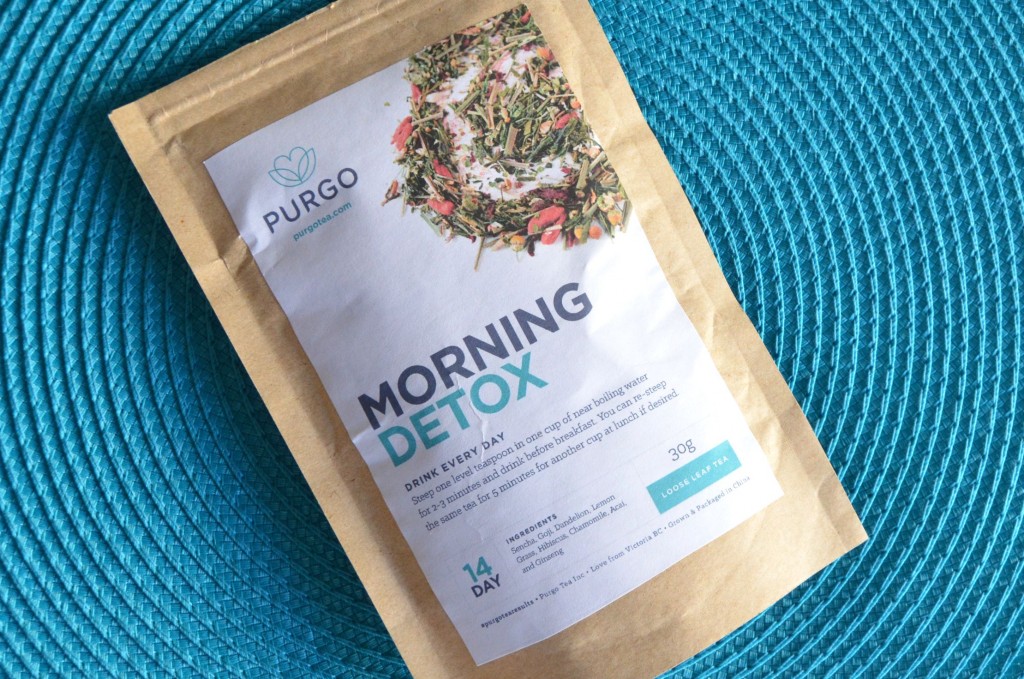 Purgo The Evening Cleanse, which contains Locust Plant, Sencha, Key Lime, Lotus Leaf, Cassia Seed, Puerh, Oolong and Camomile is to be taken… you got it… in the evening, every other day. I've been taking it right before my dinner, on opposite days, and actually enjoyed this one a little more than the Morning Detox. It had a slightly sweeter taste, almost like honey, which I found quite calming and soothing.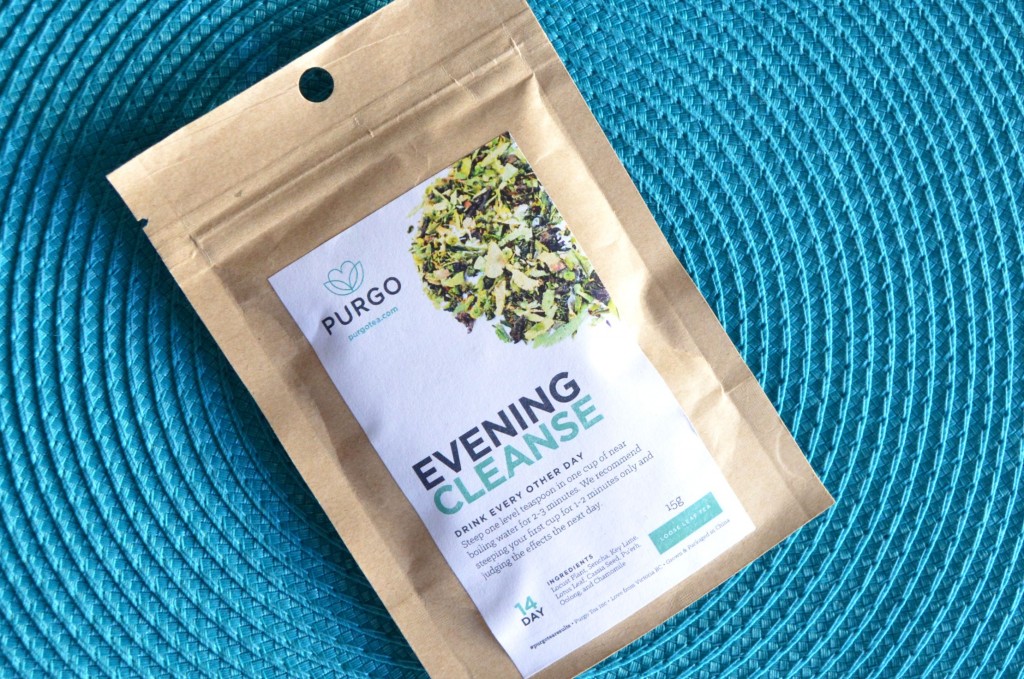 I guess the number one question you have for me is, did I lose weight or have any side effects? It's hard to tell, since I slowly started to cut out soda of my daily routine. I was up to two Cokes a day and knew that had to stop. Since I was starting the Purgo detox cleanse, I thought it was the perfect time to eliminate all that caffeine and sugar in my life. I'm actually down to a half a can a day, which I think accounts for some of the weight loss? I've lost about 6 lbs. in total over the past few weeks and had absolutely no negative side effects.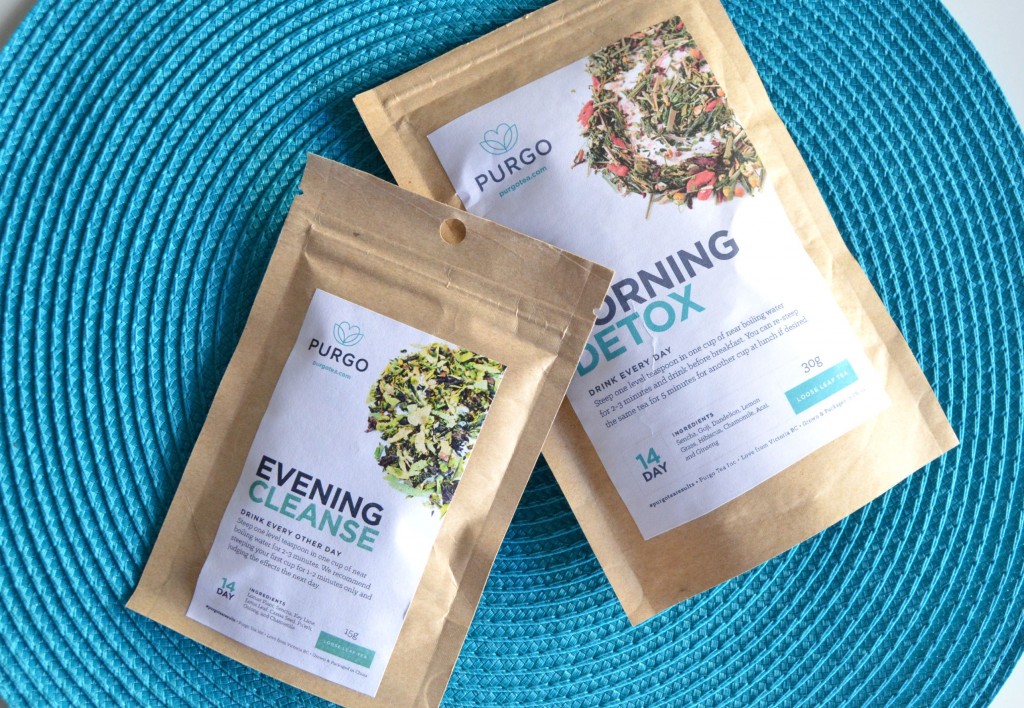 The first few days were slow going, probably because I wasn't on my daily sugar and caffeine high, but by the third or fourth day, I felt more energized, more alert and more attentive. It helped to boost my metabolism and burn calories, giving me a ton of energy throughout the day. It also seemed to cut down on my snacking mid-day, as I was completely full after the tea and my breakfast. I didn't find myself reaching for that 10AM treat. If I was feeling a little snacky, I would reach for another bottle of water. I already consume 2.5L of water a day, but being on this cleanse definitely brought awareness to what I was taking in on a daily basis. I only wanted to put healthy food into my body, which is probably why I was less bloated and my pants seem to fit a little better; a huge plus! For someone who doesn't like the taste of tea, I quite enjoyed both flavours. I did cheat a little and added in a few drops of fresh lemon in the morning and a tiny bit of honey or maple syrup in the evening to help sweeten the taste a little.