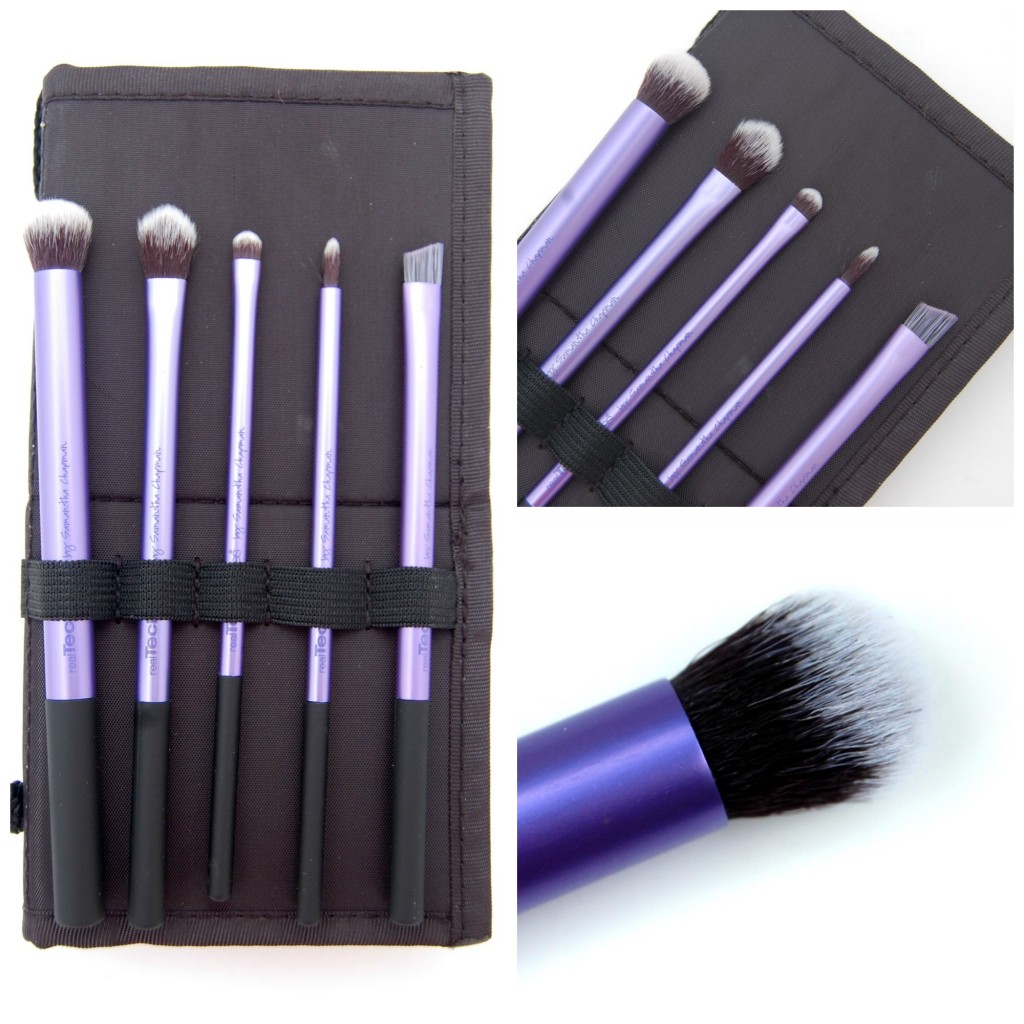 You may remember last month's review on Real Technique The Core Collection (found here) and how much I loved them and today I will be showcasing Real Technique Your Eyes Enhanced Starter Set which retails for $19.99 and includes a base shadow brush, a deluxe crease brush, an accent brush, a pixel-point eyeliner brush, a brow brush and a 2 in 1 panoramic brush case.
For those of you who don't know about Real Technique it was created by Samantha of Pixiwoo, a makeup guru off YouTube and was finally launched in Canada back in February 2013. They are found at your local Wal-Mart, if you can find them, always sold out cause they're that amazing.

Real Technique brushes combine high-tech material with innovative design to make creating a pixel-perfect look easier than ever. The brushes each have their brush name on the handle and are colour-coded for the face and eyes (purple handles are for eyes, orange for base and pink for finishing), each having a corresponding key step, taking the guess work out of which brushes are meant for what area of the face, giving you a flawless look each and every time, just like the pros. The bristles are made from taklon which is synthetic making them 100% cruelty free. The brush head is hand cut to the perfect shape, super soft and doesn't shed.
The handles are made out of aluminum, lightweight and easy to use. The back end of the handles are rubberized for easy grip and are flat so you can stand them up if you need to switch brushes mid-application. The sets are packaged in carrying cases with a velcro closure, and by shortening the nylon strap, you can fold the case backwards into a brush stand.


I was sent Your Eyes Enhanced Starter Set which is a beautiful metallic purple colour and is the perfect starter set for someone just looking to get into makeup/ and or a great addition to any makeup junkies collection.
The Deluxe Crease Brush is made to assist in easy contouring and is extremely thick, and has a flatter, very dense, domed-shape to it. It looks pretty big at first, not meant for detail work that's for sure, but it easily blends product into the crease and one of my fave out of the set.
The Base Shadow Brush is flat and fluffy and is intended for your foundation eye-color and or base eye-color and I find it also works very well as a crease brush. It picks up product easily and thanks to its pointed shape its great for precise blending to give your lids a smooth, flawless finish.
The Accent Brush is great at smudging eyeliner close to the lashline and applying highlight to the inner corners of the eyes. It's also very useful when perfecting detail work, it has just the right amount of stiffness while still being soft to the touch.

The Pixel-Point Eyeliner Brush is perfect for applying eyeliner or lipstick and is also amazing at applying gel eyeliner to create that perfect winged eyeliner look.


The Brow Brush is an angled brush that is to use to create sharp, featured brows and also works well in distributing eyeshadow right along your lash line.

I'm in love with all 5 of these eye brushes, amazing quality, even better price, and super easy to work with. The bristles are soft, blend easily and are all synthetic which is great. As like the Core Collection, I've washed the entire set a few times now and haven't experienced any shedding or loss of softness. The handles feel sturdy and comfortable in my hands and aren't too heavy or slippery. The case that they come in is very handy for travelling and I love how you can alter it so it can be used as a stand!