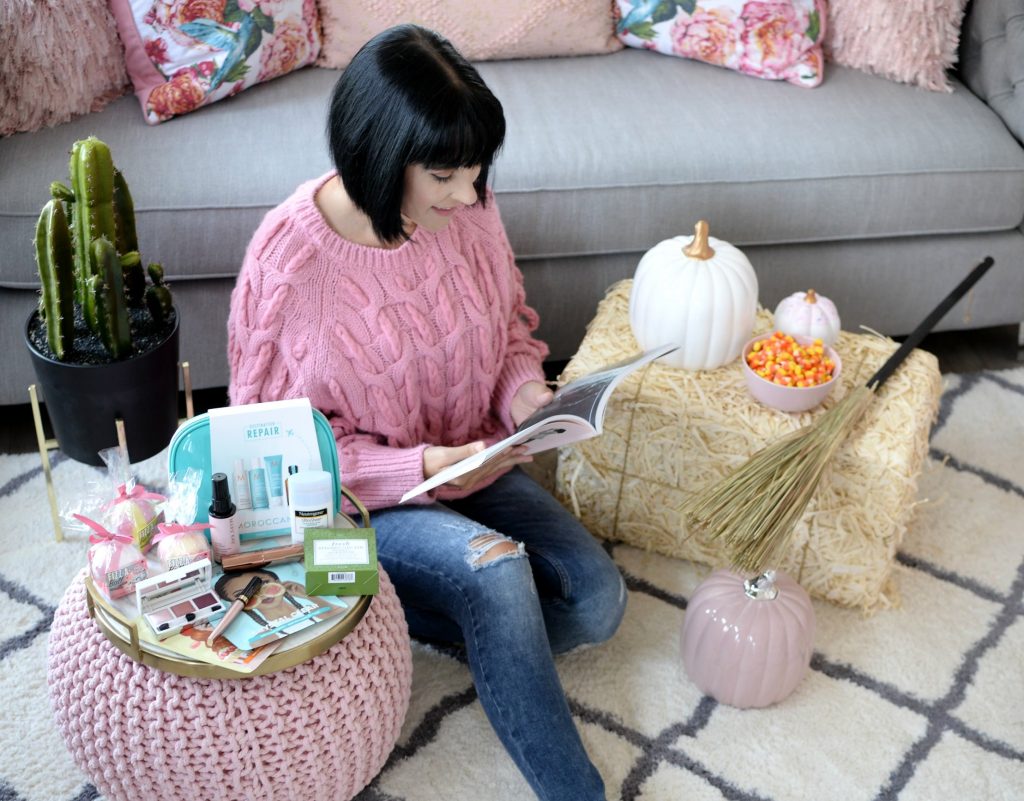 Beauty Faves
It's officially Fall. The leaves are turning colours, I had my first PSL of the season, the air is crisp, and I've already been apple and pumpkin picking.  September flew by, probably because we were traveling for most of it. We just retuned home from a 2-week vacation in Chicago, Kansas City, Minneapolis and Milwaukee. I'm ready for October, as it's one of my favourite months. Thanksgiving, Halloween and my Birthday, all rolled into one fabulous month. It's also all about layering clothing, keeping cozy and experimenting with rich and vampy makeup shades. Most of the items I fell in love with this month, we're bought on my holidays, and I can honestly say, I love them all.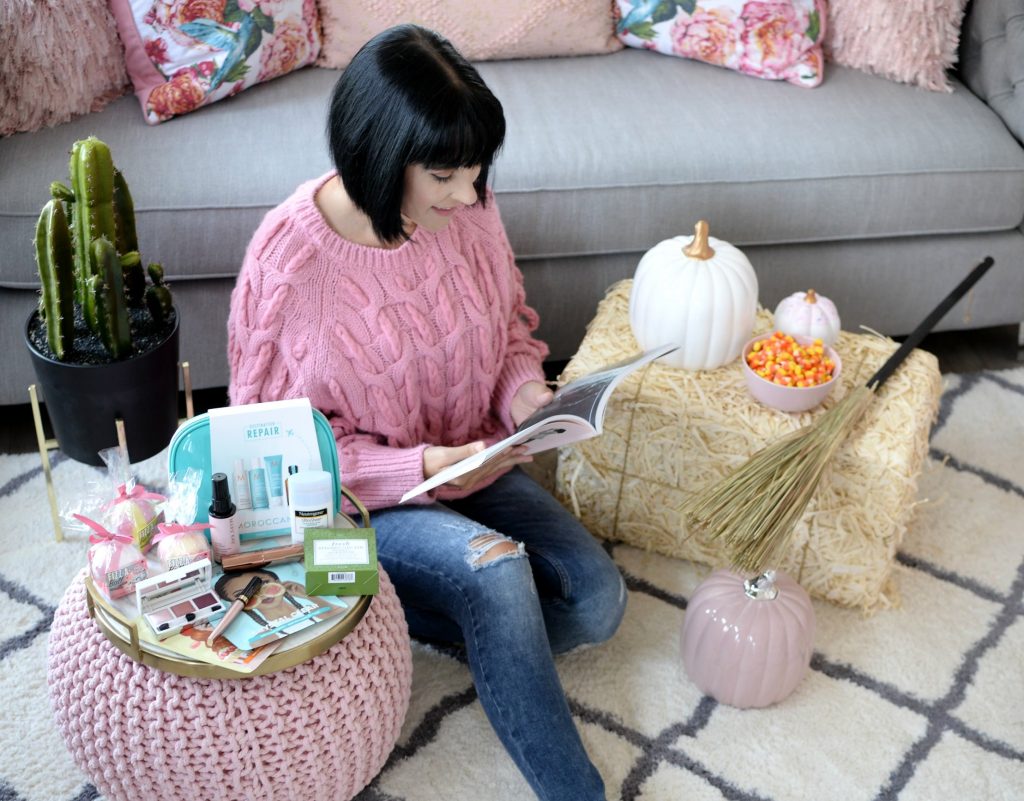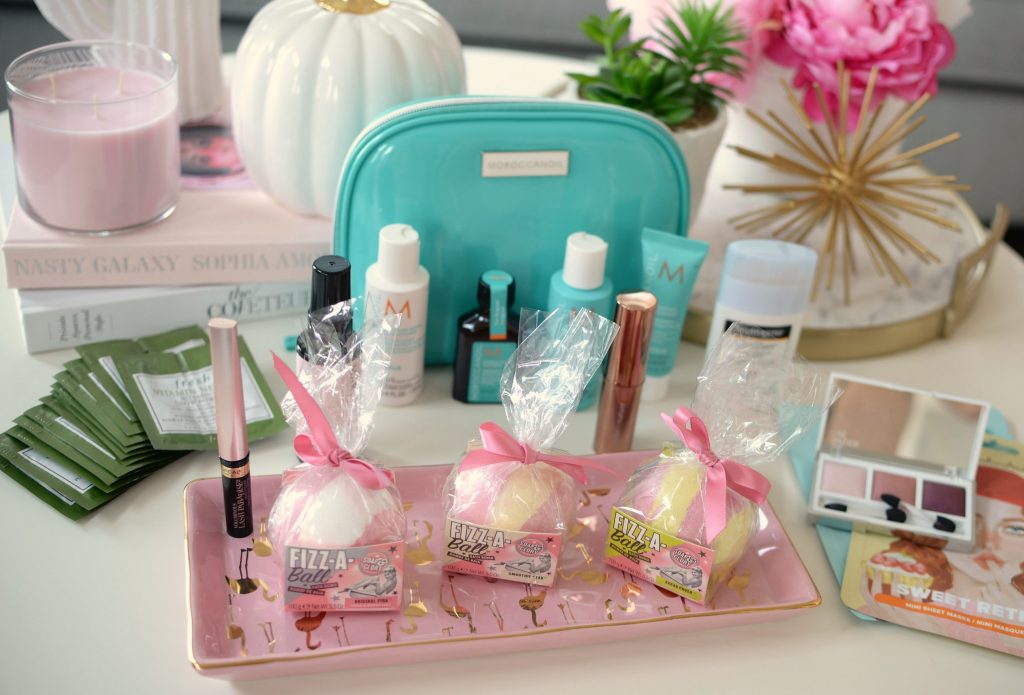 First up, the Moroccanoil Destination Repair Kit. Not only does it come with one of my favourite lines of shampoo and conditioner, thanks to its ability to cleanse, hydrate and leave hair soft and manageable, it also comes with my holy grail Moroccanoil treatment. On top of that, it comes along the new Mending Infusion, a unique product that helps seal split ends and reduce visible signs of damage. For someone who uses a blow dryer and flat iron on her hair daily, this has been a lifesaver. After shampooing and conditioning, I use a small amount to instantly condition and strengthen my hair, leaving it silky, smooth and soft. I then follow-up with the treatment, to add that finished touch and incredible shine. The combo helps to combat frizz and fly-a-ways, for that fresh out of the salon locks that smell amazing. It retails for $52.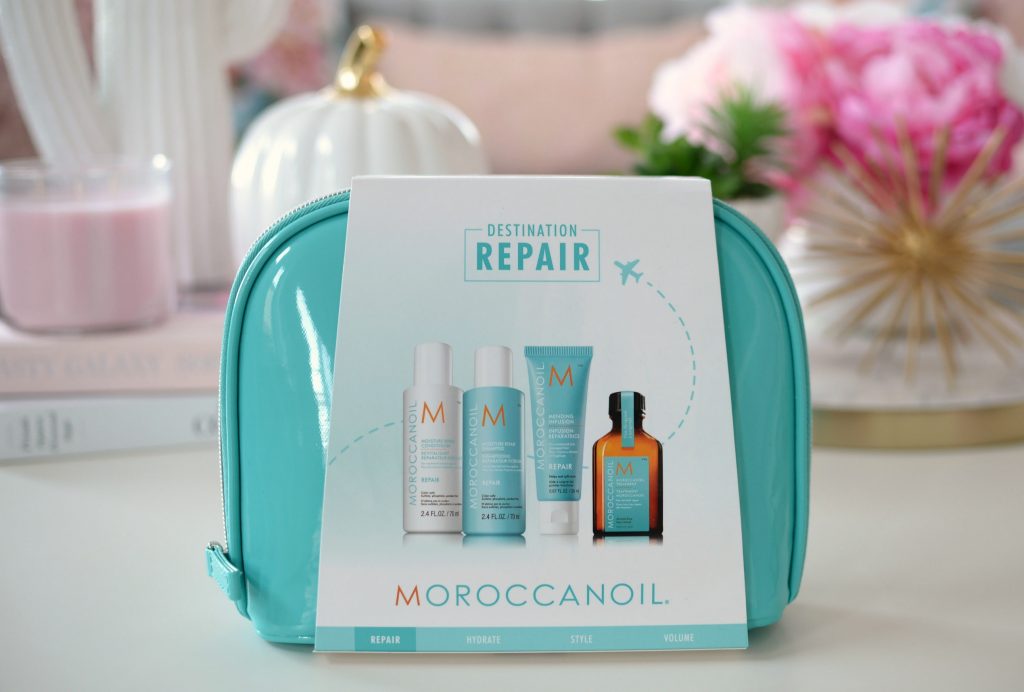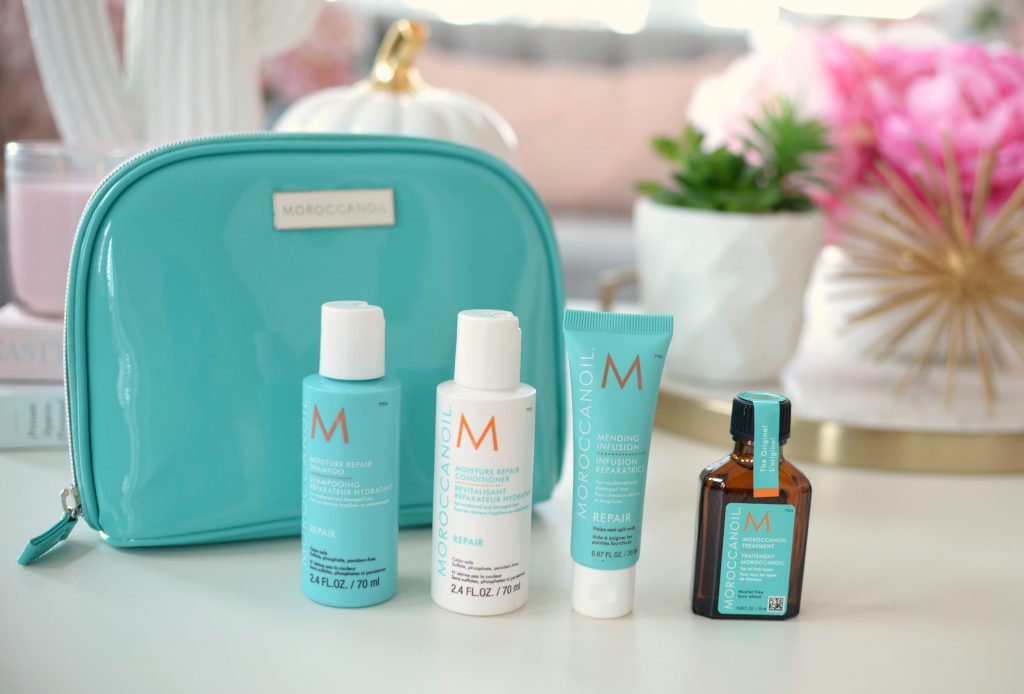 You know my obsession with Soap & Glory, I can't rave about them enough, so I was pretty excited to see their new Fizz-A-Balls. I'm not going to lie, I held onto them for about a month, just displaying them in my bathroom…tell me these don't just scream Amber. After my holidays, and being without the luxury of my jacuzzi tub, I was all about that bath life. I quickly went through these 3 bath fizzes and enjoyed every minute of them. These Soap & Glory Fizz A Ball Bath Bombs come in 3 scent-sational fragrances, Original Pink, Sugar Crush and Smoothie Star, but honestly, no matter which one you pick up, you'll have the most decedent bubbling experience ever. Unlike other bath bombs that come loose, these come wrapped in clear cellophane, tied with a pink bow, that ensures no one else has played/ touched it, and keeps it neat and tidy until use. It leaves your bath water silky-smooth with a refreshing scent. Each retail for $7.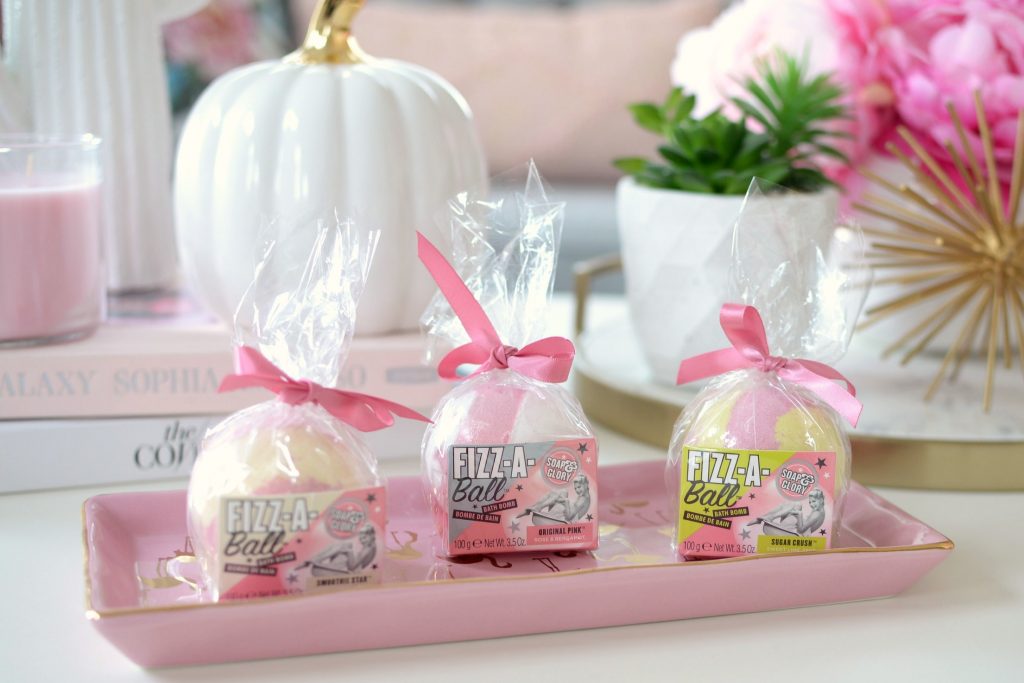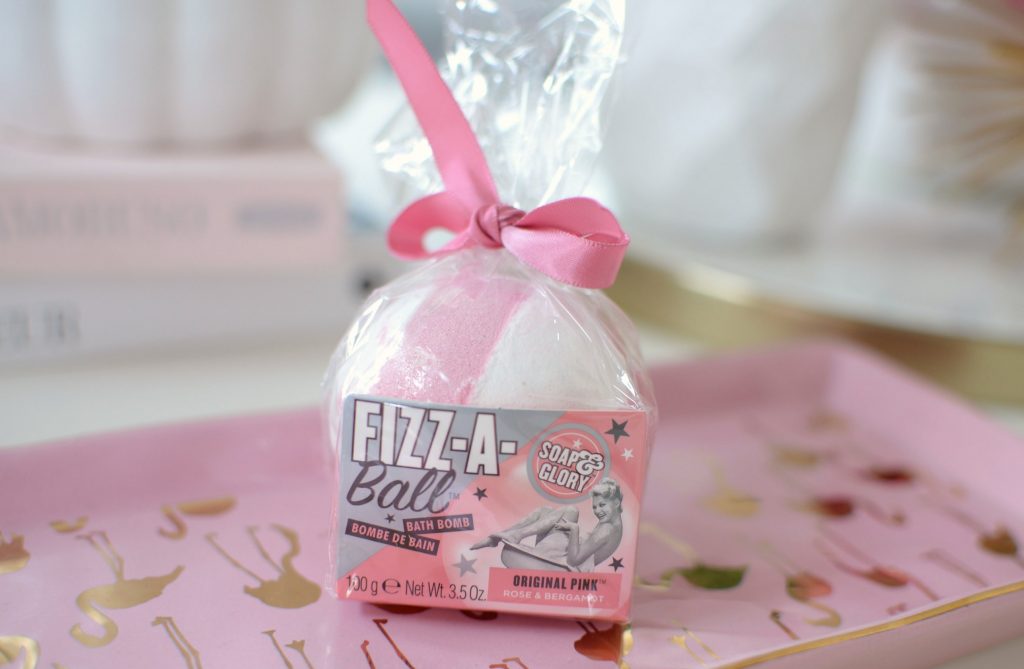 Obviously, while traveling, you don't have time to get a facial, but that doesn't mean you don't want your skin to be glowing. Let me introduce you to the Fresh Vitamin Nectar Glow Powder, a 30-second forming facial that instantly leaves your skin fresh, youthful and glowing. Not only does it come individually pre-packaged (perfect for traveling), it's formulated with 20% vitamin C and other fruit extracts and minerals, to help tighten the pores and brighten the skin. Just add a tiny amount of water to the palm of your hand, dump in one of the packettes and watch as it develops into a citrusy lather. Then simply massage into the skin for 30 seconds and rinse. It gently exfoliates the skin, immediately awakens dull complexion and instantly improves texture overtime. It retails for $49.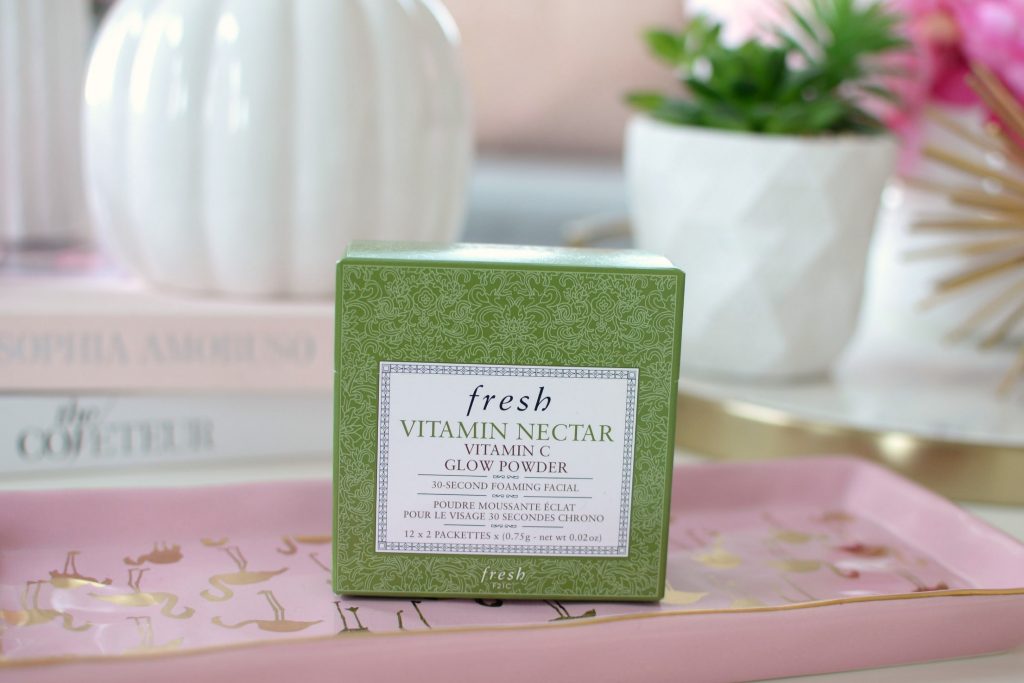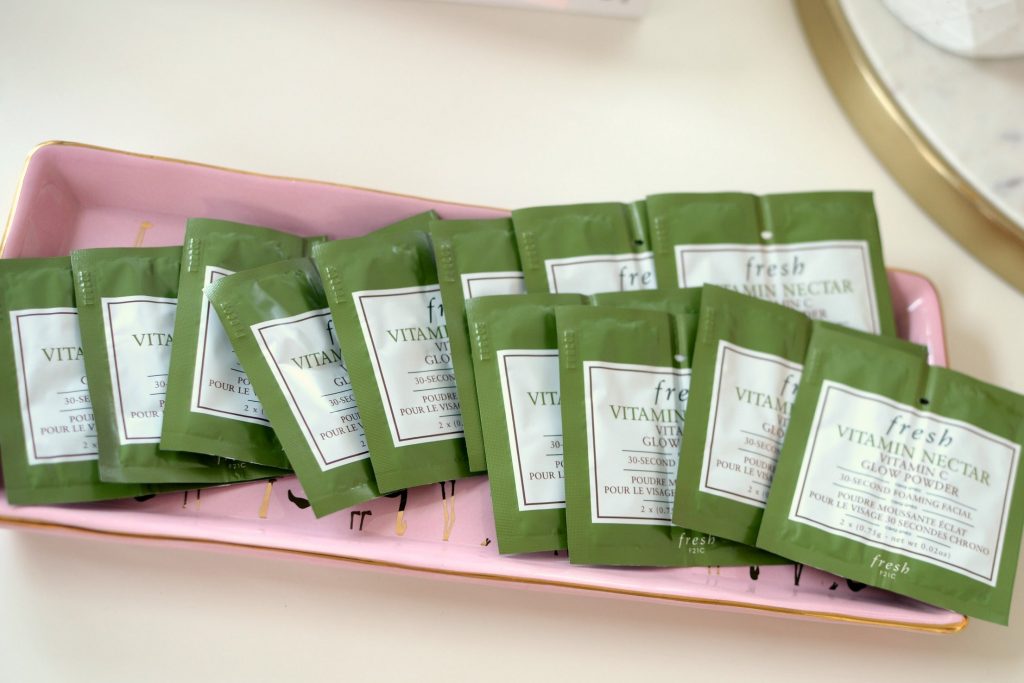 I actually brought the new MaskerAide Mini Sheet Masks with me on holidays, as they feature 12 mini masks within each package, that can be used on designated areas of the face. I used the Crystal Clear Mask on the 2 days of my travels, as my skin was looking a little dull. It immediately helped to brighten, for a healthy and glowing appearance with a hint of sparkle. It has a relaxing and calming lavender scent, perfect for after a long day of sightseeing. The Sweet Retreat was perfect on the last few days of my trip, as my skin began to look tired and dehydrated. It's infused with vitamins C, A, B1 and B2 to help hydrate and moisturize the skin. Added bonus, it smells like vanilla cupcakes. Each retail for $7.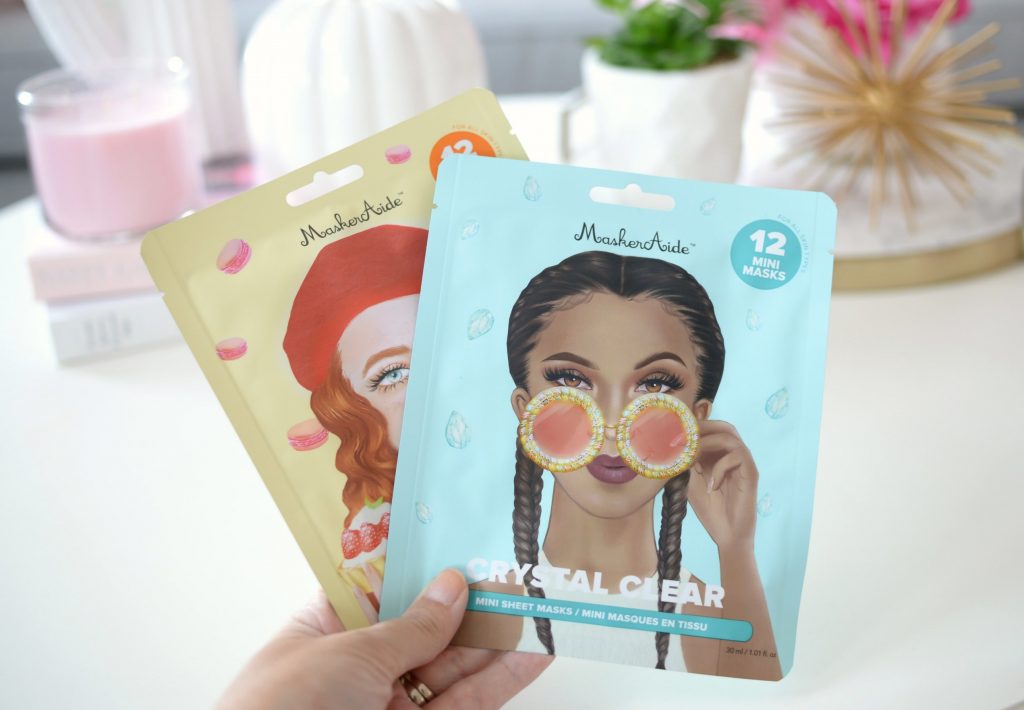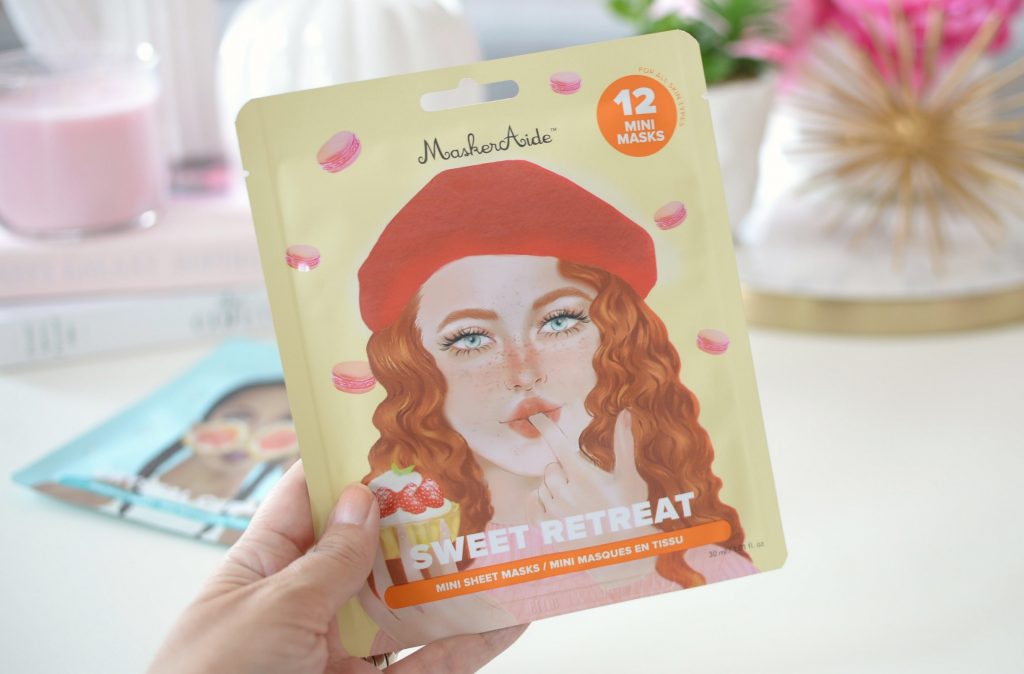 The last step in my morning skincare routine, before I put on my makeup, is sunblock. It doesn't matter if it's summer, winter, if I'm only going to be outside for a minute, or all day, I never skip my SPF. Is it me, or is it incredibly hard to find a sunscreen that doesn't break you out, leave your skin feeling greasy, or creates a white cast? The new Neutrogena Ultra Sheer Face + Body Stick Sunscreen Broad Spectrum is the solution to all our problems. Its unique stick design means it's completely hands-free and creates no mess on your fingers. Its innovated formula glides on effortlessly and feels almost weightless once applied. Its non-shiny and oil-free consistency ensures you get the protection you need, without looking glossy or sweaty. Since it's made for both the face and body, you only need to travel with one product when traveling, making it incredibly convenient. It retails for $14.99.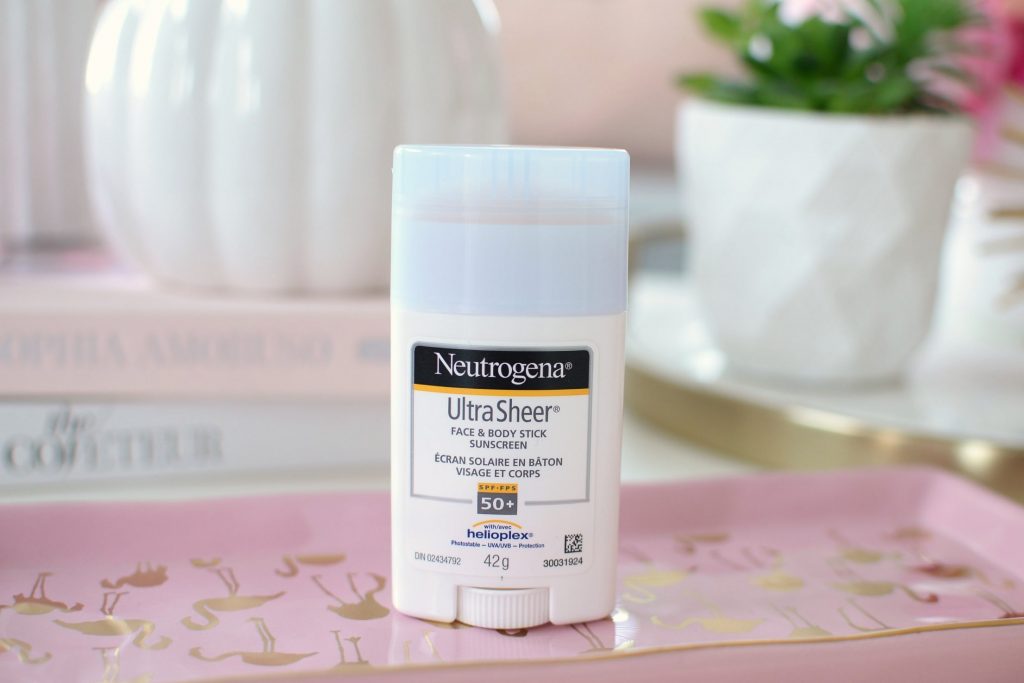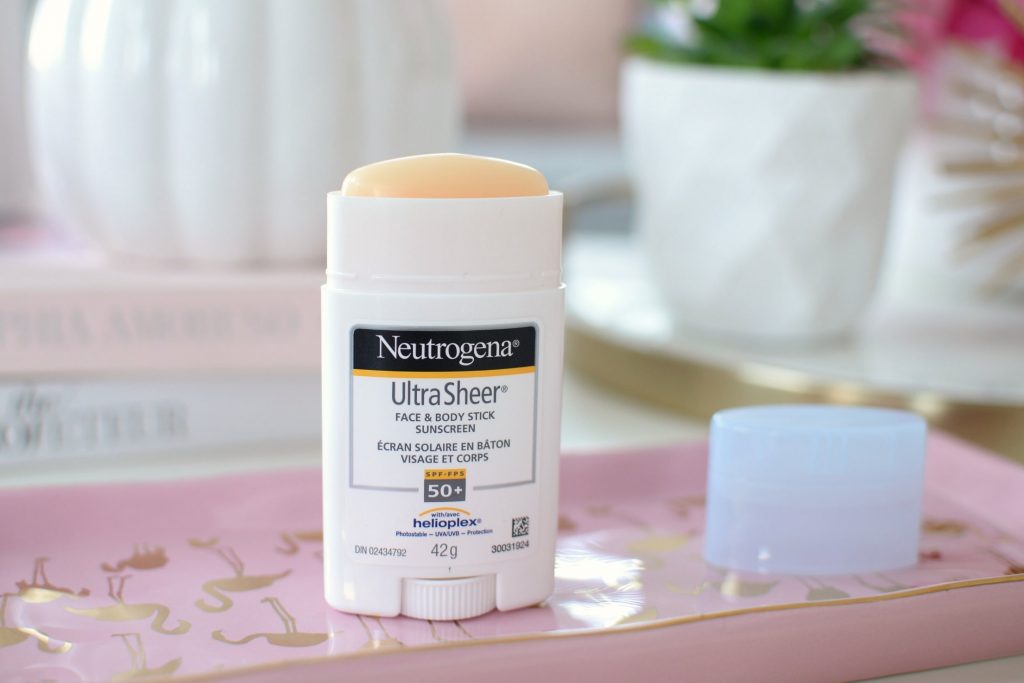 I've recently fallen in love with purply, rose-gold eyes, and the Lise Watier Urban Velocity Trio Baked Eyeshadow Palette has made all my dreams come true. Sadly, this was apart of their Spring launch, and I don't think it's available anymore, but maybe the brand will release something like it again soon? Besides this baked trio having the most gorgeous shades of life, the formula was equally as amazing. It comes alongside a shimmery, almost pearly pink shade, a lovely soft rosewood with just a hint of shimmer and a warm plum, almost maroon shade for deepening up the crease and adding some warmth. Each shade is incredibly pigmented, silky-smooth and applies seamlessly with little to no buff out at all. Each shade works beautifully together but can also be used on their own to create a simple, every day wearable look. It retails for $44.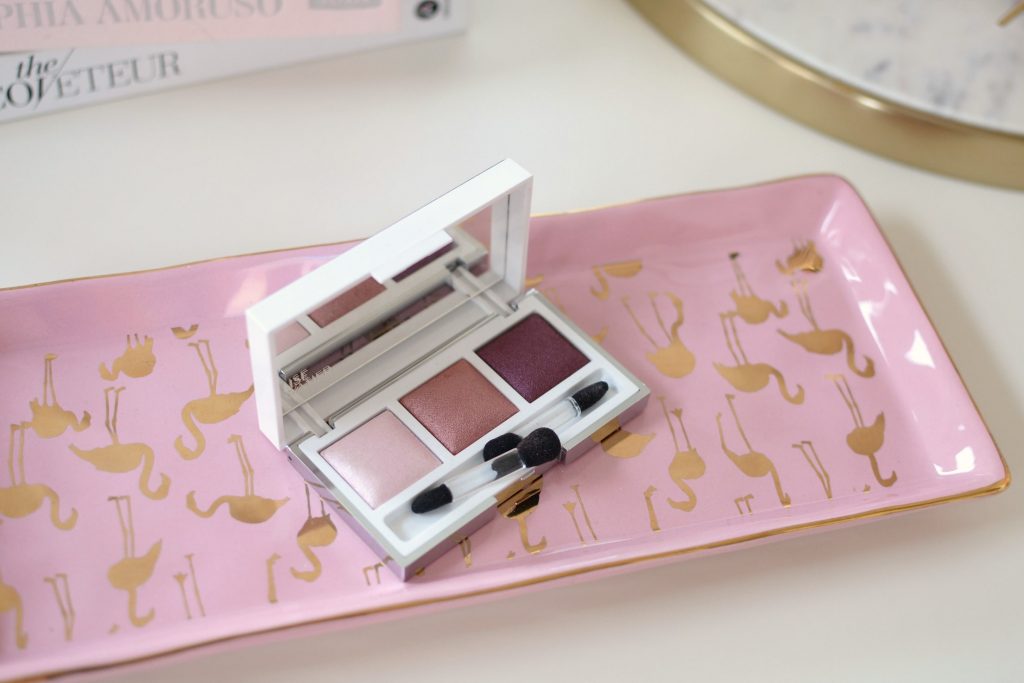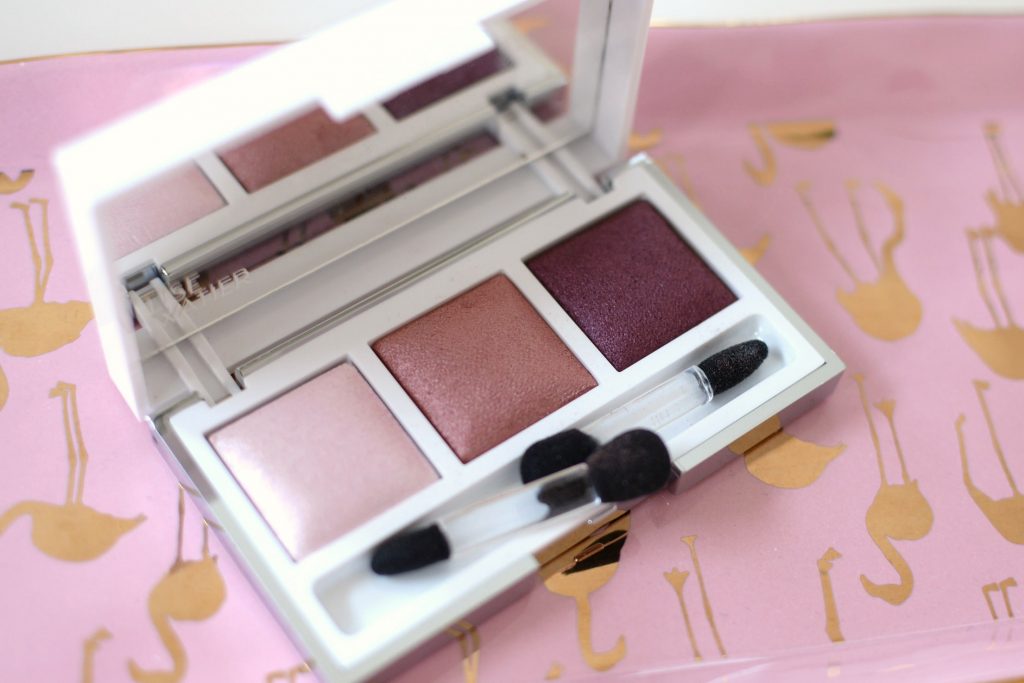 I'm usually not a fan of liquid ink liners, probably because I'm not very good at applying it, but I've been loving the new L'Oréal Lash Paradise Liquid Eye Liner. Of course, my lines still aren't completely straight, and it does require a little practise, its extremely jet-black formula has me coming back for more. It features an ultra-fine, incredibly sharp felt tip that delivers sharp, precise lines, with enough flexibility that you feel like you still have total control over. It's thin enough that you can create perfectly thin lines, but also have the ability to create an array of different thicknesses. Its richly pigmented, liquid formula allows for a rich pop of black in a single stroke. Keep in mind, it does provide a high-shine, almost lacquer effect, so if you're looking for a completely matte finish, this isn't for you. Despite being fairly liquid-y, it does dry down quite quickly and stays in place the entire day without cracking or feathering. It retails for $11.99.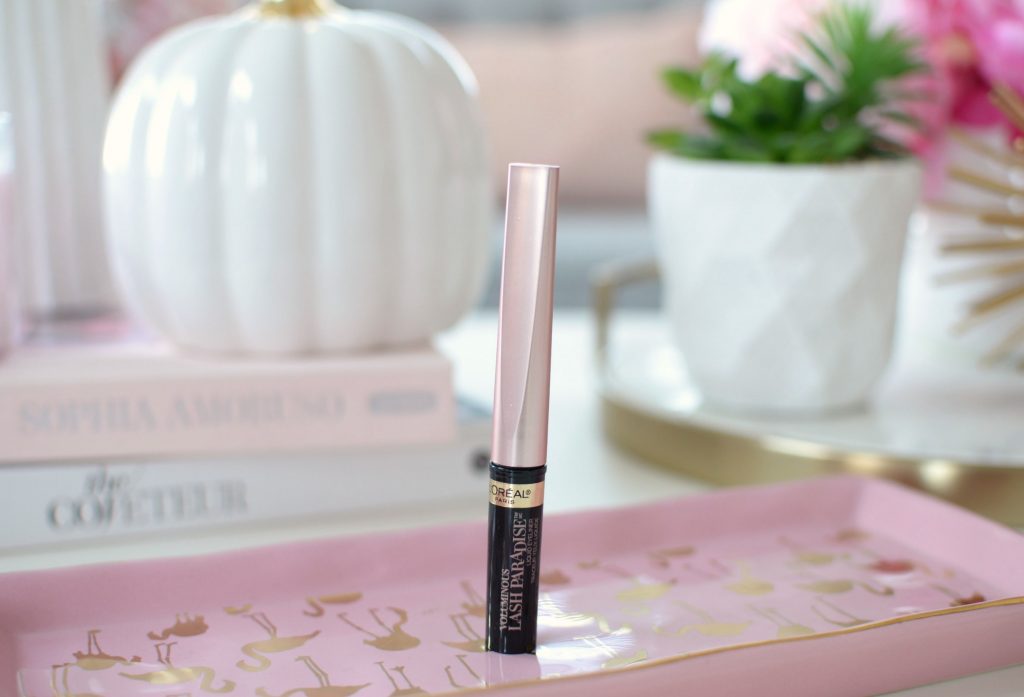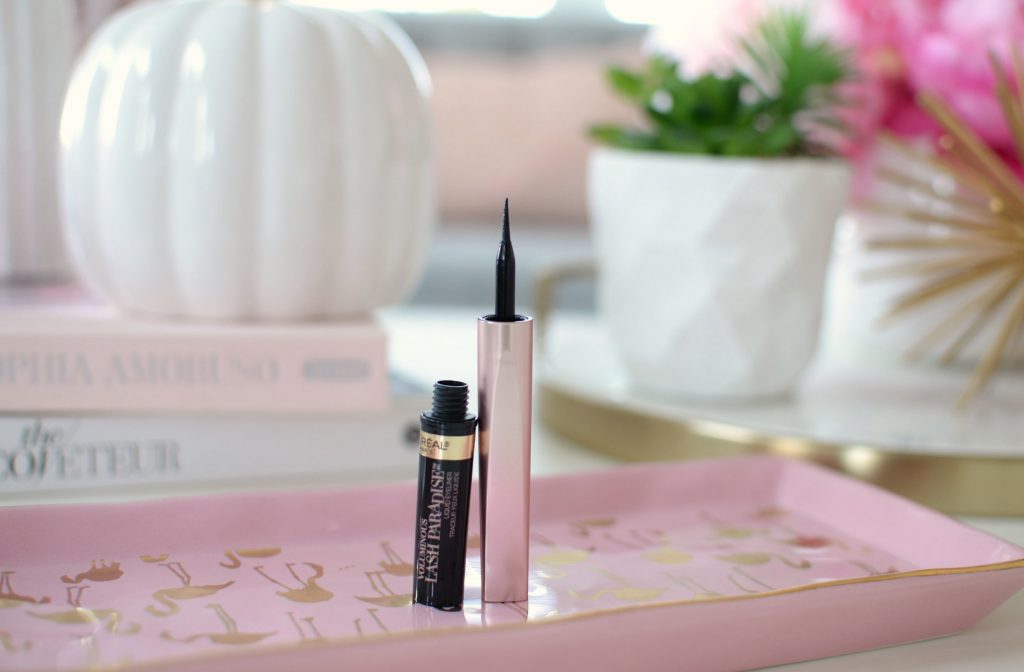 Nude by Nature is a new brand to me, and I'm super excited to play with more products. The first product I tested out, was the Touch of Glow Highlight Stick, and I have to say, I'm highly impressed. It's dome shape, swivel-up design provides easy application and its extremely soft and creamy texture blends into the skin like a dream. In a single swipe, you can effortlessly achieve a perfectly sun-kissed glow that looks oh-so natural. Although it feels like a cream formula when applying, it quickly sets and dries into an almost powder-like finish.  It blends into the skin for a smooth and opaque coverage and lasts throughout the entire day. It doesn't emphasise fine lines or pores, just flawless, radiant finish. I start by applying it to the high-points of my face and blending out with my finger. It comes in 3 shades and retails for $28.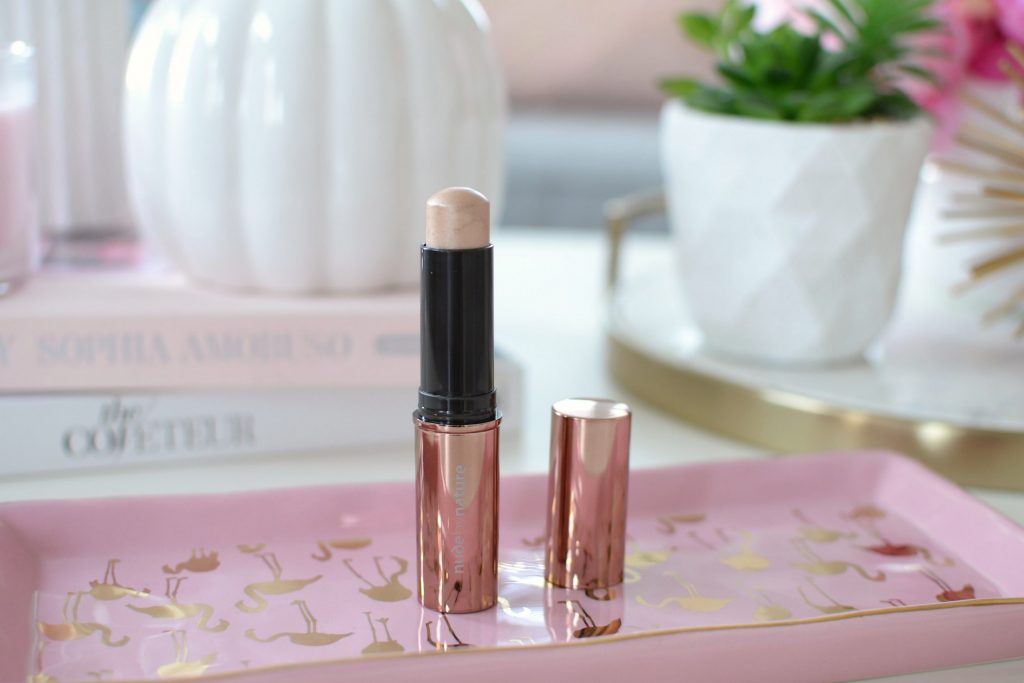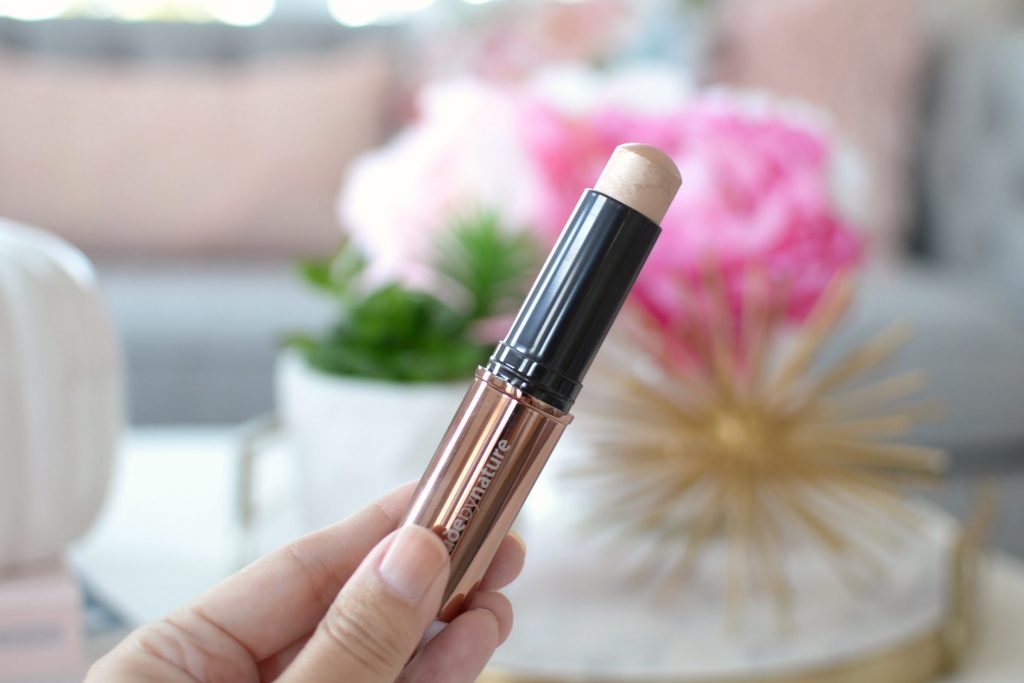 With all the traveling I've been doing, my skin has been feeling extra dehydrated. The new Mary Kay Reviving Facial Spray by Skindinävia is the perfect instant pick-me-up mid-day, or whenever my skin is feeling tired. This refreshing spray is formulated with electrolytes, vitamin B3 and minerals to provide a pop of hydration without interfering with your makeup. It instantly helps to hydrate and revitalize the skin with radiant and glowing skin. It provides the nutrition your skin so desperately needs/ and wants, like a tall glass of water, without leaving your skin shiny or greasy. Since it features a fast-drying formula, it can be applied anywhere, and at any time. I carried it around in my purse, and whenever my skin was feeling tight and dry, I just spritzed some one. I swear this is never going to leave my purse again. It retails for $22.